The month is flying by and we are already on Day 24 of the 2016 Cancer Challenge. Again, I have a sponsor today who I have looked up to for many years. Petals to Picots is a classy shop with amazing designs. Kara was so kind and so willing to jump on board and help us out with this years cancer challenge.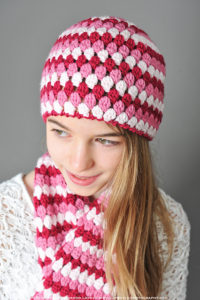 Petals to Picots has this beautiful Mod Hat. The hat work up quick with darling clusters and fun, vibrant color changing rows. Then, check out the adorable, simple, rolled trim… love it! The hat comes in the following sizes: toddler, child, teen/adult.
 Remember, if you download this pattern (or any pattern provided during the challenge running all month long), you are pledging to make a minimum of one hat  to donate to a cancer patient. 
The Mod Hat is Available on Ravelry for FREE using code "challenge16" at checkout. The code will be good for 48 hours or until midnight on October 25, 2016 (Eastern Time). After you download the pattern, please go visit Kara on her facebook page, Petals to Picots,  and tell her "thank you" for generously sponsoring a day of the Cancer Challenge.
 Don't Miss A Day, Follow Me By Email
It is so easy, just enter your email (under my picture to the right). Make sure you confirm your subscription in the email you will receive. You will then receive daily emails with all the designers who are donating a pattern through the month of October. These patterns will help you complete your challenge in making hats for cancer patients. October is a great time of year to reach out and help warm hearts of those who need it the most.