If you are reading this, then you love to crochet (or know someone who does-kudos to you for researching for the perfect gift)! I have been crocheting for nearly 30 years and it is an easy hobby to get into and the supplies you need are pretty basic: yarn, hook, pattern…
But, there are some "extra's" that make crochet so much more enjoyable. All of these items would make the perfect gift this holiday season. So below I have a few items that I have accumulated over the years and a few that are on my wishlist.
Check out my list of Gift Ideas for Crocheters!
I have always used a simple pair of scissors and just last week I broke down and bought a pair of beautiful Italian scissors! Seriously, every time I have to cut my yarn, I get excited, sometimes it's just the simple things that make your day. What a perfect gift to give. I bought mine pair of scissors at JoAnn's with my 40% off coupon but cannot seem to find them online, these are similiar: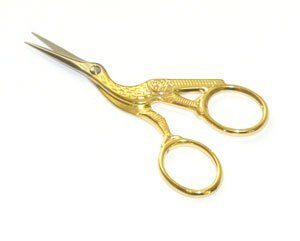 Italian Craft Scissors on Amazon
Row counters are a simple tool that is so helpful when making large projects. They are priced reasonable and make a great gift or can be a perfect stocking stuffer.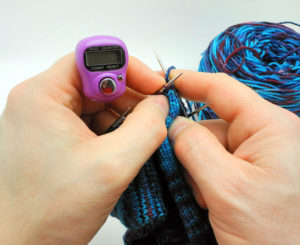 Row Counter by Diabolical Yarn
A Stitch guide is a useful tool that many crocheters do not own. This tool makes checking your gauge easy and also allows you to double check your hook size. This can be very important especially if you own unmarked hooks.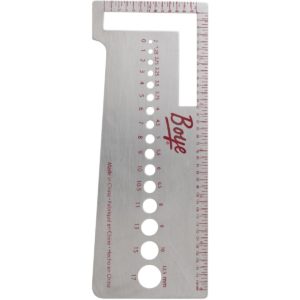 Stitch, Row and Needle Guide/Check 
If you enjoy crocheting off of charts or with color changing yarns these yarn bobbins can be so helpful. I used these when making my Deerly Beloved Blanket and it was so helpful.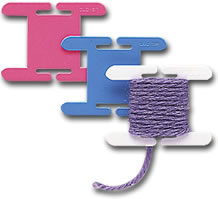 I used the basic metal hooks for years. I finally decided to give clover hooks a try. I received my first one and used it on a project a fell in love with them. I know own the entire set (up to Hook I). They help with sore hands and just make crocheting more comfortable. If the entire set is not in your budget just try one or two hook sizes to begin your collection and just add more hooks over time. Or grab those 40% off coupon that most craft stores give out so freely 😉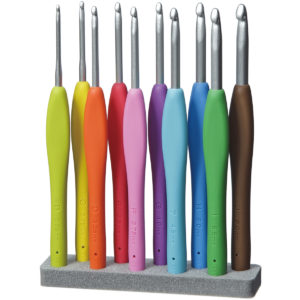 When I started crocheting and a pattern called to add poms, I grabbed the nearest cardboard and made my own prop to make them. I did this for years. But, when I finally broke down and bought a pom maker my poms where so much more uniformed and they became easier to make. I love my pom maker, this is the set I own: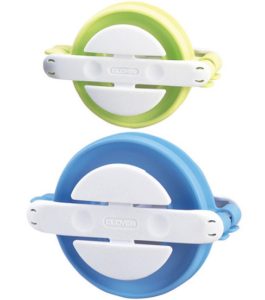 When crocheting (or crafting in most ways) it is so important to have good lighting. I like to be able to adjust my light easily for height or angle depending on what I am making. I usually use it as a typical lamp but, occasionally it is very helpful to have a magnifying glass handy. Honestly, I stole my husbands fly tying lamp and LOVE it! Plus it is so much cheaper than those lamps designed for "crafts".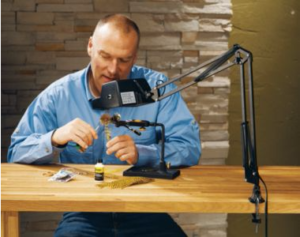 There are so many beautiful wood hook organizer and displays. But, honestly, I want to be able to zip up my hooks/gadgets and be able to take them with me. So, I have found this organizer and I love it.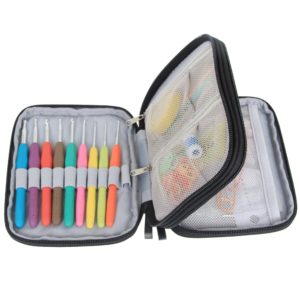 Damero Organizer Zipper Case for Crochet Hooks and Accessories
When crocheting, some of you may experience cramping in your hands or wrists. This happens to me when I am working on a big project or crocheting a lot for the holidays. I looked into getting stress relief gloves but so many of them looked like they would interfere with the yarn as I crocheted. However, I found these amazing gloves by Lion Brand that I LOVE. They do not interfere with your yarn and provide just enough support to relieve the cramping or soreness in my hands.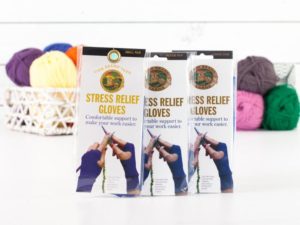 Stress Relief Gloves by Lion Brand
Along with being able to grab your hooks and go, it is nice to have a simple bag to tote your yarn in. I like to keep this simple so I can throw a skein of yarn or a whole project in it. I found this fun tote bags that you can have customized. The owner of Poppy and Petals was great to work with and had a quick turn around time. I would highly recommend it. You can print your crochet shops name on it or just something fun like this: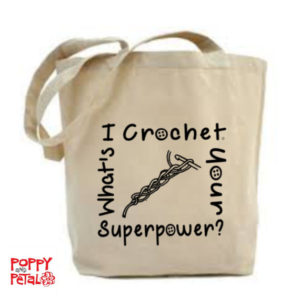 Custom Tote by Poppy and Petal (let her know Sweet Potato 3 sent ya)
I hope you found some of these ideas fun and useful. Heck, grab them all and through them in this fun tote, your crocheter will be in awe over how thoughtful of a gift you gave.