I am hosting a LIVE session in my Crochet & Conversations group about how to crochet from a chart! That's right. I have received so many requests regarding this topic. I finally decided it was time to sit down and do some show & tell.
Where can I watch the LIVE video?
The Facebook LIVE will be hosted in my Crochet & Conversations group on Facebook. This is a fun and interactive group of fellow crocheters. We chat about, post about, and see everything about crochet. We support one another and cheer one another on as we learn new things. That is why this session will be hosting in this supportive group. You can join now by clicking HERE.

What do I need?
The LIVE session will be visual based. But, you are welcome to work along with me as I show the details. I will be working slow so you can see each step of the way. If this is your very first time trying to crochet from a chart it may be helpful to just watch and then watch the replay and work along side me.
All you will need to work along with me is some small amounts of yarn. A smaller crochet hook, I will probably be using a Crochet Hook H (5.00 mm) and a crochet graph to work off of. I have created a small graph that goes with the upcoming holiday to practice with. Click this link to download and print an easy crochet Jack-O-Lantern graph to try out.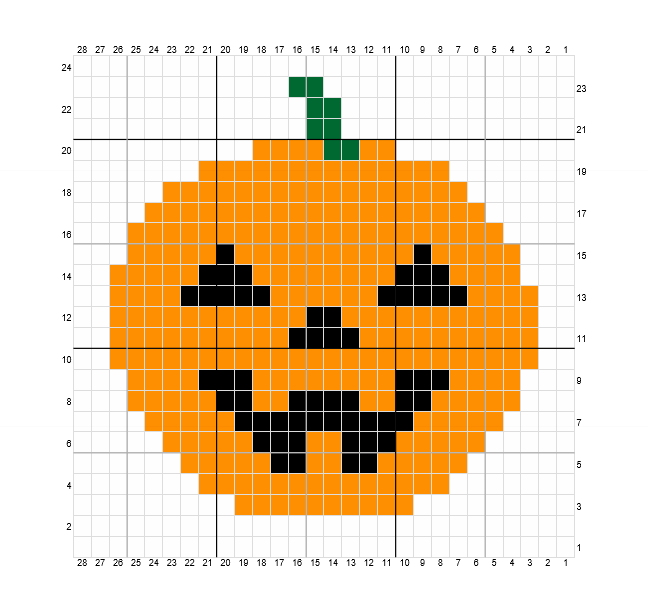 Let me know how it goes
I would love to hear how your progress is going with this new skill set. There are so many amazing patterns that are worked using charts. Knowing how to crochet from a graph will allow you to crochet from so many more patterns, you will be very thankful once you have it mastered.
Want to Try a Bigger Project?
One of my best selling patterns uses this crocheting from a graph method. It also will use the same stitches that I showed in my LIVE tutorial so you can see how I worked it up. Check out my Deerly Beloved Blanket by clicking this LINK.