As we celebrate babies during the month of July, I have been sharing bundles of designs geared towards newborn photo shoots. Today, I am sharing the "Must Have's"…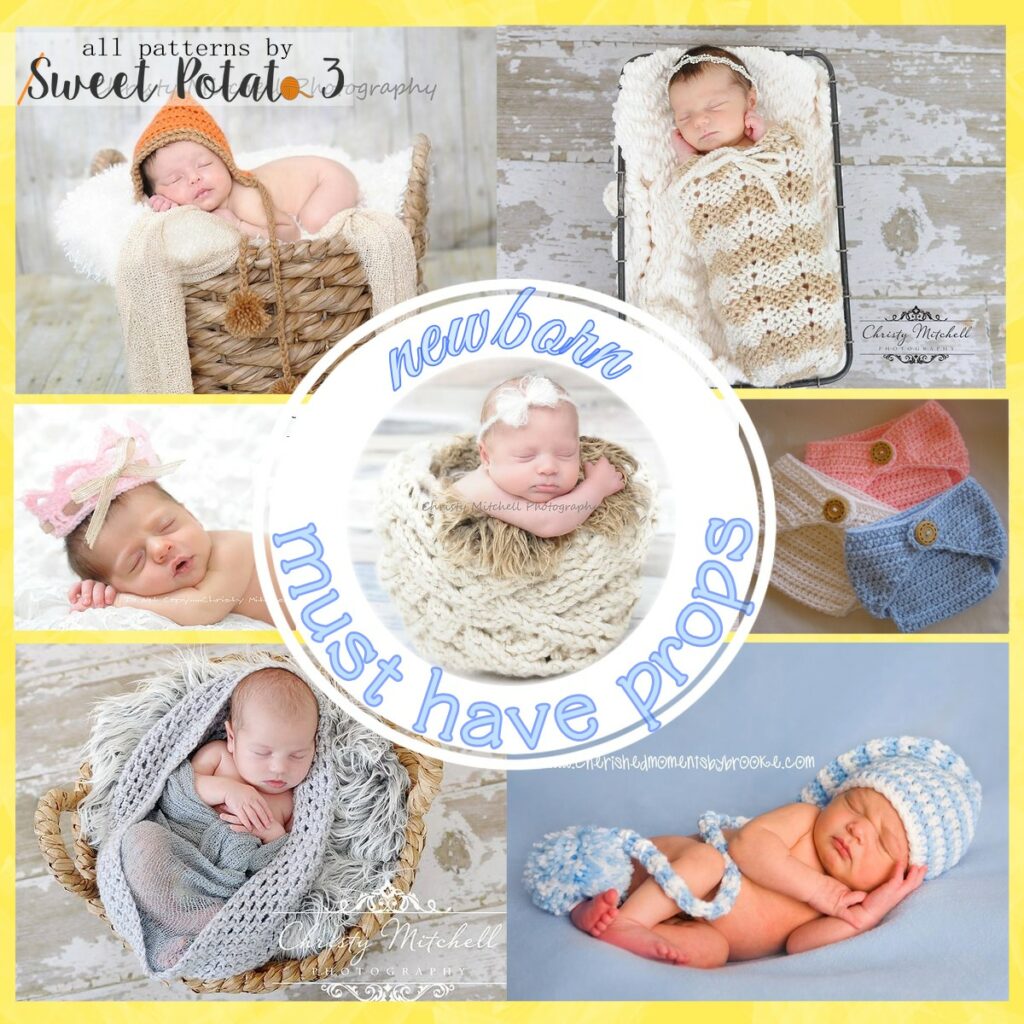 In the Must Have Newborn props bundle you will receive all 7 of the patterns shown above for a huge discount of only $10 (value of $28.50). See how you can get this great value below, after viewing each pattern up and close.
Included in the Must Have Newborn Photo Prop Bundle are:
The Basic Bonnet, is just as it 's called. It's Basic. It's Classic. It's Adorable. It's a Must Have.
A Swaddle Pod is another classic newborn prop, bundling the new baby in a cocoon like bundle. This pattern has a beautiful chevron design, make it is multiple colors to enhance the striping or make it solid for a less bold look.
The cabled bucket wrap is a unique prop that softens up any photo shoot. Adding texture and softness to any session is always a welcome treat.
We all know that the precious new life is treated like the prince & princess they are in our families. So embrace that with the Ribbon & Pearls Crown. This pattern comes in sizes from newborn up through child.
The most basic prop and one of my more popular request is the Diaper Cover. This pattern features an easy one button closure that wraps around the babies waist preventing too much gap and bulkiness.
The Twin Nesting Bowl is another great layering photo prop. The bowl is designed to nestle twins into it but is just as adorable with one baby.
And the final pattern is the Long Tail Pixie Hat! This design is another classic and I love making them. Add an XLarge Pom or a simple Flower at the tip for the perfect whimsical touch.
Where can I get the Must Have Photo Prop Bundle?
As mentioned above the bundle is only available through the month of July. You can order it in one easy step on Etsy by clicking: HERE.
Or, you may go to Ravelry and add each pattern to your cart. You must have ALL 7 of them added to receive the discount. No code is needed, but you MUST make sure the discount is applied before you checkout. No refunds are given. You can see all the patterns individually on this (limited time only) link: HERE. I recommend for a quick checkout on Ravelry, all the patterns will be added to your cart automatically, click HERE.