There was definitely some glitches along the way, but we made it and the Christmas in July CAL is finally ready! Thanks for your patience as my computer was replaced and updated, whew! Now I can breath again and have some summer crochet fun.
The CAL is designed as a mystery for those that enjoy the unknown and new excitement of each release. HOWEVER, for those that would like to know what the final project will look like you can simply contact me for a quick sneak peak. Just send me a message on facebook for the quickest response.
I will host the CAL  in a facebook group. The group will be private, so if you are making the tree skirt as a gift and want to share your progress, you can. Your posts will not be seen by anyone outside of the group. I love hosting in facebook groups because the interaction is fun and it is so exciting to see everyone's progress. You will not be required to join the group on facebook, all sections will be posted to ravelry as they are released.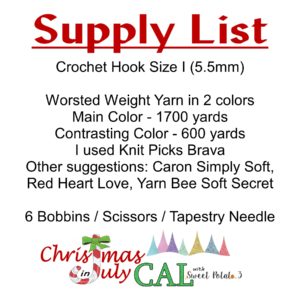 One of the biggest benefits of a CAL is that large projects are broken down into smaller, sometimes more manageable sections, making the project fun. The first section is the largest part so you will be given a longer time frame to complete it. The remaining sections are fun and much quicker to crochet.
Classic / Traditional Design
If you have participated in a past Sweet Potato 3 CAL, which are usually themed baby blankets, you may wonder about the design. There will be no appliques at all (how many of you are cheering right now?). The theme is just traditional, "Christmas". This tree skirt will look lovely in any home, even those without children. It is a classic design that I would imagine any age will love.
Intermediate with some twists!
I always want those that join my CAL's to learn something new. The stitches are all intermediate and I will do live video's to help explain each part of the Tree Skirt. I did add a fun twist to one of the sections. This is why you need the bobbins, but please do not let that scare you, I will make sure to walk you through it. I am confident you will LOVE the end result.
The schedule for the CAL is as follows:
June 20 – July 5: Purchase CAL, join facebook group, get supplies.
July 5 – 23 – section 1 (this is the largest section and will take some time to complete)
July 24 – section 2
July 27 – section 3
July 31 – section 4
August 7 – section 5
August 14 – section 6
August 28 – completed projects will get free coordinating pattern