Do you know someone who wants to learn the art of crochet?
What is crochet? Crochet, pronounced [kroh-shey; British kroh-shey, -shee], is a process of creating fabric by interlocking loops of yarn, thread, or strands of other materials using a crochet hook. (definition according to wikipedia.com). 
Crochet is a fiber art that many of us probably saw a beloved great grandma, great aunt, or elder sitting in a chair making their yarn masterpiece. The popularity of crochet seemed to have decreased over the last few decades. However, in recent years the hype behind crochet is rapidly growing. Gaining in popularity even among youth and young adults. This brings us to why I am writing this post.
Meet Your Instructors
We want to help spread our love of crochet with anyone and everyone who wants to learn. I, Christine owner of Sweet Potato 3, have been crocheting for 30+ years. Having learned the art of crochet from my great Grandmother when I was in elementary school, I have loved creating keepsake gifts for those close to me. Over the last 5 years I dove into designing patterns and haven't looked back.
I have teamed up with Shelley, owner of The Blue Star Boutique. Shelley is a certified teacher of crochet and brings a ton of expertise and knowledge plus a fun personality to the group.
Also, joining me in teaching is Kim, owner of K's Keepsakes. Kim has been a pattern tester for me for years and does amazing work and is excited about sharing her passion for crochet.
When Do We Start?
We want you to spread the word and invite anyone who you know that may be interested in learning to crochet. The group will be hosted in a facebook group and is designed as an interactive experience.
We will work on projects that were designed to help you master one set of skills before moving on. Live Session will give you the opportunity to get your questions answered. The official start date is Monday, March 13, 2017. A supply list has been posted, so grab those supplies and come join in on the fun!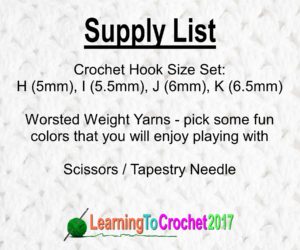 You can order these supplies online, or purchase at nearly every craft store, so feel free to get them wherever you wish.
CROCHET HOOKS
I recommend getting a hook set that will include the most commonly used hook sizes for crocheting most yarn projects. Hook size H (5mm), I (5.5mm), J (6mm) and K (6.5mm) are the most common hooks you will use while crocheting with yarn.
As you shop for hooks, you will find there are many options. Find the one that fits your budget and you'll be good to go. Hook materials will vary from Aluminum which is what I started crocheting with, there are plastic hooks (I am not a fan of plastic, because I feel like some yarn almost sticks to them), wooden hooks and then you can also opt for fancy handles.
After many years of crocheting I have upgraded and love the Clover Amour Hooks which has a comfort grip handle, but this is not necessary. Also, with hooks you may notice there are two types of hooks: tapered or inline. To see the difference check out the great graphic from planetjune.com. This is a personal preference and will not effect your crochet piece. I prefer the tapered hooks but others love inline. Whatever you learn with you will probably prefer
 in the long run.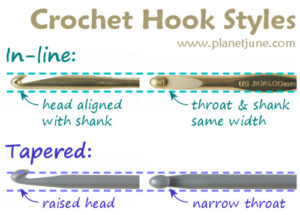 YARN
When picking out yarn, just have fun! Pick colors you are going to love to work with but steer away from really dark colors like black, navy, etc. It is more difficult to see the details of your stitch with dark colored yarn when you are learning.
Pick "worsted" weight yarn, the label will usually have a #4 on the label (see below image from Craftsy.com). For the first project you will need some small amounts of yarn, so if you have scrap yarn laying around you will be good to go.
You can also purchase the small craft supply yarns at Wal-Mart for like $.88 per color. These will work for practicing and the first project. But, I do recommend getting a couples skeins of yarn for project #2 and just to have on hand.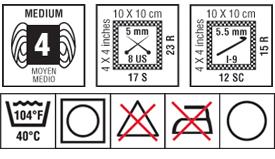 SCISSORS / TAPESTRY NEEDLES
Make sure you have a sharp pair of scissors. They need to cut yarn without fraying the ends. A tapestry needle, or yarn needle, is a must. Most craft stores will have plastic ones. I prefer metal because it is easier to use, so I would recommend making that a priority. You may need to look in the sewing section of the craft store instead of the yarn section.
So if you have been, or you know someone who has been wanting to learn to crochet, now is the time! Join our facebook group now. You won't regret it!