We are a week into November and the 2018 Crochet Cancer Challenge has officially wrapped up. Every year that I have organized this Challenge, I am amazed at how committed everyone is to help out. The designers always reach out to join and come up with some amazing designs. All of you crocheters, who crochet relentlessly to create hats to give.
All of this encourages me to continue every year. This was my 5th year organizing the Crochet Cancer Challenge and I was blown away with our final pledge numbers.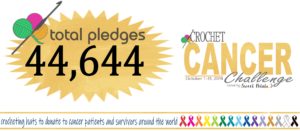 Just to let you know how amazing our final pledge count is, this surpassed last year by over 10,000! We could not have done this without each and everyone of you.
I hope you found the Crochet Cancer Challenge to be as rewarding as I did. I am already excited to organize next years to be even bigger and better. Make sure to bring those donations into your local cancer center, I took my stack in on Monday and it is always so rewarding. I like to think of my Uncle Jeff when I walk into donate, and it make me chuckle just remembering his laugh, it was one that I will never forget. I love you Uncle Jeff!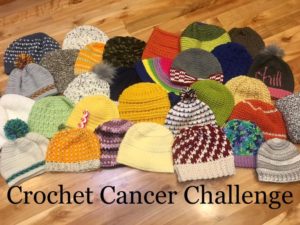 PLEASE, PLEASE, PLEASE thank the designers.
A huge part of our success every year is how willing other crochet designers are to give a pattern in exchange for a pledge. I want them to know how much we all appreciate this. So, please, take a little time today to thank them. Write a message on their facebook page, send them an email or facebook message, or even share a photo of the hat you made from their design.
More Links about the Cancer Challenge
The posts from the last couple weeks were full of information and should have answered many of your questions. If you think of anything I have missed, let me know so I can inform the other participants. Enjoy crocheting those hats!