Gearing up for fall festivities! Are you ready?
I spent the afternoon updating my Acorn / Pinecone Hat. This fun crochet pattern is ideal for fall weather. Not only is it warm but it is full of character. The bold puff stitches show off a perfect texture to look just like a pinecone. But, if you switch up the colors and add a leaf, it can totally pull off an Acorn!
I sat down this afternoon to make one of these to fulfill an order. I have to admit, I was embarrassed that I had a pattern that was so unclear, especially when it came to stitch placement. Just minutes into crocheting the Pinecone Hat, I knew I had to update the entire pattern. And while I was doing that, why not add more sizes?
Now the pattern includes sizes from newborn up to adult. Make one for the entire family to show how Nutty your family really is (then send me a picture, because I really want to see this on a Christmas card)!
Grab your copy of the Acorn / Pinecone Hat on: Ravelry / Etsy / Craftsy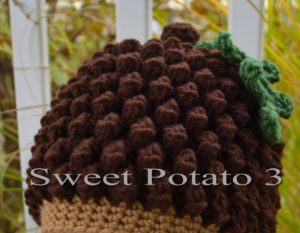 Don't miss out on any updates, new pattern releases, or just crochet fun, join me on facebook. Sweet Potato 3 on facebook is a fun and engaging way to share you love of crochet with others. We joke around and challenge each other in a great community environment.