The In a Cinch Handbag is an extra exciting pattern release. Not only is it an adorable accessory for those spring & summer outings, it is also part of round 13 of The Battle of the Stitches.
Battle of the Stitches is a fun group of designers that work together to come up with a fun stitch that we think will be fun for designs in the season we are in… yay for Spring! Once a stitch is decided on we all go our own ways and design away. About 2 weeks later we come together and do a huge release of all our patterns. If you missed who all the challengers are this round check out the Blog post, here.
The In a Cinch Handbag is a fun and lacy handbag for your quick grab and take items. The bottom of the handbag has tight stitching to help keep everything secure in the bag. It is decorated with a fun diamond pattern made in a contrasting color to grab your attention. The top of the handbag is crocheted with a fun slanting puff stitch (stitch from the battle). The slanting puff stitch creates a beautiful and lacy look that adds that girly touch everyone loves. Isn't that ruffle on top the cutest?
You can grab your copy of the In a Cinch Handbag on Ravelry for 50% off through Sunday, March 26, 2017 (no code needed, just add it to your cart). Or keep reading to find out how you can win a copy. Or to top that, win a copy of all the patterns from all the designers in the Battle of the Stitches round 13!
Now for the Blog Hop – Isn't this FUN!
If you are seeing this blog hop for the first time, click here to begin at the start. Vote for your favorite design by giving it a "HEART" on Ravelry. Make sure to visit the next blog post by Laura, owner of Laura Mae's Crochet. From there visit each designer, see their design and have chances to win something fun! You will end up at the main Battle of the Stitches Blog where 5 winners will win a copy of all the patterns in the challenge, and other goodies that you have to follow along to see (so much fun!).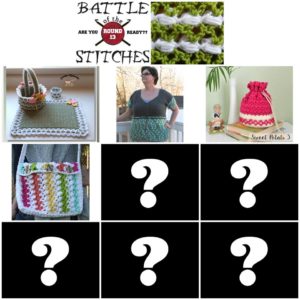 Win with Sweet Potato 3
And for sticking with me I am going to offer 3 of my wonderful followers up to $20 in patterns from Sweet Potato 3's Ravelry shop! Enter through the Rafflecopter widget below: