Do you gift or sell your crochet items? If you answered yes, then it is important to include some care instructions with your items. This will create a professional appearance and will give the recipient helpful information. I have created some basic care instructions that you can customize to fit your needs best.
Why Should You Include Care Instructions?
When someone is lucky enough to receive a hand crocheted item, they will likely cherish the time and love put into the project. If they mis-handle the item while trying to clean it, the crochet stitches may stretch or shrink depending on the type of yarn used. They will be devasted and will wish they had known how to properly care for it.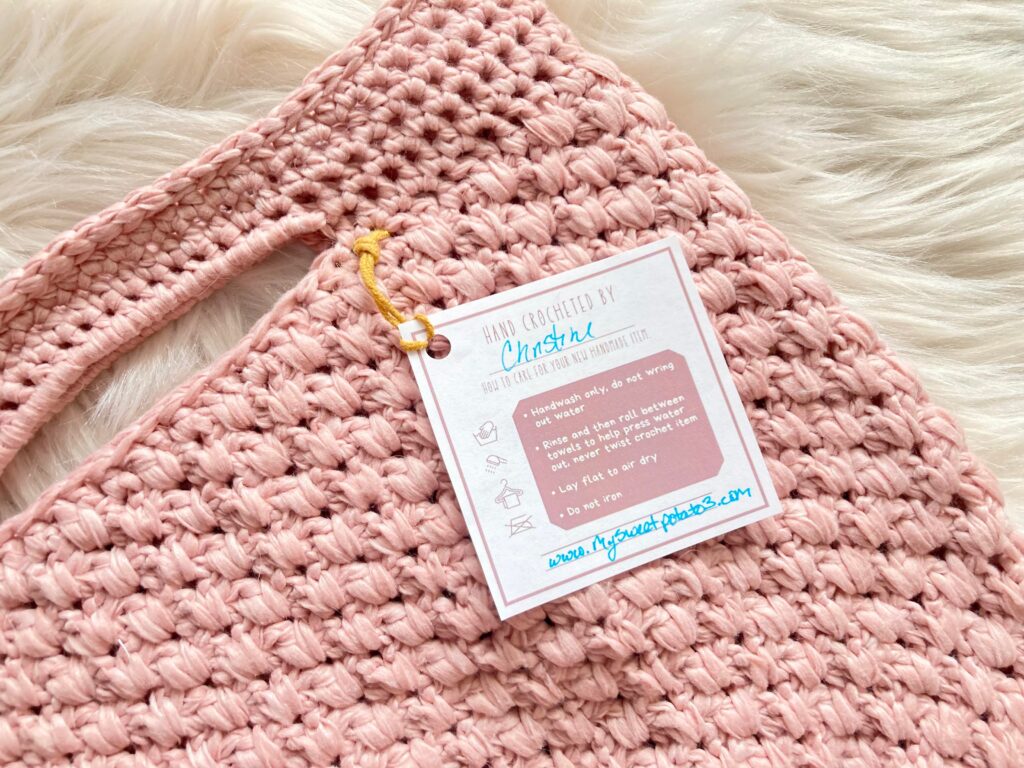 A simple card that includes the basic information about handwashing, rinsing and short bit about not wringing or twisting and never ironing may save a crochet piece.
The labels include basic instructions but also leaves a place for you to include additional information depending on what the label will be accompanying.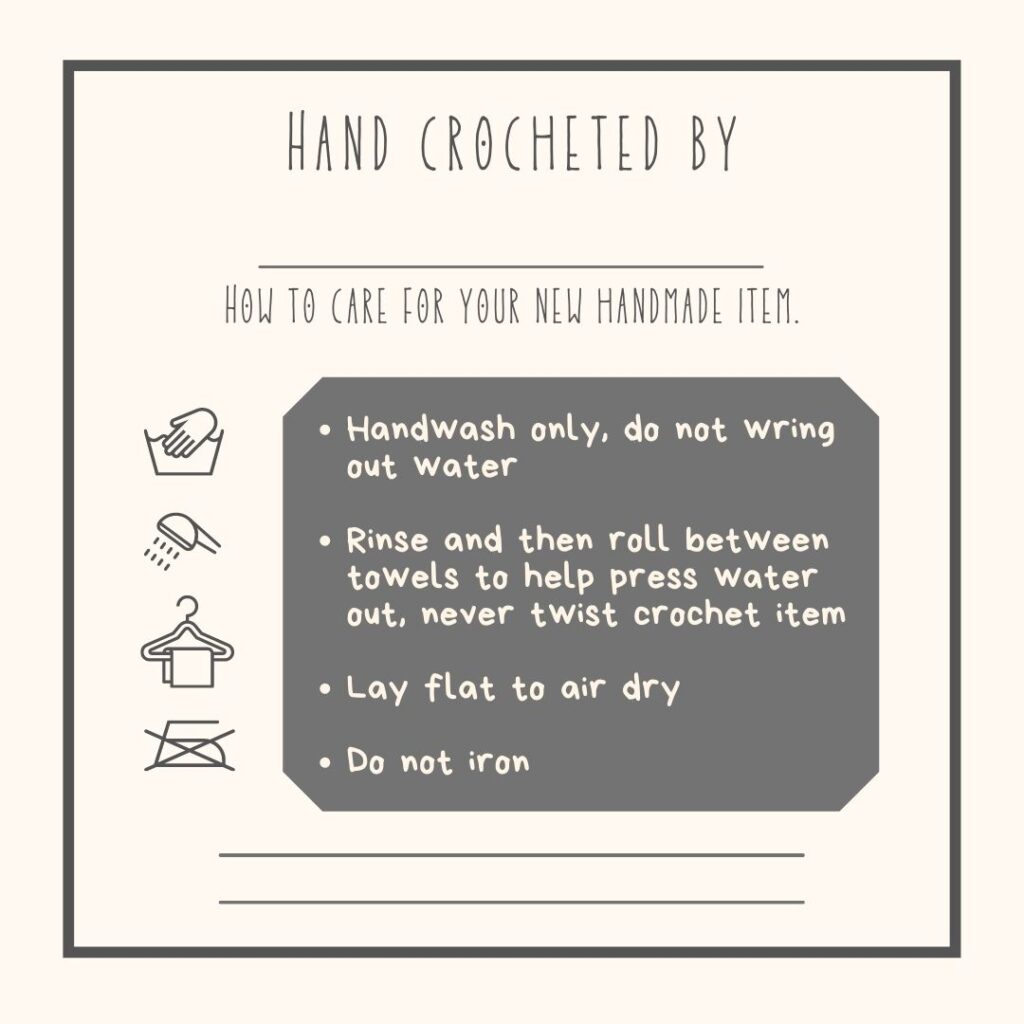 Ideas on customizing the care instruction Labels
Customizing your labels will depend upon who will be receiving the crochet piece. Selling crochet items will mean you want to make sure you recognize that it was a business transaction. This could include a small note thanking them for supporting your shop and / or including your business website.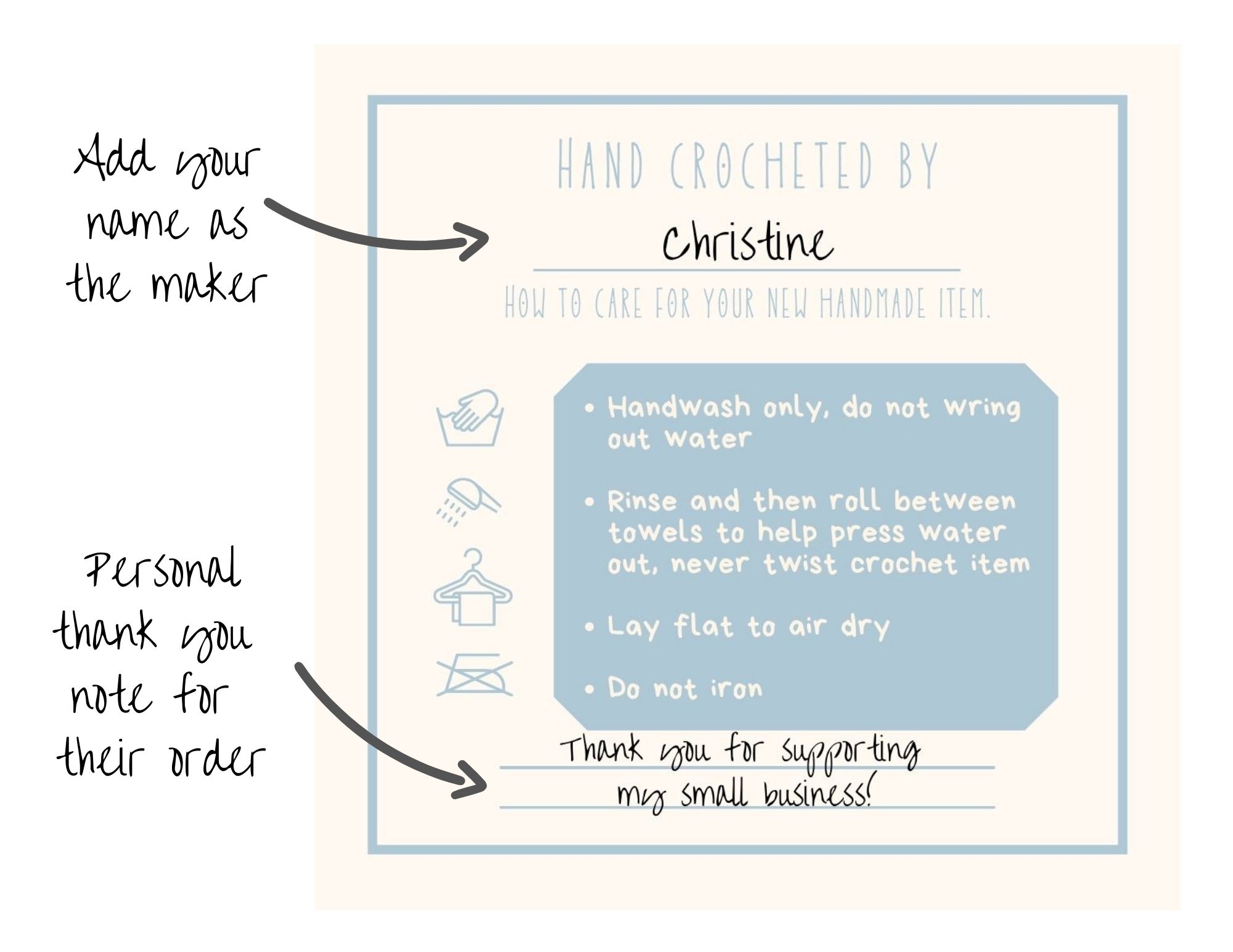 Some crochet projects do not need sizing information. These projects include but are not limited to scarves, cowls, home decor, blankets, bags, amigurumi and more. However, size information can be essential for other types of crochet projects especially garments. If you are including care instructions on a sweater, hat, slippers, etc. it is a great idea to also include size information and perhaps even fiber content.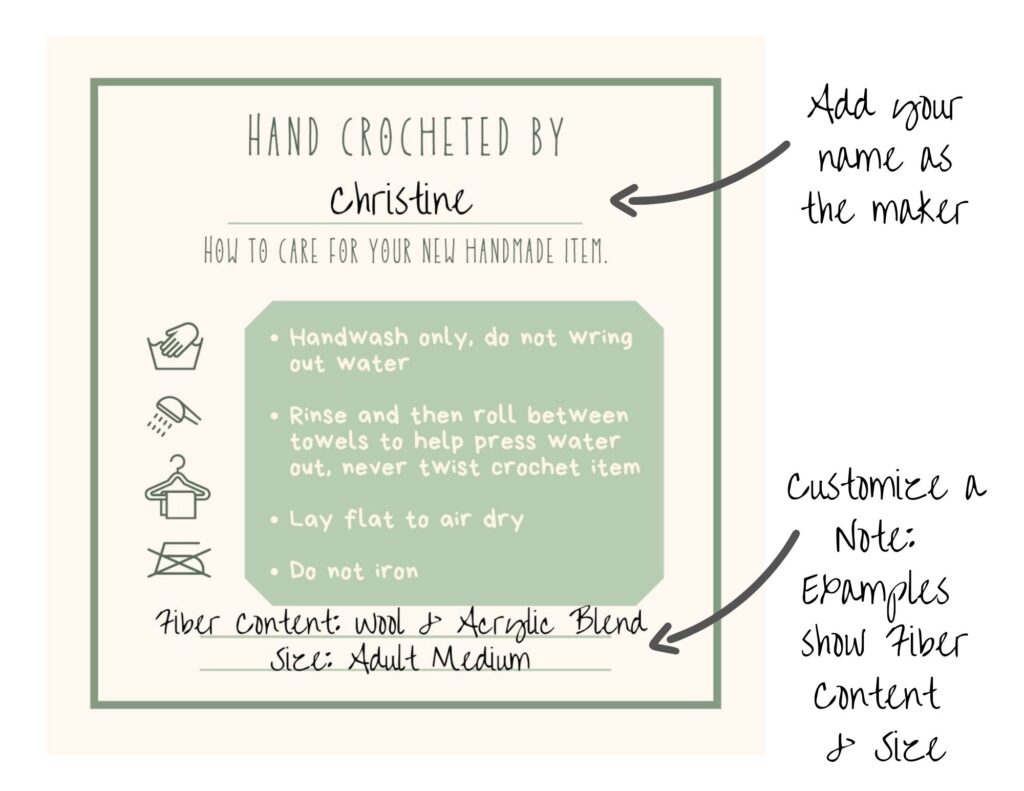 I know so many of you gift your crochet projects. In this situation, you can add a personal message.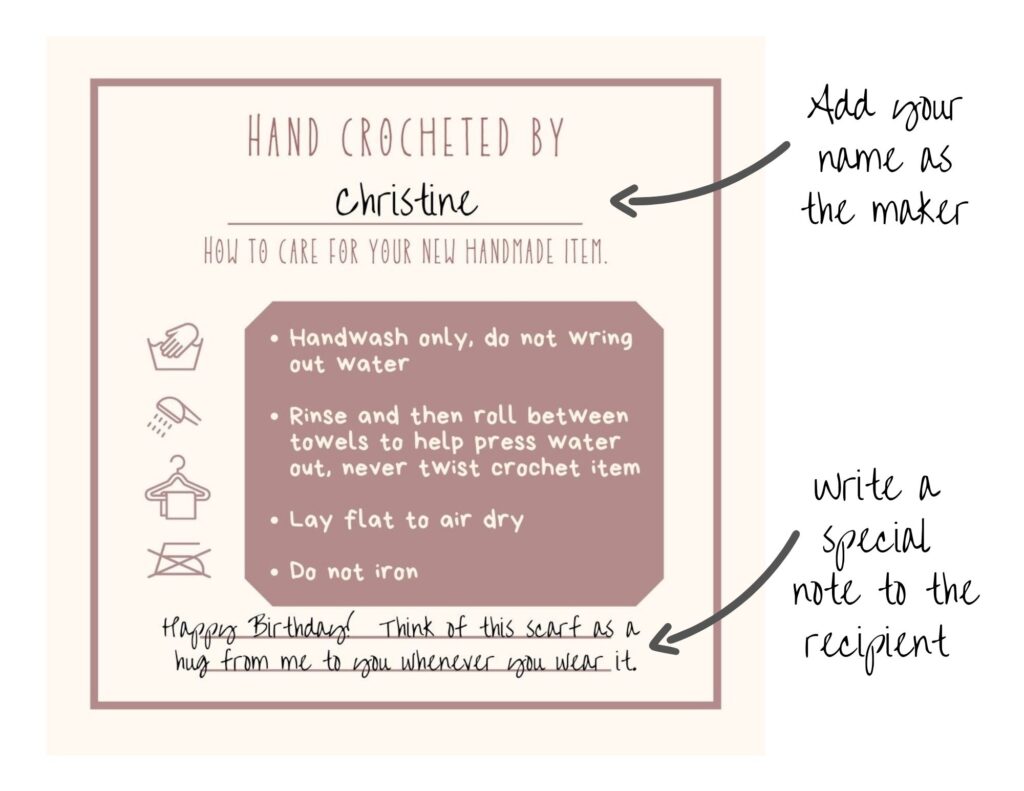 How to get my own customizable care instructions
I recommend printing your care instructions labels on cardstock instead of regular paper. Depending on the size of labels you want I have provided 2 sizes. The larger care instructions will print 6 at a time. The labels will be about 3″ X 3″.
If you are including the labels on projects like newborn socks, washcloths, coasters or other small projects, I created small labels. This printable comes with 4 colors of labels that are just over 2″ X 2″ each. This form will have 12 labels per sheet.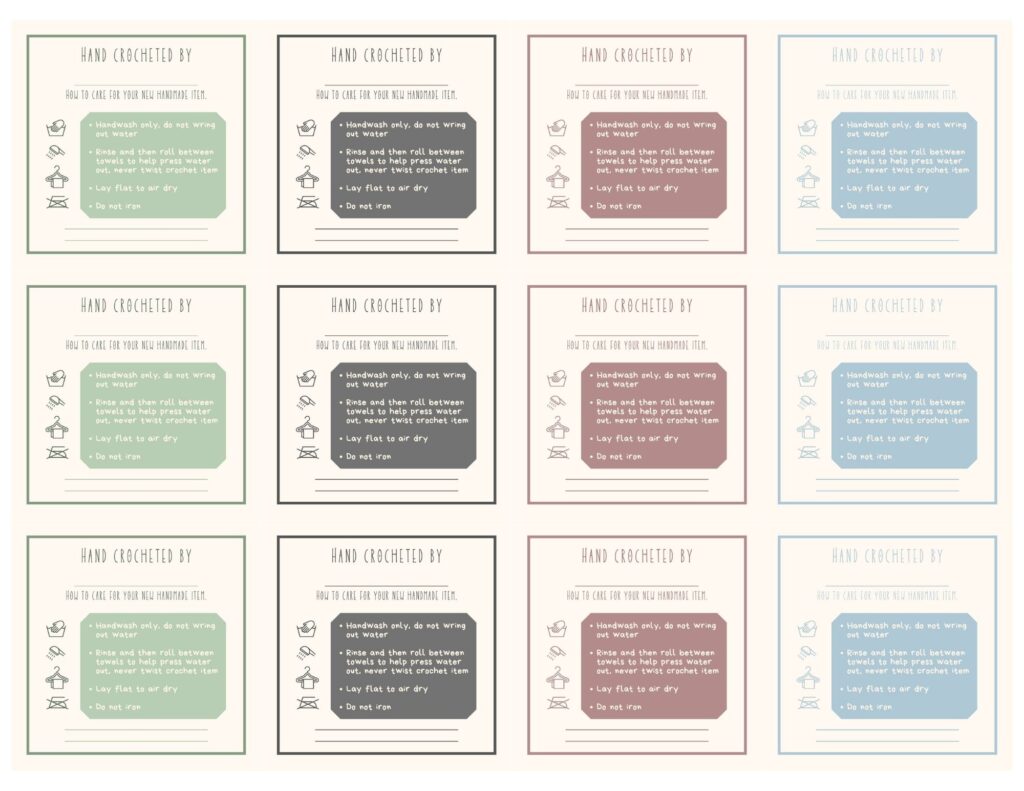 Other Free Printables You may want
Gift Tags for Crochet Hot Pad & Scrubby – click HERE
Crochet Journal – coming soon
More Crochet Fun
Sign up for my newsletter to get reminders about new crochet patterns, tips & tricks, printable's, sales, charity events and more. All I need is an email address, I promise to not fill your inbox with spam, I will respect your time. Sign up by clicking HERE.
Follow Sweet Potato 3 on Facebook and on Instagram, both are @SweetPotato3Patterns.
However, if you would enjoy a more interactive group experience, you should join my Crochet & Conversations Facebook group, by clicking HERE. It is a ton of fun and I encourage everyone to share their projects, WIPS (works in progress) and inspirations. Plus, you get exclusive deals, are the first to see new releases, give input on designs and have opportunities to win patterns. Join now and get to know others who also enjoy the art of crochet.