Accessorizing with a scarf is one of my favorite ways to switch up my wardrobe. It is great to have basic clothes but dress them up or down with your own style of scarf. The Hearts of Love Scarf was designed around Valentine's Day; however, you could wear it anytime of the year.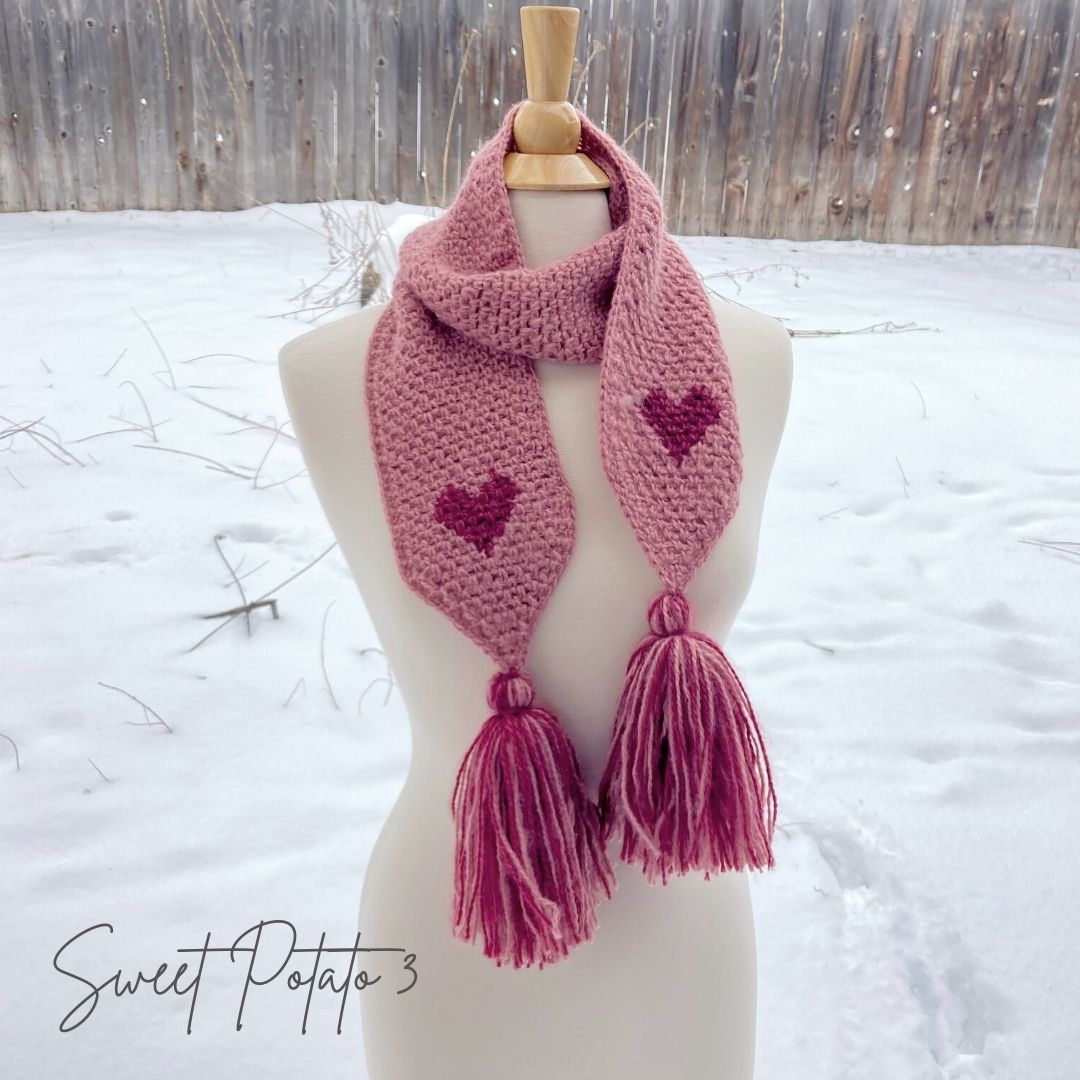 I love how the scarf is a thinner scarf so it can be work wrapped around the neck or it can be worn tied around the neck. Each option looks lovely but has a different look or style that will suit the occasion.
Hearts of Love Scarf Details
Made with a popular stitch that works up quick, has a nice lay to it which works great for tying. The stitch is not super thick, so again, this can be a great construction for tying the scarf because it lays nicely.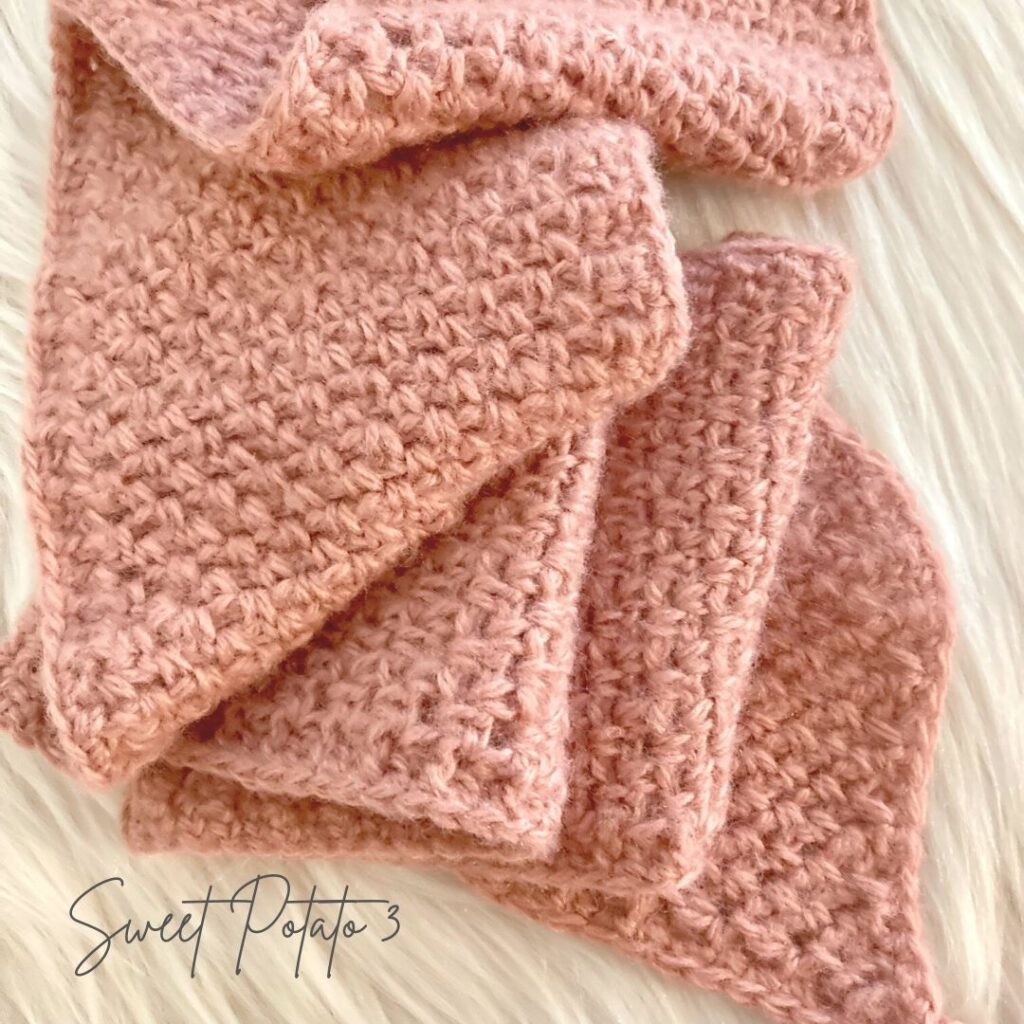 The hearts that adorn the angled ends of the scarf are crocheted right into the pattern, no need to add appliques after you are done. I then added extra-large tassels on the angled ends. You can choose to add these, add regular sizes tassels, poms, or leave as is.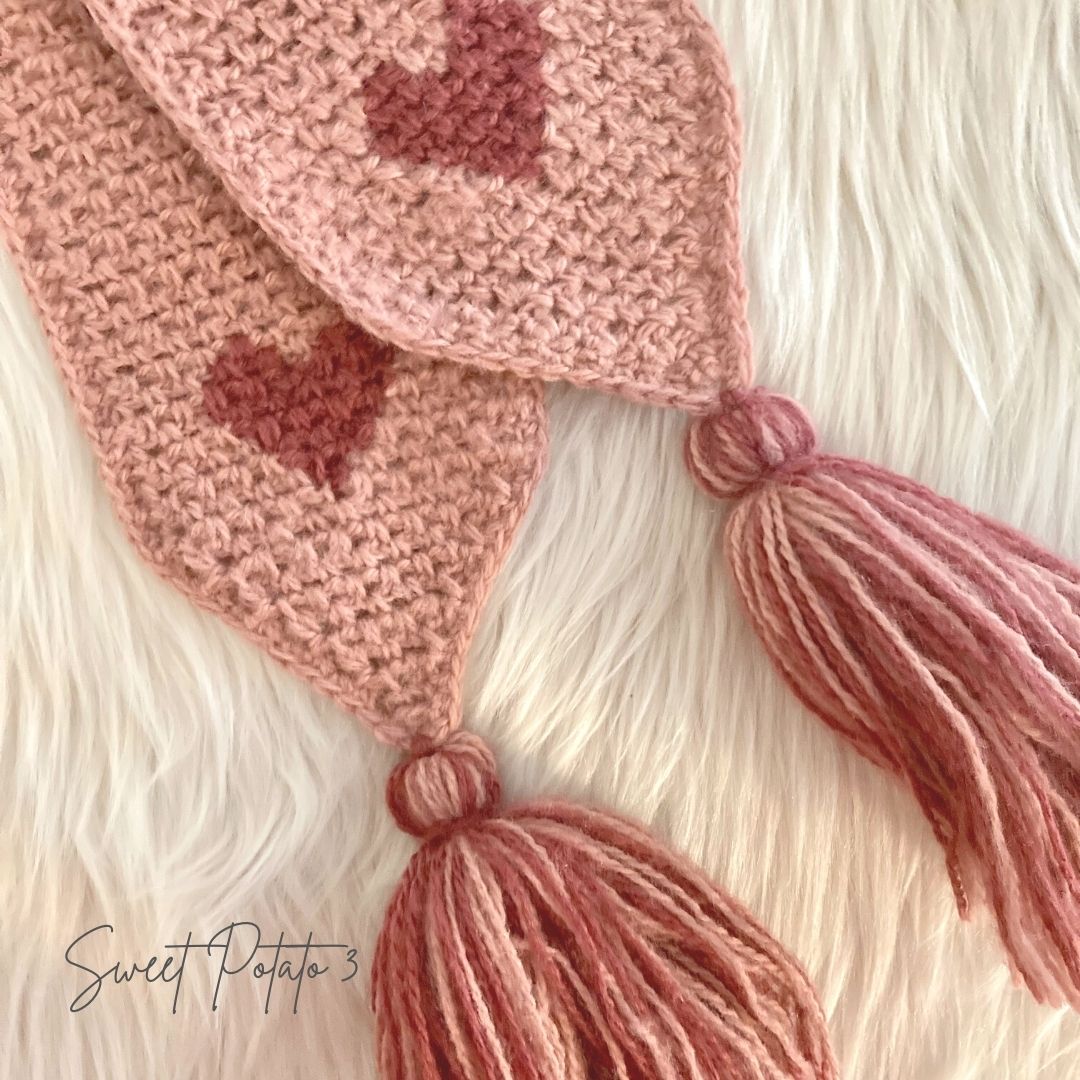 Being a crochet designer, I am fortunate enough to receive sample of yarn to try. I have always admired Hobbii yarn, the variety, the colors, the types are always eye catching and lovely. So, when I was asked to do a review of some of their yarns, I was so excited to give them a try.
As soon as I saw the Fluffy Day yarn by Hobbii I knew I wanted to give it a try. It has the same look as mohair which I love crocheting with however, the Fluffy Day is a worsted weight yarn so it works on so many more designs. I loved working with this yarn and have a full YouTube Video reviewing the yarn, I'd love to have you check it out.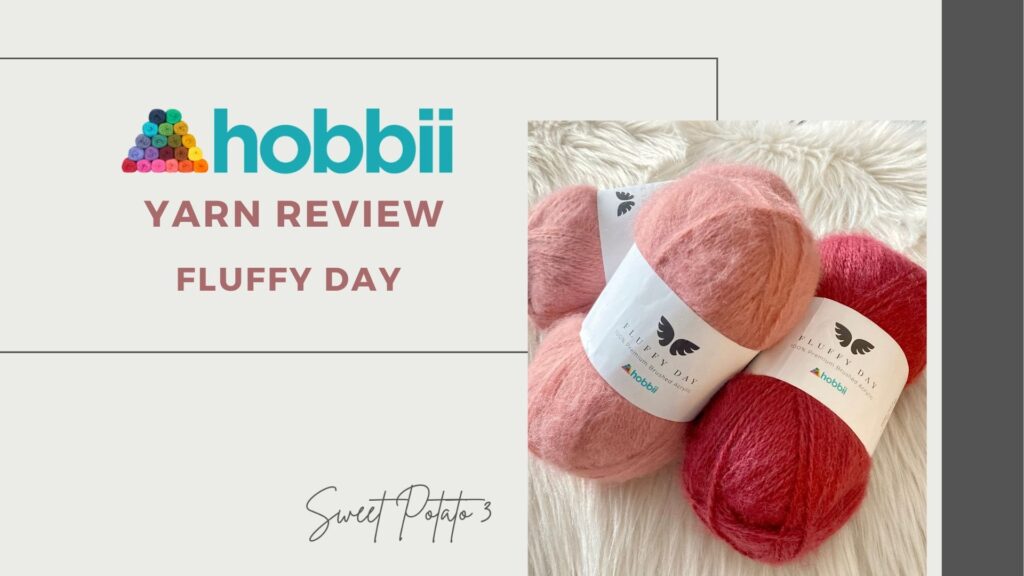 Hearts of Love Pattern Info & Material
Skill Level: Intermediate
Crochet Hook I (5.50 mm)

Worsted Weight Yarn (#4) – 380 yards + amount for optional tassels
Sample Made In: Hobbii Fluffy Day
Main Color: #13 – Terracotta (about 350 yards)
Contrasting Color: #16 – Redwood (about 30 yards + amount for optional tassels)
Measuring Tape / Scissors / Yarn Needle
Optional: Tassel Maker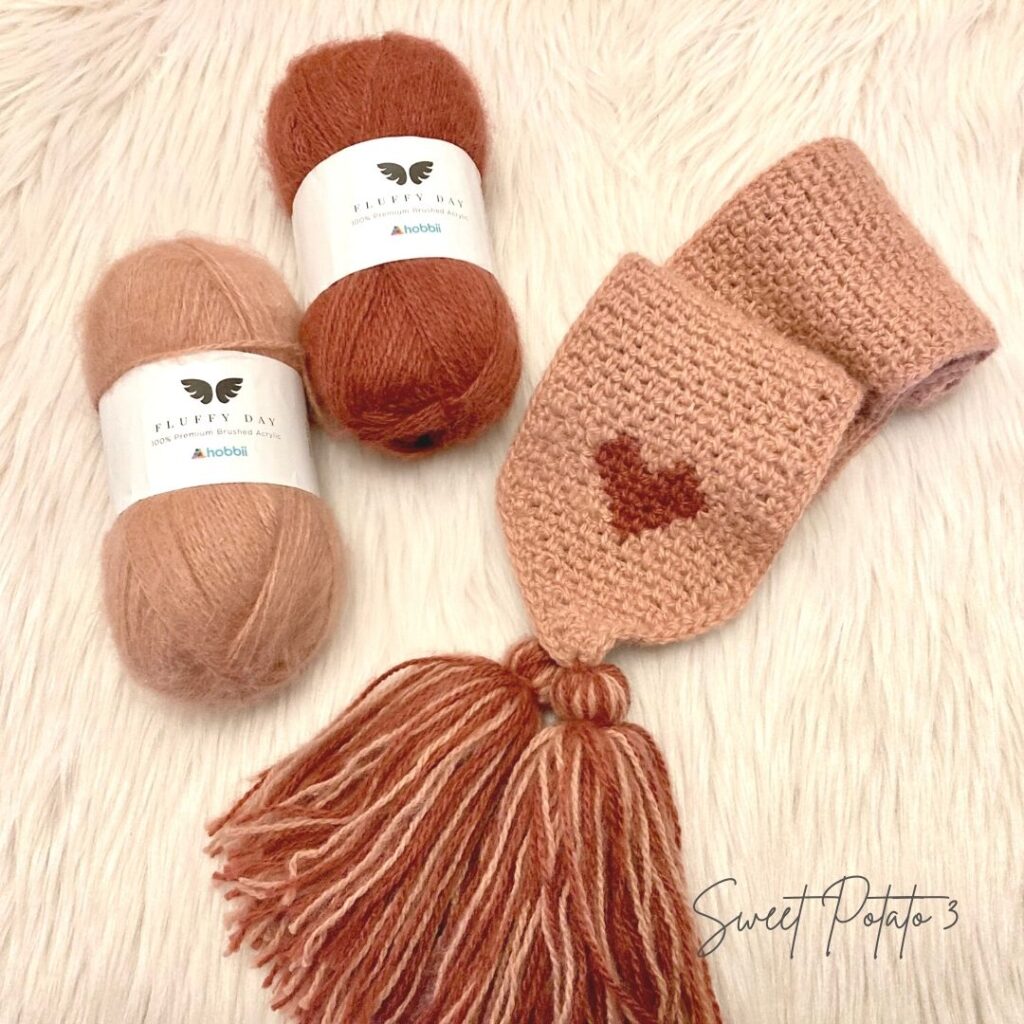 ---
14 Days of Love Blog Hop & Bundle – Limited Time (feb 2023)
Beginning on February 1, 2023, this design is being featured in the 14 Days of Love Blog Hop and Bundle hosted by Madame Stitch. She has compiled over 20 crochet patterns that all feature a "heart". Some may be appliques, others may have the heart crocheted right into the design (like in my scarf pattern) or the pattern may be an actual heart shape.
You can check out all the designs. Then, you will have two options.
Fiss a day, your out of luck in getting it free. However, you are always welcome to support the designer and purchase the pattern.
OR, if you don't want to check back daily but really want the patterns, check out the bundle. It's a great deal if you want multiple patterns!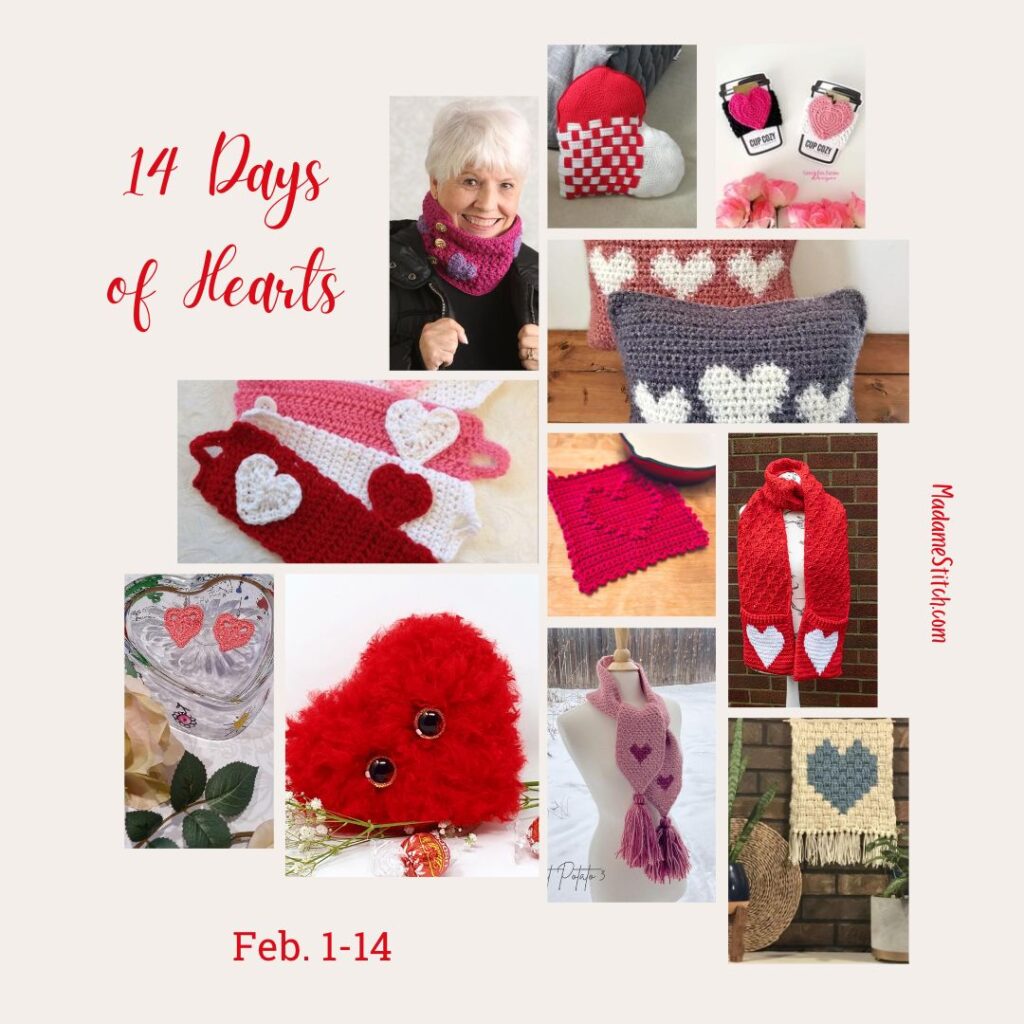 If you want to just purchase the bundle, simply click that button below. If you'd like to download the daily pattern, you must visit the roundup post through the button below to get the "code". That code will work in my Ravelry shop to get your daily download for 1 day only (February 1, 2023).


---
Where to get the pattern & Release SALE
The Hearts of Love Scarf is available in all of my pattern shops.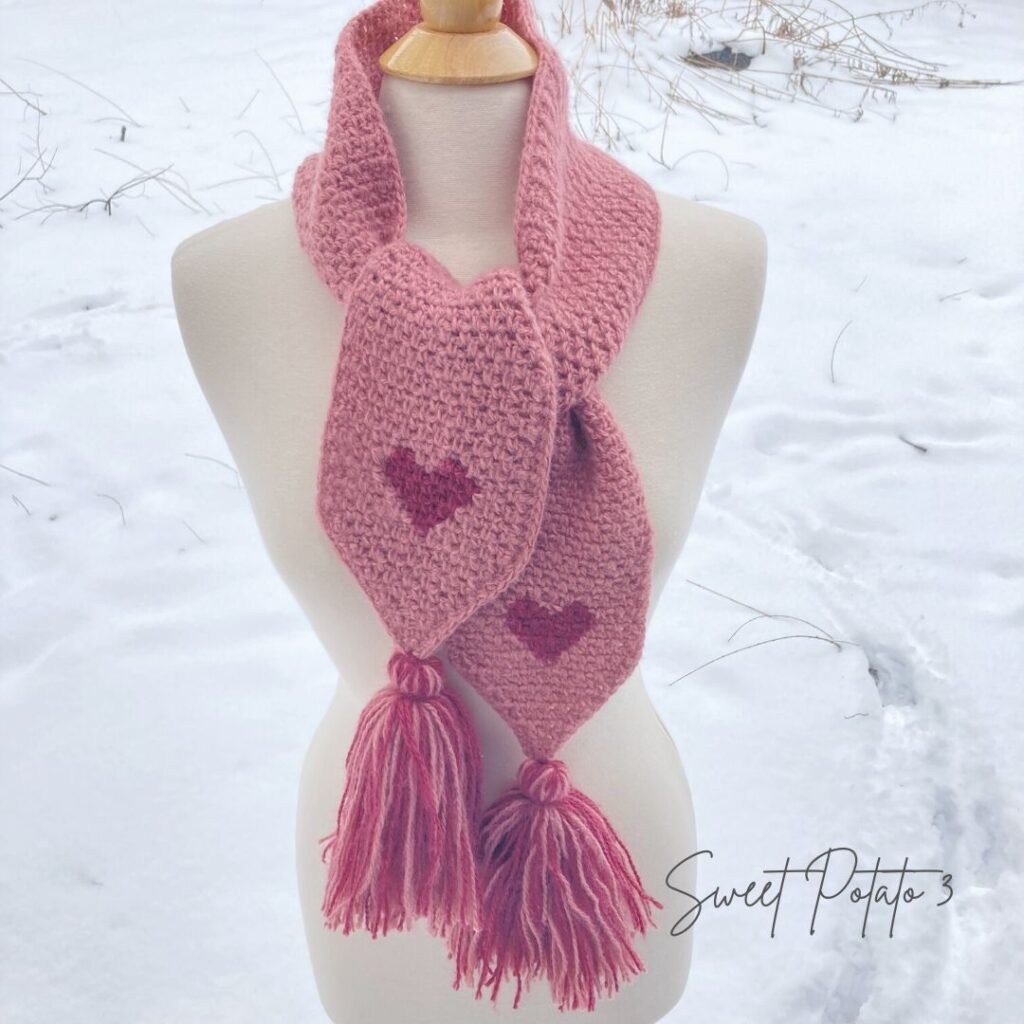 More Valentine Pattern You May LOVE
More Crochet Fun
If you found this article helpful and are interested in seeing more, sign up for my newsletter. All I need is an email address. I promise to not fill your inbox with spam, I will respect your time. Sign up by clicking HERE.
Follow Sweet Potato 3 on Facebook and on Instagram, both are @SweetPotato3Patterns.
However, if you would enjoy a more interactive group experience, you should join my Crochet & Conversations Facebook group, by clicking HERE. It is a ton of fun and I encourage everyone to share their projects, WIPS (works in progress) and inspirations. Plus, you get exclusive deals, are the first to see new releases, give input on designs and have opportunities to win patterns. Join now and get to know others who also enjoy the art of crochet.