With Valentine's Day right around the corner, I would like to take a minute and share my Love Bug Crochet Hat Pattern with all of you.
Holiday's are a fun time to sport a cute "themed" hat. It is an easy way to show that you enjoy a holiday and crocheting a cap is a cute way to do just that. The Love Bug Hat is very adorable with its dangling antennas topped with hearts.
About the Love Bug Hat Pattern
The Hat pattern is a basic beanie made in the popular worsted (#4) weight yarn. Any brand will work fine with this pattern as long as you make sure to match your gauge. The amount of yarn needed will be determined by what size of hat you decide to make.
The Love Bug Hat pattern comes in sizes for newborn, 3-6 month, 6-12 month, 12-24 month and child.
Another option is to omit the antennas and attach the hearts on top of the hat. This gives you a cute loving teddy bear hat which is just as cute as the love but.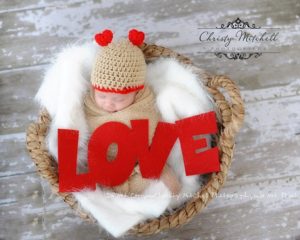 Get the Love Bug Hat Pattern
You can get your own copy of the Love Bug Hat pattern from Sweet Potato 3, by clicking this LINK HERE.
You May also Enjoy these Valentine Crochet Patterns:
More Crochet Fun
Follow Sweet Potato 3 on Facebook to see more pattern releases, sales and crochet fun, just click HERE.
However, if you would enjoy a more interactive group experience, you need to join my Crochet & Conversations facebook group, click HERE. It is a ton of fun and I encourage everyone to share their projects, WIPS (works in progress) and inspirations. Plus you get exclusive deals, are the first to see new releases, give input on designs and have opportunities to win patterns. Join now and get to know others who also enjoy the art of crochet.