Every crocheter needs to have the basic crochet pieces and techniques filed away for those moments you need them. For example, a basic hat pattern, a hot pad pattern, different ways to join pieces together, how & when to block, and the list could go on forever. Today I want to make sure you have a flower motif to add to that basic technique file.
Flower Motifs can be used for so many things, so having a basic design that you can grab and quickly work up can really enhance your crochet abilities. I designed this crochet flower motif years ago and worked it up into a blanket. But, there are sooo many different things you can make with it.
Individual Flower Motif Ideas
Just a single flower motif can be so beautiful all on its own. They are delicate, whimsical and put you in a good mood when you see them.
The motifs work up very quickly (I made mine in about 6 minutes), so they can make quick gifts as well. Make a stack of them to give as a set of coasters!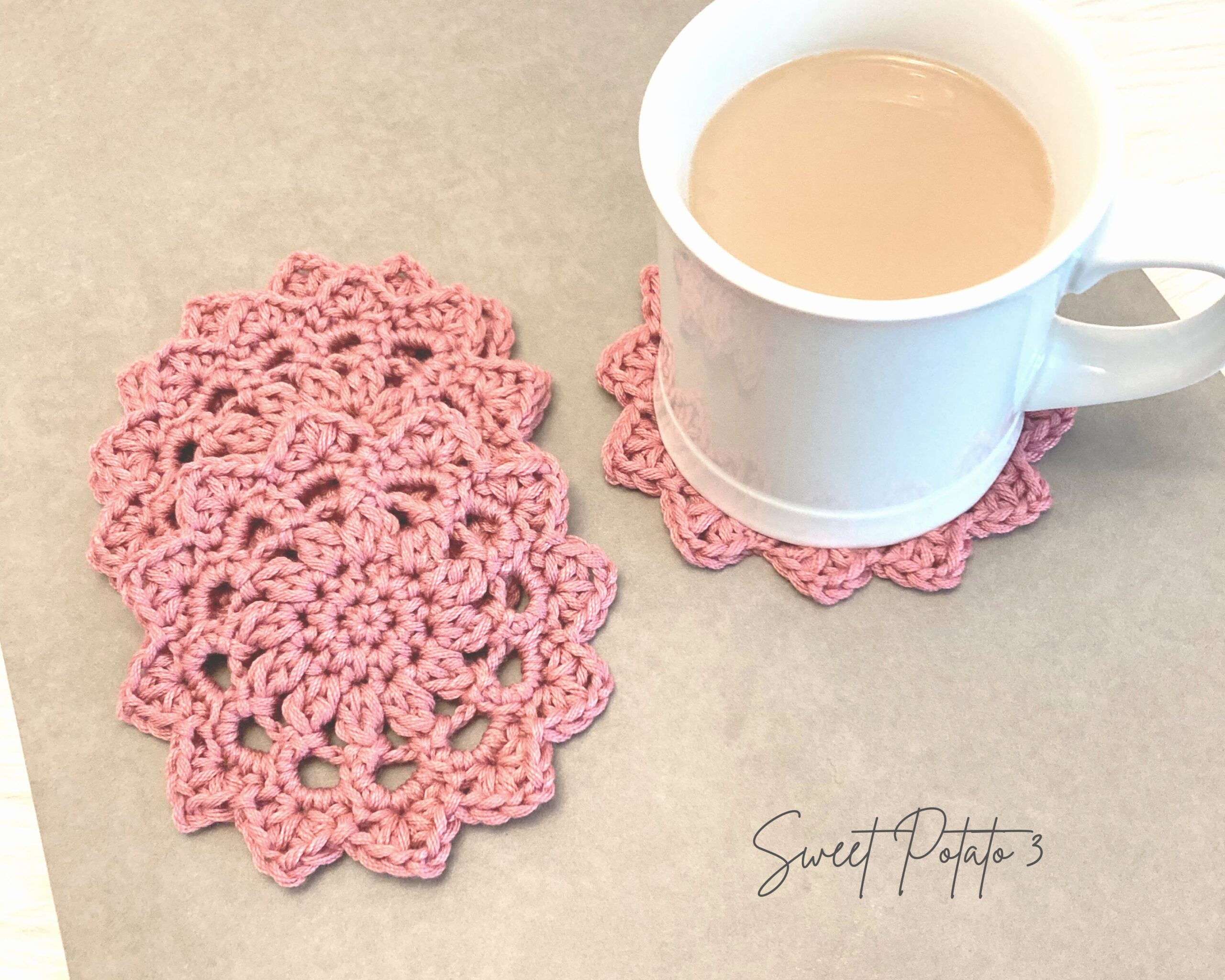 Some other ideas would be to use them as:
Face Scrubbies
Doilies or Mats for small objects (vase, jewelry bowl)
Gift Toppers
Coasters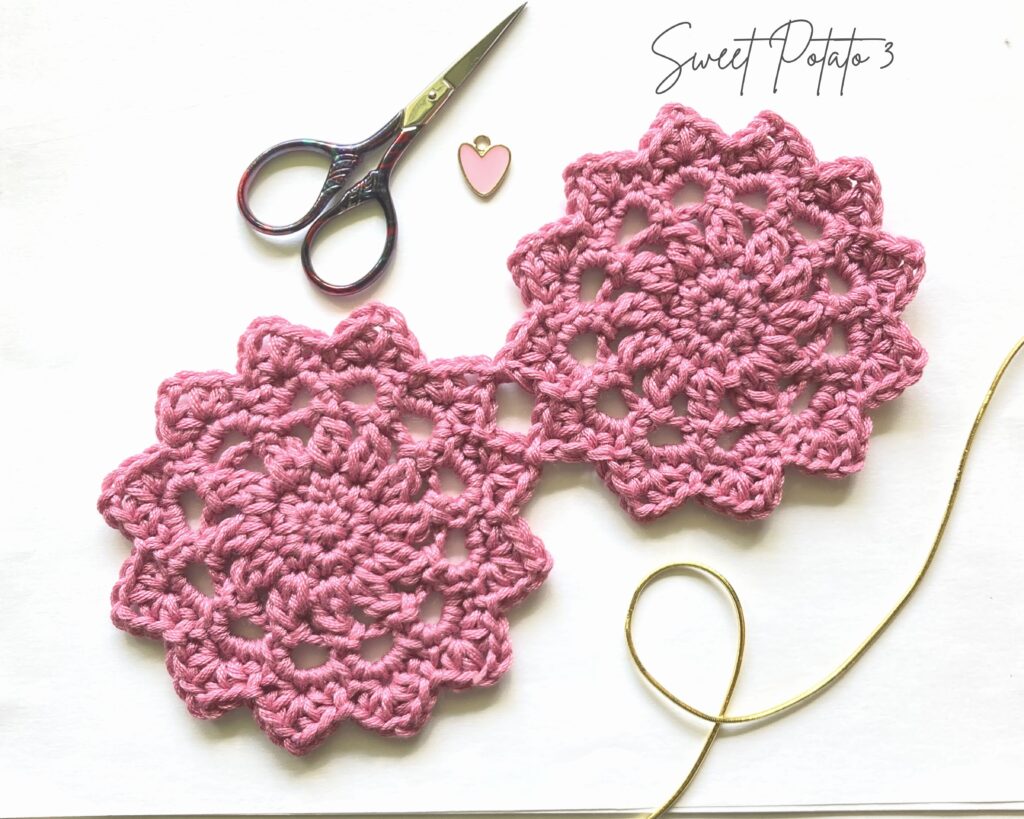 Medium to Large Projects to Make
Of course, if you join the flower motifs the possibilities are endless. You may need a little crochet knowledge to know some sizing for some of the suggestions below, however many are simple, and size is not essential. Consider crocheting flower motifs into:
A scarf (a couple straight rows made to the desired length)
A shawl/wrap/cowl
A table runner
The border of a blanket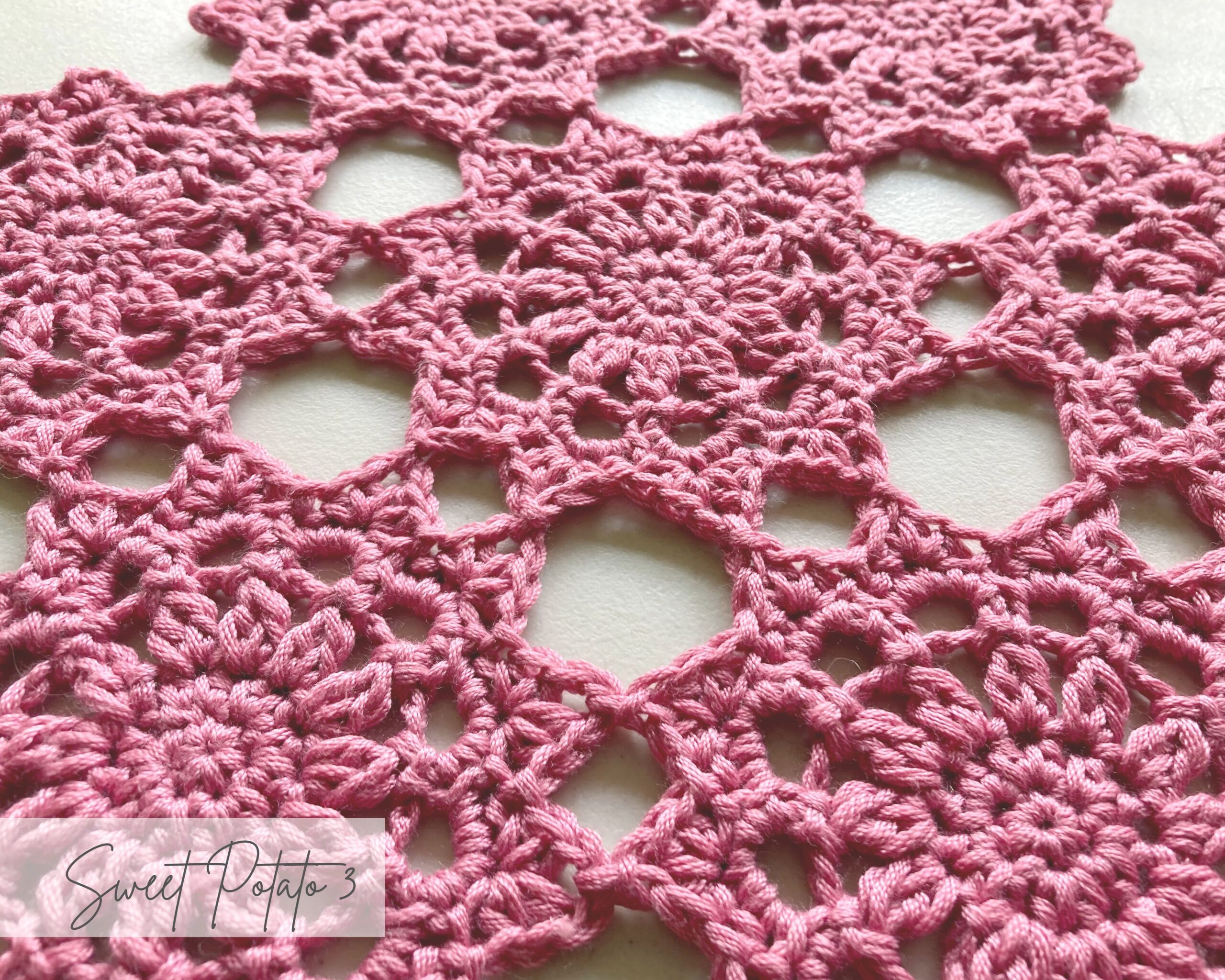 I would love to hear some other ideas that you come up with, so please leave a comment at the end of the blog post. I look forward to reading it.
---
Now for the FREE Flower Motif Pattern
This pattern is available only on my blog, I offer it to you this way so you can pin it or save it and you will never lose it. Plus, having you refer back to my blog is how I make a little extra income (so I thank you for working from this post instead of trying to print the pattern off).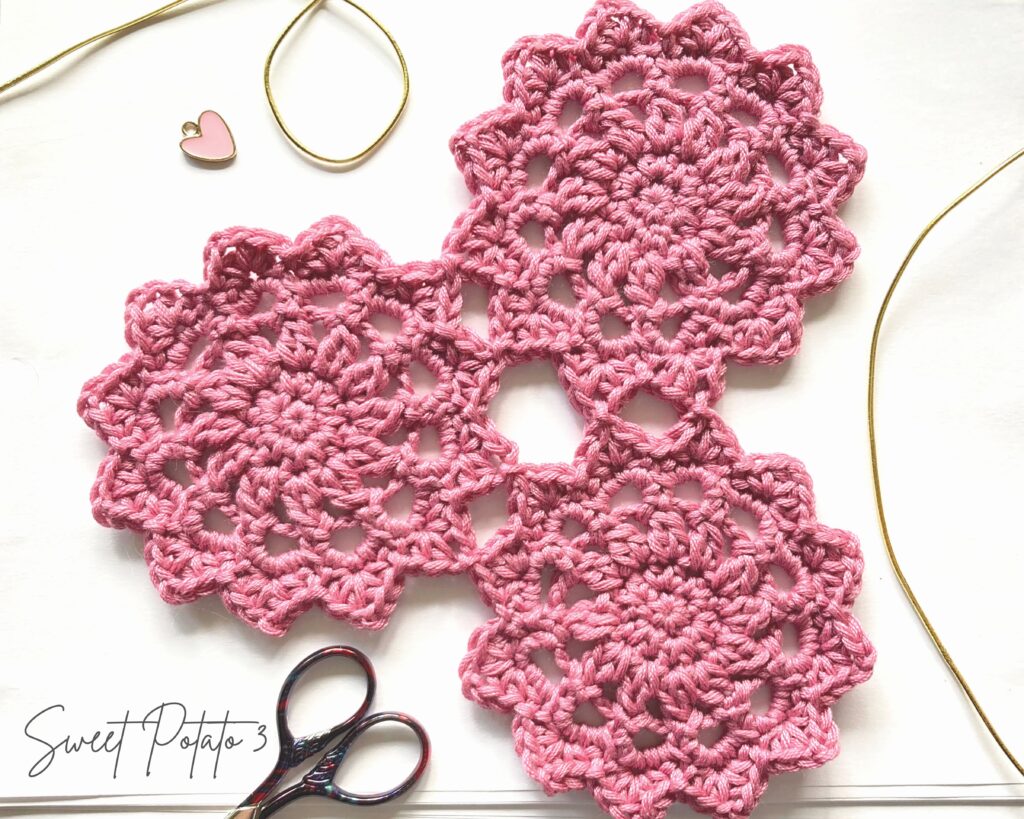 Materials Needed
Crochet Hook Size I (5.50 mm)
A Lighter Worsted Weight Yarn – about 10 yards
I used Berroco Comfort Yarn that you can find HERE.
Yarn Needle & Scissors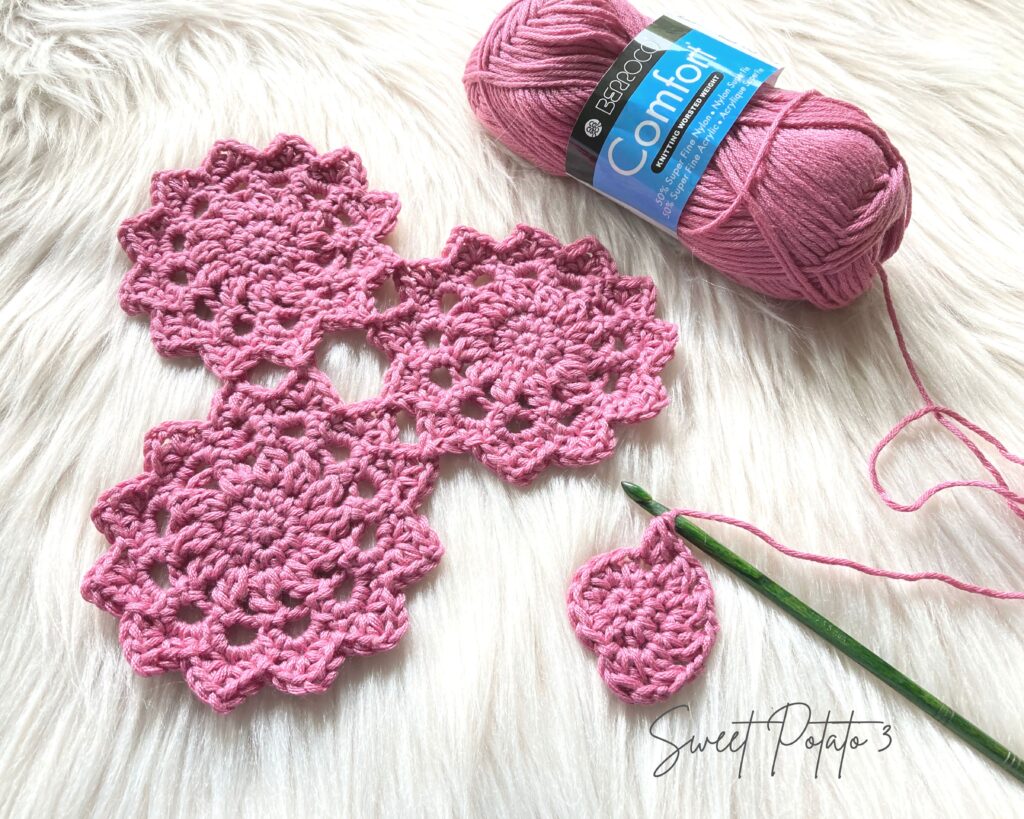 The gauge on this project is not essential. Crocheting even stitches is what will make this crochet project look nice. When you are done, blocking can help make the motifs look professional. To learn more about blocking click HERE.
Stitches & Abbreviations Used
Ch = Chain
Slst = Slip Stitch
Sc = Single Crochet
Sc2tog = Single Crochet 2 Chain Spaces Together (explained in pattern)
Hdc = Half Double Crochet
Dc2tog = Double Crochet 2 Stitches Together (explained in pattern)
Beg = Beginning
R = Round
Flower Motif Pattern
Do not count your beginning chain as a stitch throughout the entire pattern.
R1: Ch 2, work 6 sc in the 2nd ch from hook, join in top of the first sc, pull beginning yarn to close center hole (6)
R2: Ch 1, 2hdc in each st around, join (12)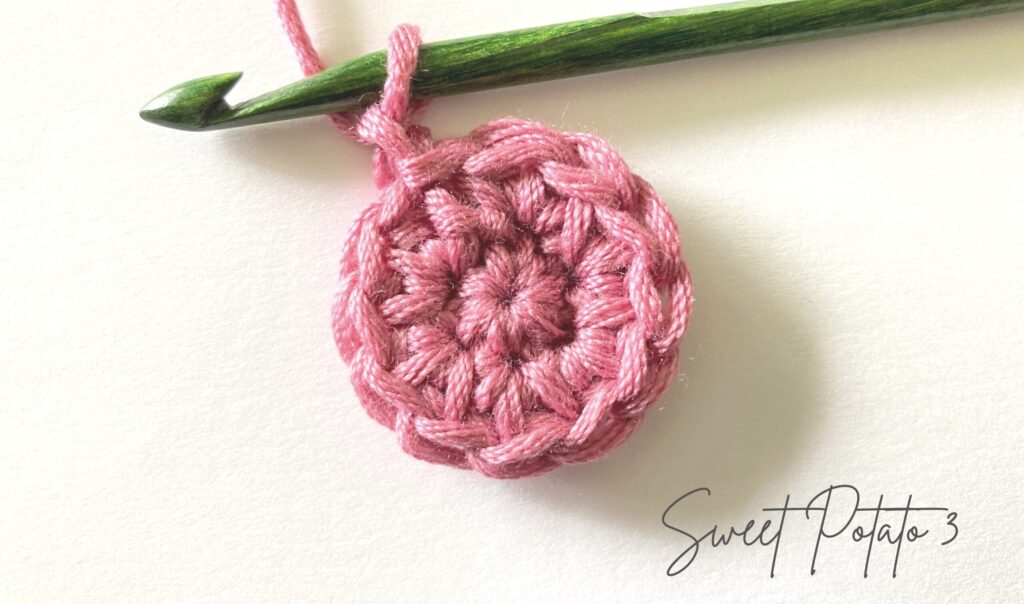 ---
Dc2tog in same stitch: yarn over, insert hook into next st & pull up a loop, yarn over, pull through 2 loops on hook, yarn over, insert hook into the same st & pull up a loop, yarn over, pull through 2 loops on hook, yarn over and pull through all remaining 3 loops on hook to complete the dc2tog.
---
R3: Join with contrasting color in top of 1st st from R2, Ch 1, dc2tog in same st you joined in, ch 2, [dc2tog in next st, ch 2], repeat [ ] in each st around, join (12 dc2tog)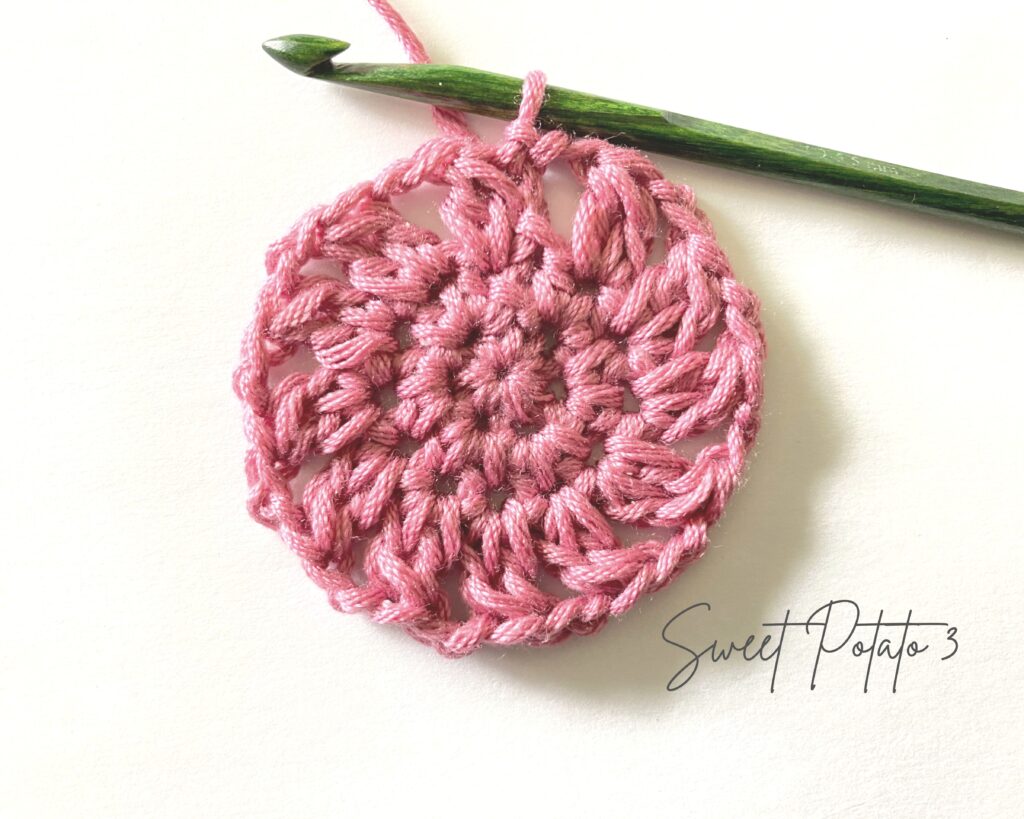 R4: Join with next contrasting color (see blanket chart to determine color) in space between 1st 2 clusters from R3, [ch 5, slst into same ch space, slst into next ch space], repeat [ ] around ending with a slst into the 1st ch space (12 ch spaces)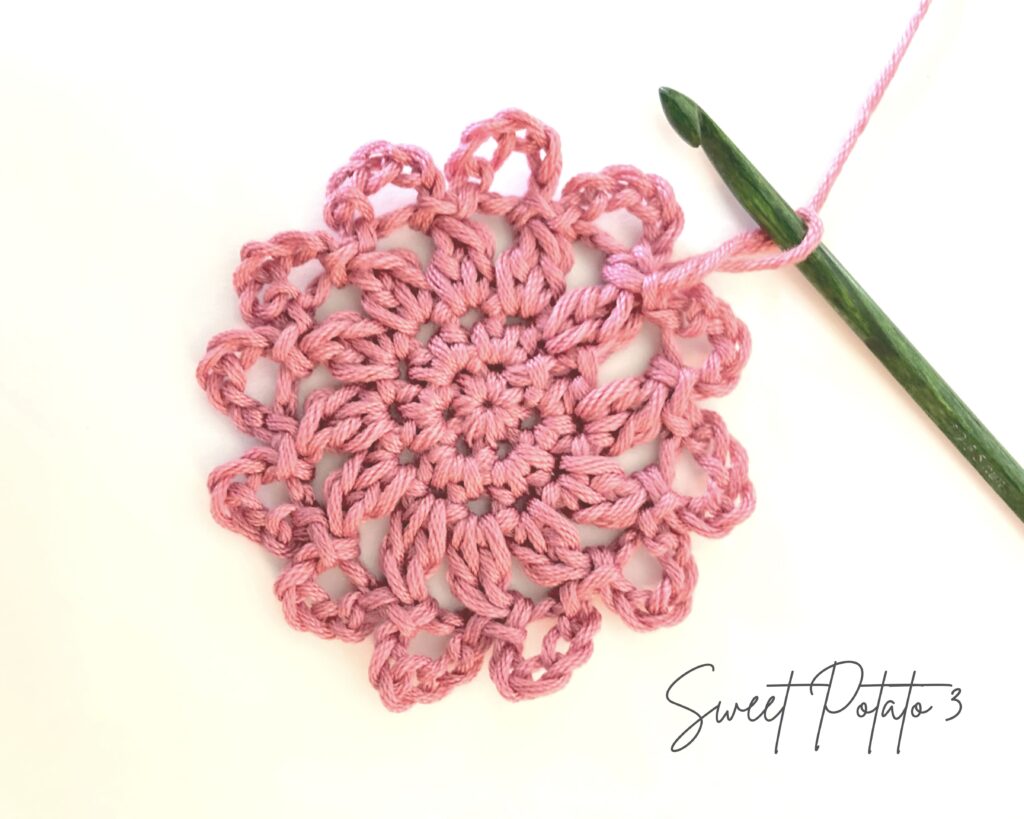 ---
Sc2tog: insert hook into space, pull up a loop, insert hook into next ch space, pull up a loop, yarn over and pull through 3 loops on hook to complete the stitch.
---
R5: Ch 1, (work 3sc in the next ch 5 space, sc2tog) repeat around, join in top of beg sc (12 petals formed)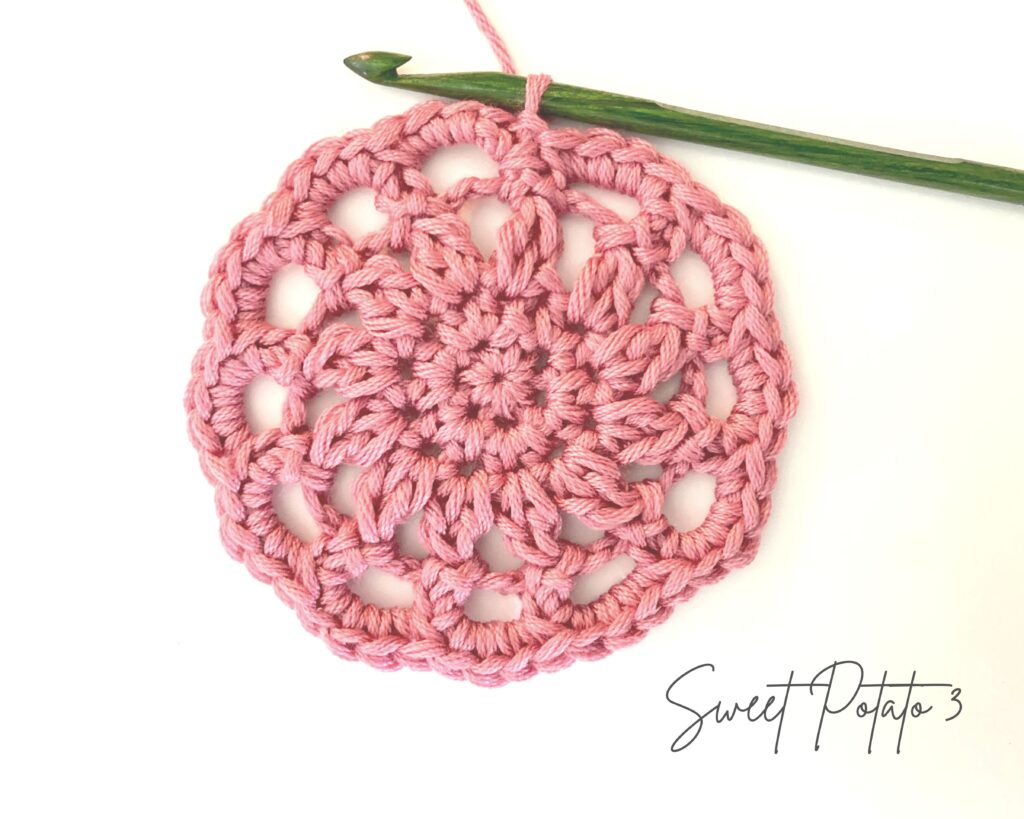 R6: Do not chain, [in the next st (center st of 3 sc from R5) work the following (2hdc, ch 2-working join where needed, 2hdc), skip next st, slst in next st, skip next st], repeat [ ] around, fasten off and bury end.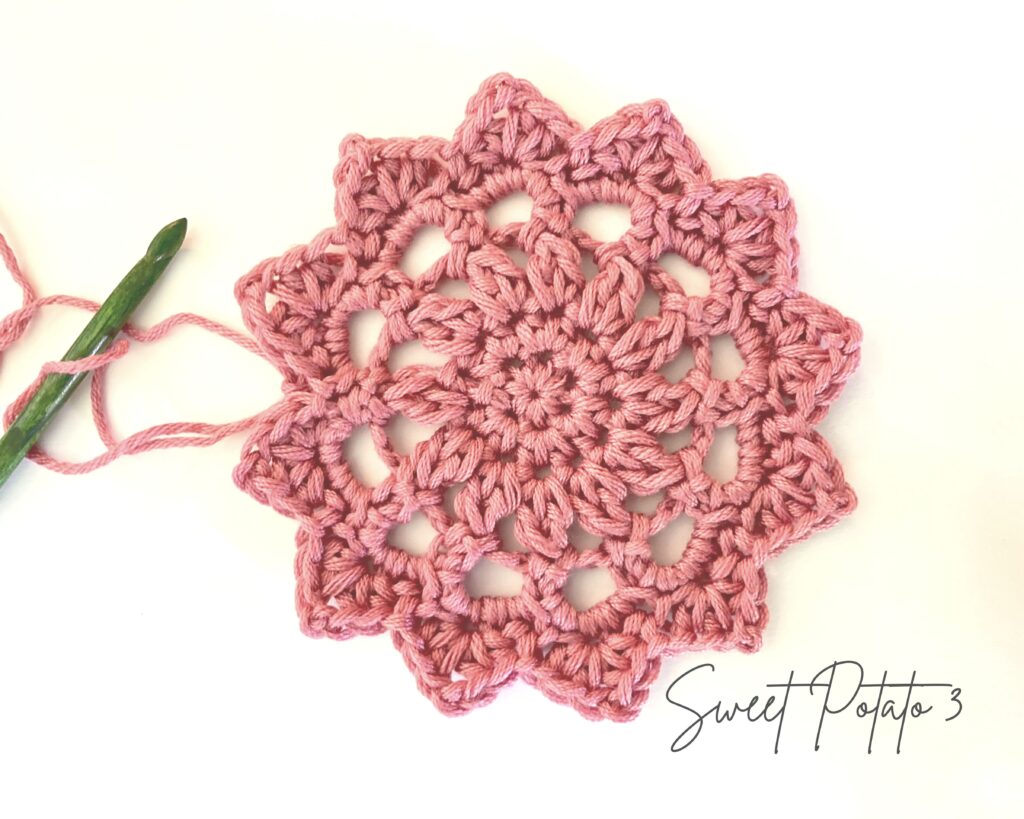 ---
Joining Your Motifs while crocheting the last row
After your first motif has been completed if you decide to join more motifs together this will be done while crocheting the final round (R6).
To join, follow the instructions for R6, but when working the chain 2 on the tip of the petals you will connect to the "other" flower petal. To do this complete the 1st chain, then insert your hook into the coordinating flower petals chain space, pull up a loop to complete the 2nd chain. The flowers are now connected. Make sure to always connect 2 groups of petals together to connect the flowers.
Watch the below video of how to join the petals:
Samples of Flower Motifs
I had mentioned that this is an older pattern. The first flower motif project I made was a blanket using 4 colors in random order. My pattern testers varied in the number of colors they used too. Here are a few photos to show you how they turned out.
The above photo shows 4 colors in a random pattern.
This gorgeous sample was crocheted with all the flower motifs made in the same 3 colors. This is a lovely sample made by Nondas from Yarn Medley's from the Heart. She stitched many together creating a lovely blanket.
Another fabulous sample of the flower motifs made with a totally different look. The softness of this sample is warm and inviting and fits Sarah's style so well from Briar Rose Boutique. The uneven rows make it a whimsical crochet piece.
Michelle decided to create a fun shawl with her flower motifs. The project is not finished but she wanted to share her progress with us. The solid motifs will be bordered with a bold contrasting color in the border pieces.
The classic colors of sunny yellow and ocean blue make this sample beautiful. I kind of want to sit with it wrapped around me on sandy beaches by the ocean. Tanya always comes up with amazing ways to test and show lovely examples of her work. You can find her at MaDuke's Hook Up.
Other Flower Patterns You May Love by Sweet Potato 3
---
More Crochet Fun
If you found this article helpful and are interested in seeing more, sign up for my newsletter. All I need is an email address. I promise not to fill your inbox with spam, I will respect your time. Sign up by clicking HERE.
Follow Sweet Potato 3 on Facebook and on Instagram, both are @SweetPotato3Patterns.
However, if you would enjoy a more interactive group experience, you should join my Crochet & Conversations Facebook group, by clicking HERE. It is a ton of fun and I encourage everyone to share their projects, WIPS (works in progress) and inspirations. Plus, you get exclusive deals, are the first to see new releases, give input on designs and have opportunities to win patterns. Join now and get to know others who also enjoy the art of crochet.