Introducing a new and classy scarf that can be worn many different ways, the Boulder Creek Scarf crochet pattern. This new design is rich in texture so it draws attention to the neckline. It is a beautiful accessory for most attire, whether it is dressy or casual.
The Versatility of the Boulder Creek Scarf
The Boulder Creek Scarf can be worn many different ways giving you many different looks. Use one button on the side for a corner drape scarf, this is a dressier or more formal way to wear the scarf. Button the entire edge of the scarf for a cowl style that can be worn casually. Or for a more modern style, fold the scarf in half and wrap it around your neck and secure it in place with a center button.
Made of an Aran weight yarn (or light bulky or heavy worsted), you create a neck wrap that will keep you warm in any setting.
See the Texture
If you are familiar with the patterns from my shop, Sweet Potato 3, you know I love texture. This design is a perfect example. I love to create different textures by using combinations of different stitches and sometimes I even throw in something totally different to get that strikingly different look.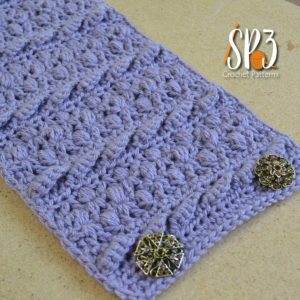 Another Look in Another Yarn
I just completed making the Boulder Creek Scarf in a lovely yarn that I received as a gift. It is called Nob Hill Impact yarn. It is very similar to a Merino wool, very lush and soft and the fiber has a bit of a rise and fall to it as you crochet. It really is lovely yarn.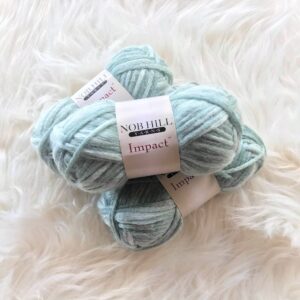 The scarf turned out stunning, soft and feels amazing to wear. Due to the light color changes and rise and fall in the fiber loft a lot of the texture of the scarf was lost. Less texture but will still be a staple in my closet! 
Get the Pattern on these Sites:
More Scarf Patterns You May Love:
More Crochet Fun
Follow Sweet Potato 3 on Facebook to see more pattern releases, sales and crochet fun, just click HERE.
However, if you would enjoy a more interactive group experience, you need to join my Crochet & Conversations facebook group, click HERE. It is a ton of fun and I encourage everyone to share their projects, WIPS (works in progress) and inspirations. Plus you get exclusive deals, are the first to see new releases, give input on designs and have opportunities to win patterns. Join now and get to know others who also enjoy the art of crochet.