One of Sweet Potato 3's most popular patterns, the Sleep Tight Teddy Bear Set, just got a new accessory! Because, every baby blanket needs to have a coordinating hat, you get to add that to your Sleep Tight collection.
The Sleep Tight Teddy Bear hat features the stitches that crocheters have come to love after making the blanket. The braided V Cable is so unique and fun to crochet and that stitch is featured in the hat band. A video tutorial is included in the pattern to help demonstrate each step in creating this textured stitch.
The main body of the hat uses the same stitches that are in the "pillow" section of the blanket. Therefore, the body of the hat works up fast and are very soft and warm. Add a pom if you like to add a cute whimsy touch to your finished hat.
Of course, each hat must be adorned with the sleeping teddy bear that everyone has fallen in love with.
The hat pattern comes in multiple sizes ranging from newborn, 3-6 month, 6-12 month, 12-24 month up to child (about 12 years old).
Where to get your Sleep Tight Hat pattern
Get the Pattern on Raverly or Etsy today!
Customize your set with many options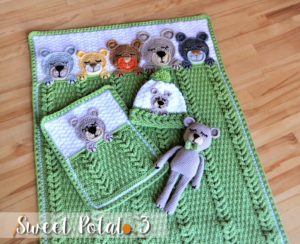 Once you have the hat pattern and the entire set (which includes the blanket, lovey and stuffed animal), you can mix and match the pieces to make the perfect gift.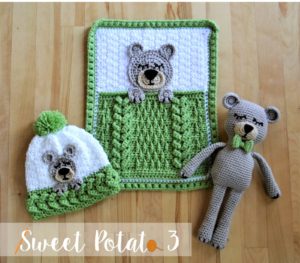 This darling set would be a quick gift and it includes the lovey, hat and of course the stuffed teddy bear.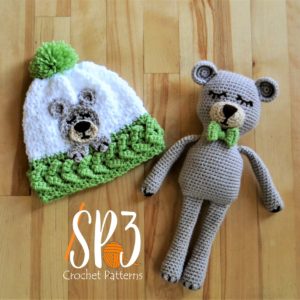 Sleep Tight Teddy Bear Set Info
Get all the information on the entire Sleep Tight Teddy Bear Set, that includes the blanket, lovey and stuffed teddy bear by clicking HERE. Plus, a Sleep Tight Pocket Pillow was also added to the set recently, find that pattern by clicking HERE.