We just wrapped up month long CAL and am now ready to share the Sleep Tight Teddy Bear Pattern with all of you! This baby blanket is full of rich texture, new stitches and some cute cuddly teddy bears. This is machine washable although you may need to follow some after laundry steps, like airdrying it rather than putting it in the dryer.
I was actually inspired to make this baby blanket by one of my best friends. You see, her little one is currently entering one of the sleep regression ages and she is finding it difficult to get her baby to sleep. Put simply, a sleep regression is a period when a baby who has been sleeping well (or at least well enough) experiences poor sleep.
Sleep regressions can include shorter naps, extreme fussiness at nap or bedtime, fighting sleep, and frequent waking at night. Consequently, finding ways to help your baby to get to sleep during these times is crucial and one way to do this is by creating a cozy environment with blankets and soft toys.
The blanket is so fun to make, but I had to give you some options so adjusted the pattern to include a lovey sized blanket and a coordinating stuffed bear to make it the ultimate Gift Set.
As always, you can pick and choose your favorites or buy all 3 patterns at a package price. Grab the Baby Blanket, just the Lovey, or just the Teddy Bear Stuffy. Or grab the entire Sleep Tight Teddy Bear Set for a discounted price.
The Blanket and Lovey can be made is so many fun color combinations. To see more check out the album from the CAL on facebook.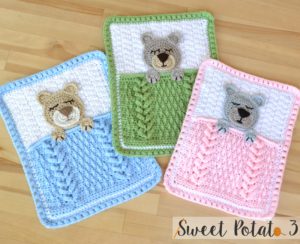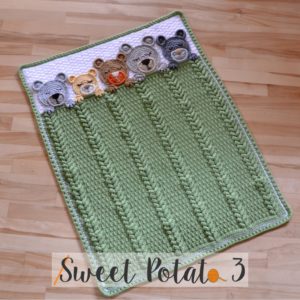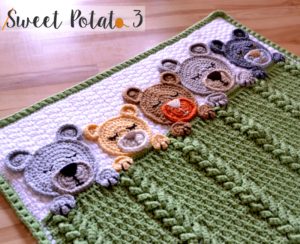 Make a coordinating snuggly teddy bear.
I know these little sleepy teddy bears are too cute, but you have to add a snugly friend to go with them. The Sleep Tight Teddy Bear is a perfect size, completed it measures about 13″ tall.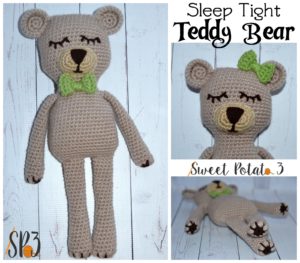 Video Tutorial for Texture Braided V Stitch
To help you out with the beautiful texture that makes this blanket so rich, I created a tutorial:
I hope you all love the Sleep Tight Teddy Bear Set as much as I do. If you make one of the pieces please share it with me on facebook so I can give it some love!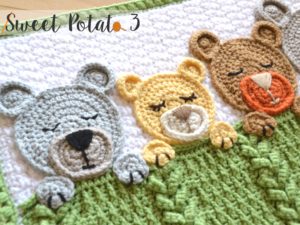 Update: Teddy Bear Colors
I've received a handful of requests for the exact colors I used on my teddy bears. When I made the
teddy
bears on the blanket I just used scrap yarn that I happened to have on hand. The majority of it was either Red Heart Super Saver and/or Red Heart with Love. I am not 100% sure on each bears color but I believe it is as follows, numbering the bears from the left to the right:
1st Bear

: main color "grey" / muzzle "oatmeal" / nose & eyes "black"

2nd Bear

: main color "cornmeal" / muzzle "egg shell" / nose "warm brown" / eyes "mocha"

3rd Bear

: main color "warm brown" / muzzle "carrot" / nose "egg shell" / eyes "mocha"

4th Bear

: main color "oatmeal" / muzzle "buff" / nose & eyes "mocha"

5th Bear

: main color "charcoal" / muzzle "grey" / nose "warm brown" / eyes "black" with "warm brown" lashes
New Coordinating Designs
A couple new designs have been released to go along with the original Sleep Tight Teddy Bear Set. The coordinating
Sleep Tight Pocket Pillow
features a fun pocket that can be used to store their stuffed teddy bear or a favorite book, as the child grows it can be used to store a kindle or other items as well.
I have also designed a coordination
Sleep Tight Teddy Bear Hat
. This darling accessory comes in sizes from newborn up through child.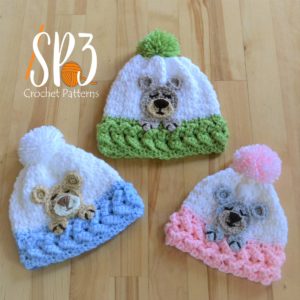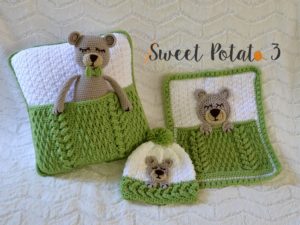 Other Animal Options
Although the blanket was designed with Teddy Bears, you are welcome to customize it with other animal appliques. I compiled this fun round up of Darling Animal Appliques, you can check them out by clicking HERE.
Other Newborn Blankets you may Love