A few months ago, I asked you all, "what are some small projects you enjoy making?" Kitchen items made the top of the list of small items. So, I decided to create a 3-piece Bobble Kitchen Accessory set that would make a great last-minute gift. Everyone loves receiving handmade useful items.
I already have two kitchen hot pad patterns and I honestly think they are the best ones around. You can see both of those patterns in the links below:
---
What is Included in the Kitchen Accessories?
For the kitchen set today, I did not include a hot pad. Instead, I decided to include 3 other useful kitchen accessories that often get overlooked. The definition of accessory is, "a thing which can be added to something else in order to make it more useful, versatile, or attractive," source is www.miriamwebster.com.
I typically use a hot pad as a trivet to put warm dishes or my tea pot on. However, it is nice to have something designated for just this purpose. As I was crocheting the trivet, I quickly saw it coming together and thought it would also make a great dish scrubber, so I had to add that design as well. The trivet and the scrubby are both items you may have out on your counter, so I wanted another design that would be seen and would coordinate well with them. It didn't take long to crochet up a matching towel tie.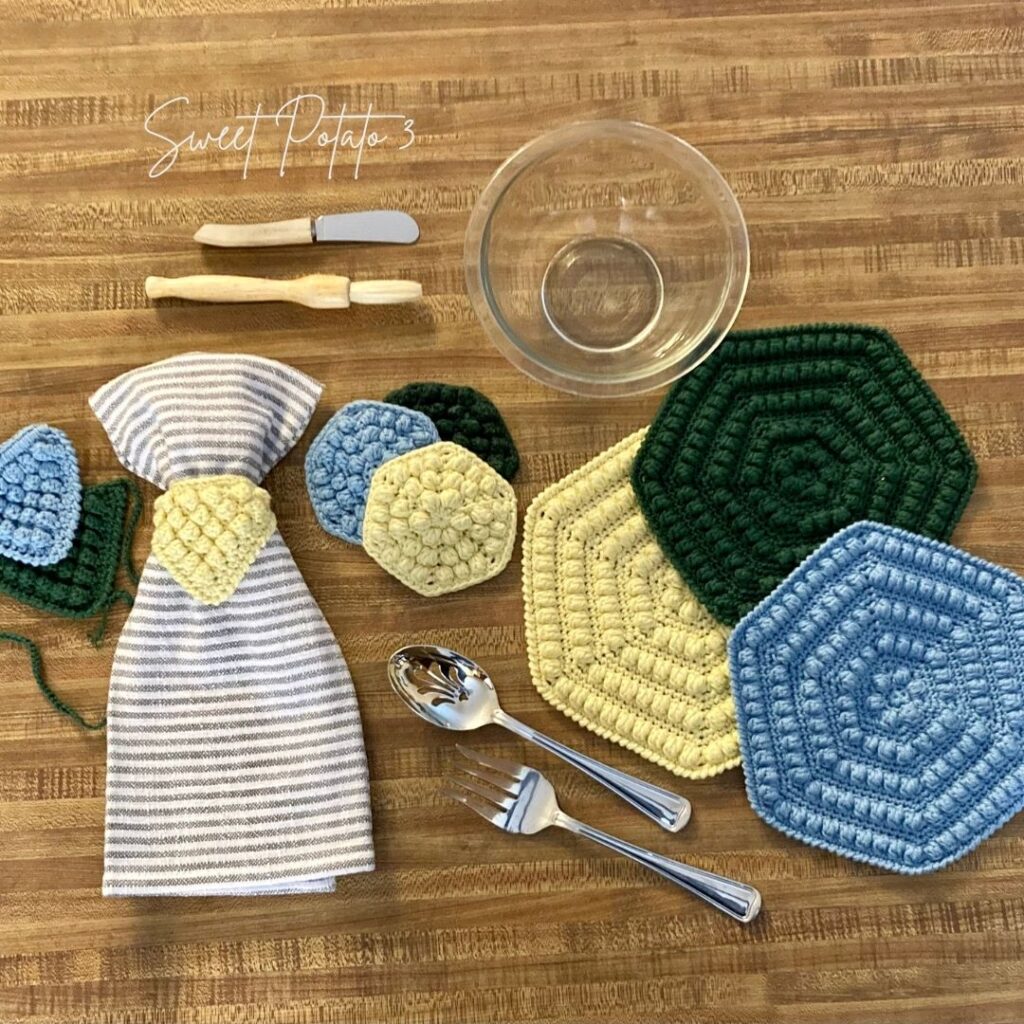 The Crochet Stitch with a Purpose
When you crochet a trivet, it is important to have a nice thick stitch that will hold the heat away from the countertop. The bobble was an ideal choice for this. The bobble is a crochet stitch that has a raised 3D effect that allows the trivet to elevate the hot dish away from the counter.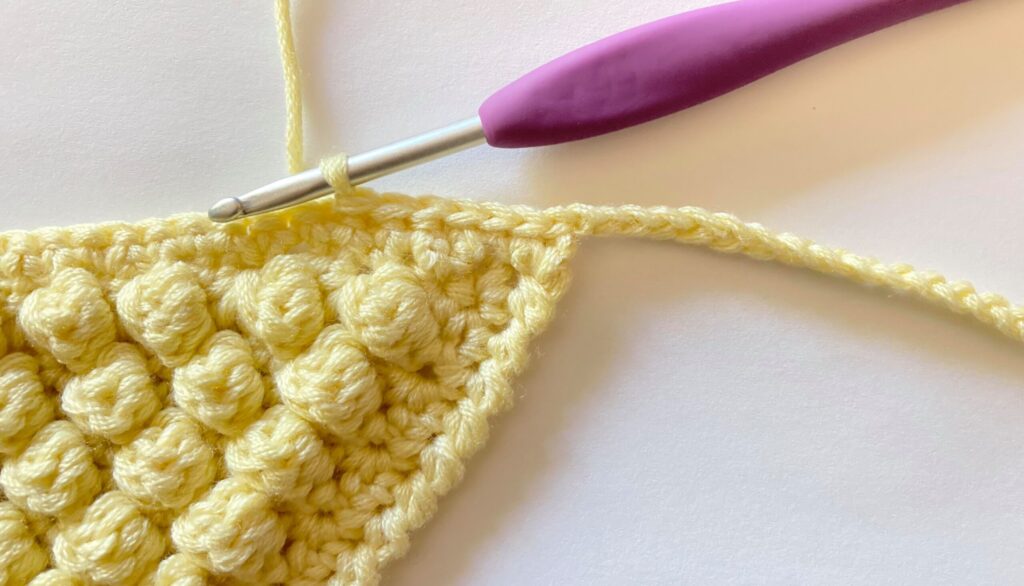 The raised stitch is also a great resource when using the dish scrubby. The knobs that are created with the bobble are an ideal surface to hold the soap and create enough texture to actually assist in the scrubbing of the dishes.
The bobble crochet stitch is often confused with other stitches, specifically the popcorn, puff and cluster crochet stitches. If you would like to read the differences between these stitches I have a blog post just for you.
---
About the design
When selecting yarn for kitchen accessories a lot of people will only use cotton. This is very common. However, I grew up making hot pads out of acrylic yarn and in 30+ years have never had one burn or had heat transfer through the crochet to burn me. However, if you feel strongly that you should use cotton, that is perfectly fine.
I used some left over Berroco Comfort yarn.  It isn't a cotton yarn but the 50% nylon makes a huge difference (it is also 50% acrylic). I love how soft the yarn is and how defined the stitches look when working with it. Plus, the color options are endless! I have used this exact yarn in blankets, a summer top, a clutch and have loved it each time.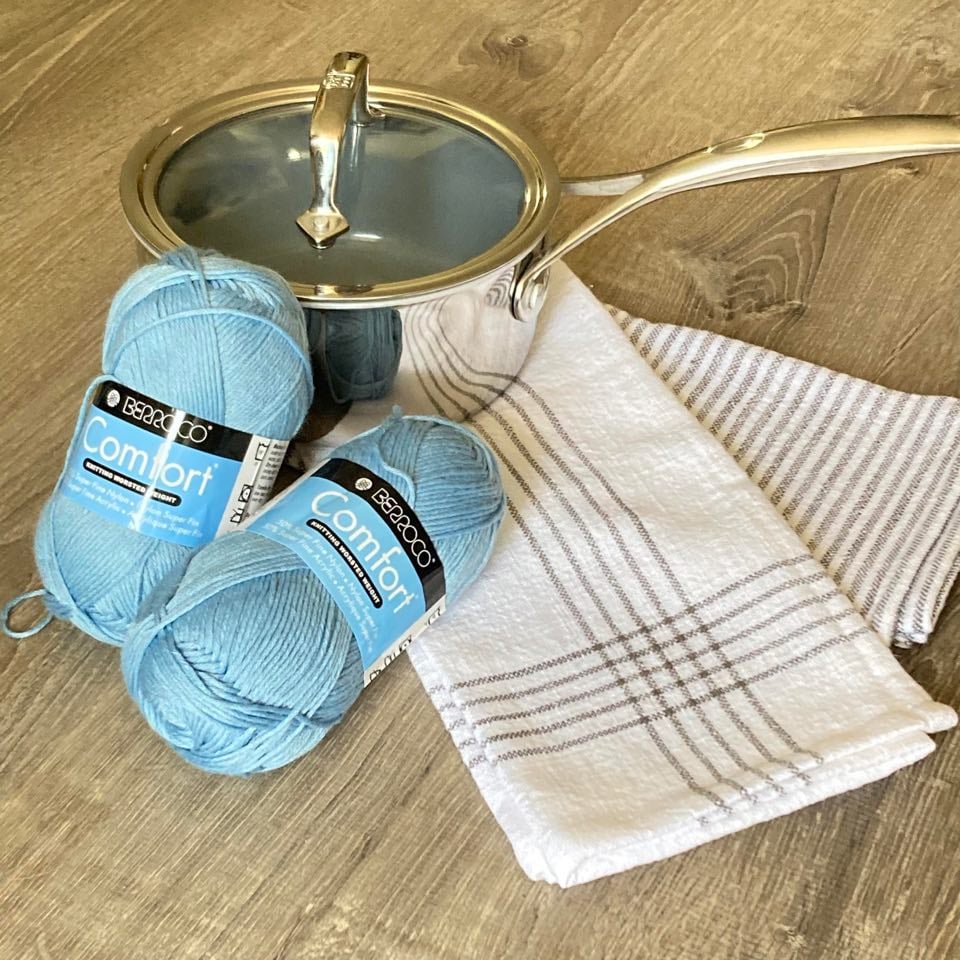 The Bobble Trivet
As mentioned earlier in this post, the bobble stitch was carefully selected for the purpose of the trivet. The raised stitches create enough thickness to keep the heat from transferring to the countertop.
However, this is NOT a hot pad and should NOT be used as such. The rows between the bobble stitches are not thick enough to make it a safe to use hot pad.
The Bobble Dish Scrubby
Again, the bobble stitch is great for creating a texture that assists with creating bubbles within the soapy scrubby and allows for better cleaning. Another great feature for this scrubby is the strap that goes around the palm of your hand!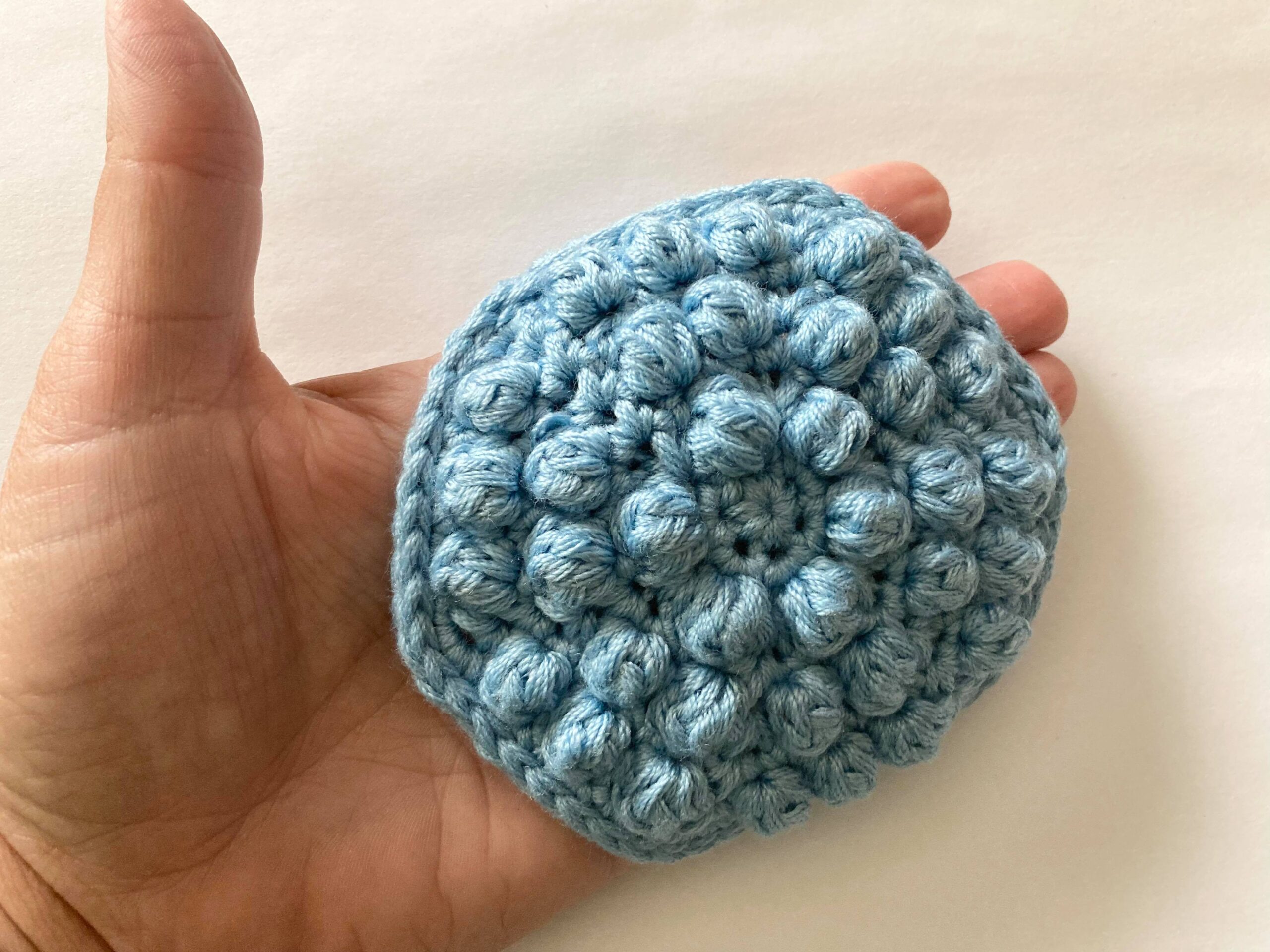 The Bobble Towel Tie
I love having a tie for my kitchen towels. With kids in the house, they seem to be oblivious to some things like the kitchen towel falling on the floor. I used to think this was only an issue when they were young. They would dry their hands and then the towel would end up on the floor. But I was wrong, my children are teenagers, and we still have the same issue.
The Bobble Towel Tie is so cute and you simply tie it in the back to hold the towel in place. I often tie my towels onto the oven or dishwasher handle. I know some people who prefer to have it on the refrigerator door handle. These tie backs could even work in the bathroom on a towel bar too.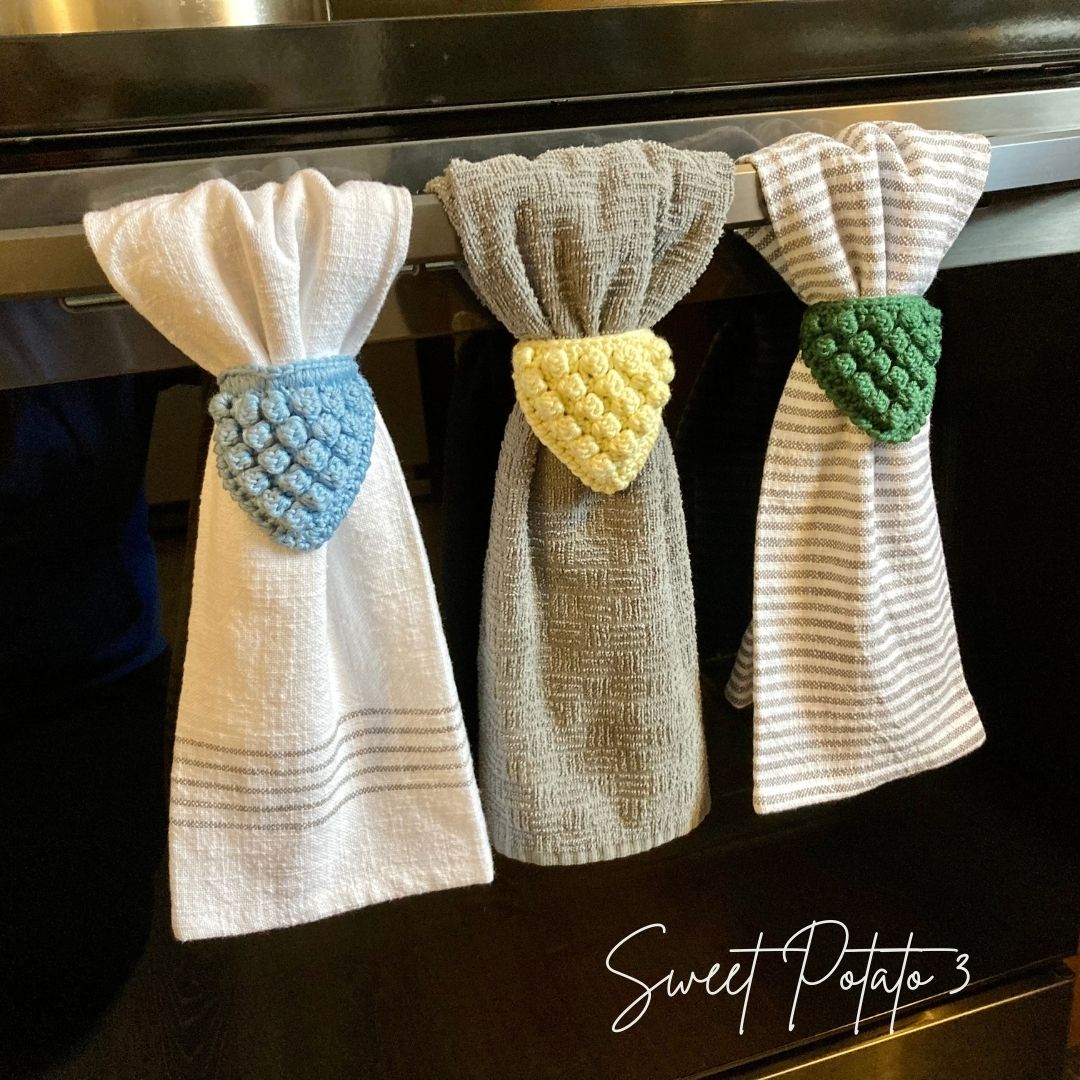 Materials Needed
Crochet Hook H (5.00 mm)
Crochet Hook G (4.50 mm)
A finer Worsted Weight Yarn (#4) ~ yardage will vary depending on project but could be 25-90 yards           
The samples shown were made using Berroco Comfort Yarn
Measuring Tape
Scissors
Yarn Needle
All Patterns have been tested for accuracy
Some of you may find it helpful and inspiring to see other samples made from the crochet pattern. I have a great group of pattern testers who work hard to help me publish quality patterns. I love showing off their work so you can see the projects in other yarn types and colors.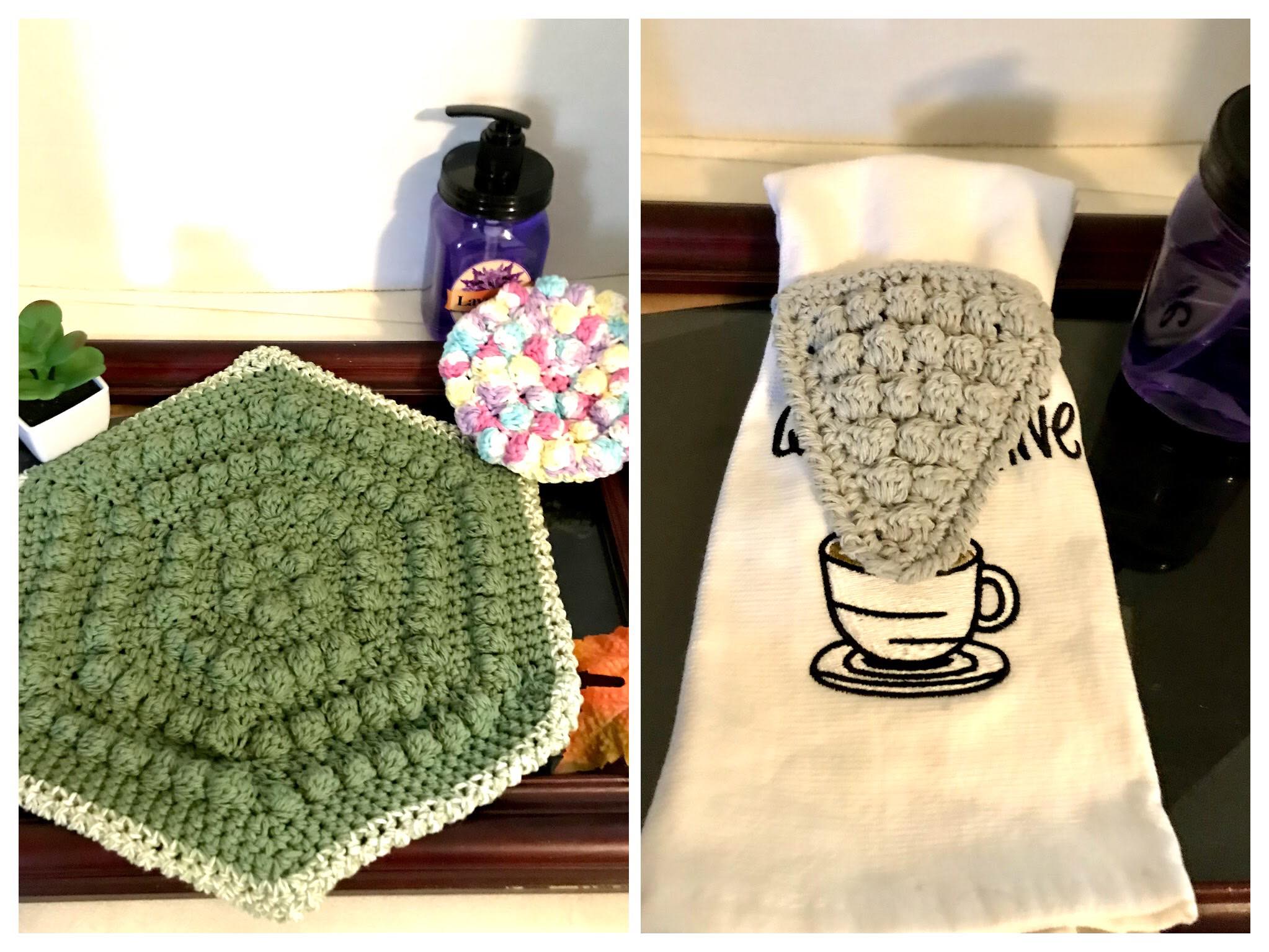 Where to get the Bobble Kitchen Accessories Pattern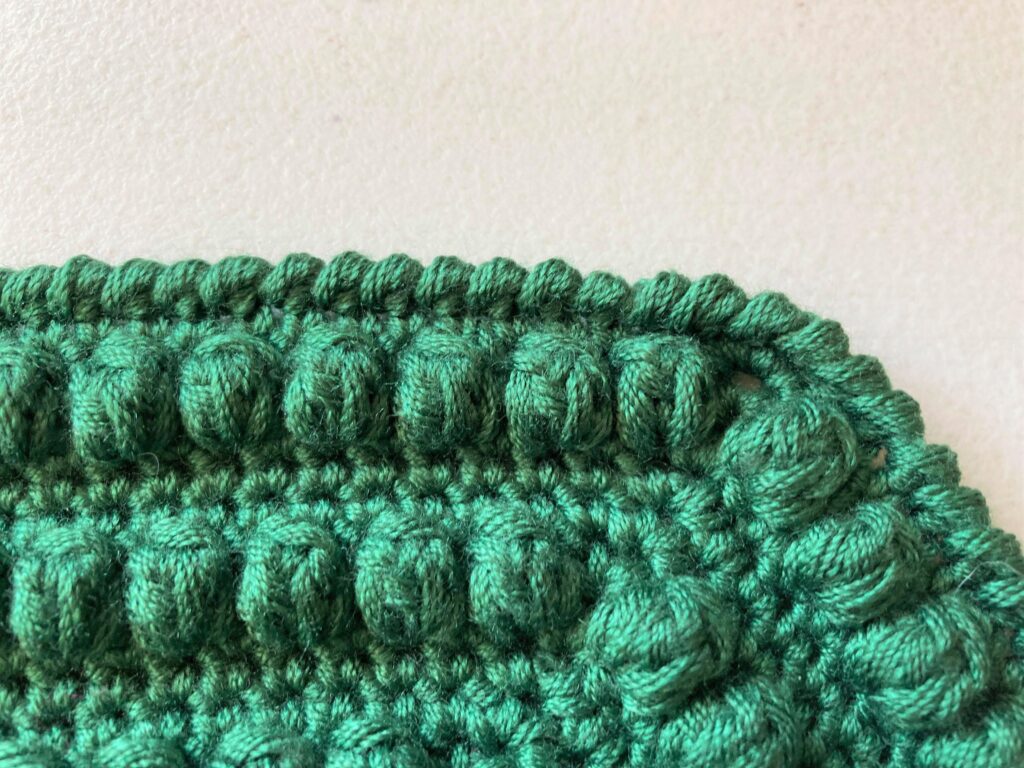 If you love this pattern you may also love these Home Decor Designs:
More Crochet Fun
If you found this article helpful and are interested in seeing more, sign up for my newsletter. All I need is an email address. I promise to not fill your inbox with spam, I will respect your time. Sign up by clicking HERE.
Follow Sweet Potato 3 on Facebook and on Instagram, both are @SweetPotato3Patterns.
However, if you would enjoy a more interactive group experience, you should join my Crochet & Conversations Facebook group, by clicking HERE. It is a ton of fun and I encourage everyone to share their projects, WIPS (works in progress) and inspirations. Plus, you get exclusive deals, are the first to see new releases, give input on designs and have opportunities to win patterns. Join now and get to know others who also enjoy the art of crochet.