With the weather cooling off, kids back in school (kind of), pumpkin spice lattes back in the shops…. these are all signs that the holidays are coming. I haven't gotten my holiday decor down just yet, but I am definitely thinking about it. So, it was no surprise when I decided to sit down and design something new, Cabled Candle Wraps!
If you know me, you know I just cannot get enough texture in my crochet designs. These little wraps that dress up your candles are perfect for any occasion, just switch up the colors and your good to go!
Why Cabled Candle Wraps?
Well, it is so close to sweater weather and there is nothing I like better than wrapping up in a warm top and one of the key elements is cables in sweaters. They are so distinct and give that warm and cozy feeling.
Candles do that exact same thing. Light a candle in any room and all of a sudden it transforms into a warm and cozy feeling.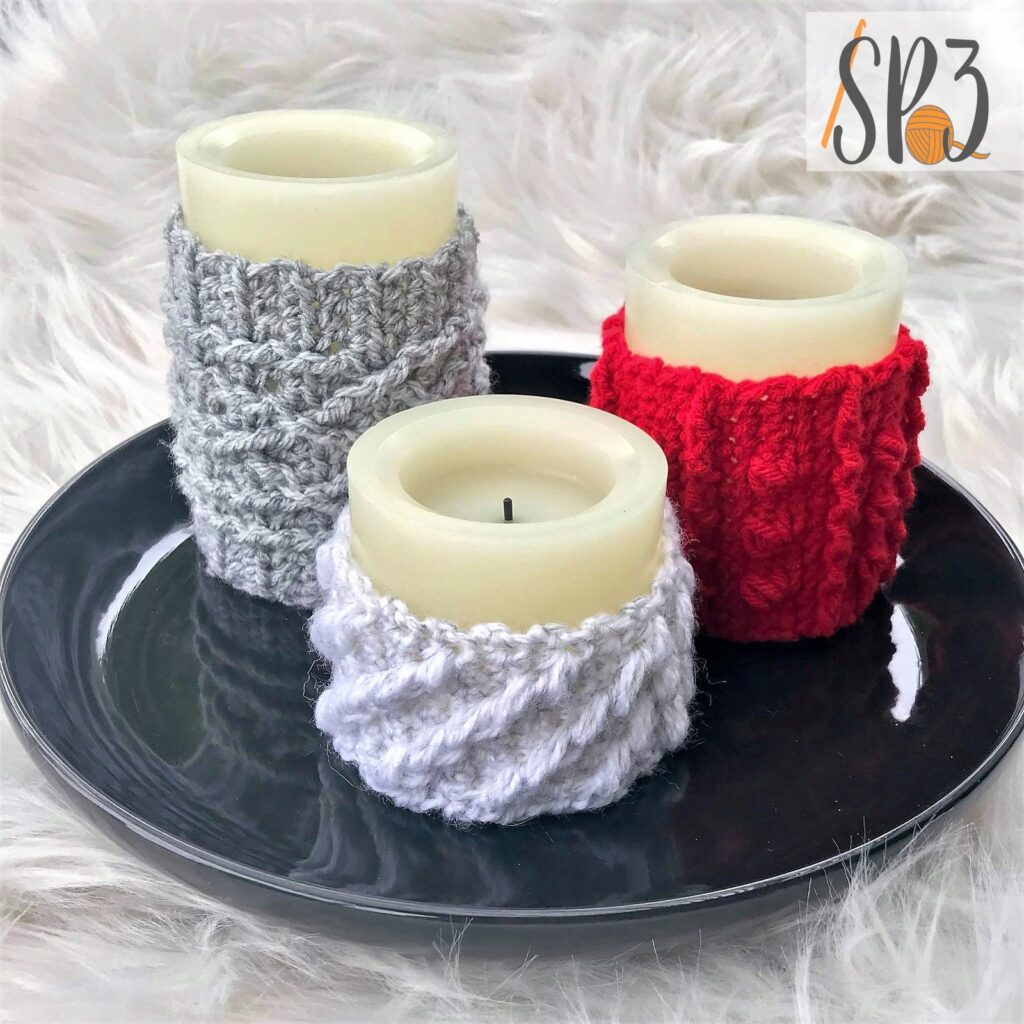 ---
Important Note: Only use wickless and/or flameless candles when using the cable candle wraps. Open flames and yarn do not mix and can be very dangerous.
---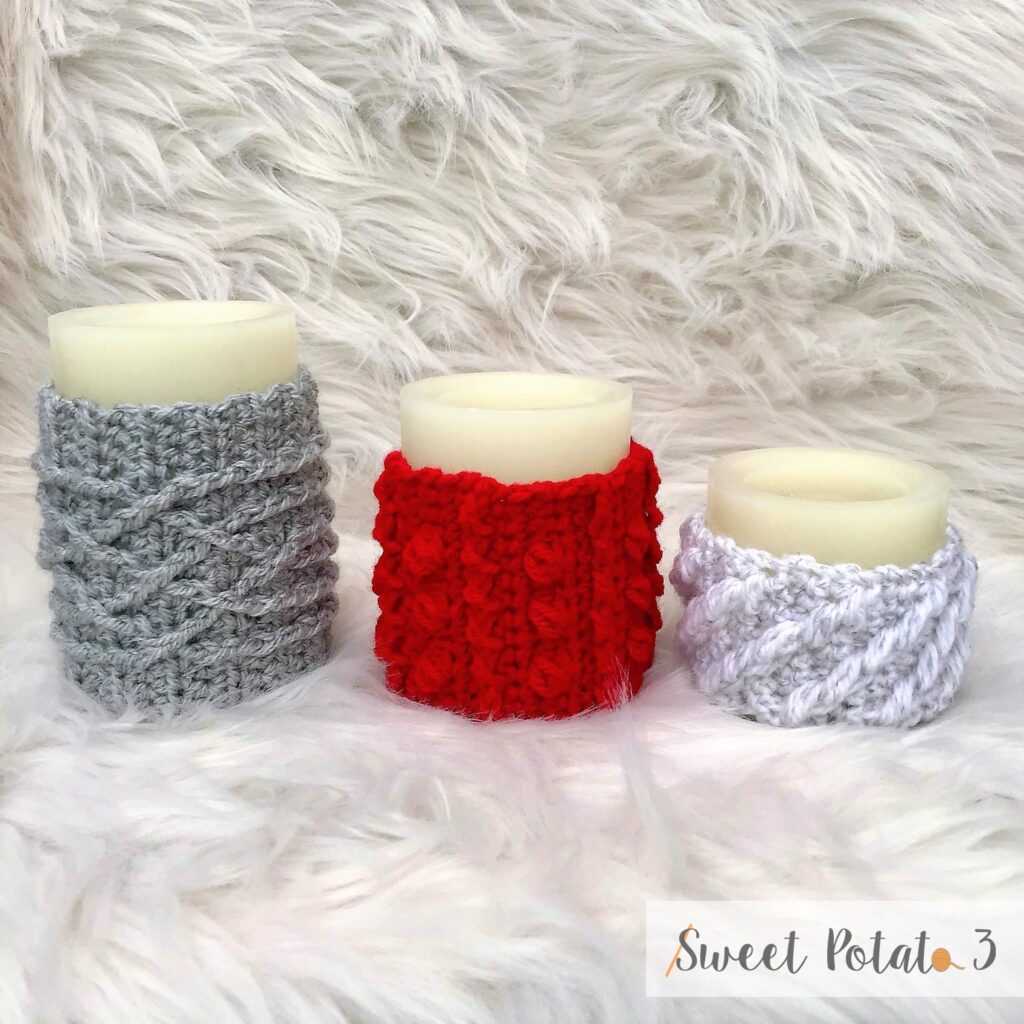 About the Cable Candle Wraps Patterns
The wraps all work up quick but feature eye popping texture woven throughout the designs.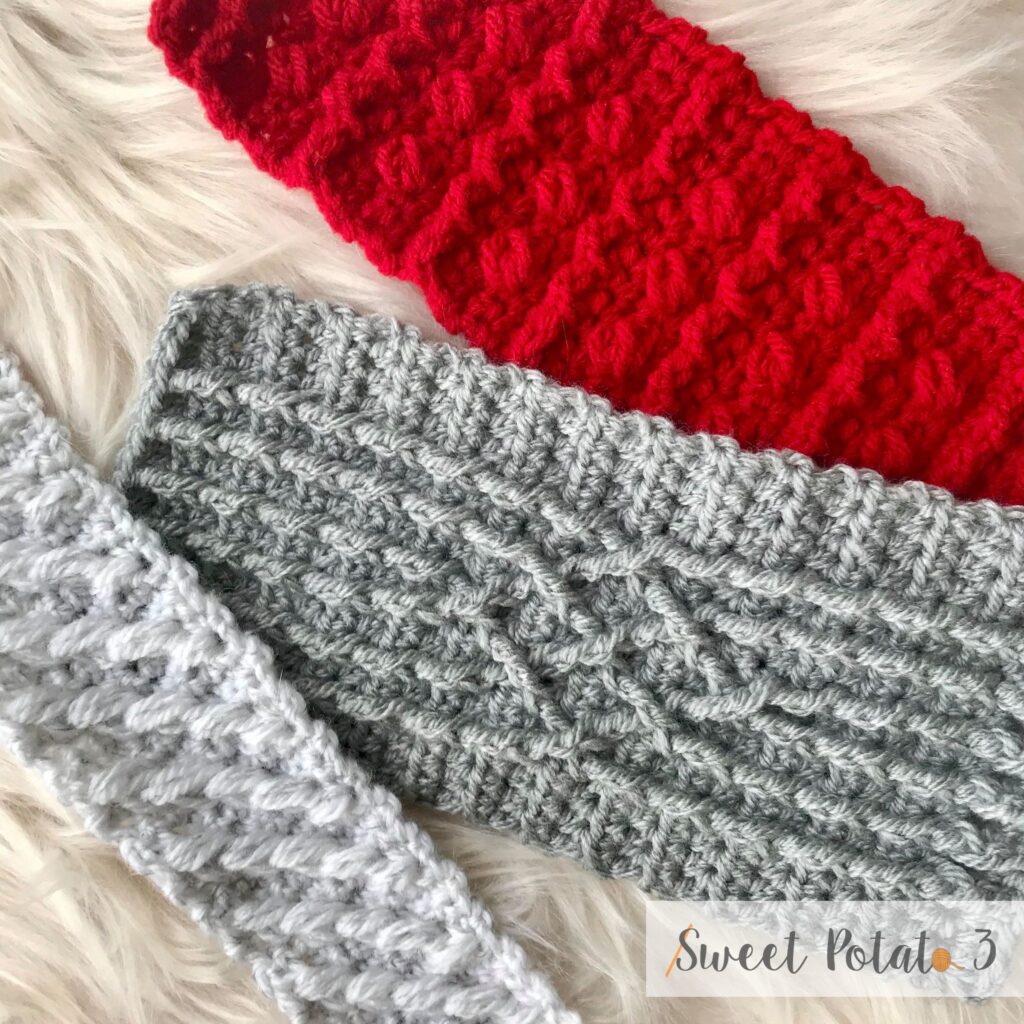 They are designed to fit around a 3″ candle in varying heights of 3″, 4″ and 5″. I believe they would also work as beverage cozies as well! You will see them used as plant cozies in my testers photos at the end of the post as well. They are versatile and fun to add to your holiday decor.
The above images show the details of the cables in a flat lay (before they are sew together).
Materials Needed for the Candle Wraps pattern
Crochet Hook size H (5.00 mm)
Worsted Weight Yarn (#4) – Yardage varies for each project between 70-100 yards

Small Wrap (70 yards): Sample made with Sprightly Acrylic Worsted Yarn (Poplar)
Medium Wrap (75 yards): Sample made with I Love This Yarn (Fire Red)
Large Wrap (100 yards): Sample made with Red Heart Love (Pewter)

Scissors
Yarn Needle
Measuring Tape
3" wide WICKLESS/FLAMELESS Candles in heights of 3", 4" & 5"
I am excited to see how you dress up your home decor with the Cable Candle Wraps.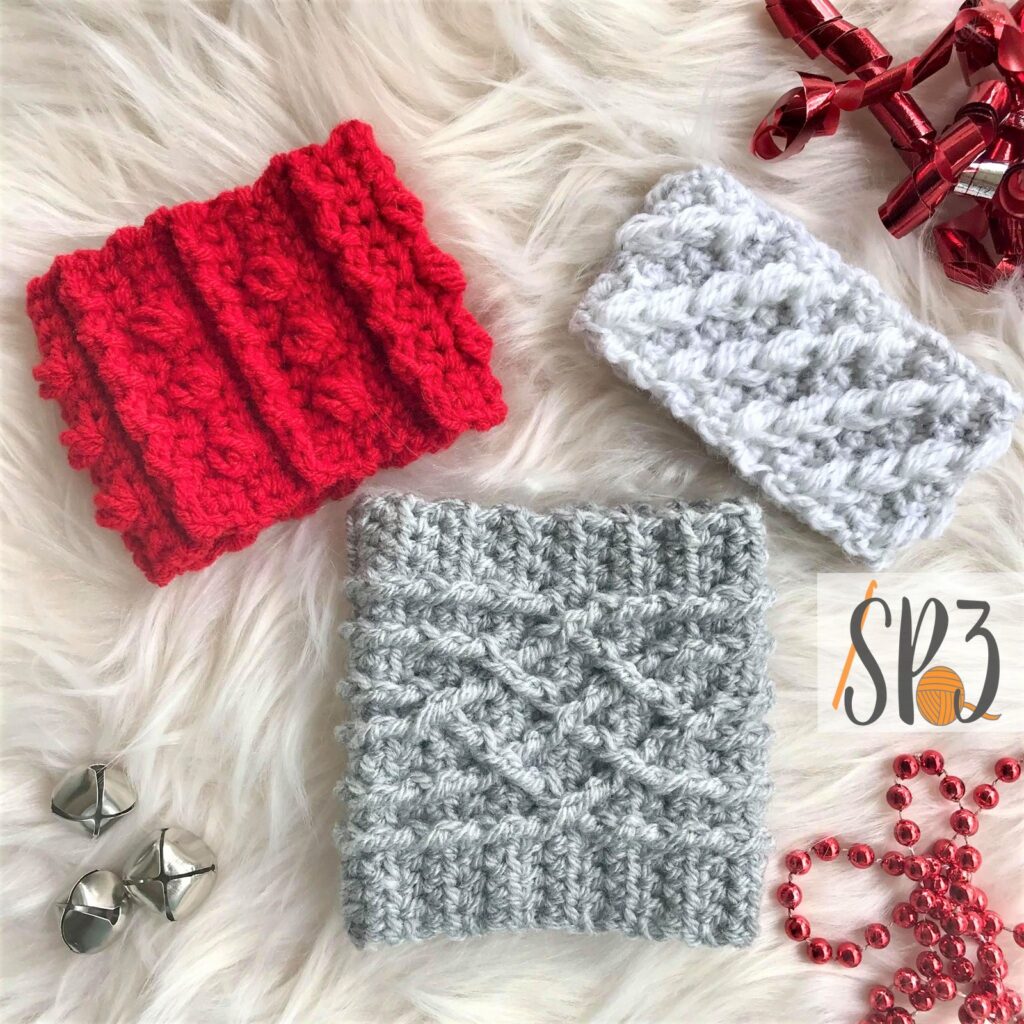 More Samples of the Cable Candle Wraps You'll Love
These are made in beautiful fall colors by Jillian P…………….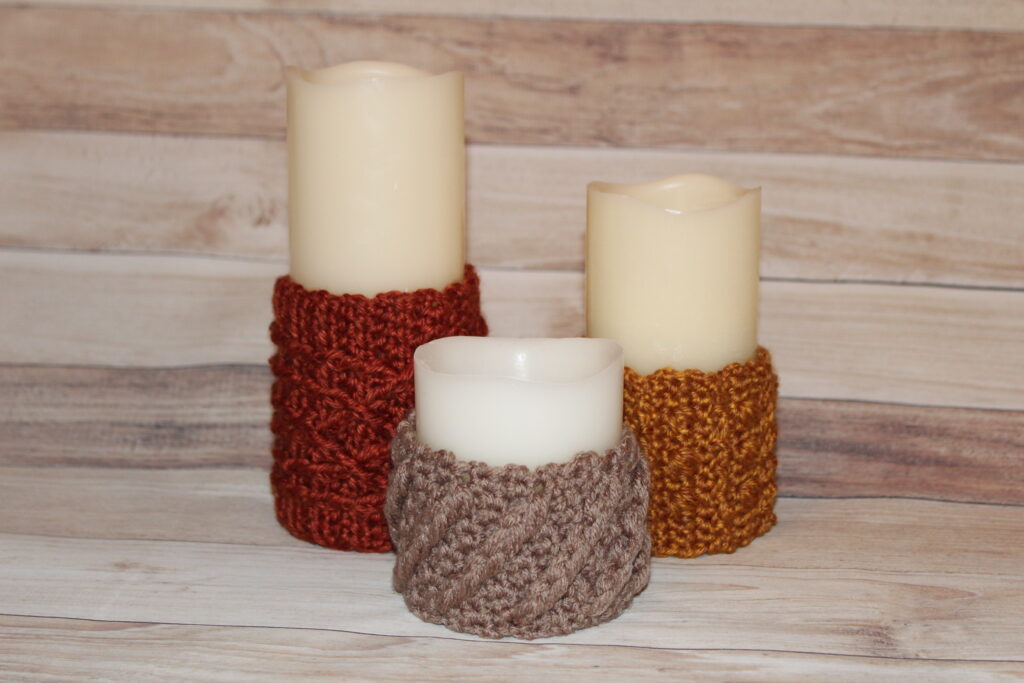 I was excited to welcome my new tester, Nicole. She dove into her stash and made her wraps to match her everyday home decor!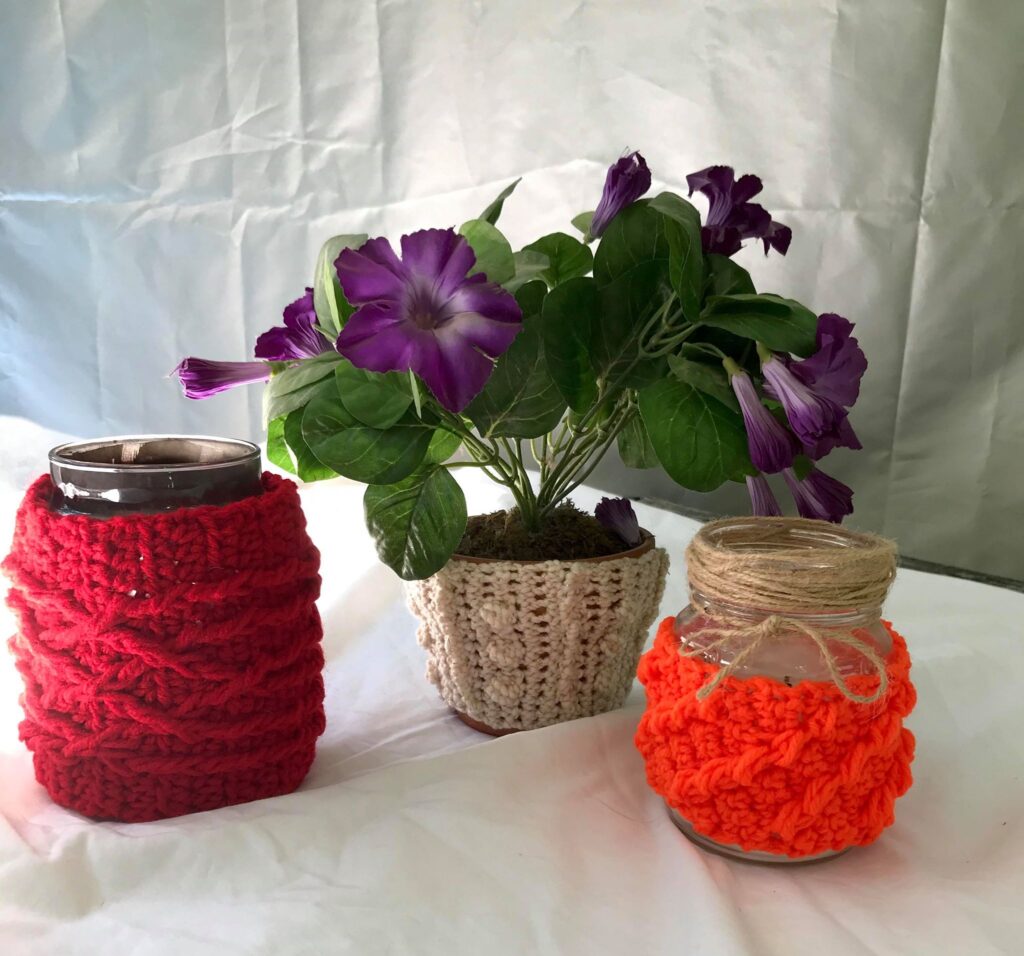 Where to find the Cable Candle Wrap Pattern
More Holiday Patterns I Think You'll Love:
More Crochet Fun
Follow Sweet Potato 3 on Facebook to see more pattern releases, sales and crochet fun, just click HERE.
However, if you would enjoy a more interactive group experience, you need to join my Crochet & Conversations facebook group, click HERE. It is a ton of fun and I encourage everyone to share their projects, WIPS (works in progress) and inspirations. Plus you get exclusive deals, are the first to see new releases, give input on designs and have opportunities to win patterns. Join now and get to know others who also enjoy the art of crochet.