Crocheting garments has always intimidated me for so many reasons. Will it fit right? Is it going to be too warm? Will the style look okay on me? I think I found a perfect project for a crochet top garment for beginners, introducing the Between Seasons crochet top!

Chosing the Design for the Between Season Crochet Top
One of my goals for 2021 was to work on some garment designs that are easy to make even for beginners. I wanted them to be styles that flatter nearly all body shapes and that everyone can feel comfortable wearing.
These are the reasons my design has nice capped sleeves that make it ideal for between seasons (not as cool as top but not as warm as a sweater with full sleeves. Plus the boat neckline makes it a modest choice even with the open stitch work at the top of the shirt.
This is a crochet top I will actually wear! I'll get pictures of me in it soon and share them with you. Until then, you can see how well it fits "Gladis", my manniquin that my daughter happliy named.
Picking the Yarn
The Between Seasons Top was made with Berroco Comfort yarn. Although this yarn is a worsted #4 weight, it is on the thinner side of worsted weight yarn. This was choosen carefully because I didn't want a heavy yarn and wanted the fibers to be breathable. It isn't a cotton yarn but the 50% nylon makes a huge difference (it is also 50% acrylic). I love how soft the yarn is and how defined the stitches look when working with it. Plus, the color options are endless!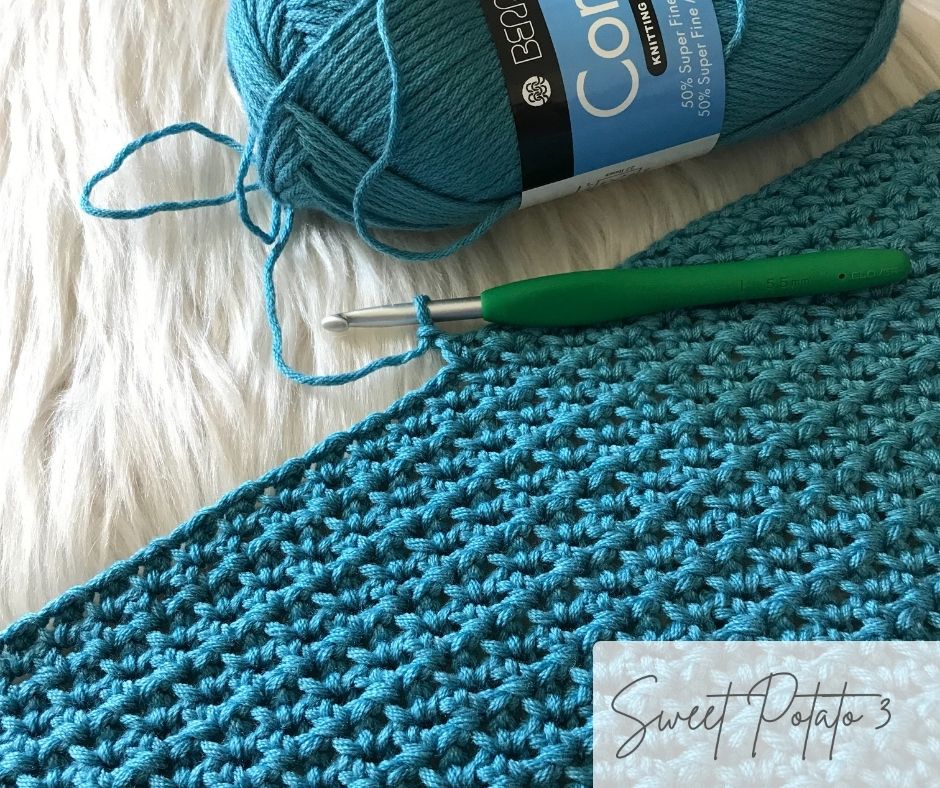 The Stitches
I carefully selected the stitches of the Between Season top. As I mentioned earlier, I was really worried about the top being too warm and too heavy. Even with a finer worsted weight yarn, using a traditional stitch can make it heavy to wear.
The main body of the top is made using a combination of stitches including the Extended Half Double Crochet. There is a video tutorial linked in the pattern, but take my word, this stitch is amazing. It works up fast, has the height of a double crochet but is very thin, resulting in a nice laying fabric for the garment body.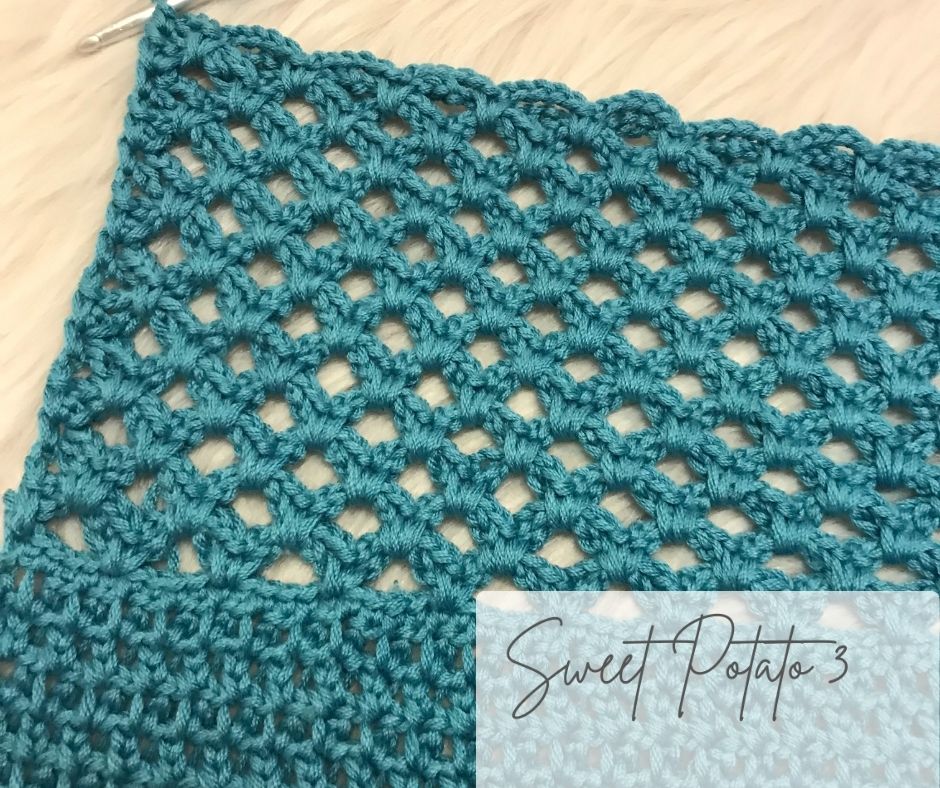 The open stitch work of the top is just fun. It adds a simple yet fun eye appeal with the change. This stitch pattern works up even quicker than the main body of the top.
Easy Construction for Beginners
I believe what makes crocheting garments so intimmidating is that there are certain angles for the arms and sleeves. But, this top with capped sleeves is so easy that beginners will wish they tried making one sooner. The top is made by crocheting two rectangles. You simply place them on top of one another and seam up the sides and the shoulders…. that is it!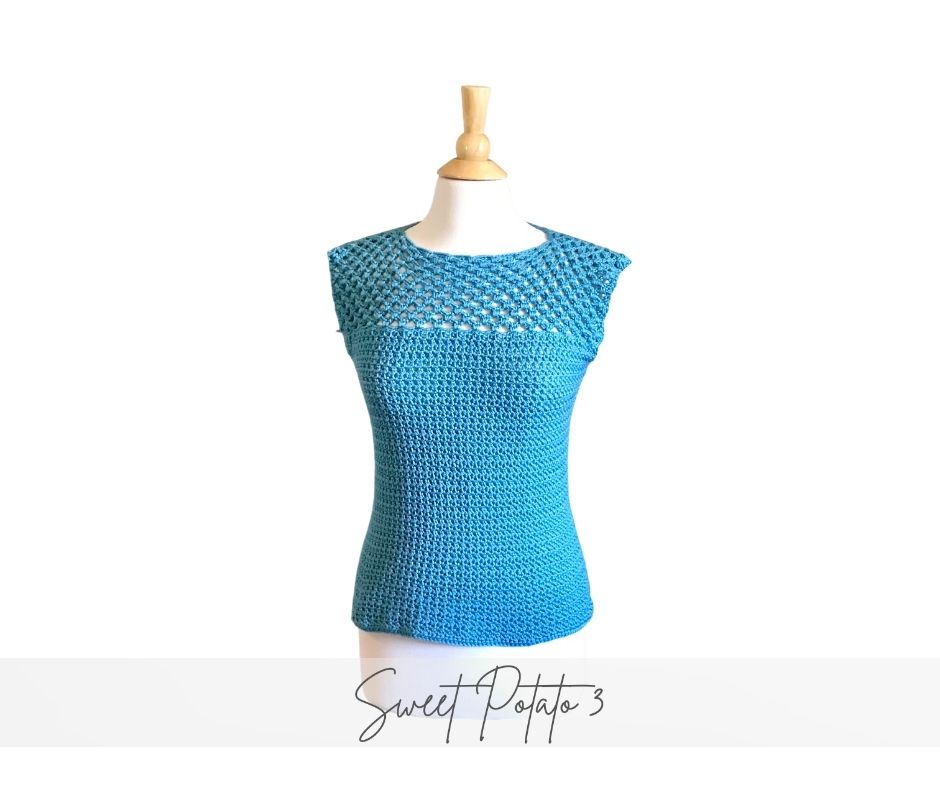 This creates a perfect arm opening with a flirty cap on the sleeves. The boat neckline drapes in a flattering way as well. If this is your first garment, you may just fall in love and decide you want to make more advanced tops going forward. I know I will be designing some more in the near future. If you want to stay up to date, make sure you are subscribed to my newsletter: https://www.subscribepage.com/SweetPotato3Newsletter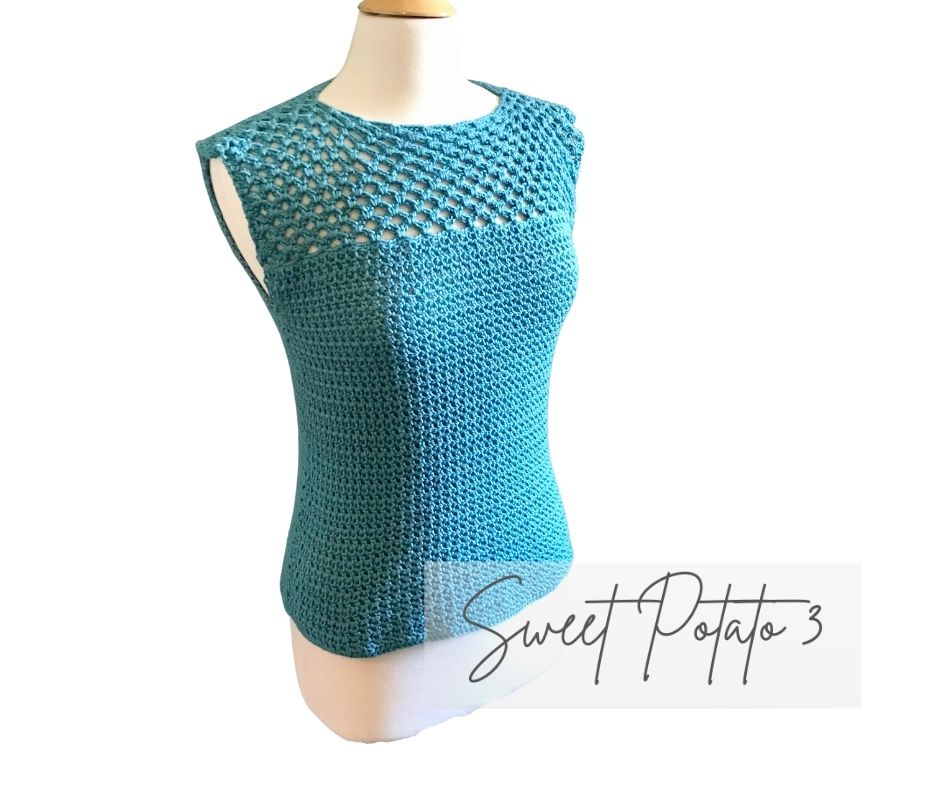 Sizes & Where to Get the pattern
The Between Seasons Crochet Top comes in sizes from adult Small up to adult XXL.
---
Spring is in the Air Bundle
If you love this design you may want to check out my Spring is in the Air Bundle. It includes the Between Season Top along with 4 more designs that are perfect for Spring and Summer.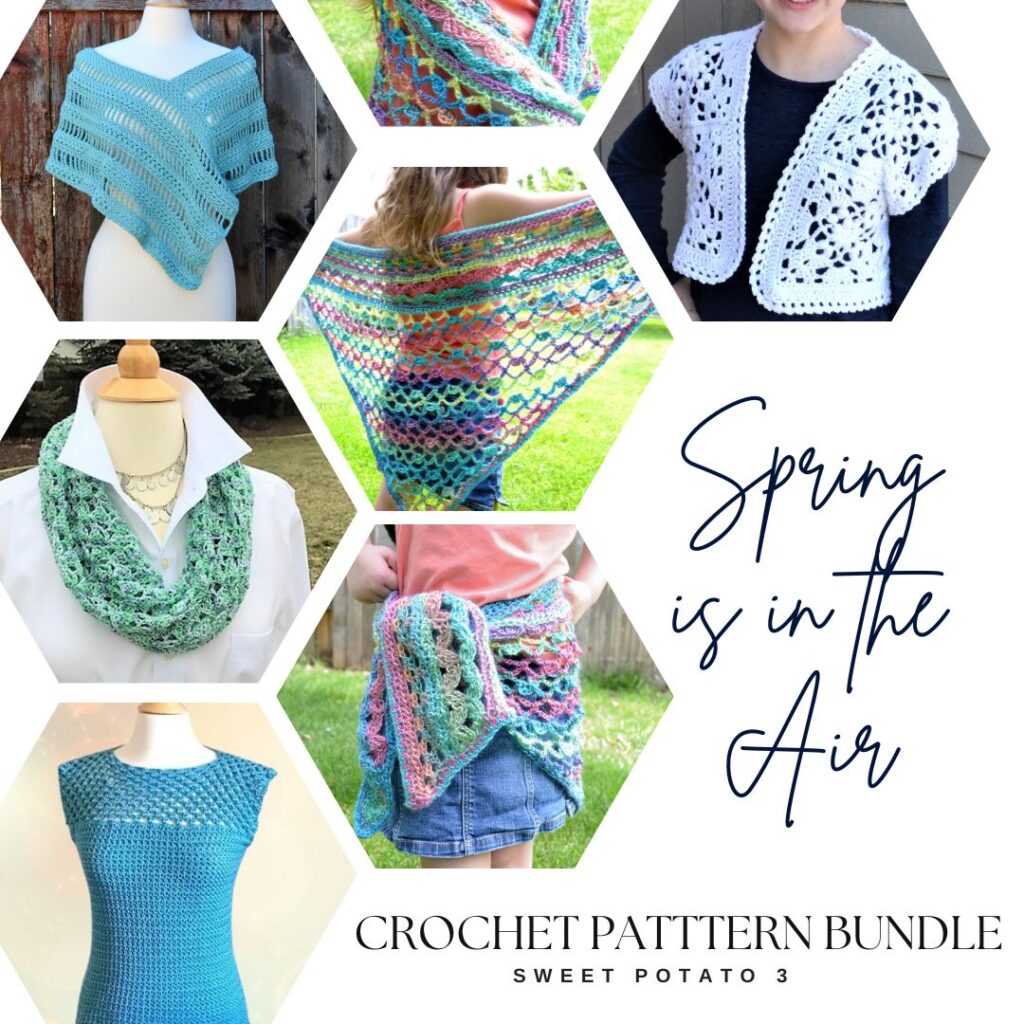 ---
Other Summer Patterns you would enjoy
Crochet & Conversations
I would liek to invite you to join my interactive Facebook group. It is called SP3 Crochet & Conversations, it is full of like minded people who enjoy learning about crochet as much as you do. As a member (which is totally free), you will get to help decide pattern names, colors, what designs will be coming, and so much more.
Come join by clicking HERE.

---