Spring is nearly here and it is time to start switching from crocheting cold weather hats to spring and summer items. So, why not crochet some fun and simple flower headbands!
A Quick Stash Buster Project for Craft Fairs
The pattern for the Simple Flower Headband works up quick. Because you can use any yarn weight, you guessed it, you can bust through that stash! The headband is a great craft fair project because it is fast and you can have a whole stack of sample in a little amount of time. 
Tell Me More
This Simple Flower Headband is a fun and quick pattern to make. The pattern is written so you can make the headband using any weight of yarn or thread, just use the recommended hook size for the weight of yarn.
Below, you can see in the images, how the weight of the yarn will affect the look of the Simple Flower Headband. The yarn will determine how wide the headband is and how thick, or bulky, it looks.
Have fun and play with different weights of yarn to create the perfect look for you. The pattern works up so quick you can make more than one and have completely different looks with each one.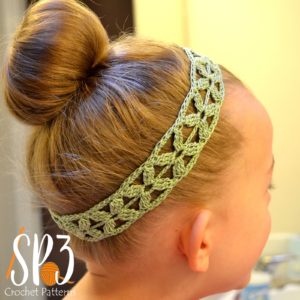 This Simple Flower Headband pattern is FREE!!
The pattern includes a full photo tutorial on how to make the headband. Grab your copy of the pattern today
by clicking this LINK HERE.
Follow Sweet Potato 3 on Facebook to see more pattern releases, sales and crochet fun, just click HERE.
However, if you would enjoy a more interactive group experience, you need to join my Crochet & Conversations facebook group, click HERE. It is a ton of fun and I encourage everyone to share their projects, WIPS (works in progress) and inspirations. Plus you get exclusive deals, are the first to see new releases, give input on designs and have opportunities to win patterns. Join now and get to know others who also enjoy the art of crochet.