Mermaid Tail Sets are so popular in photographing little girls right now. I recently released a fun set for newborns but I received so many request for larger sizes that I had to add them.
The Mermaid Photo Prop Pattern now includes 3 sizes: newborn, 3-6 months, and 6-12 months.
More about the Mermaid Set
The Tail of the Mermaid prop is made in a raised but still slightly subtle wave pattern. The look replicates that of scales. The tail simply slides over the legs and is secured around the waist of the baby.
The bikini top is cute band that has a pinched pleat in the center of the front. This design is easy on a sleeping baby. If you have an older baby that is slightly more mobile, you may want to consider adding a small neck strap, but make sure you supervise the infant while it is wearing the set.
The headband features a design that can either be a starfish or a swaying flower of the sea.
Have fun with colors
Be creative with colors while you make your mermaid set. A simple change here can dramatically change the look of the mermaid set.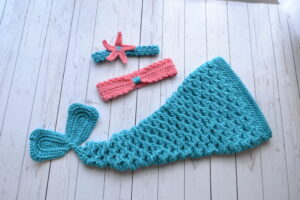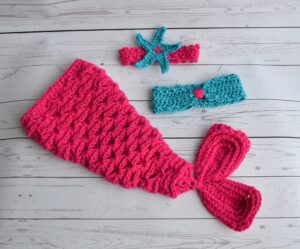 Where to find the Mermaid Set pattern
The mermaid set is available in all my shops and includes all 3 sizes.
More Photo Props You Might Love
More Crochet Fun
Follow Sweet Potato 3 on Facebook to see more pattern releases, sales and crochet fun, just click HERE.
However, if you would enjoy a more interactive group experience, you need to join my Crochet & Conversations facebook group, click HERE. It is a ton of fun and I encourage everyone to share their projects, WIPS (works in progress) and inspirations. Plus you get exclusive deals, are the first to see new releases, give input on designs and have opportunities to win patterns. Join now and get to know others who also enjoy the art of crochet.