Occasionally I will stumble upon a stitch that I fall in love with and find that I implement it into many of my designs. That is exactly what happened when I first discovered a stitch that I call a Knotted Half Double Crochet. This stitch works up quickly and has a relaxing cadence to it as you weave your hook through the yarn to crochet the stitch over and over.
The knotted half double crochet stitch creates a thicker, or bulky, fabric while keeping its buoyancy due to natural spacing of the stitches. The result, a flexible, warm and cozy feel that is great for so many projects. With winter setting in I decided a cowl would be a great project to make to teach this fun new stitch.
About the Knotted Half Double Crochet Stitch
I am not sure if I saw this stitch or just 'figured' it out playing with yarn one day. Knowing this was a stitch I was going to use for a project, I searched high and low for its name and was not able to find it.
The stitch is basically a half double crochet decrease, or a half double crochet two stitches together but without a decrease in stitches. What makes it unique is the stitch placement which results in the same number of stitches in each row (no decreases). You may know it as something else. If you do, please leave a comment below.
If you look closely at most crochet stitches that are worked in rows, the stitches are crocheted in an alternating pattern as the rows stack (the stitches are aligned between one another). However, the knotted half double crochet stitches align perfectly on top of one another. The stitch looks like little knots lined up in an orderly fashion.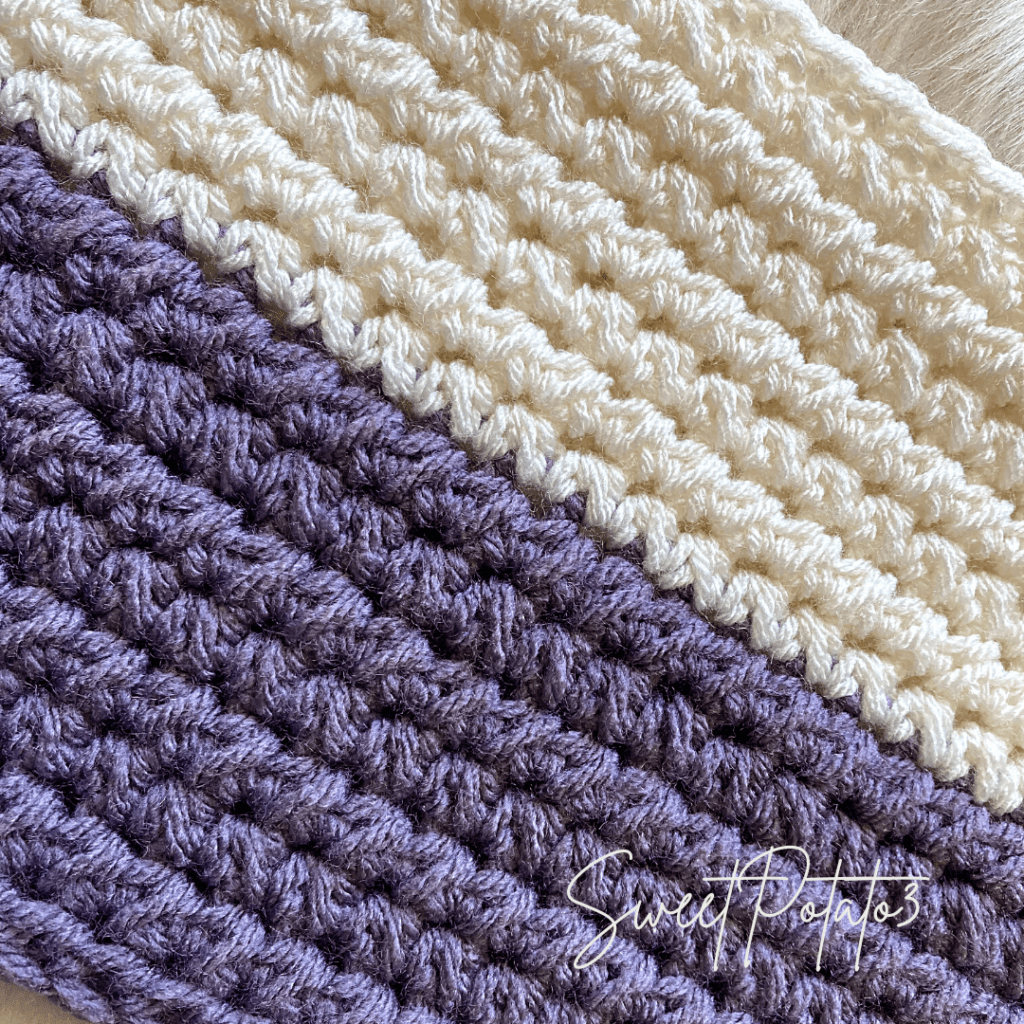 Materials Need to Crochet the cowl
Crochet hook K (6.50 mm)
Crochet hook I (5.50 mm)
400 yards of a heavy Worsted Weight yarn (sample made in Bernat Premium color: lavender & aran)
Scissors
Yarn Needle
Measuring tape
Finished Size
My completed cowl is 7″ wide and 30″ long, as this is folded in half it actually has a 60″ circumference.
Gauge is usually very important when crocheting. Since this is a cowl designed to practice a stitch, the focus today is to learn the stitch and crochet evenly throughout your project. The cowl is designed as a double loop cowl (loop around neck, twist, and loop again) so it will have allowances for different gauges. This is a very rare occasion when I will say to not worry about your gauge.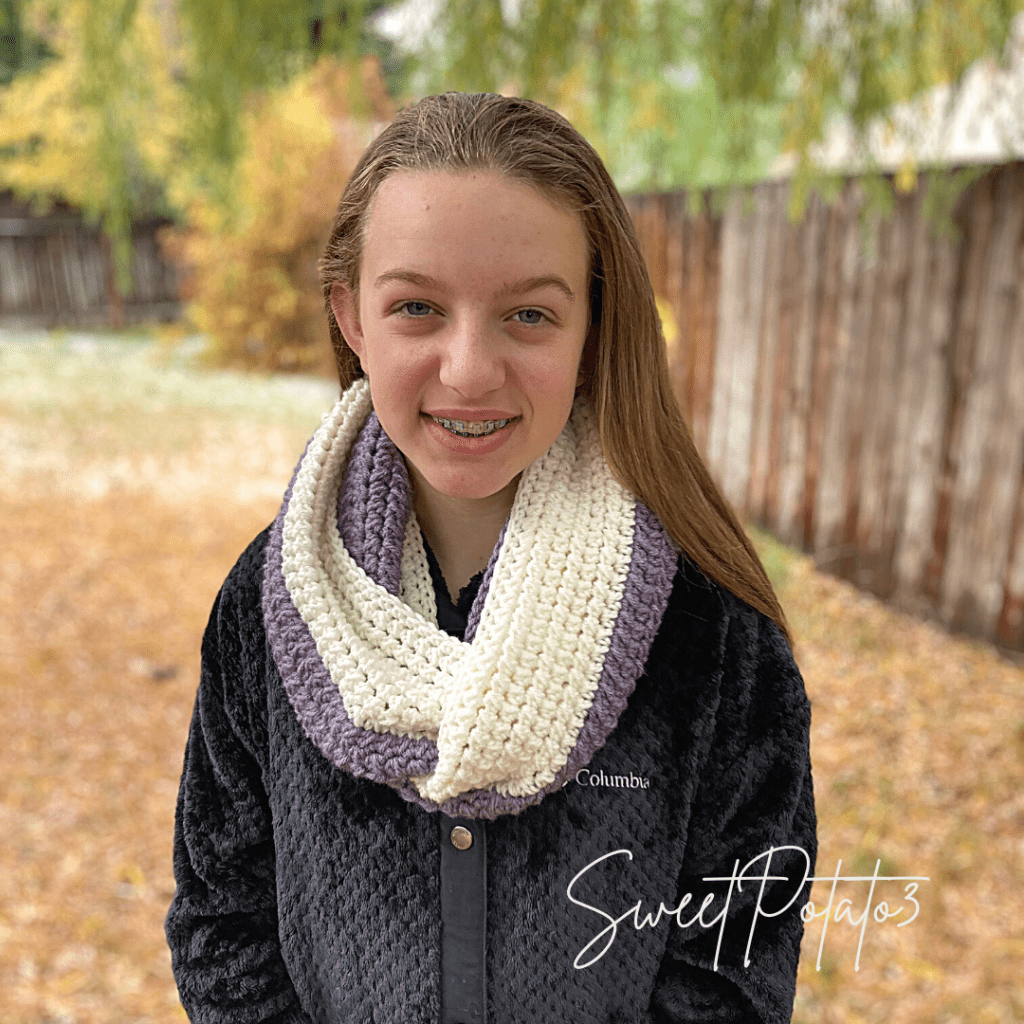 Making the Cowl
Begin using the larger crochet hook K (6.50 mm). It is very important to use a larger crochet hook for your foundation row to allow for a little more natural stretch in the main section of the cowl.
Foundation Row
Crochet 140 Foundation hdc (if you are not familiar with foundation stitches check out my video tutorial HERE), join in top of beginning hdc to form a round (140)
The bottom of the first and last stitch of the foundation row will not be connected (see image below). Using the yarn tail from the beginning of your project sew the bottom of those two stitches together and weave in your end.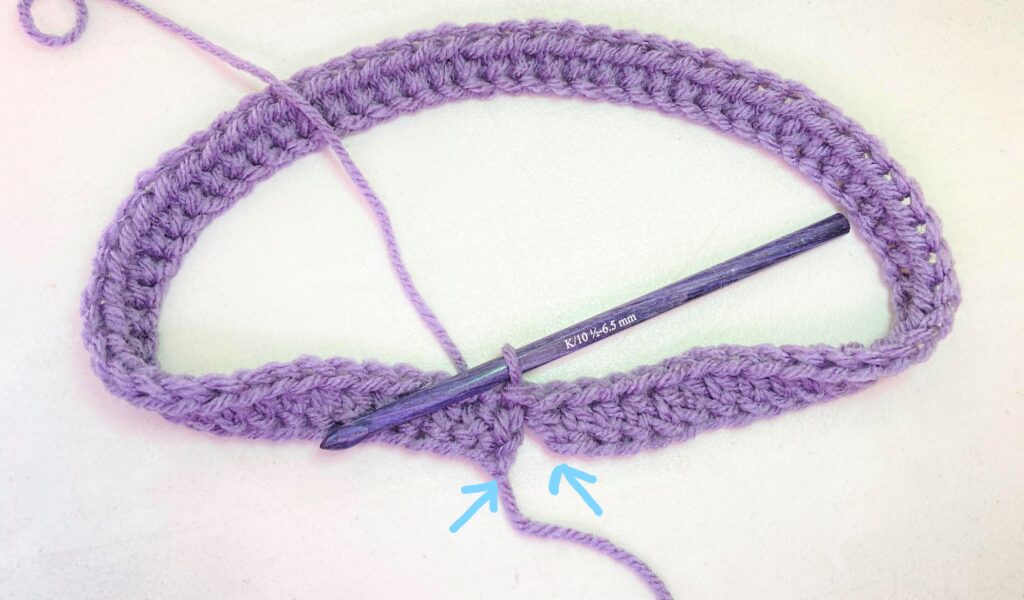 Switch to smaller crochet hook I (5.50 mm). Again, this is very important to keep your foundation row and main body of the cowl close to the same tension.
Begin the Knotted Half Double Crochet (Khdc) Rows
---
The written explanation of the KHdc: yarn over, insert hook into st, pull up a loop, yarn over, insert hook into next st, pull up a loop, yarn over, pull through all loops on hook.
---
Begin your round with a chain 1, yarn over and insert your hook into the joining slip stitch that is behind your beginning chain, pull up a loop (3 loops on your hook).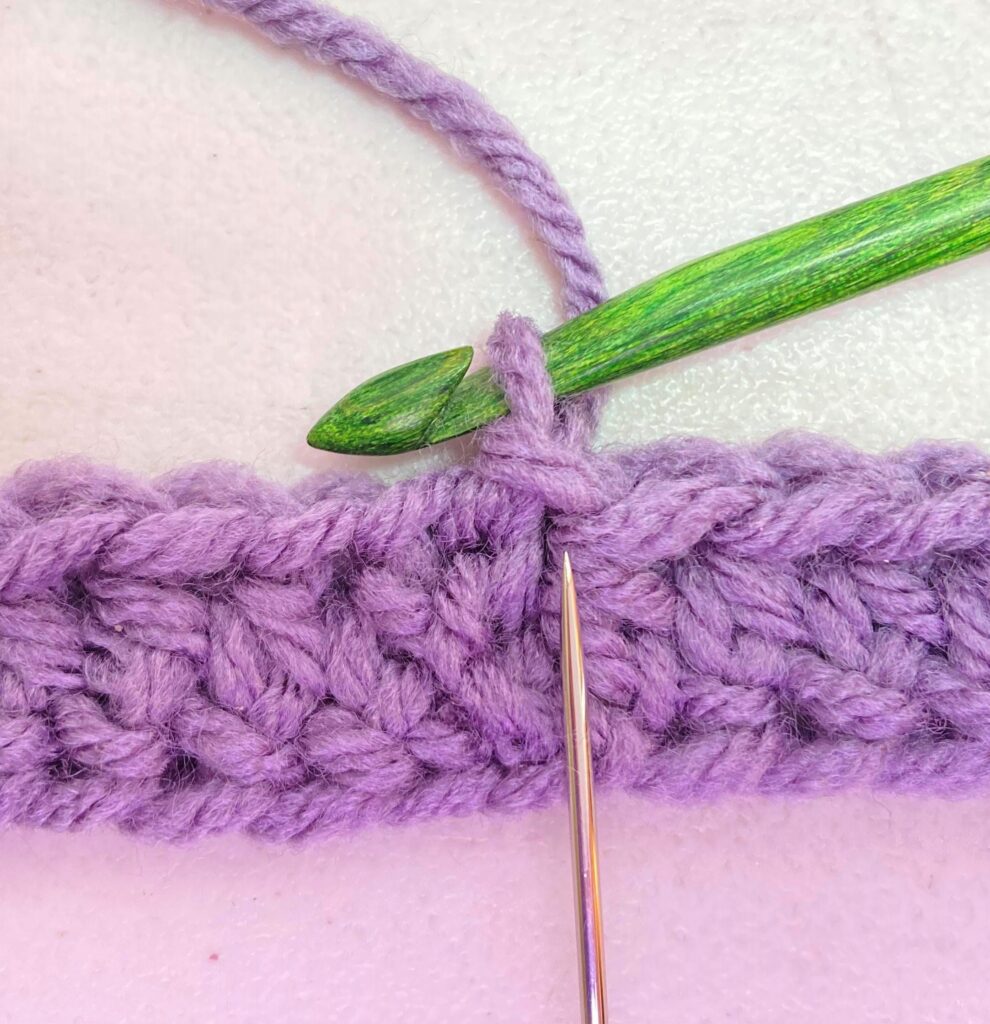 Yarn over, insert your hook into the 1st st of the row (2nd image above-where needle is pointing). Pull up a loop, you will know have 5 loops on your hook, yarn over and pull through all 5 loops on your hook. Your first Khdc has been completed.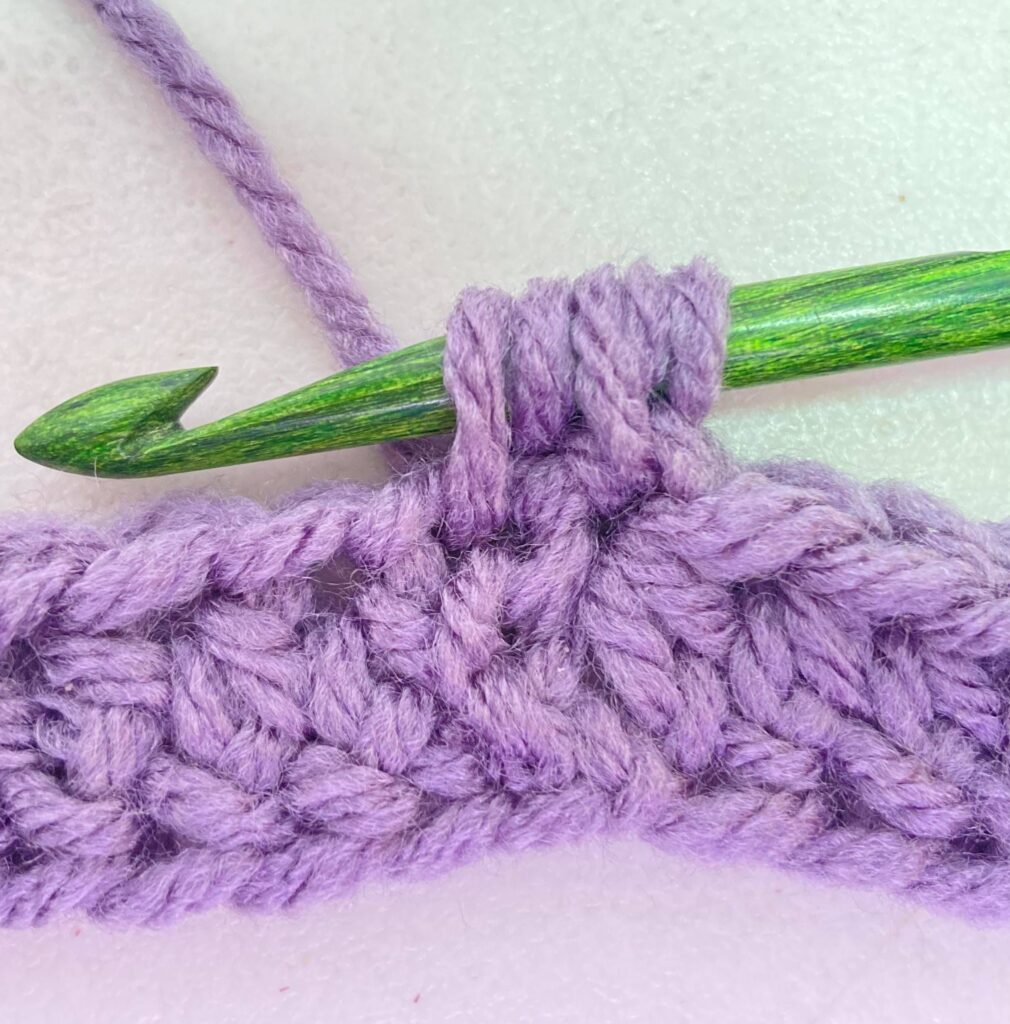 The Next Khdc
To begin your next Khdc, yarn over, insert your hook into the same stitch the last Khdc ended in and pull up a loop, you now have 3 loop son your hook.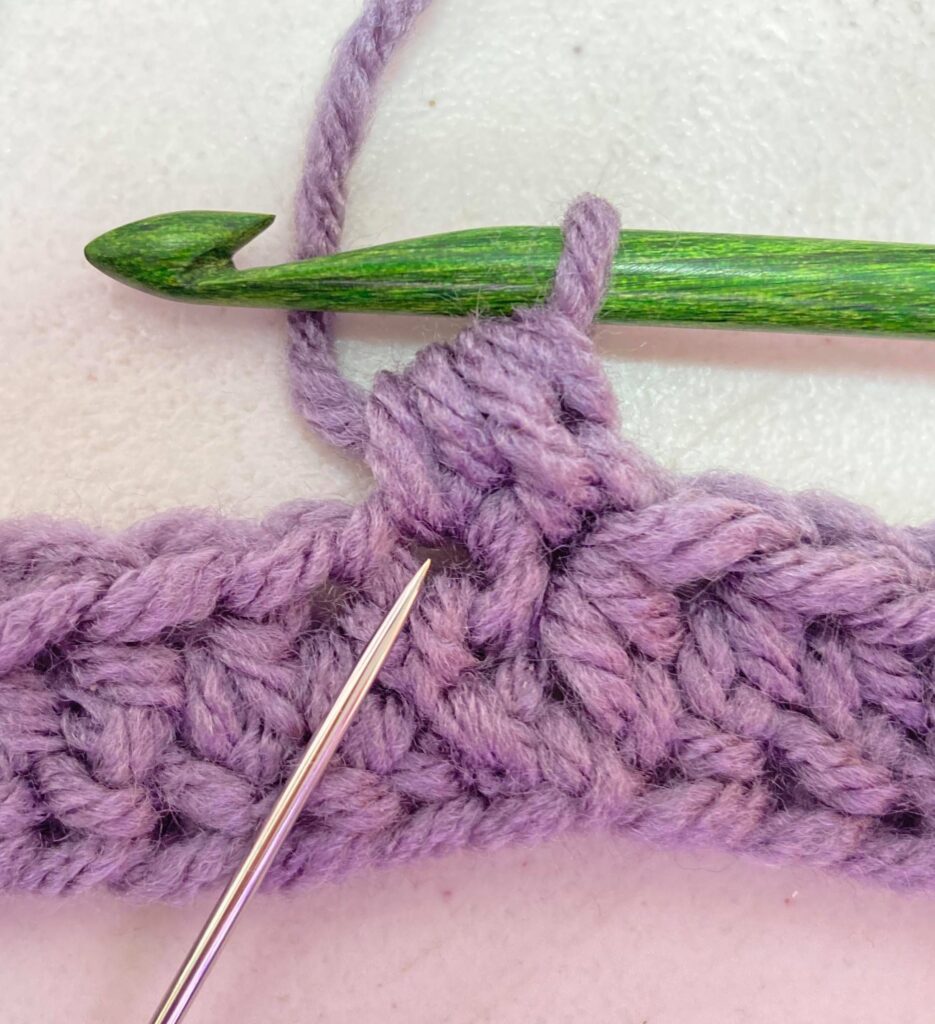 For the second part of the stitch, yarn over, insert hook into next st, pull up a loop and yarn over to pull through all 5 loops on hook, you completed another Khdc.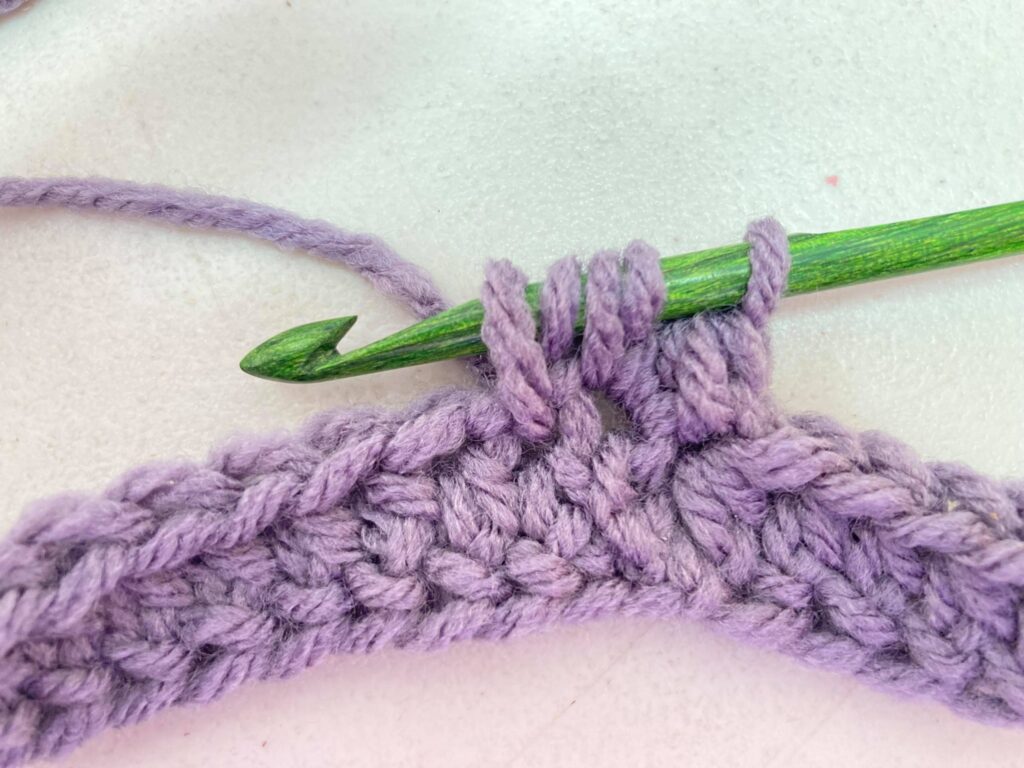 Continue to repeat the Khdc around the entire row. Double check that you ended with 140 stitches for the round, not counting the beginning chain 1.
Continue Rows of Khdc
Repeat rows of Knotted Half Double Crochet until your desired height has been reached. For my cowl I completed 7 rows in lavender then continued to work another 7 rows in aran.
For your last row, switch back to the larger crochet hook K (6.50 mm). Ch 1, loosely sc in each stitch around, join in top of the 1st sc, fasten off and weave in all ends.
Video Stitch Tutorial
If you are a visual learner, like me, watch this video tutorial I created of the Knotted Half Double Crochet Stitch.
Other Designs Using the Knotted Half Double Crochet Stitch
In the introduction of this post I mentioned that I stumbled upon this stitch. I was hunting for stitch that had some specific features – one of which was perfect alignment. That was because I had a few graph designs in mind for blankets.
Traditional graph blankets are made crocheting single crochets, these take forever to make because the stitches are so small. Another option for graphs is the corner to corner technique, but these images are kind of choppy and I wanted a smoother transition and nice angles in my designs.
Music to my soul blankets
Check out how amazing the Knotted Half Double Crochet worked in the Music to My Soul blankets which I designed.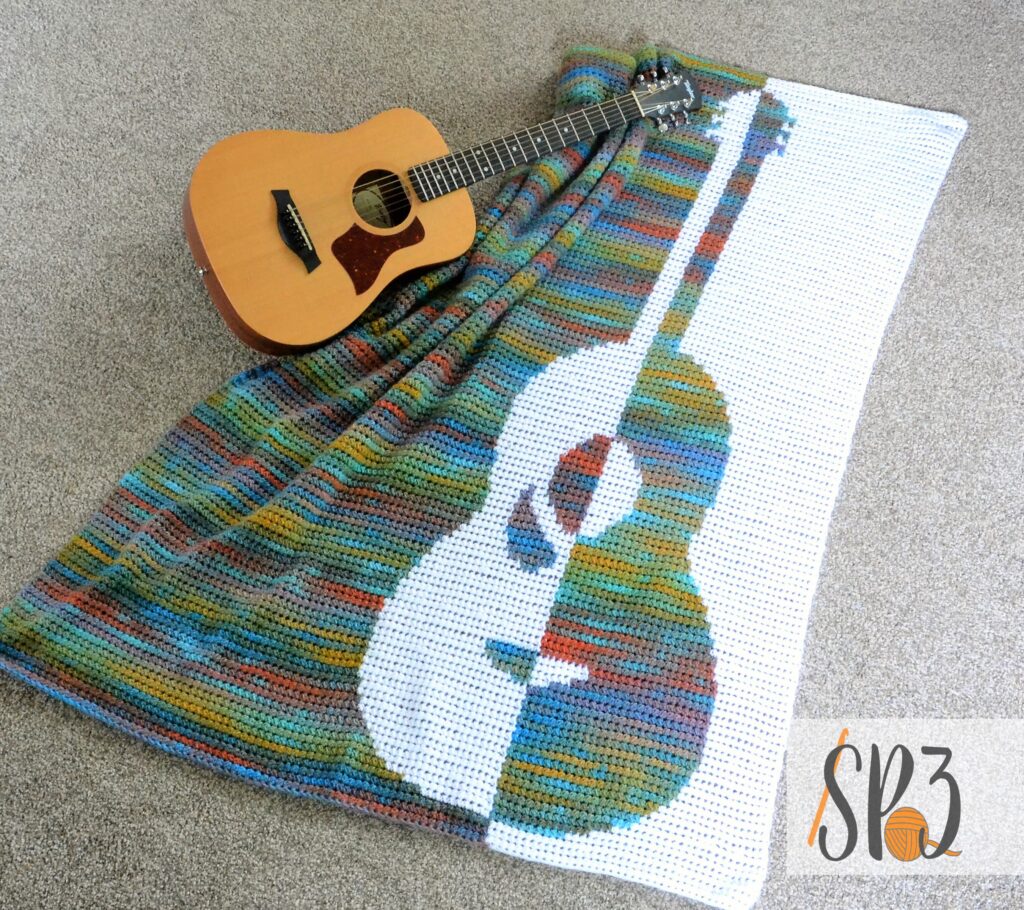 You can find these music blankets along with many more in my shops – or simply click the links below:
Nature's Inspiring Landscape Blankets
I also designed some gorgeous Nature's Landscape Blankets. They are a published book through Annie's publishing.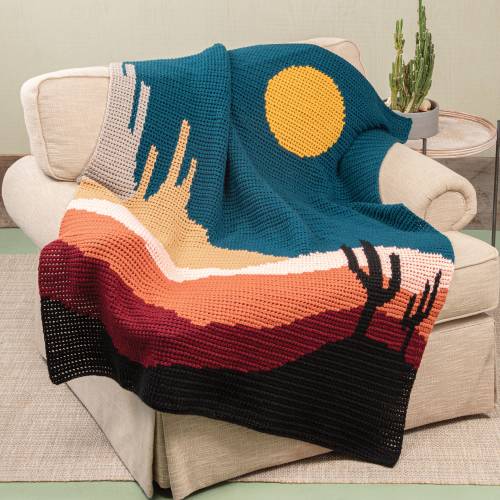 The Nature's Inspiring Blanket information can be found HERE.
More Crochet Fun
Follow Sweet Potato 3 on Facebook to see more pattern releases, sales and crochet fun, just click HERE.
However, if you would enjoy a more interactive group experience, I invite you to come join my Crochet & Conversations facebook group, click HERE. It is a ton of fun and I encourage everyone to share their projects, WIPS (works in progress) and inspirations. Plus, you get exclusive deals, are the first to see new releases, give input on designs and have opportunities to win patterns. Join now and get to know others who also enjoy the art of crochet.