Last year I designed some music blankets for each of my children. I did this to show them how important music is and that whole heartedly encouraged them to continue their love of music. The blankets where a huge hit and I received so many requests for more instruments that I am now releasing a Music to My Soul Expansion Pack!
You got it! It includes 10 popular instruments in the percussions, string and brass groups.
Behind the Designs of the Music Blankets
When I designed the original Music to My Soul Blankets I was striving for a modern look to classic instruments. The result was a silhouette of the instrument with the added twist of a split colorway which created a unique, modern and young vibe that has been loved by all generations.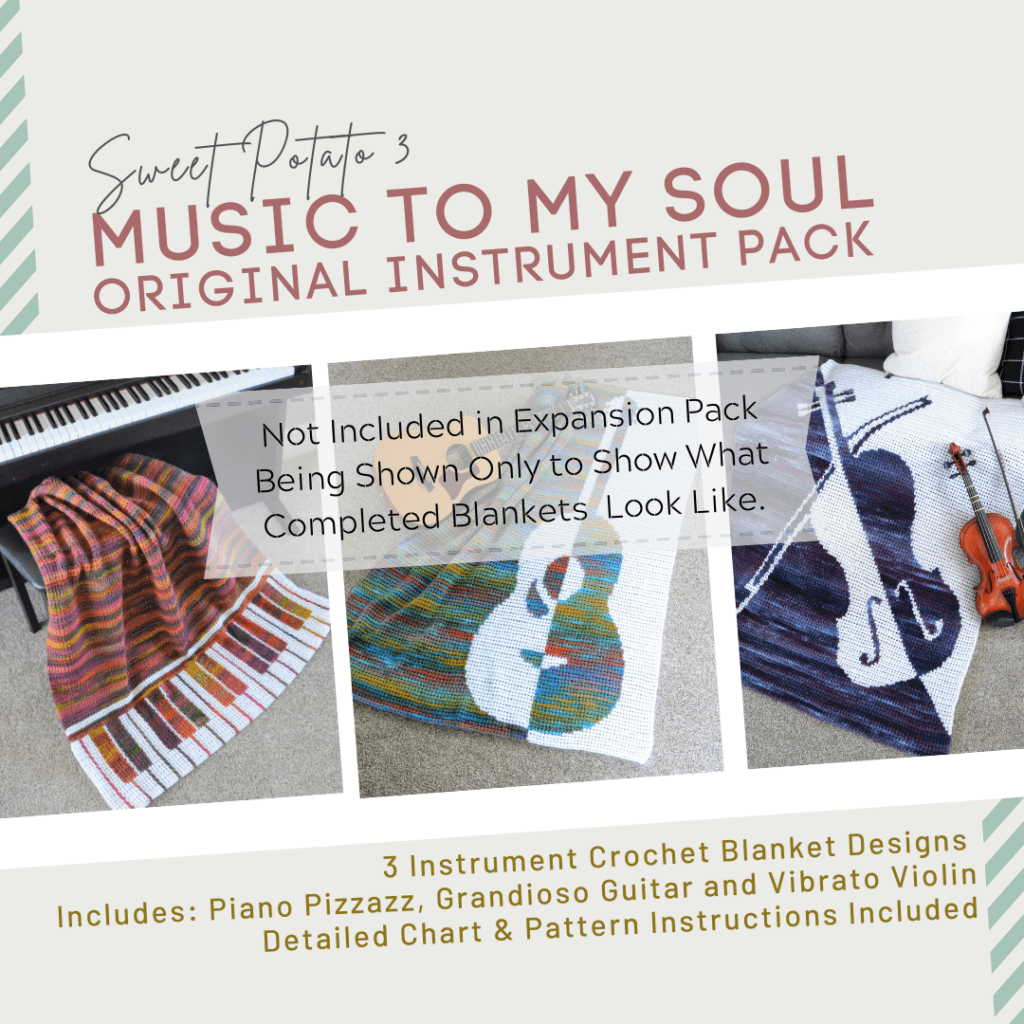 You can see how amazing these blankets turned out in the image below. BUT, please take note that these 3 designs are NOT included in the Expansion Pack. You can find more info about them by clicking HERE.
Instruments Included in the Expansion Pack
As I was deciding which instruments to include in the Expansion Pack, I was looking for the most popular instruments and the ones that had a distinct shape. Looking into all the different instrument groups I decided to include the following:
Percussion:
I included a snare drum in a equally vertical split color block which creates a fun balance to the instrument. A full drum set in a diagonal split helps emphasize the many dimensions and layers of drums.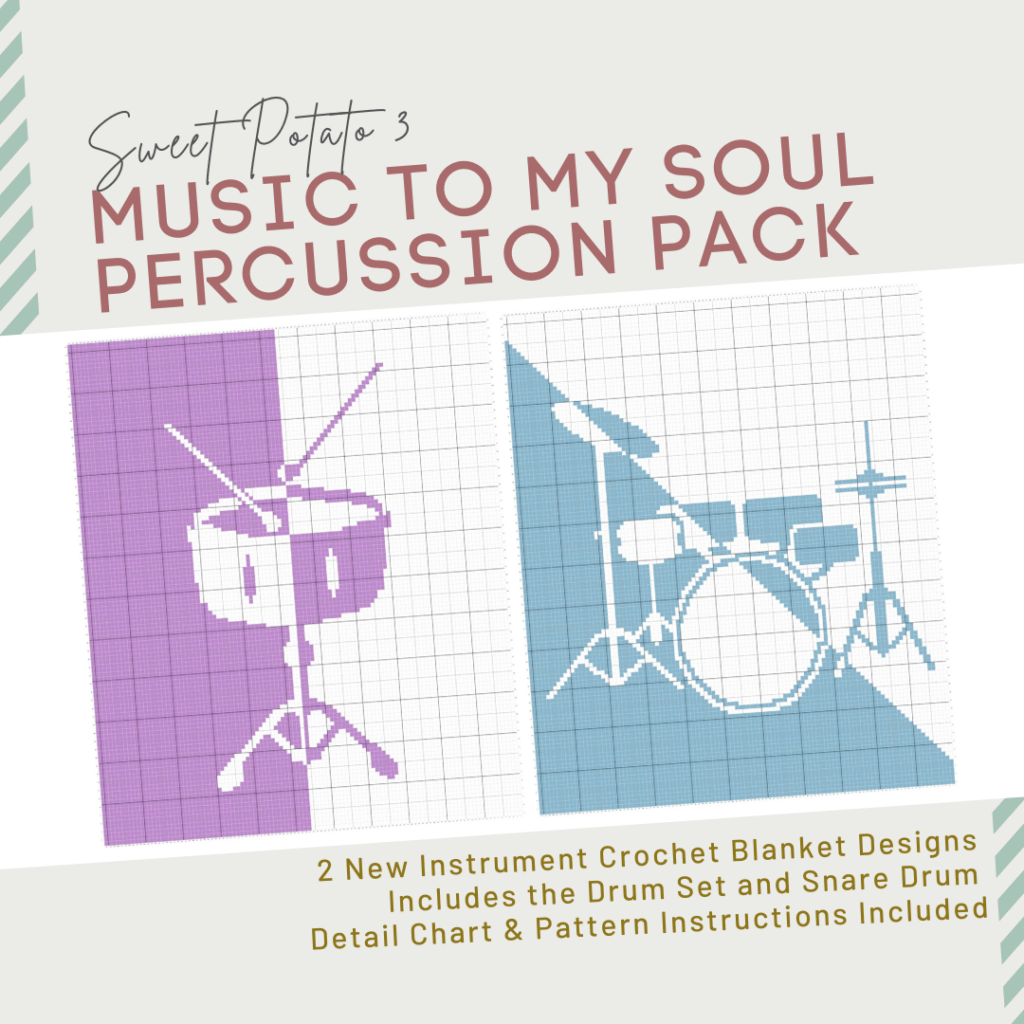 String:
The string instruments are always a hit, this expansion pack has 3 popular instruments included. The harp is a statement piece and is elegant in just a silhouette, so I kept this design basic with another vertical split silhouette. The electric guitar is bold instrument that wants lots of attention resulting in a double split, eye catching design. Then, there is the banjo, what can I say? Simple is sometimes what speaks volume and I believe this design is perfect for such an upbeat instrument.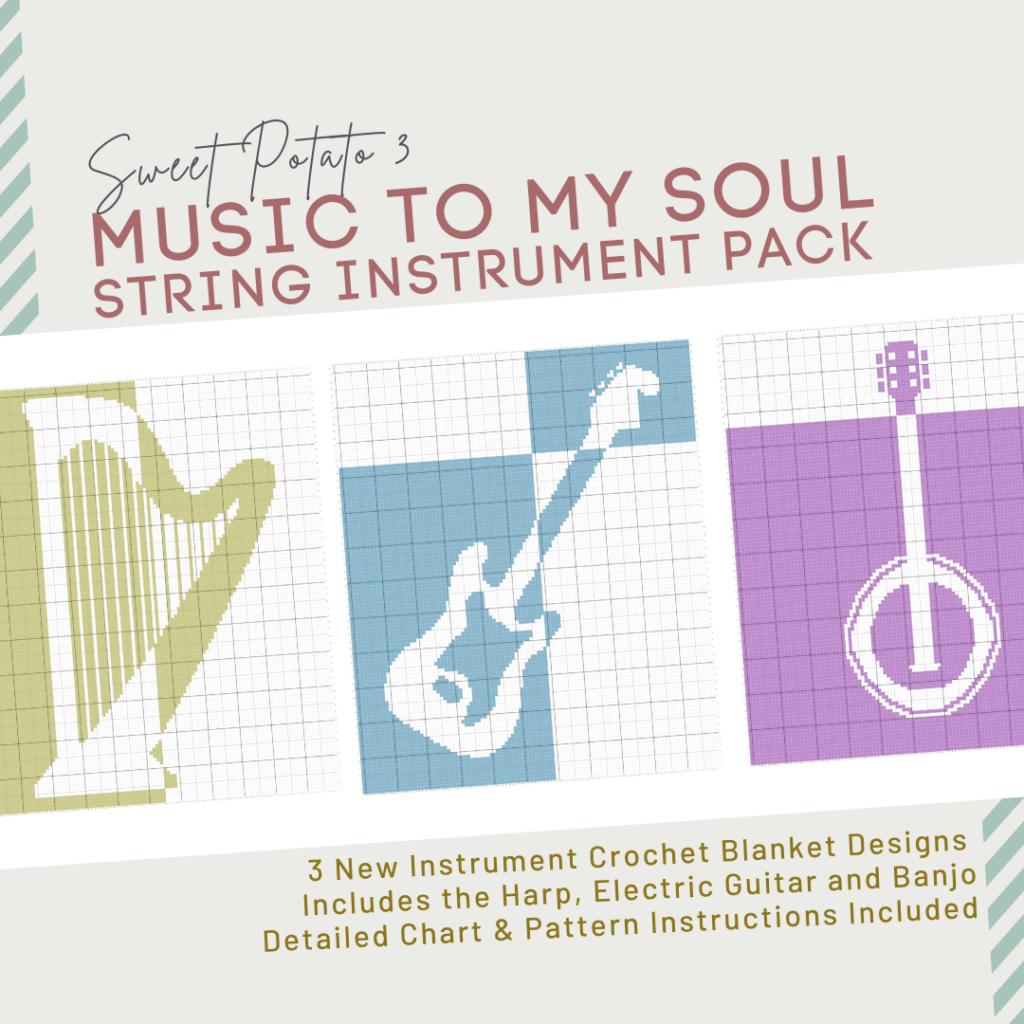 Brass:
The Brass Expansion Pack is the larges, there are so many fun, bold and big instruments. It was hard to decide which ones to include. But, I settled on the trumpet, tuba, saxophone, sousaphone and trombone. All the angles where carefully picked to express a vibe ideal to the instrument.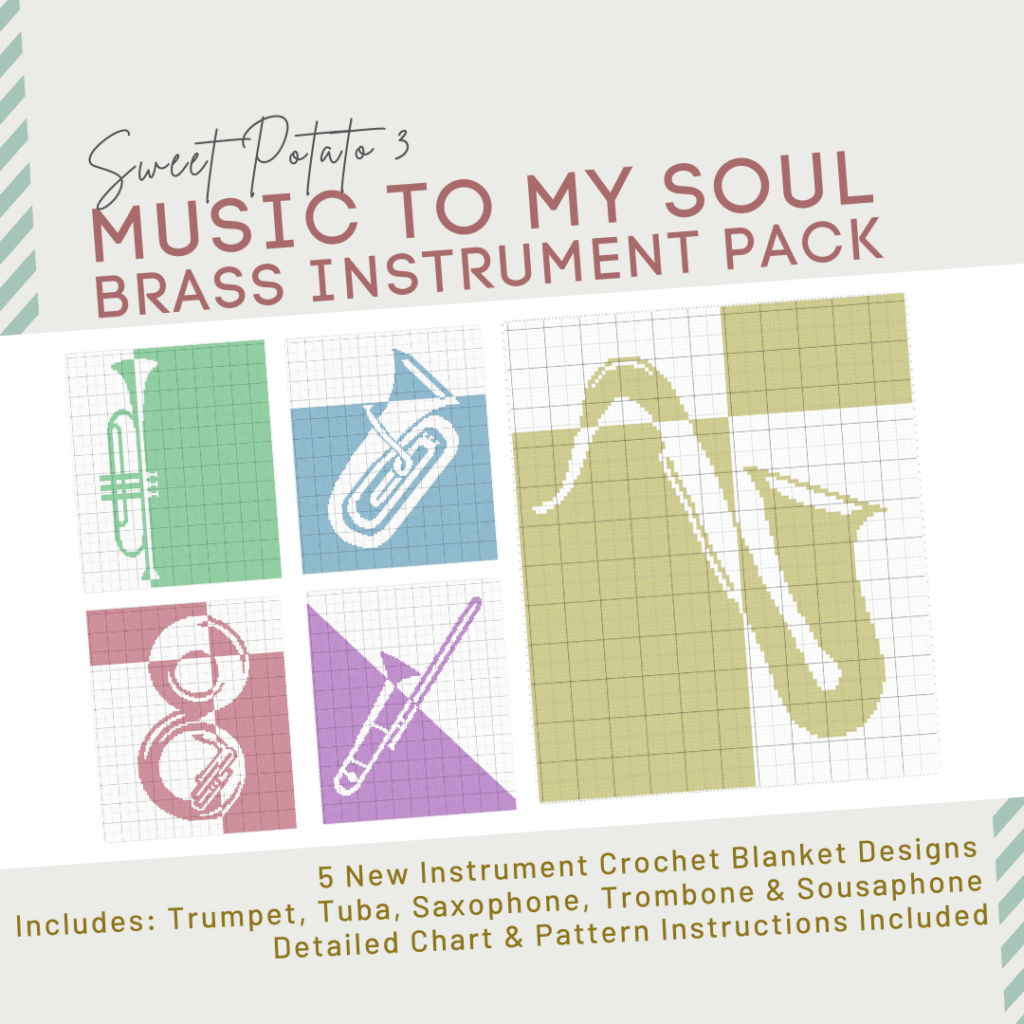 The Stitch
Are you looking at these graphs and thinking, "no way am I crocheting a blanket in single crochet!". Haha, that would be my first thought too. I searched high and low and played with so many stitches to find the right one that aligned perfectly for graph designs. I came up with a fun stitch that works up quick.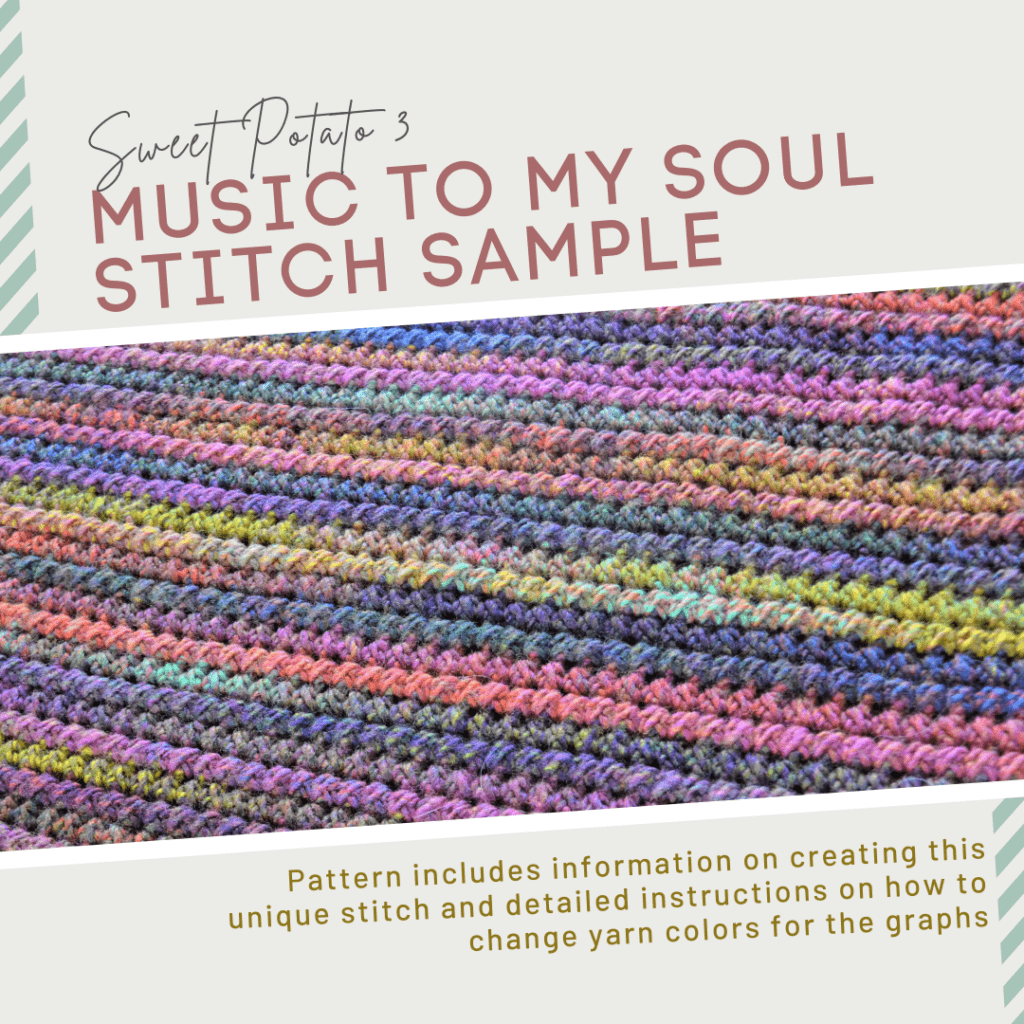 The pattern includes photo tutorials on how to work the stitch and how to work the color changes for the graph.
About the yarn
The gorgeous color changes in the Red Heart Roll with It Melange yarn was just what I was hoping for. The yarn worked up lovely and was a huge success with the overall look of the finished blankets. However, finding the ideal white/contrasting yarn was a bit difficult, but I finally found it and the blankets worked up great.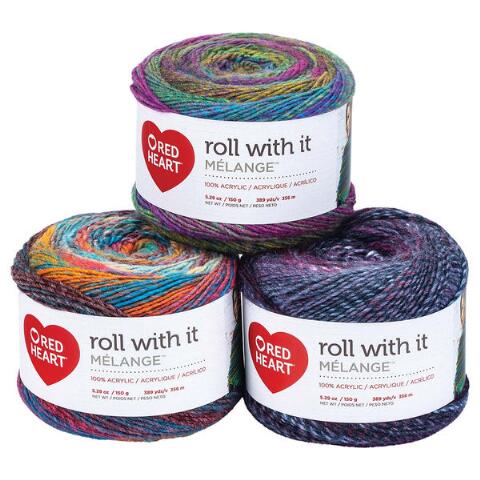 Aa soon as the pattern was released, the white/ contrasting yarn was discontinued. Thankfully, with the popularity of these blanket designs many of you have messaged me with yarn that has worked great as a substitute, you can check out the following yarns:
Herrschnerrs Worsted
Hobby Lobby's Yarn Bee (has a little more sheen than the Melange)
Caron Simply Soft (has a little more sheen than the Melange)
Expansion Pack – What You Get
You will receive all 10 of the new graph designs in an ebook (downloadable) format. Included are detailed instructions and photo tutorials for:
All the stitches
How to crochet color changes, hide yarn, and weave in the ends of your work.
Each blanket require different amounts of yarn for the background color and the contrasting color. The blankets will take about 2300 yards of worsted weight yarn.
Graphs for each design are included as well as enlarged graphs for easier reading.
A written format, or a cheat sheet, that states how many stitches are made in each color according to the row.
Where to get the Ebook
Individual Music Blanket Patterns & Separate Ebook Options
More Crochet Fun
Follow Sweet Potato 3 on Facebook to see more pattern releases, sales and crochet fun, just click HERE.

However, if you would enjoy a more interactive group experience, you need to join my Crochet & Conversations facebook group, click HERE. It is a ton of fun and I encourage everyone to share their projects, WIPS (works in progress) and inspirations. Plus you get exclusive deals, are the first to see new releases, give input on designs and have opportunities to win patterns. Join now and get to know others who also enjoy the art of crochet.