Living in a house of All Boys (well mostly) and am always on the lookout for a way to show off their rough and tuff personality. I was in search of a way to really personalize the crochet hats I was making them.
Growing up on a Farm, I thought immediately of tractors and farm equipment. Adding the cute applique to a hat was an immediate favorite and I had to send it off to one of my photographers that I work with.
All Tractors for All Boys
The popular green tractor came out so cute. However, my Dad had a blue tractor when I was really young and then a red one, therefore, I had to whip up a couple more to see how they would look.
Too Cute to Stop, Continue with more All Boy Appliques
I loved creating the tractor appliques so much that I had to keep on going. Designing more rough and tuff vehicles including the following:
Tractor
Bulldozer
Dump Truck
Pick Up Truck
Sailboat
Train Engine
Rocket / Spaceship
Helicopter
Airplane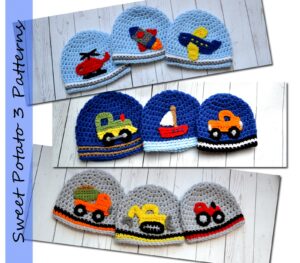 All Boy Applique Details and Where to Get the Patterns
The All Boy Appliques are made using worsted weight yarn and a crochet hook G. Ranging from 2-3″ the appliques are small but adjusting the hook size and/or the weight of the yarn could affect how big/small they turn out.
The appliques are great for children's hats, as shown in the photos, but could be added to any crochet piece like: blankets, sweaters, scarves and so much more.
The appliques are sold as a set so you get all 9 patterns with your order. The pattern is sold in all my shops and you can find them by clicking the links below:
Tips for Sewing on Appliques
Appliques can add so much detail to a crochet project, but only if you are able to sew them on in a professional way. The back of the crochet piece still needs to look nice from the back side. After years of crocheting and through much trial and error, I decided to share with you how I sew on my appliques.
I hope the video tutorial is helpful and allows you to elevate the quality of your crochet pieces. If you like the video and would like to see more, make sure to subscribe to my YouTube Channel by clicking the "subscribe" button on my page HERE.
More Crochet Fun
Follow Sweet Potato 3 on Facebook to see more pattern releases, sales and crochet fun, just click HERE.
However, if you would enjoy a more interactive group experience, you need to join my Crochet & Conversations facebook group, click HERE. It is a ton of fun and I encourage everyone to share their projects, WIPS (works in progress) and inspirations. Plus you get exclusive deals, are the first to see new releases, give input on designs and have opportunities to win patterns. Join now and get to know others who also enjoy the art of crochet.