Half way through July-Oh My! I cannot believe how quick the year is flying by, we are only 6 months away from Christmas. So, to celebrate this mid-way point I want to offer you all my Peppermint Twist Hat pattern for FREE. This is such a fun and unique design you are sure to love.
July 15th is a National Holiday for "giving something away". I love the meaning behind this special day:
"Giving benefits us all… The giver also benefits. Giving not only makes us feel good but it teaches gratitude, too. Whether we give financially or by offering our skills and services, we lift others up. Our words can be a gift, too. Showing empathy, encouragement, and compassion to someone during a time of need may make us feel vulnerable, but it empowers those we offer it to as well."

https://nationaldaycalendar.com/national-give-something-away-day-july-15/
Memories Of Peppermint & Christmas
When I think back on my childhood and Christmas time I think of all the goodies that are always readily available at parties. My favorite was homemade peppermints and how refreshing they were as they would melt in my mouth.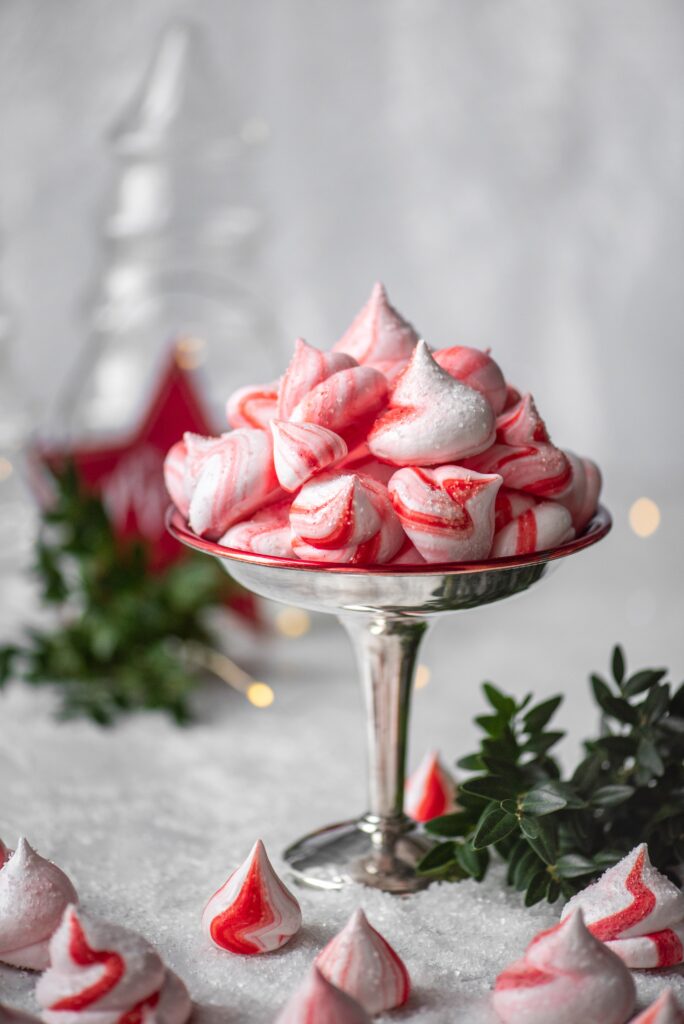 The Design Inspiration
See those twists of color? That was the inspiration behind this whimsical hat design. My favorite is the red and white, but it is so fun in other colors as well.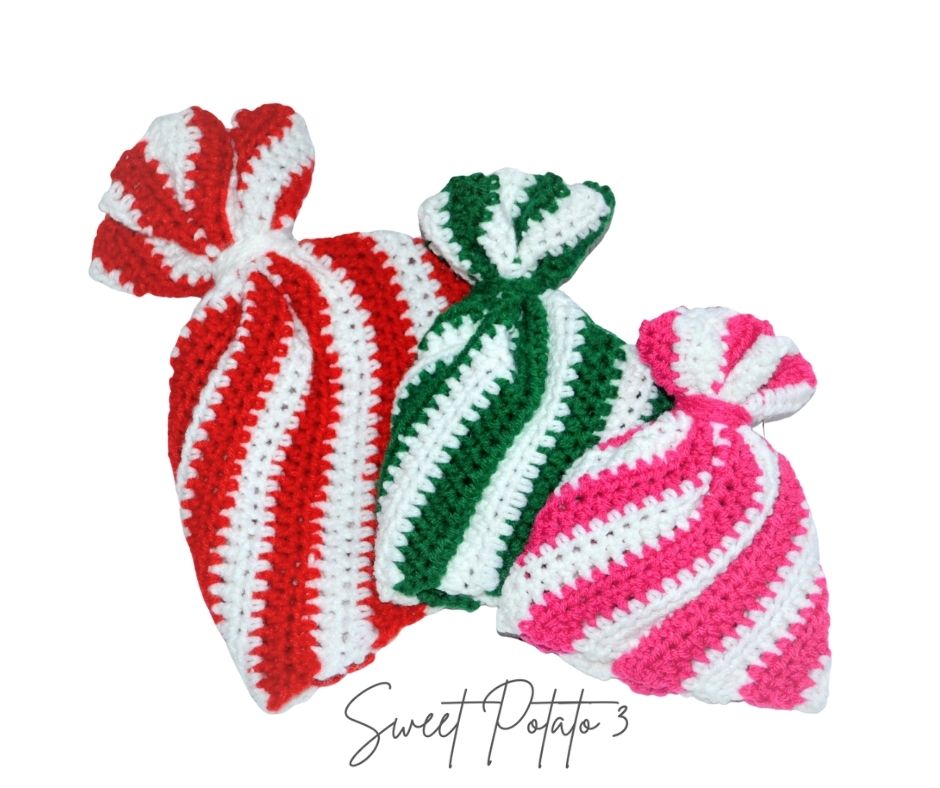 The Peppermint Twist hat pattern comes in sizes from newborn up to adult. The hat is made as a flat piece that is a parallelogram, and then sewn together along the ends. This is an easy pattern that is fun to see different color combinations.
Materials:
Hook size J (6 mm)
Hook size K (6.5 mm)
40-120 yards Worsted Weight Yarn (#4) in 2 colors – I used Red Heart Super Saver
Yarn Needle
Scissor
Stitches & Abbreviations Used:
Ch = Chain
Hdc = Half Double Crochet
Slst = Slip Stitch
2Hdc = work 2 Half Double Crochets in the same stitch
Hdc2tog = Half Double Crochet the next 2 stitches together
Gauge Check:
Please check gauge for appropriate sizing, change hook to correct size to obtain gauge. Each size uses a different hook size, so find what hook is recommended for the size you plan on crocheting, them complete your gauge check accordingly.
With Hook J: 8 rows with 14 hdc = 4 inches square (newborn, 6-12 month, youth)
With Hook K: 7 rows with 12 hdc = 4 inches square (3-6 month, 12-24 month, adult)
Hat Sizing:
The sizing of the Peppermint Twist Hat is slightly different than other Sweet Potato 3 Patterns, this is due to the design of the hat and the stretch.
Newborn (13" around & 5" high not counting top twist – fits up to 14" circumference)
3 to 6 Months (14" around & 5 ½ " high not counting top twist – fits up to 15″ or 16″ circumference)
6 to 12 Months (16″ around & 6" high not counting top twist – fits up to 18″ circumference)
Toddler (18 ½" around & 7" high not counting top twist – fits up to 20″ circumference)
Youth (20" around & 8" high not counting top twist – fits up to 22" circumference)
Adult (22" around & 9" high not counting top twist – fits up to 24" circumference)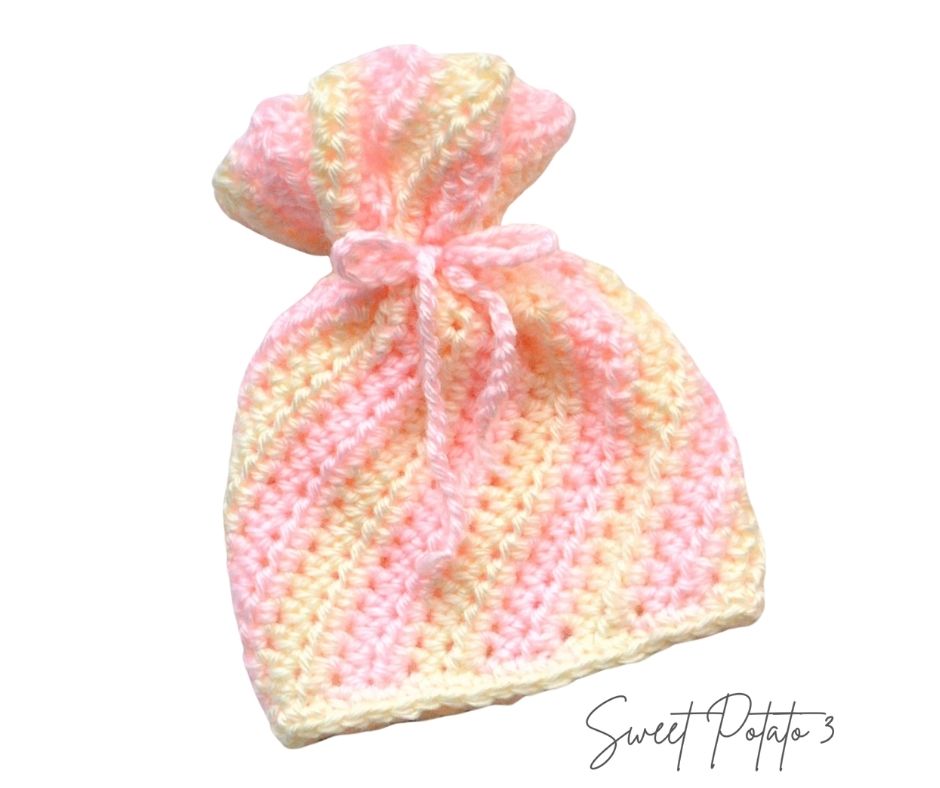 Notes About The Peppermint Twist Hat Design
Count the beginning chain as a stitch in each row.
Switch color of yarn every 2 rows, fasten off and bury yarn as you go.
When measuring the completed item measure from top to bottom, not along the diagonal stripe.
Hat height measurement given is the length from the base/crown of the hat up to the gather (or part that sits on top of the head), the gathered top is not included.
---
Peppermint Twist Hat Crochet Pattern
Newborn, 6-12 month, youth sizes use Hook J (6.00 mm)
3-6 Month, toddler, adult size use Hook K (6.50 mm)
pattern is written for the newborn size with subsequent sizes in parenthesis.

For example: hdc in the next 24 (24, 29, 29, 37, 37) correlates to hdc in next Newborn (3-6 month, 6-12 month, toddler, youth, adult).
R1: Ch 29 (29, 33, 33, 41, 41), 2hdc in 3rd ch from hook, hdc in next 24 (24, 29, 29, 37, 37) st, hdc2tog, turn (28, 28, 32, 32, 40, 40)
R2: Ch 2, hdc2tog, hdc in next 24 (24, 29, 29, 37, 37) sts, 2hdc in last st, turn (28, 28, 32, 32, 40, 40)
Change Yarn Color
R3: Ch 2, 2hdc in 1st st, hdc in next 24 (24, 29, 29, 37, 37) sts, hdc2tog, turn (28, 28, 32, 32, 40, 40)
R4-24(24, 28, 28, 32, 32): repeat rows 2 & 3 while continuing to change yarn color after every 2 rows.
Final Row: Lay hat flat, fold lower left corner over so it is aligned with the bottom edge. Next fold the upper right corner over. The bottom of your first row and the top of your last row will be aligned at an angle.
To crochet together, slst the sts from R1 and R24 (24, 28, 28, 32, 32) together. The ends that you are stitching together are at angles, match up the 1st sts and as you work each stitch the edges will come together to create the diagonal design. After sewing rows together, fasten off and bury ends. Turn hat right side out, this will leave the seam on the inside of the hat.
Drawstring: Ch 40 (40, 50, 50, 60, 60), fasten off. Drawstring should measure about 11″ (11″, 12″, 12″, 13″, 13″). From the top of the hat count down 6 (6, 8, 8, 10, 10) sts, weave the drawstring through the sts of each row. Pull drawstring tight, wrap until the ends of the chain are left, tie tightly and weave in loose ends.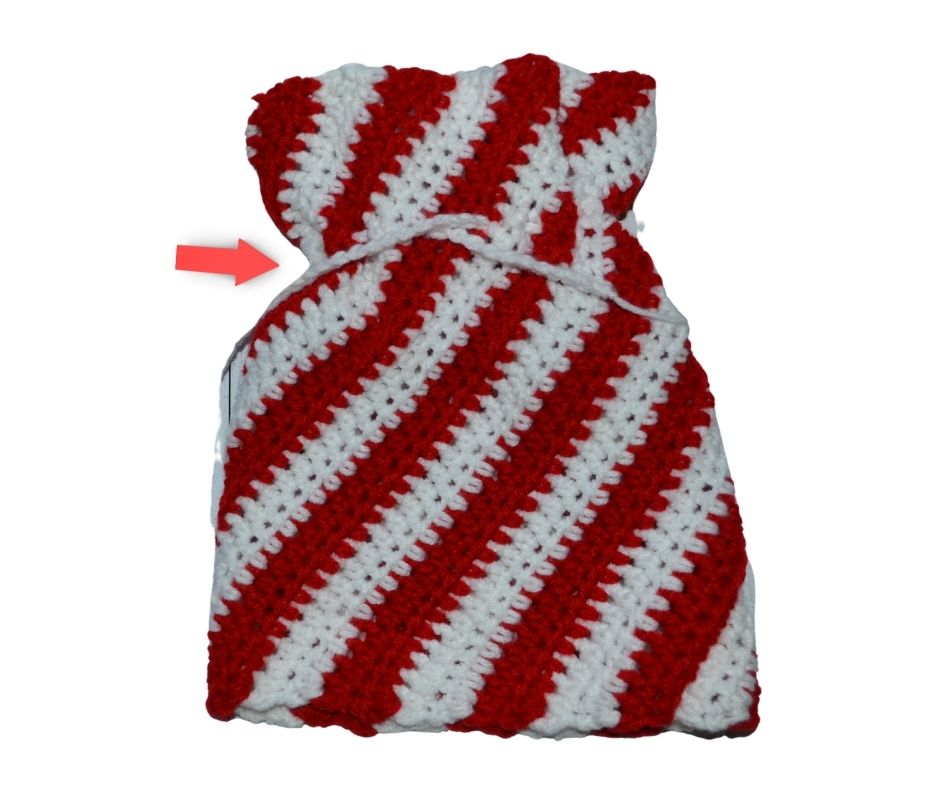 More Christmas Crochet Patterns You May Enjoy
More Crochet Fun
Follow Sweet Potato 3 on Facebook to see more pattern releases, sales and crochet fun, just click HERE.
However, if you would enjoy a more interactive group experience, you need to join my Crochet & Conversations facebook group, click HERE. It is a ton of fun and I encourage everyone to share their projects, WIPS (works in progress) and inspirations. Plus you get exclusive deals, are the first to see new releases, give input on designs and have opportunities to win patterns. Join now and get to know others who also enjoy the art of crochet.

Some Fun Ways Others are Celebrating "give something away day"
Check out a cute Hooded Tiger Blanket by Timmel Crochet – click HERE.
See How to Make a Crochet Dolphin by Creative Snugglies – click HERE.