Something new is ready from Sweet Potato 3!!! My daughter received a beloved "American Girl" doll (ugh umm… Our Generation… wink) for Christmas. Of course the first thing she noticed what that her new doll, Ginger, didn't have any PJ's! Having some time on my hands I went on a hunt for a new pattern but couldn't find one that had her special requests:
Stripes, Footed, Button Front PJ's with Matching Hat
Yep, she was that specific. So, I went to work and soon realized how many different options you could create with just the one pattern.
The red and grey set was my first attempt and she LOVED it!!! But, with my baseball boys in the house I realized how fun it would be to make some purple baseball style pj's (but this time I didn't make them with feet so of course I had to add the slippers). Then one of my testers combined them with stripes and baseball style, I simply love it!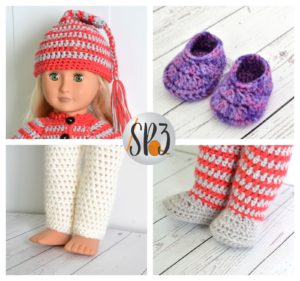 The pj's simple slip on from the feet up and button in front. The slippers work up very quick and could even be used as shoes to go with all of the dolls outfits. And don't forget the stocking hat to make this slumber party set complete.
Grab your copy of the pattern on: Ravelry / Etsy / Craftsy
If you like this pattern make sure to follow me by email. Just sign up by entering your preferred email address just below my picture in the right hand column. Then make sure to like my facebook page for more crochet fun.