Designing hats has always been so much fun, but it does get harder to come up with an idea that is different from what is already out in the crochet pattern world. However, when I stumbled upon a unique, eye catching new-to-me stitch I knew I had to incorporate it into my next hat design: The Braided Beanie.

Check out that Braid! have you ever crocheted anything like that? This is a stitch you will want to try and I included a photo tutorial AND a video to help you out. It really is pretty easy, but is probably easier to do after you watch how it is completed.
Add Pops on Color in the braided beanie
I personally love how you can made a simple beanie really pop with adding bold colors in the braid. You can coordinate the colors or select bold colors, whatever you like, I promise it will be amazing, check out a few I made below.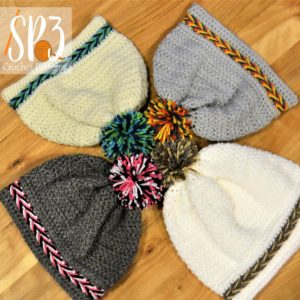 About the braided beanie pattern
The Braided Beanie pattern comes in sizes for: child, youth/ladies, adult/men. The beanie is made in a traditional worsted weight yarn. The pattern require the use of 2 crochet hook sizes. One size will be used for the main body of the hat and a larger hook for the braided single crochet rounds. The crochet hooks sizes needed are I (5.50 mm) and K (6.50 mm).
Pick out some fun coordinating colors with your favorite winter jacket or school colors. If you love poms on hats, it is fun to add the colors of the braid to the pom, or fur poms are always a great addition too.
Is the Braided Single Crochet going to be too hard to crochet?
Heck no! I have detailed written instructions, along with photo tutorials AND a video to walk you through the steps. Keep in mind, the braid is made in only 2 rows, after that, the pattern is easy peasy!
Texture in the Main Body of the Hat
The main body of the Braided Beanie has a fun textured stitch. One of my favorite parts of this stitch is that it works up quick (has the same height as a double crochet) and creates a nice thin fabric. If you haven't worked the Herringbone Double Crochet, check it out and give it a try. I believe it will be a new favorite:
#HATNOTHATE Is An Anti-Bullying Campaign.
Have you heard about this amazing campaign that supports and encourages everyone to stand up to bullying.
We ask knitters and crocheters to make handmade blue hats and donate them to our cause. In October, National Bullying Prevention Month, we distribute the hats to schools across the country for students to wear, empowering them to stand up to bullying.

https://hatnothate.org/
I encourage you to read more and get involved with the #hatnothate campaign, get more information HERE.
The Crochetmous Crew is an inspiring group of crocheters and designers that are always doing wonderful things, join them HERE. They are big supporters of the #hatnothate campaign and I am excited to participate this year. I made a Braided Beanie in all blue just for the campaign.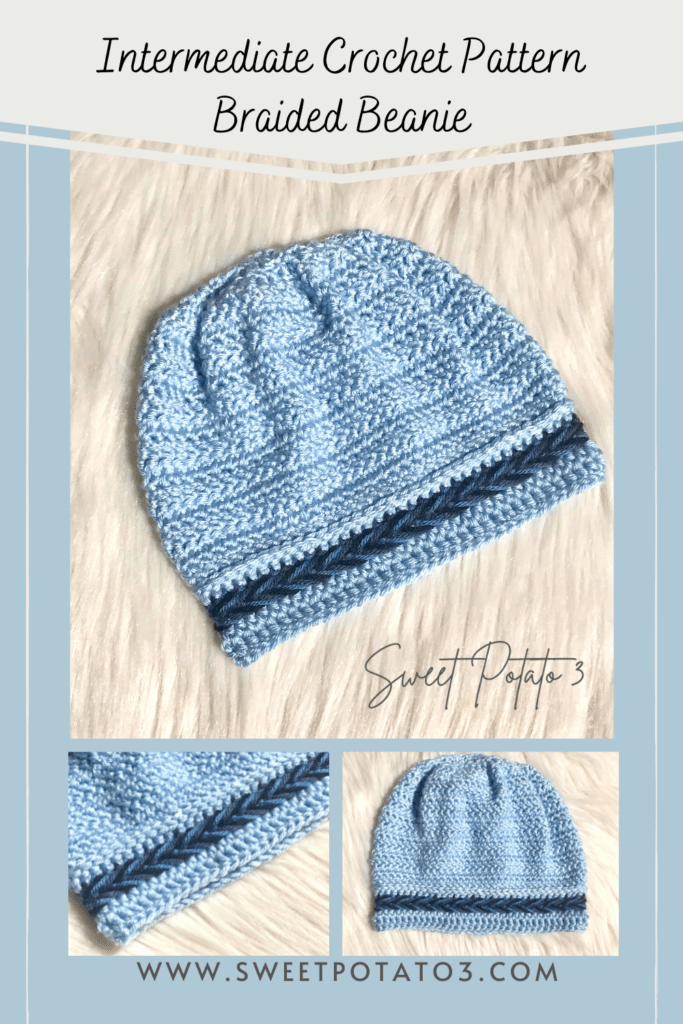 Where to find the pattern
---
Have you seen the Braided Single Crochet Pocket Pillow?
If you love the look of the braided single crochet make sure to check out my other pattern using the stitch. These pocket pillows are fun, useful and are great to have at home, on your couch or bed. They are great to have in your RV or other places that need lots of storage. The pillows are also a fun way to give gifts, just fill those pockets with goodies!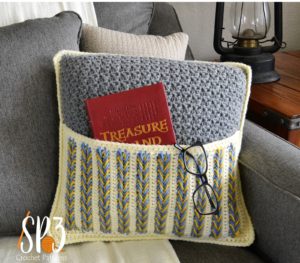 Check out details about the Pocket Pillows HERE.