As an avid crocheter who has to have something on my hook at all times, I was so excited when my son asked me to make him something! I have 2 teenage sons and a husband who have a bazillion, yes I really do mean a bazillion, baseball caps. They are typically folded nicely in their closets with the exception of the 2, 3 or 4 they wear all the time, they are found everywhere you can imagine.
My "organized" son, asked me to make him something to keep these cherished hats in. He was tired of them getting stepped on, mis-shaping or just getting dirty. I was on it!
I found a fun macramé hat holder and knew I could adapt it to crochet. When I showed my son, he was so excited for me to make him one! Check out how my crochet hat display turned out!
---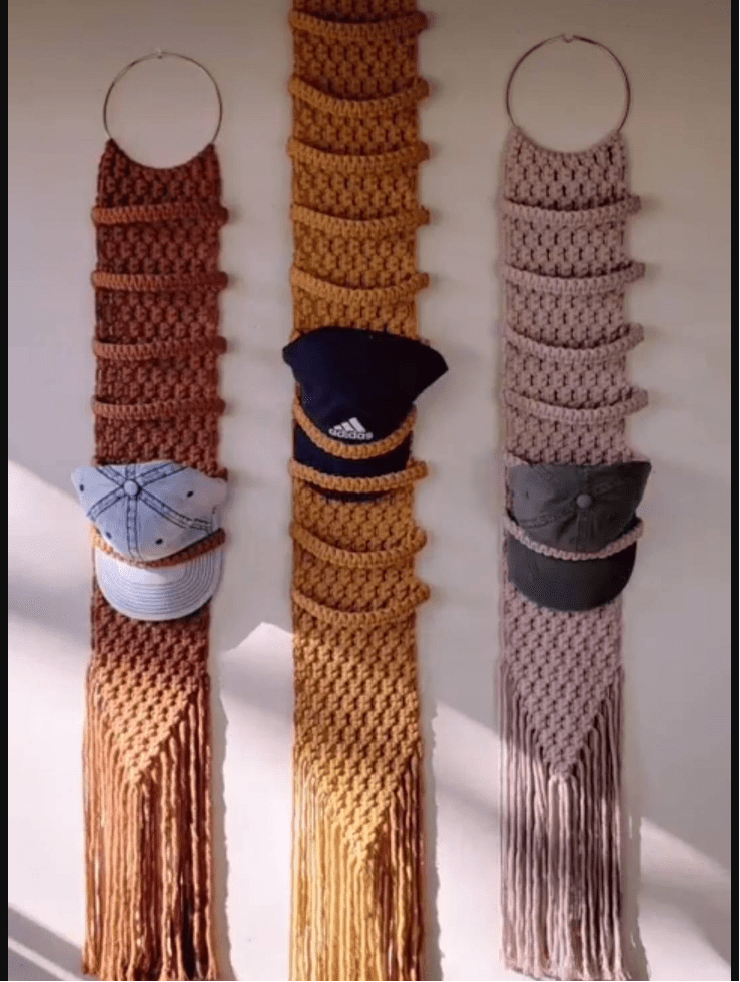 Do you love Macrame?
Here is the original inspiration. This cute Macrame Ballcap holder. She used brass circle rings as hangers and included a point at the bottom with fringe. A fun, more elegant looking design, but with the same concept.
You can find the macrame pattern by Better Days Macrame in the link below:
---
Now, Back to CROCHET. Yarn Love
To create the hat holder, I used a bulky yarn. It was Lion Brand Rewind, which I still have some left over from a large project I made for home decor (you can check it out HERE if you like). I love this yarn because it is a home decor yarn that is actually soft. However, for this project, the softness doesn't really matter, so feel free to use any scratchy yarn you've been holding onto.
The rewind yarn is a bulky home decor yarn, however, I would consider it a light bulky. I have met gauge using a heavy worsted weight yarn as well. So, feel free to play with different yarn to see what you think will work best for your hat display.
How Many Hats?
As I started on my display, I was envisioning a display that would go from floor to ceiling-LOL! Yes, we really do have that many hats. But, thankfully, I checked it after about 3 hats. I was loving how it looked. I kept crocheting along and then I tried it again at about 5 hats, which was at about the point of adding an additional skein of yarn.
The hats laid nicely, but I let it sit overnight and noticed the weight of the hats was starting to stretch the yarn slightly. I decided to leave it for another night to see what happened. It didn't stretch anymore-yay! However, I do think it is best to only make the display for a maximum of 5 ballcaps.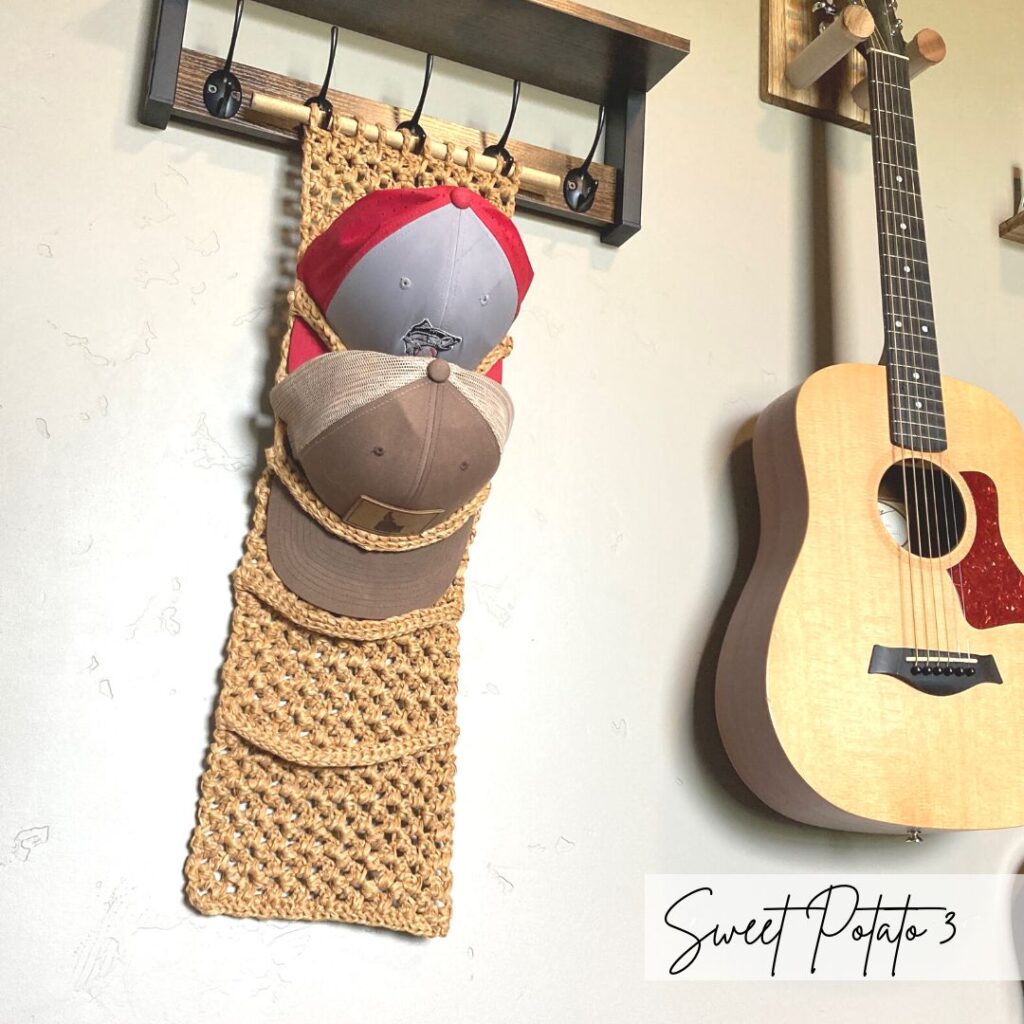 I also made a display for my daughters closet and only did 4 straps and it turned out great as well. So, if your family is like mine and you have enough ballcaps to cover an entire wall, have fun and just make more holders to hang at different levels for a fun display feature.
Full Photo & Video Tutorial Included in Pattern
I am a visual learner and find it helpful to see what my project is suppose to look like. That is why, I make sure to include as much info as possible in my patterns. The hat holder is full of photo tutorials, for how to work the stitches, measurements with gauge checks and progress photos.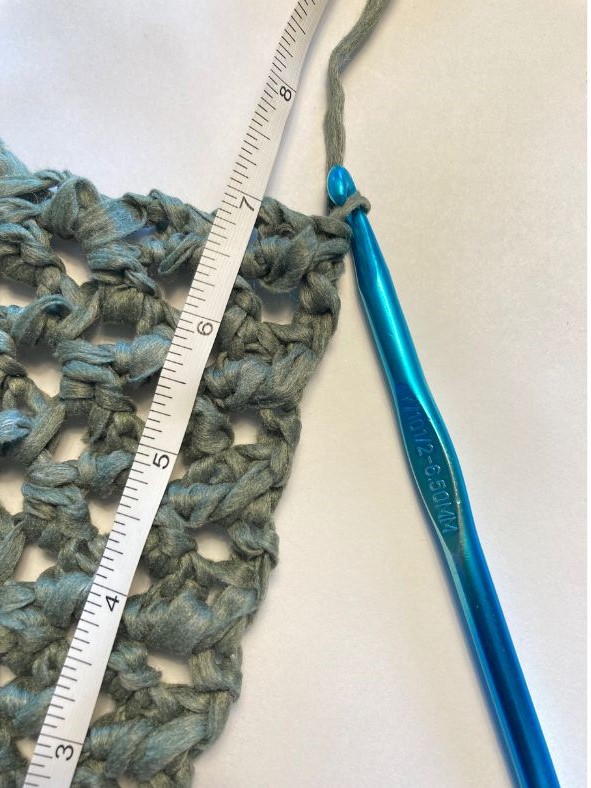 To go along with the photos, there are 3 video tutorials as well. A couple that show in detail how to work the stitches. Plus, one video tutorial that is private and only available to those who purchase the pattern, this video is all the details of crocheting and securing the straps.
Grab your pattern in time to make for dad!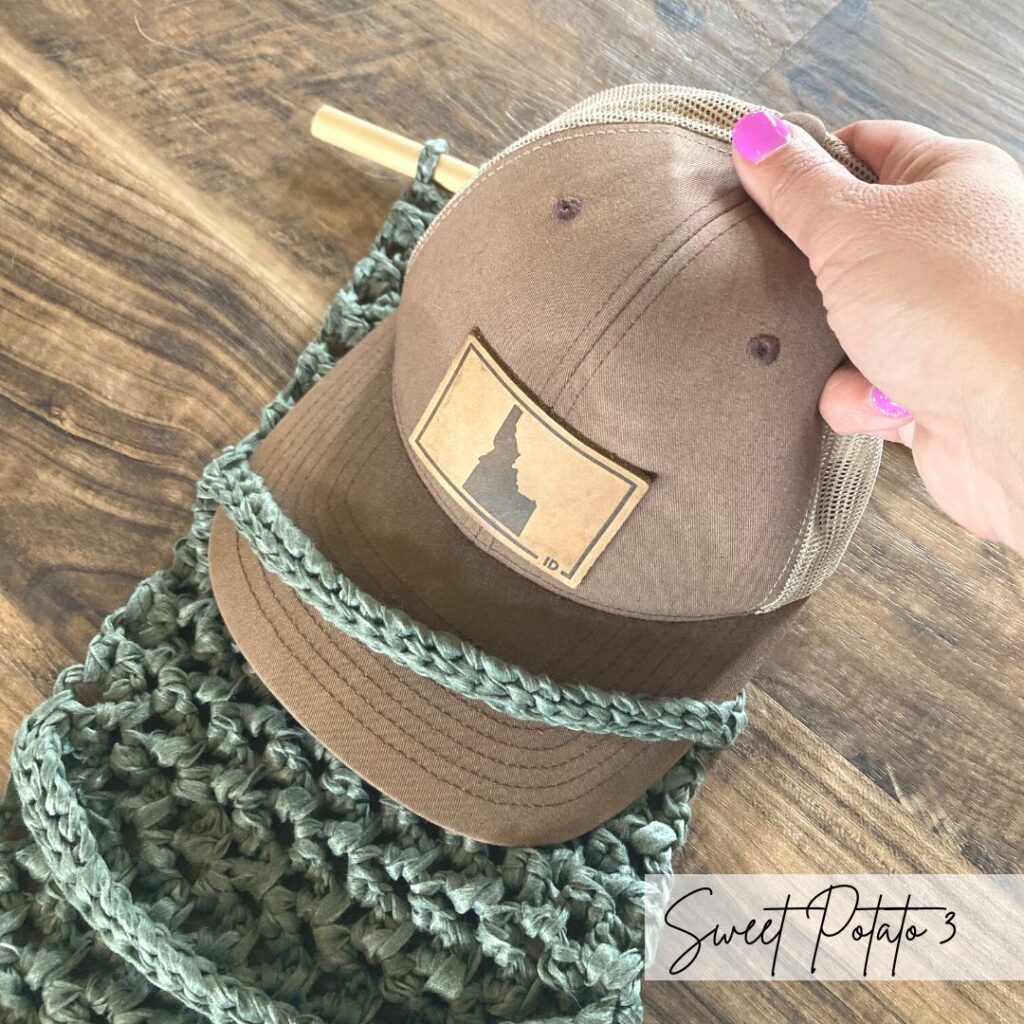 You can grab your copy of the crocheted hat display in all of my pattern shops. This will make a fun and unique gift for Dad's for Father's Day, Graduation Gifts, Birthday or Holiday gifts. Or bookmark and pin it for later. I am confident, you will have someone to make it for soon!
This is not just for guys, my daughter will have one in her closet very soon!
Other unique crochet gifts you may love
More Crochet Fun
I am sure you will love these home décor crochet patterns. When you make one, I would love to see a photo of your project. I host an interactive Facebook group called, "SP3 Crochet & Conversations". You're invited to join, it is a great spot to share photos, ask questions and have fun. I invite you to join today by clicking HERE.