A perfect showing of vintage spring fever is this adorable crochet umbrella canopy. I can just picture all those little girls in their Easter dresses and lacy umbrellas posing for those perfect pictures.
Now you can create this same look by making the crochet umbrella canopy and attaching it to a child size umbrella.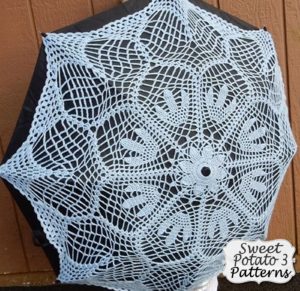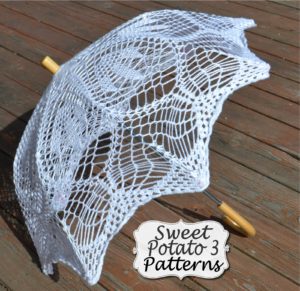 About the Umbrella Canopy Pattern
The pattern has full written instructions for the canopy, (sorry, no chart is provided in the pattern). The canopy of made using a super fine yarn instead of thread so it will work up quicker than thread but will still resemble a vintage doily.
Once the canopy is crocheted you will need to attach it to an umbrella frame. I had planned on upcycling an old umbrella that had a tear in it, however, when I opened it up there was a broken arm. I went out and purchased a children's umbrella and it did the trick.
The pattern includes a full step-by-step photo tutorial for preparing your umbrella frame and how to assemble the canopy to the frame. Instructions are written (no chart) and the canopy is made using a super fine yarn instead of heavy thread.
Note of Umbrella: find a child size umbrella measuring 16" from top of canopy to end tips, umbrella must have 8 points.
Where to Get the Pattern
More Vintage Style Patterns You May Love:
More Crochet Fun
Follow Sweet Potato 3 on Facebook to see more pattern releases, sales and crochet fun, just click HERE.
However, if you want a more interactive group experience, you need to join my Crochet & Conversations facebook group, click HERE. It is a ton of fun and I encourage everyone to share their projects, WIPS (works in progress) and inspirations. Plus get exclusive deals, be the first to see new releases, give input on designs and have opportunities to win patterns. Join now and get to know others who also enjoy the art of crochet.