It is time for a pattern remix!!!
What is a pattern remix? It is when you take a pattern and change it just a bit to make it different. Kirsten Holloway organized a fun pattern remix between 13 crochet designers, including myself. You can find the details about the Designer Remix, HERE.
I was so excited to look through all the designers shops and fell in love with Nicki's Homemade Crafts Lattice Scarf. The eye catching stitches caught my attention and I knew this was the pattern I wanted to work with to add a touch of Sweet Potato 3 to. Look how beautiful the original design is.
If you know me, you know I am a sucker for texture and this scarf is full of it with those amazing raised diamonds. Nikki also provides a great photo tutorial on her blog as well as a video tutorial for those that like to see it in action. Find her full blog post about the Lattice Scarf HERE.
Now for the Remix, a touch of SP3
I had some Knit Picks Brava Worsted Weight in Red laying around and with the upcoming holidays, this was perfect. I followed Nikki's pattern until it measured 32″ long. Then to make it different I added a key hole end.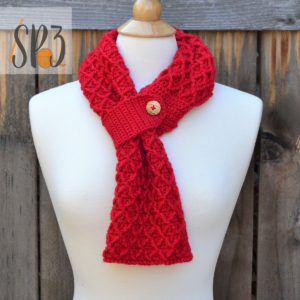 Follow pattern until it measures 32″ long, ending on a row 7 repeat (which completes the diamond pattern).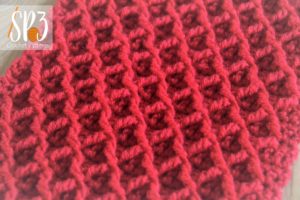 Key Hole Addition:
R1: Ch 2, dc in each st across, turn (31)
R2: Ch 1, sc2tog, sc in each st across until 2 sts remain, sc2tog, turn (29)
R3-5: Repeat Row 2 (each row will decease by 2 stitches, after row you will have 23 stitches)
Note: in Row 5, mark the middle stitch (12th stitch), this will be the placement of the button you will sew on later.
R6-11: Repeat Row 2 (each row will decease by 2 stitches, after row you will have 11 stitches)
R12-42: Ch 1, sc in each st across, turn (11)
R43: Ch 1, sc in first 4 sts, ch 3, skip next 3 sts, sc in last 4 sts, turn (11)
R44: Ch 1, sc2tog, sc in next 7 sts & chains, sc2tog, turn (9)
R45: Ch 1, sc2tog, sc in next 5 sts, sc2tog, turn (7)
R46: Ch 1, sc2tog, sc in next 3 sts, sc2tog (5), fasten off and weave in ends
Sew a 1" button on the marked (center) stitch from Row 5.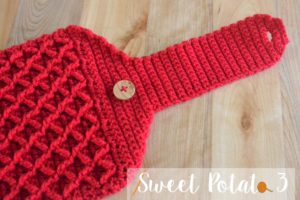 Other Key Hole Scarves You May Like:
More Crochet Fun
Follow Sweet Potato 3 on Facebook to see more pattern releases, sales and crochet fun, just click HERE.
However, if you would enjoy a more interactive group experience, you need to join my Crochet & Conversations facebook group, click HERE. It is a ton of fun and I encourage everyone to share their projects, WIPS (works in progress) and inspirations. Plus you get exclusive deals, are the first to see new releases, give input on designs and have opportunities to win patterns. Join now and get to know others who also enjoy the art of crochet.