The mittens are hung by the fire…
A perfect decor for brisk winter months is this darling little mitten bunting all strung and sweetly hung above the fire. Make this darling bunting in any color combination to suit your style. You can also adjust the length and number of mittens to your taste.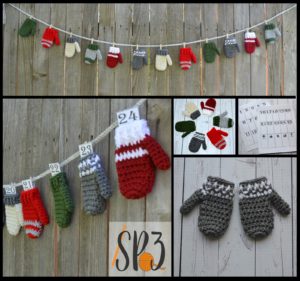 The mittens are a cute holiday decor with so many options. Hang a pair of 2 mittens on the center of a wreath or from a door knob. String multiple mittens over the fireplace mantel or above a family picture to add a warm holiday touch.
More about the Mitten Bunting Pattern
Included in the pattern is instructions to make the individual mittens. There are photo samples of different color changes you can do along with written instructions for those changes.
After the mittens are made you will crochet a Bunting Cord the length for your display area. You can make a very short cord and just string 2 mittens to hang in the middle of a wreath or on a door knob.
The last step is to print off the INCLUDED numbered tags. These are perfect to add to a fun 12 days of Christmas bunting, or the full 24 (25) days of Advent. There are also 6 bonus tags included for "special days", the bonus tags have a cute image on them instead of numbers and can be cute gift tags.
Get your copy of the pattern
Other Christmas Crochet Pattern you may Love
More Crochet Fun
Follow Sweet Potato 3 on Facebook to see more pattern releases, sales and crochet fun, just click HERE.
However, if you would enjoy a more interactive group experience, you need to join my Crochet & Conversations facebook group, click HERE. It is a ton of fun and I encourage everyone to share their projects, WIPS (works in progress) and inspirations. Plus you get exclusive deals, are the first to see new releases, give input on designs and have opportunities to win patterns. Join now and get to know others who also enjoy the art of crochet.