When I first started my blog (almost 8 years ago), I posted a simple Skull & Crossbones applique pattern. A few years ago when I switched to a new website that post just vanished, I couldn't find it anywhere. However, I kept getting requests for the pattern. After digging through files I was finally able to locate it, so today is your lucky day!
Skull & Crossbones Applique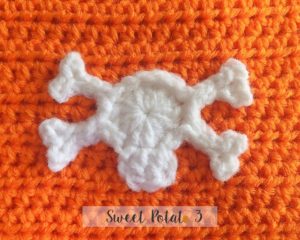 You can make the applique in any yarn weight, just use a hook at least 1 size smaller than the recommended size on the yarn label. For the sample above, I used Red Heart Comfort (#4 weight) yarn and crochet Hook H (5.0 mm). The yarn weight and crochet hook size will affect the final size of your applique.
Completed Size of Sample Applique is
Using Hook H (5 mm)
R1: Ch 3, 12 dc in 3rd ch from hook, join with a slst in top of first dc (12 counting beg ch 2)
note: pull starting strand of yarn to close the hole made by the stitches (or you can begin with a magic circle if you prefer)
R2: Ch 2, dc in same st you joined in, dc in next st, ch 2, slst in same st as last dc (this makes the lower part of the jaw), slst in next 2 sts, [ch 6, slst in the back bar of the 3rd ch from hook, ch 3, slst in the back bar of the 3rd ch from hook, slst in the back bar of remaining 3 chs working back down to the skull, slst in the same st you beg the crossbone in], slst in the next st, repeat [], slst in next 5 sts, repeat [], slst in next 2 sts, repeat [], slst in last 2 sts, fasten off leaving a long tail of yarn to sew applique onto desired crochet piece.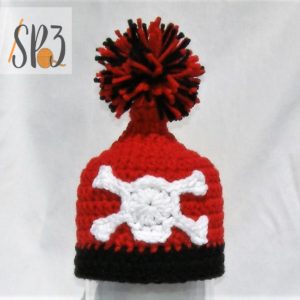 Sew Applique On with Invisible Stitches
Now that you have a fun applique you need to sew it onto something. This can be applied to a hat, scarf end, pillow, bag, blanket and so many more items. The trick is to sew the applique on invisibly so you cannot see the stitching on the back side. Follow this tutorial below, I will show you how to do just that.