I am always grabbing miscellaneous items around the house as I am dashing out the door, usually finding myself with too many things to carry and fumbling to get my keys and settle into my car. I decided it was time to design the Armeria Everyday Handbag that I could just throw all those items into as I was running out the door.
The Armeria Everyday Handbag is fun to crochet plus it is a useful project that I found I was using more than I thought I would. That is until my daughter took claim of it!
"Armeria" What's It Mean?
Trying to name a pattern is honestly one of the most difficult parts of designing. I often turn to my pattern testers and ask for suggestions. One of the first suggestions was "pebblestone" which struck a chord with me because I was thinking something like pebbles as well.
Then I received multiple comments saying the stitch reminded them of flowers. What do you think?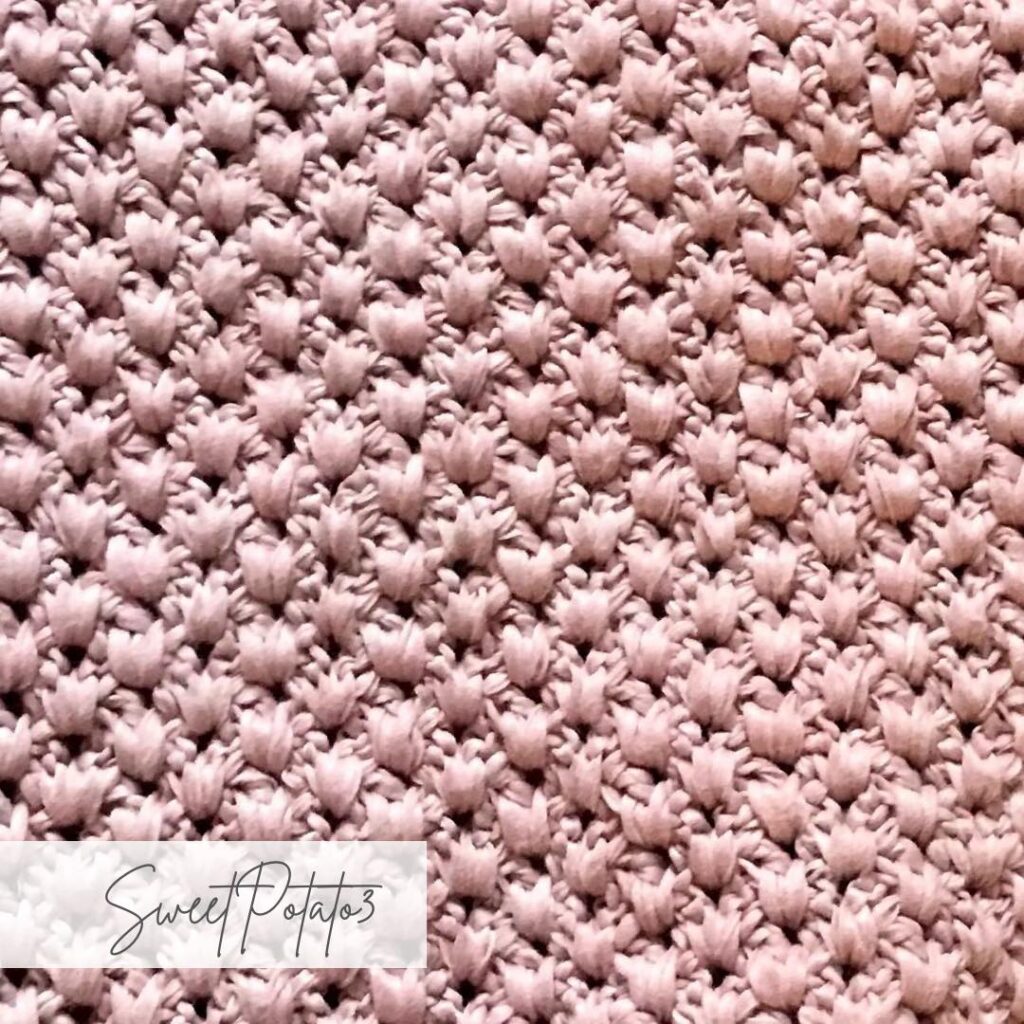 I also noticed that the design looks a little similar to the Tunisian Ocean Stitch. So, I wanted to factor in all three of these (pebbles, flowers and the ocean stitch) into my name. Given that I decided to name this handbag after Armeria Maritima, or Sea Thrift. It is a flower that grows in small clusters, often found in rocky areas next to the ocean.
About the design
In the beginning stages of designing a crochet pattern there are so many things to consider. The yarn you plan on using will greatly affect how the stitches will look, how the final product will hold up and the overall design appeal.
A few years ago I had the opportunity to work with Lion Brand Rewind yarn. This yarn definitely has a unique feel to it, as it is a ribbon yarn (flat) instead of the traditional round due to fibers being twisted together. The yarn also has a very soft feel to it while keeping the bulky weight.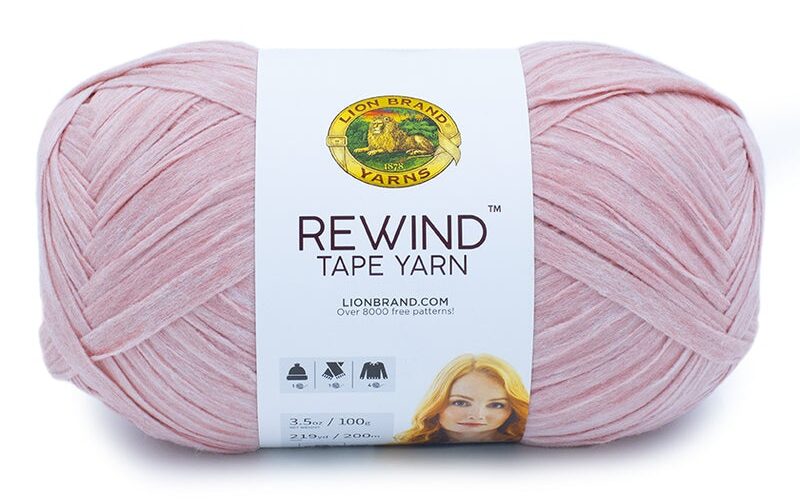 As mentioned above, I had a chance to design multiple patterns using Lion Brand Rewind tape yarn. I designed an entire line of Home Decor patterns that you can find through the Leisure Arts Website by clicking HERE. I also hosted a Crochet Along making these adorable Woven Baskets shown below. The baskets are a FREE pattern you can still find on my blog by clicking HERE.
Armeria Everyday handbag
The handbag is an ideal size, measuring about 13″ wide by 15″ tall. You can throw a folder with paperwork in, a change of overnight clothes, or in my case all those things your kids forgot and you need to deliver to them before class starts.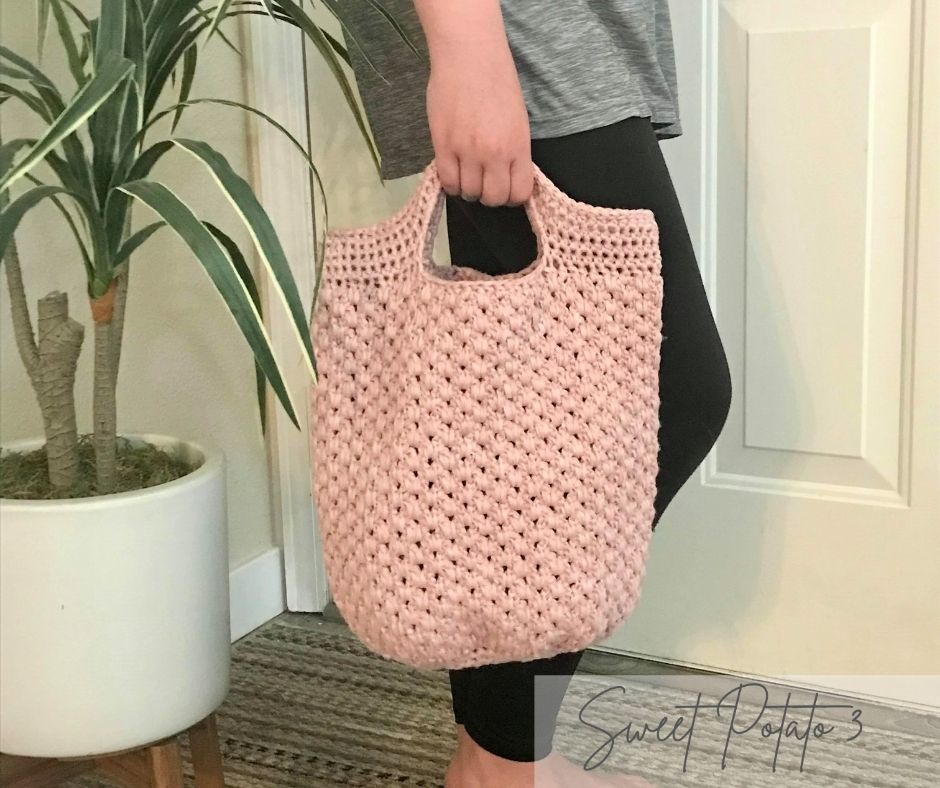 Materials Needed
Crochet Hook K (6.50 mm)
Bulky Weight Yarn (#5) ~ 390 yards
Sample made using Lion Brand Rewind Yarn / color: Mahogany Rose
Measuring Tape
Scissors
Yarn Needle
Check out the Samples Made by my testers
Some of you may find it helpful and inspiring to see other samples made from the crochet pattern. I have a great group of pattern testers who work hard to help me publish quality patterns. I love showing off their work so you can see other variations whether it is different colors, different yarn or how they may have modified the pattern to work for them.
See the details of the yarn and changes in the caption of each sample photo below. I know you'll love what they made as much as I do. One of my testers enjoyed the pattern so much she decided to make 2 more!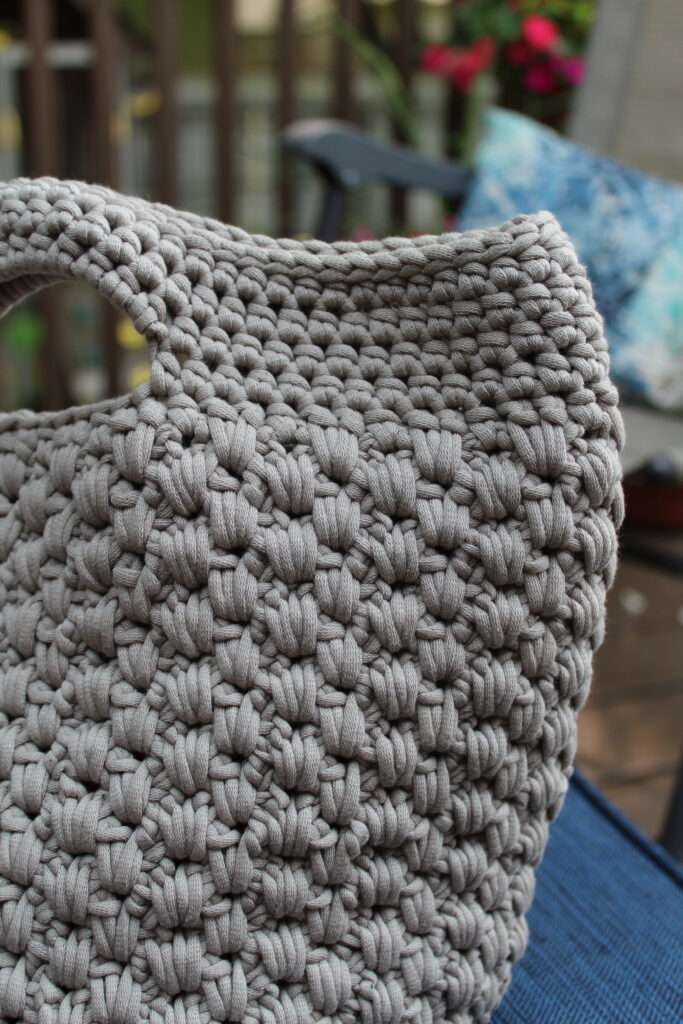 Where to get your Copy of the Armeria Everyday Handbag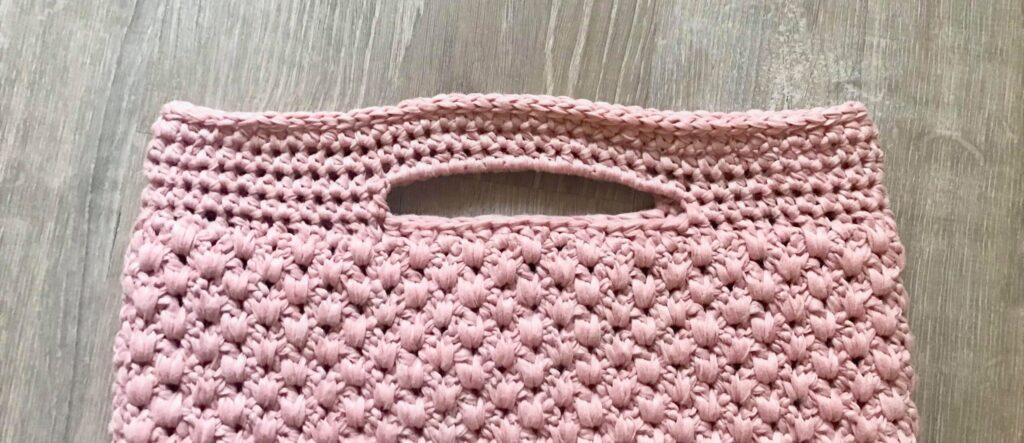 If you love this pattern you may also love these:
More Crochet Fun
Follow Sweet Potato 3 on Facebook to see more pattern releases, sales and crochet fun, just click HERE.
However, if you would enjoy a more interactive group experience, you need to join my Crochet & Conversations facebook group, click HERE. It is a ton of fun and I encourage everyone to share their projects, WIPS (works in progress) and inspirations. Plus you get exclusive deals, are the first to see new releases, give input on designs and have opportunities to win patterns. Join now and get to know others who also enjoy the art of crochet.