Lately, I have been obsesses with the Hidden Pocket Cowls. The design concept is simple: I love cowls, I love pockets and so I combined them together and TaDa! However, the latest design is my favorite of them all, check out the Houndstooth Pocket Cowl Crochet Pattern.
As I sit here writing this post there is about 3 feet of snow still on the ground. Even though it is March I am still in full swing winter wear mode. We are even heading to the ski slopes this afternoon! My closet is full of cowls since they are my favorite accessory.
If you are in a climate that is warming up, don't let that stop you from making this trendy cowl. I just finished hosted a crochet along with the pattern and many are making them as Christmas gifts…. yes, you heard me right! Start checking those people off your list with a fun crochet project.
The Houndstooth Pocket Cowl
In the new Pocket Cowl design, I used a classic Houndstooth stitch. Although the stitch looks intricate and difficult, it is very simple and works up relatively quick. Make sure you check out some tester and CAL photos later in the post to see some amazing color combinations.
Colors are so fun to play with when crocheting this stitch. I do recommend using two colors so you can see the contrast. In my sample I used two shades of purple (try 2 shades of your favorite color) and loved how it turned out. For a classic look try a bold black/white or navy/white combo. Or, go totally out of your comfort zone and try to contrasting colors, you'll be amazed and what colors actually work well together.
What's all the Hype about the Hidden Pocket?
The cowl looks like a regular cowl when work. Turn the fold inside out and slide your hands into the hidden pocket.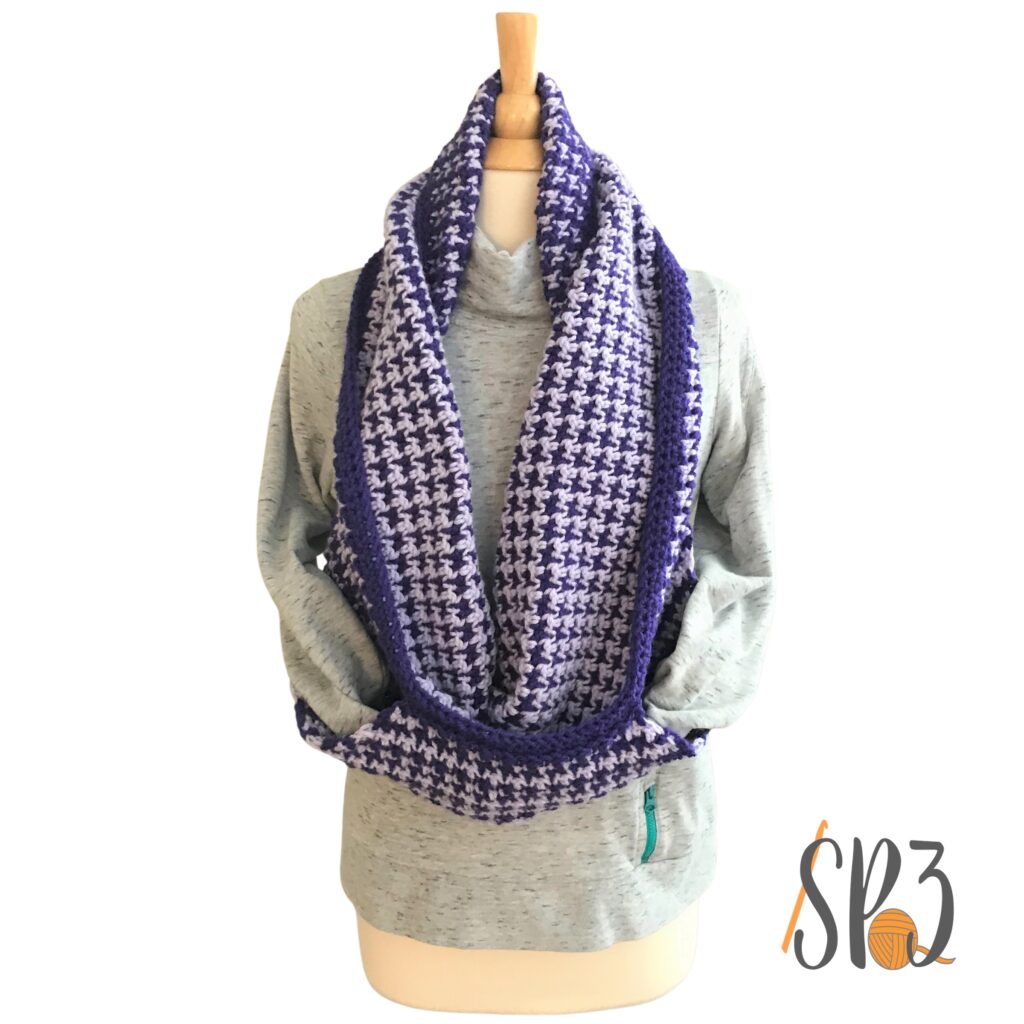 The idea of hiding a pocket in a cowl came to me because of all the popularity in the pocket scarves right now. I love the idea of the pocket, but prefer wearing cowls. This was a simple way to meld the two together into a fun and stylish wearable.
Houndstooth Pocket Cowl Test Samples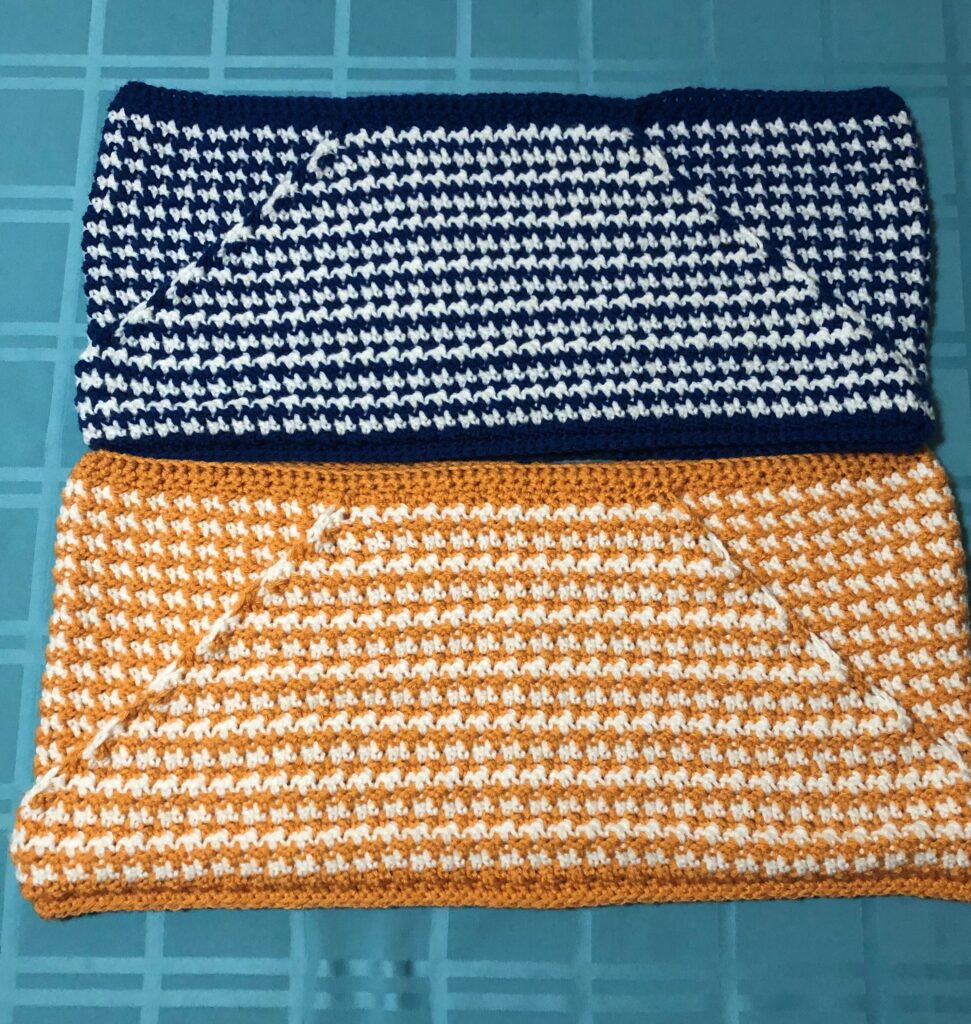 The above test was done by Nicolee. She made her first cowl and loved it so much she had to make another one. Nicolee's samples are perfect to see right next to one another to see how the colors are so fun and can totally change the look of the cowl and how the personality of the look can change so drastically with the colors you use.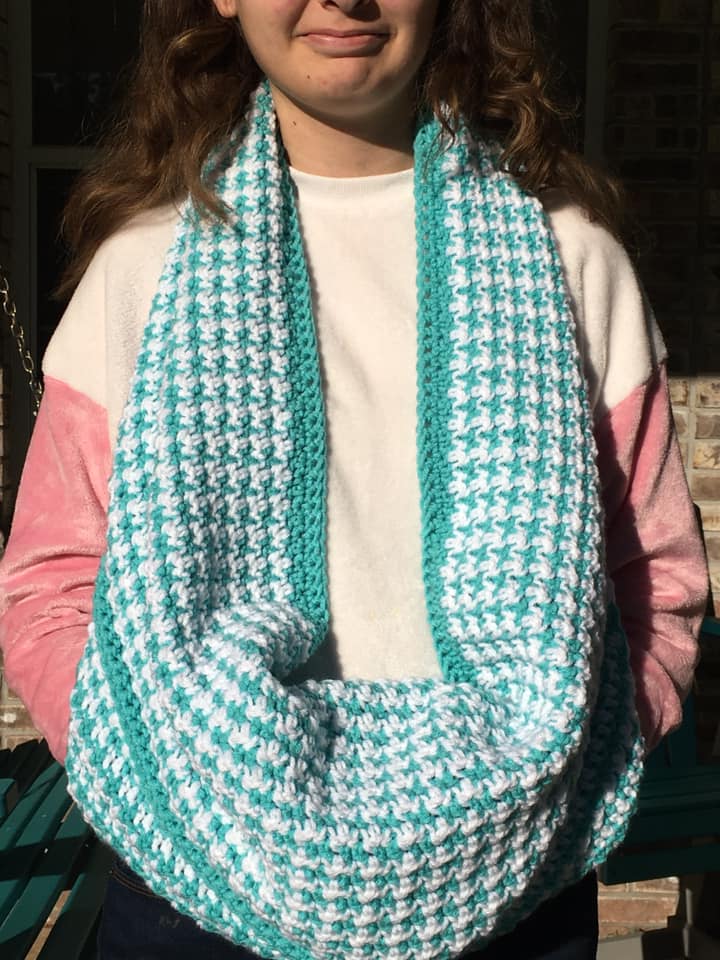 The colors of spring are refreshing in the pattern test done by Susie. Susie shows how great the pockets are and how easily your hands just tuck right inside!
Tanya also decides that she enjoyed the pattern so much that she made 2 Houndstooth Pocket Cowls. The bold red really pops and I would sport this especially for the holidays! I also adore the neutral tones in the mossy green and cream, these are the colors that speak to me, they are more subtle but look classic. In this design Tanya made her pocket a solid color as well, what a great personal touch to the design.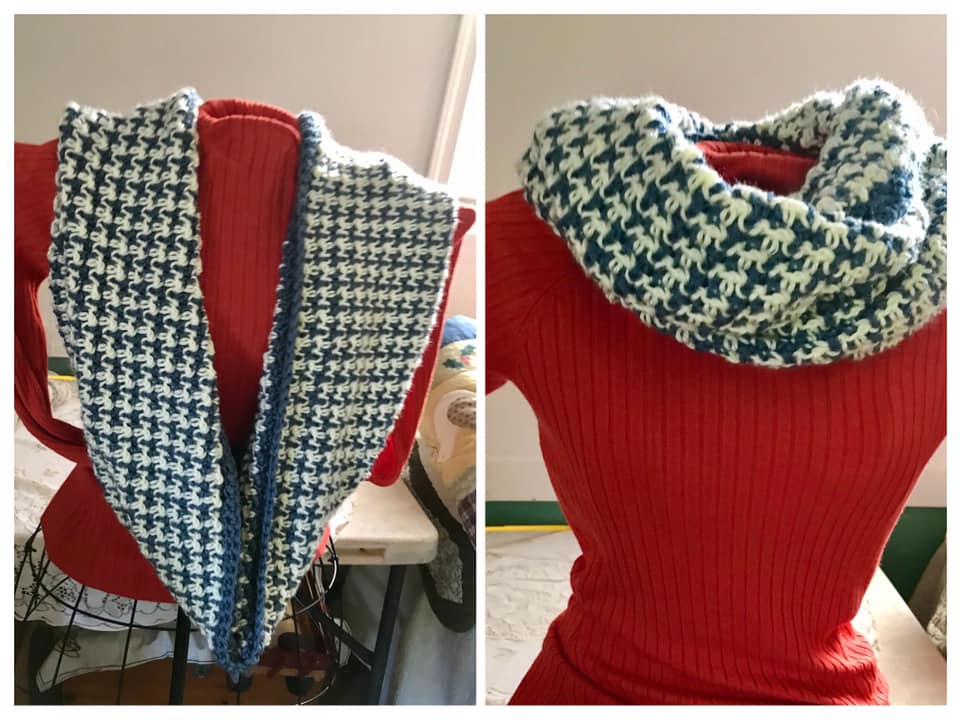 Linda made a great sample, her photos really show off how beautiful the houndstooth stitch is. Trust me, the stitch sequence is so easy you will fall in love with it!
Below check out some more fun color combos from the crochet along that was hosted a few weeks ago.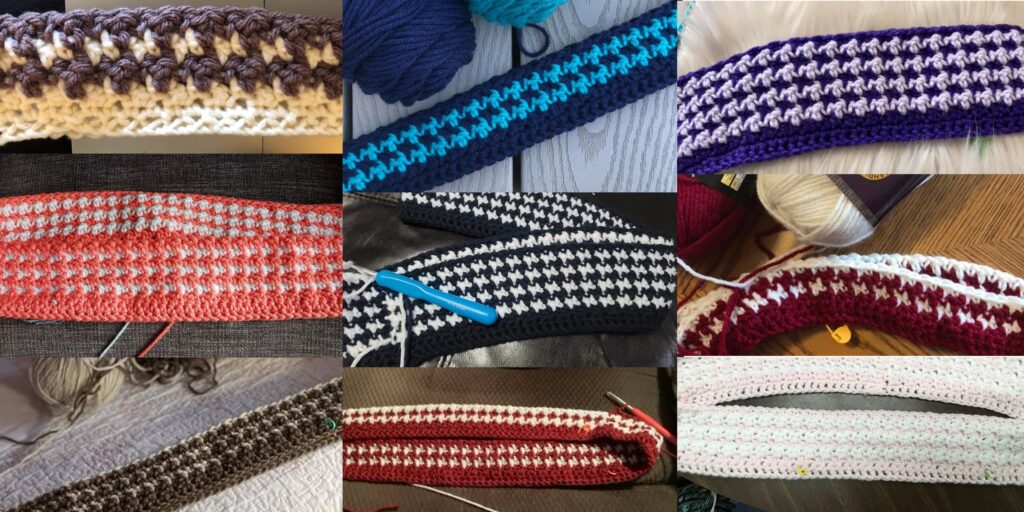 Materials Needed for Houndstooth Pocket Cowl
Crochet Hook K (6.50 mm)
Worsted Weight Yarn (#4) in 2 colors to get the Houndstooth pattern – 675 yards            
            Main Color (MC) – 350 yards (sample made in Bernat Premium color: Deep Purple)
            Contrasting Color (CC) – 325 yards (sample made in Bernat Premium color: Baby Lilac)
Measuring Tape, Scissors, Yarn Needle
4 Stitch Markers 
---
Where to find the Houndstooth Pocket Cowl crochet pattern
---
More Cowl Patterns you may Love:
More Crochet Fun
Follow Sweet Potato 3 on Facebook to see more pattern releases, sales and crochet fun, just click HERE.
However, if you would enjoy a more interactive group experience, you need to join my Crochet & Conversations facebook group, click HERE. It is a ton of fun and I encourage everyone to share their projects, WIPS (works in progress) and inspirations. Plus you get exclusive deals, are the first to see new releases, give input on designs and have opportunities to win patterns. Join now and get to know others who also enjoy the art of crochet.