Last winter I released a Hidden Pocket Cowl that was so much fun! A unique design that is a spin off of the ever popular pocket scarves. But, I loved the first cowl so much that I dove in and designed a couple more. I am very excited to share with you all the Weekend Hidden Pocket Cowl!
Weekend Hidden Pocket Cowl
I love the idea of wearing a warm cowl. On the brisk winter days here in Idaho, you need an extra layer of warmth to stay warm. Accessorizing with a cowl or scarf are great and an easy addition to give the same old outfit a brand new look.
In the Weekend Hidden Pocket Cowl, I used a beautiful mini cluster stitch. I love this stitch because it has a lot of height to it and makes the cowl work up very quick.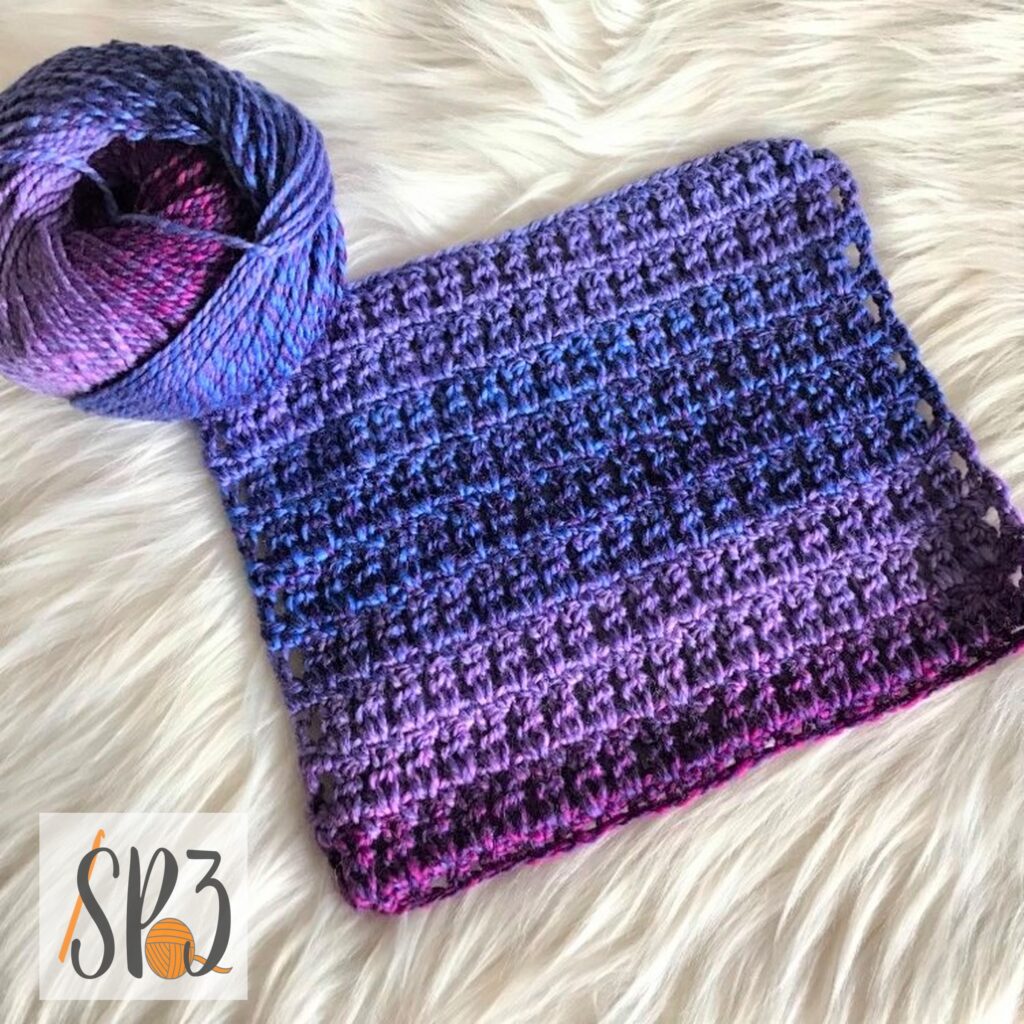 I used a lovely skeins of Chroma Twist Worsted Weight Yarn in the color, Lupine. The rich blues and purples fade and twist into one another in a lovely eye catching way. The Chroma Yarn is from Knit Picks and can be found by click HERE.
What's all the Hype about the Hidden Pocket?
The cowl looks like a regular cowl, it can be wrapped multiple times. In fact my favorite is to wear the cowl wrapped 3 times, it is so extra warm and cozy and works great when wearing a coat or jacket.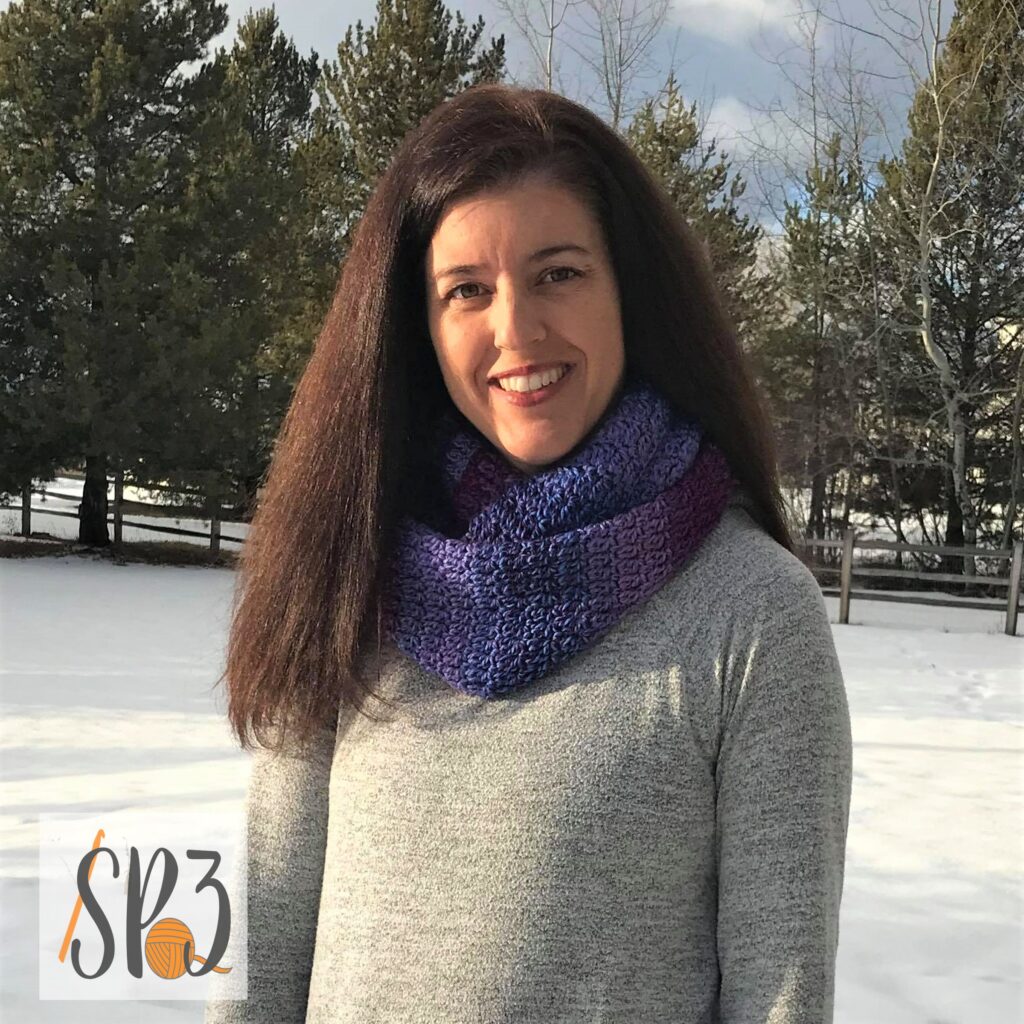 The Weekend Hidden Pocket Cowl isn't just a lovely accessory, but unwrap it and wear it as a long cowl….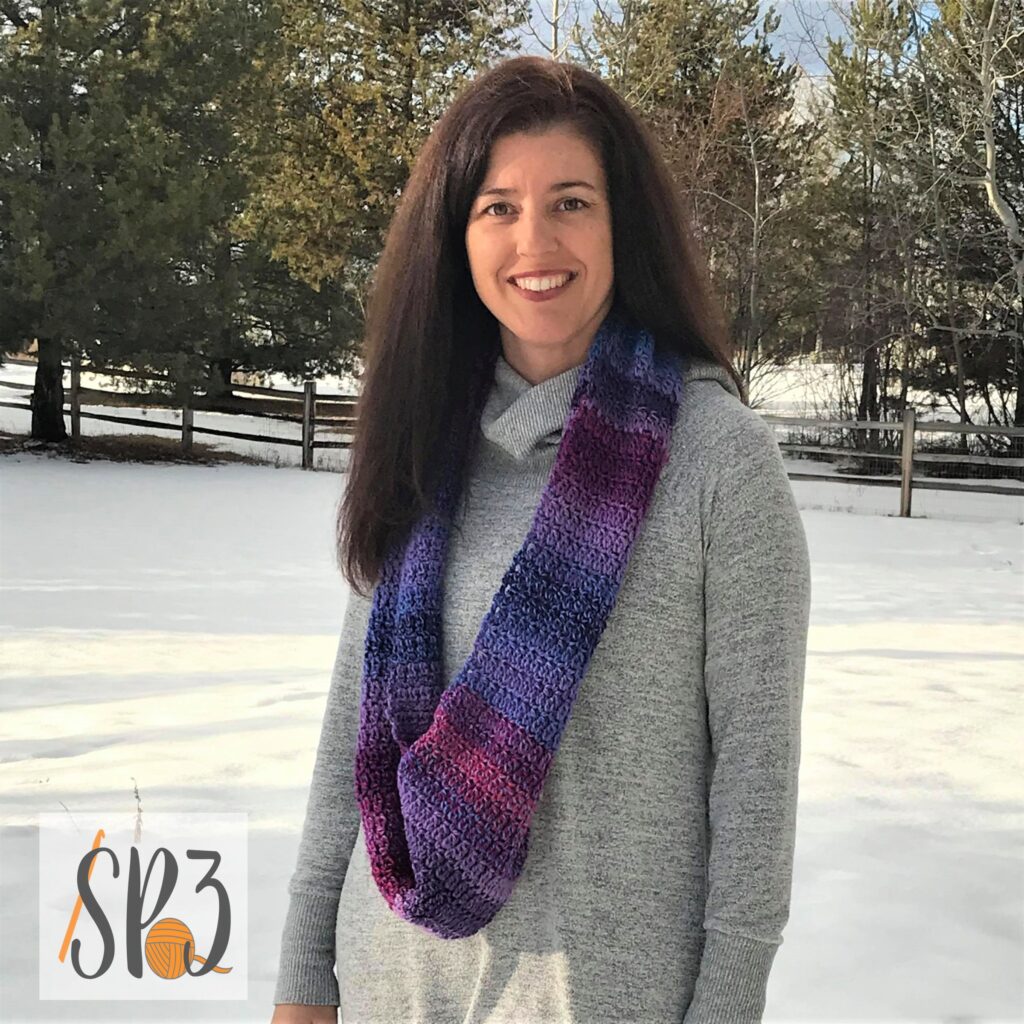 A pocket is hidden in the bottom of the cowl. Just insert your hand for a little extra warmth, you are going to love the pocket feature in this cowl.
The Hidden Pocket Scarf
The idea of hiding a pocket in a cowl came to me because of all the popularity in the pocket scarves right now. I love the idea of the pocket, but prefer wearing cowls. This was a simple way to meld the two together into a fun and stylish wearable.
For my first Hidden Pocket Cowl I wanted a basic stitch that didn't take away from the unique design. The stitch works up quick and you will love it. I do have a couple more hidden pocket designs with some fun stitches that will be released soon. Until then check out these lovely ones made by some of my testers.
Weekend Hidden Pocket Cowl Test Samples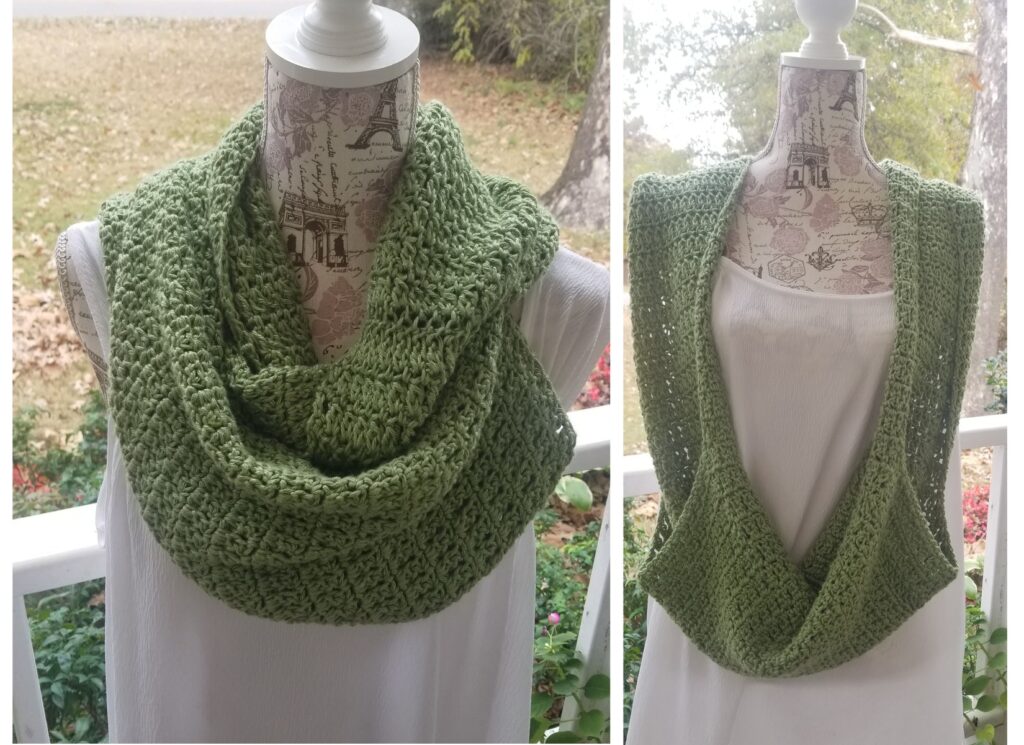 Sample Made by tester Anna C. Ana made her sample in Yarn Bee Stitch 101 50/50 in the color Sage. She wrapped her couple twice for a luxurious look when not using the pocket.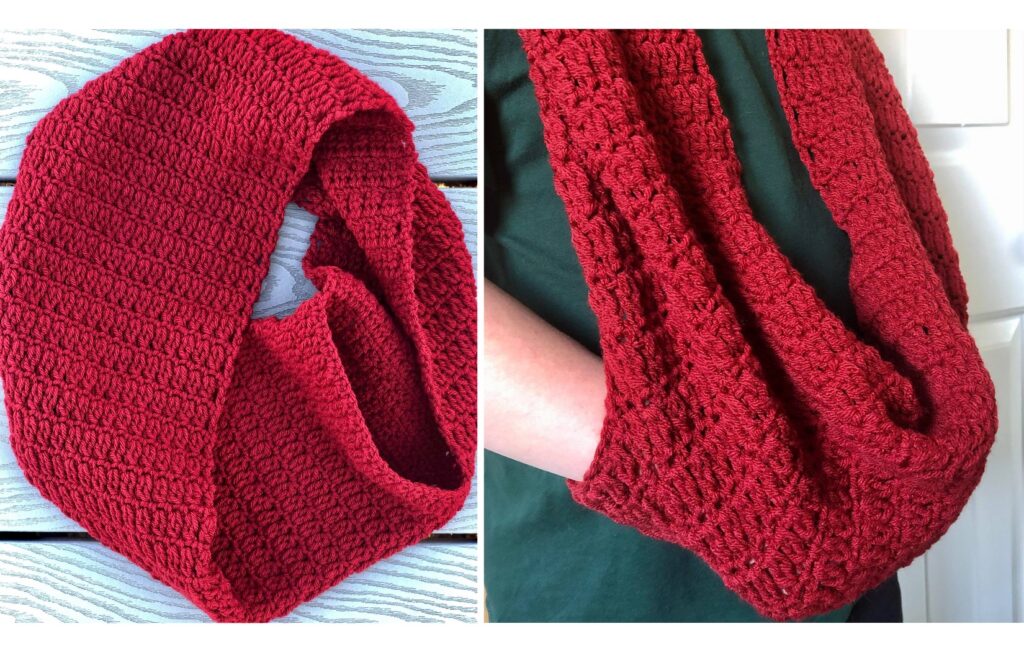 Tester Martha T used Red Heart with Love in the color, Berry. I love how rich this cowl turned out and Martha's photo of the pocket in use really shows how easy and useful the pocket feature really is.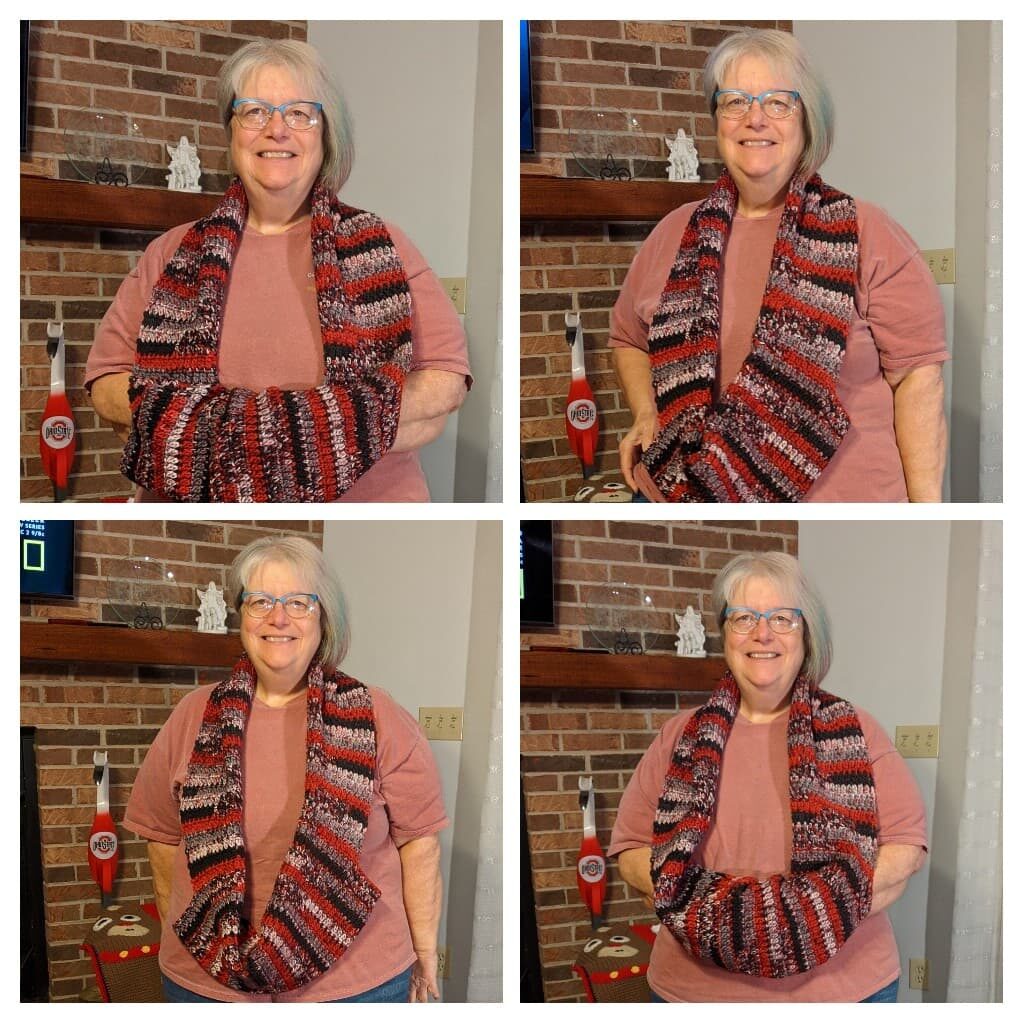 Pattern Tester Nancy used a very fun self striping yarn by Premier Everyday Worsted Weight yarn.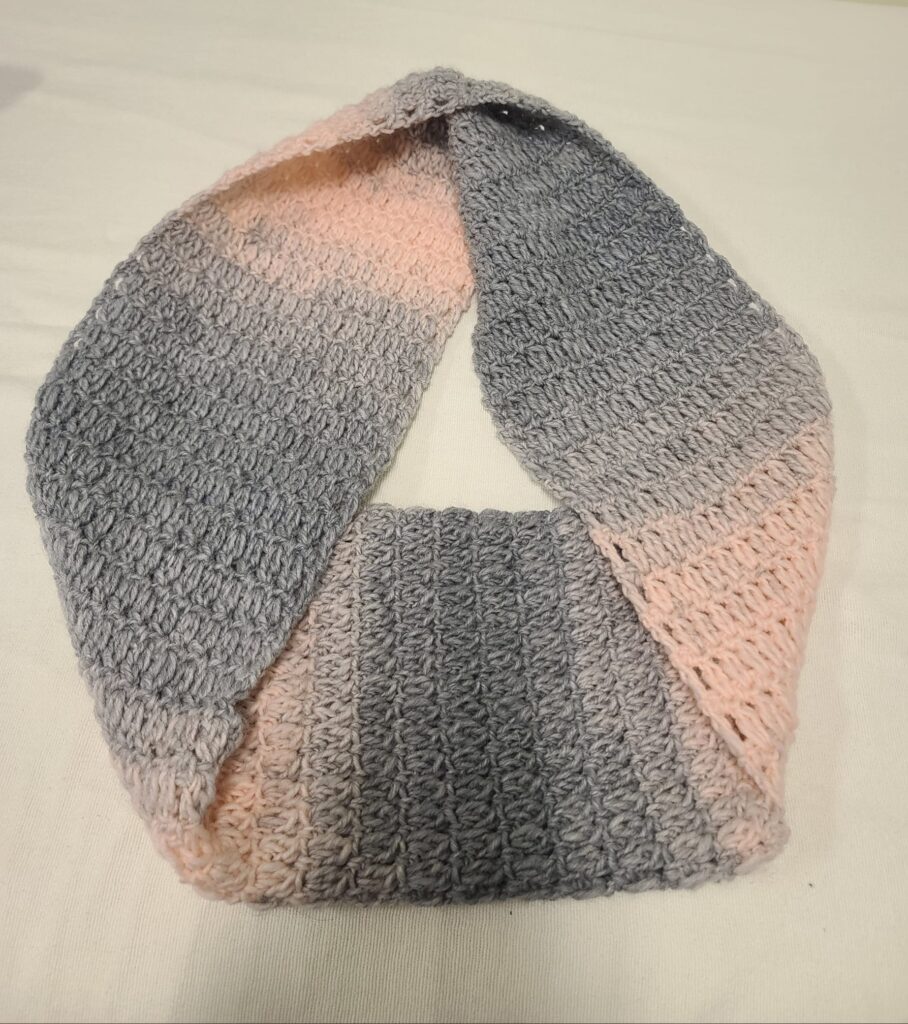 Materials Needed for Weekend Hidden Pocket Cowl
Crochet Hook J (6.00 mm)
Worsted Weight Yarn (#4) – 600-650 yards
Samples made in: Chroma Twist Worsted Weight Yarn in color: Lupine
Measuring Tape, Scissors, Yarn Needle Stitch Marker
---
Where to find the Hidden Pocket Cowl crochet pattern
---
More Scarf Patterns you may Love:
More Crochet Fun
Follow Sweet Potato 3 on Facebook to see more pattern releases, sales and crochet fun, just click HERE.
However, if you would enjoy a more interactive group experience, you need to join my Crochet & Conversations facebook group, click HERE. It is a ton of fun and I encourage everyone to share their projects, WIPS (works in progress) and inspirations. Plus you get exclusive deals, are the first to see new releases, give input on designs and have opportunities to win patterns. Join now and get to know others who also enjoy the art of crochet.