What is Hidden in this design?
It is a lovely cowl that will keep you warm, but wait there is so much more! A pocket is hidden in the cowl!
That is right, just reach inside and warm those chilly fingers. I love how this cowl works double duty, but it is just plain fun! These Hidden Pocket Cowls will be a huge hit this winter for anyone of any age! One of my testers husband requested one and now she has made 4 more for her neighbors!
The Hidden Pocket Scarf
The idea of hiding a pocket in a cowl came to me because of all the popularity in the pocket scarves right now. I love the idea of the pocket, but prefer wearing cowls. This was a simple way to meld the two together into a fun and stylish wearable.
For my first Hidden Pocket Cowl I wanted a basic stitch that didn't take away from the unique design. The stitch works up quick and you will love it. I do have a couple more hidden pocket designs with some fun stitches that will be released soon. Until then check out these lovely ones made by some of my testers.
Hidden Pocket Cowl Test Samples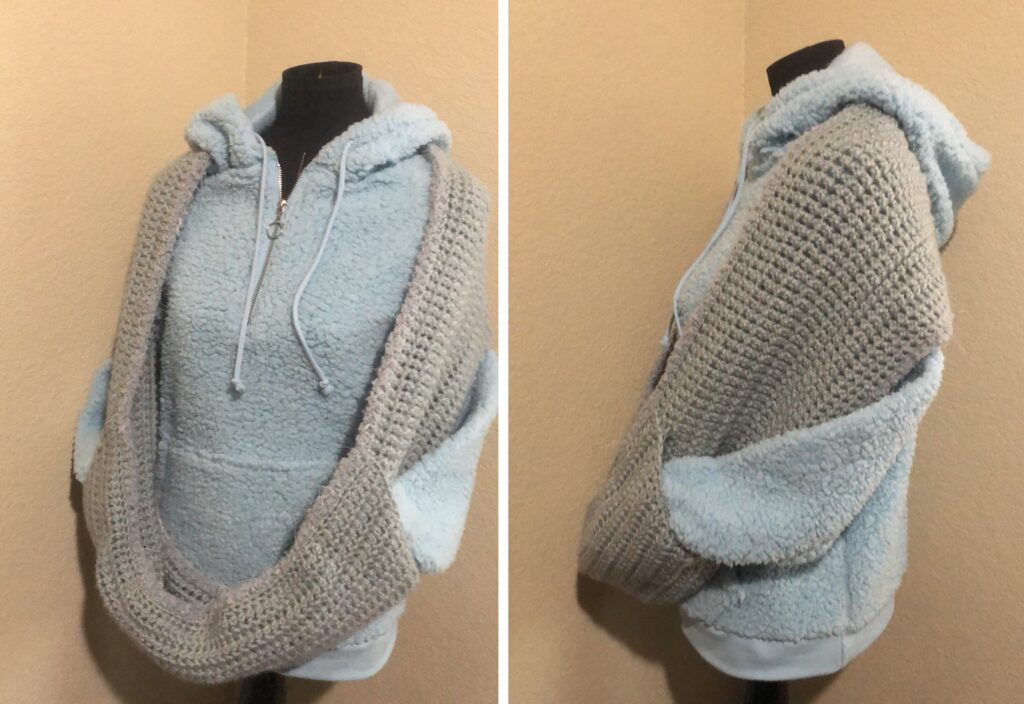 Sample Made by tester Tanya, she loved this design so much she made a second one by a special request from her husband.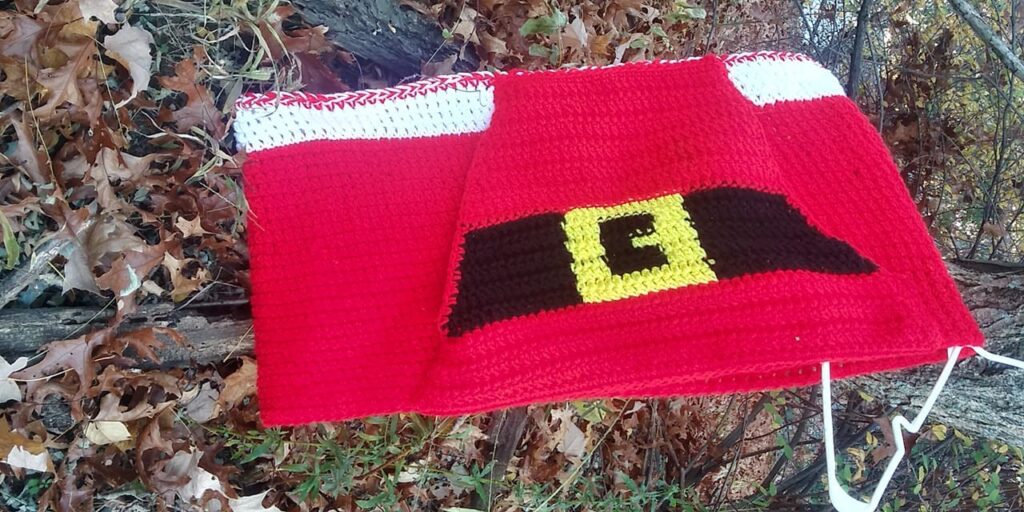 Tester Erin, from Pink Crochet, customized her pocket to feature Santa's Belt! Isn't that the cutest idea!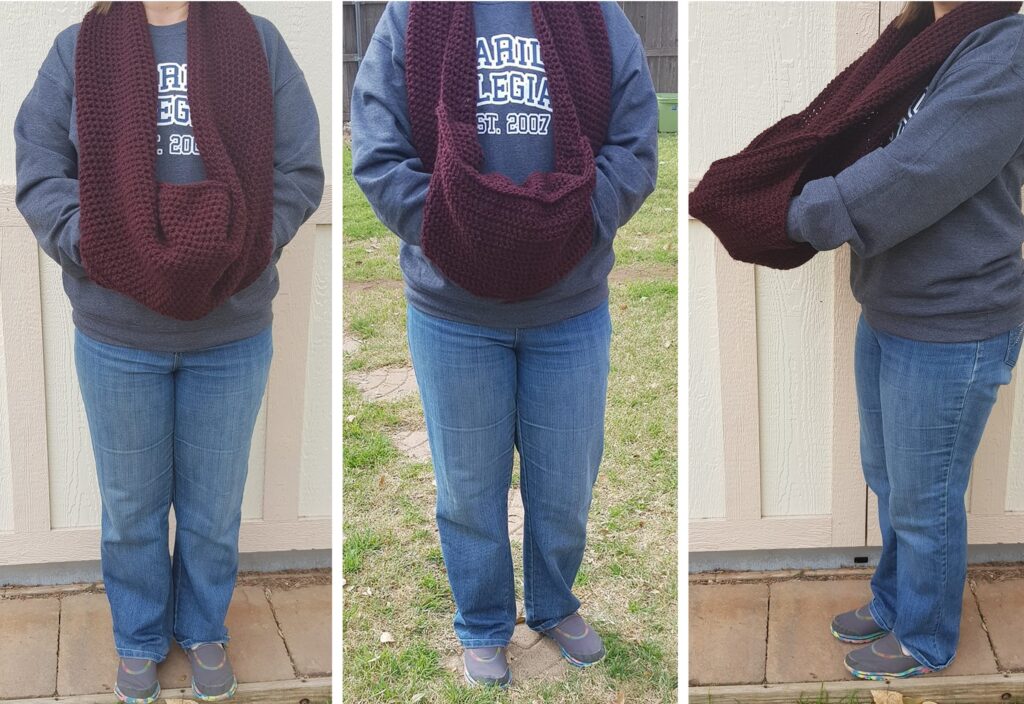 Pattern Tester Debbie did a great job showing how to wear the Hidden Pocket Cowl.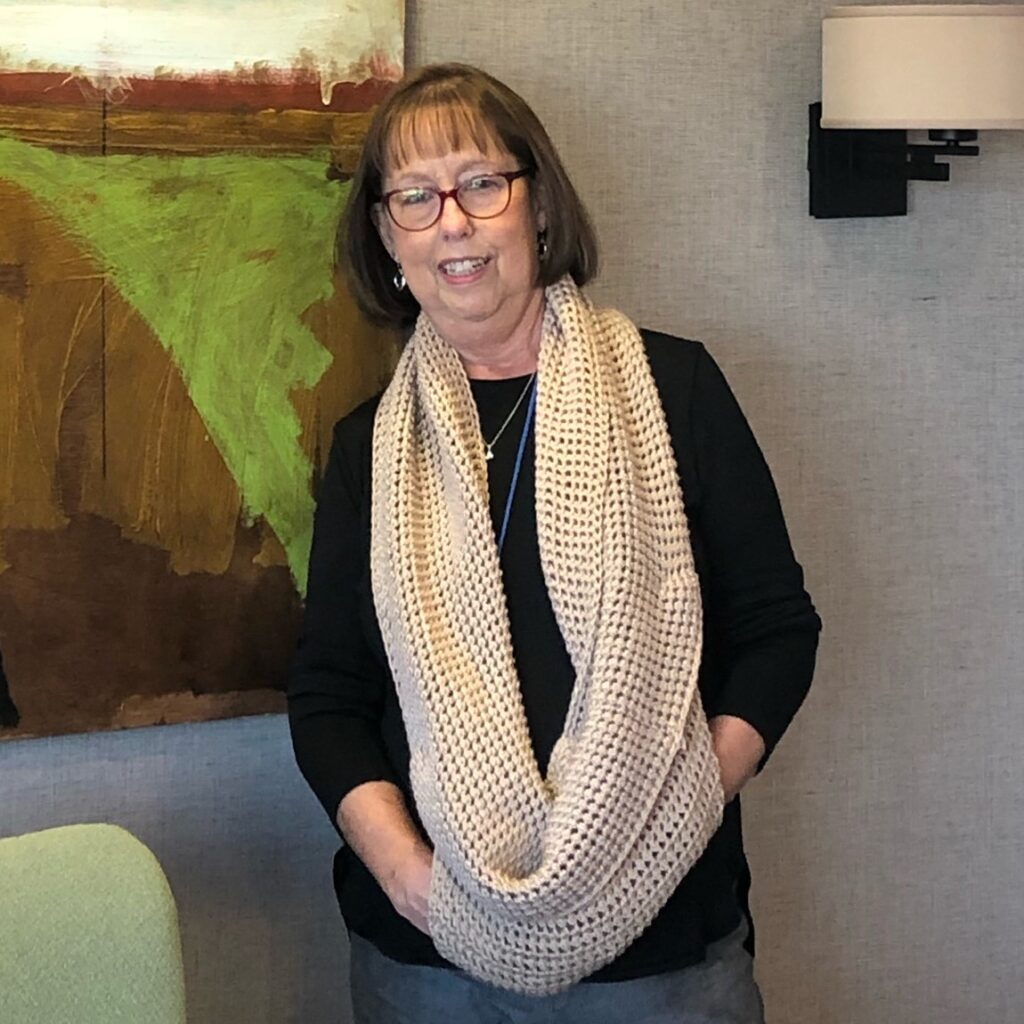 Tester Nicolee, had her co-worker model her finished Hidden Pocket Cowl. They both loved it, I love how cute she looks wearing it even while at work.
Nicolee's sample was made using Premier Yarn Everyday Worsted.
Materials Needed for Hidden Pocket Cowl
Crochet Hook L (8.00 mm)
Crochet Hook J (6.00 mm)
Worsted Weight Yarn (#4) – 550-600 yards
Samples made in: Brava Worsted Weight Yarn in the color: Dove Heather
Measuring Tape
Scissors
Yarn Needle
---
Where to find the Hidden Pocket Cowl crochet pattern
---
More Scarf Patterns you may Love:
More Crochet Fun
Follow Sweet Potato 3 on Facebook to see more pattern releases, sales and crochet fun, just click HERE.
However, if you would enjoy a more interactive group experience, you need to join my Crochet & Conversations facebook group, click HERE. It is a ton of fun and I encourage everyone to share their projects, WIPS (works in progress) and inspirations. Plus you get exclusive deals, are the first to see new releases, give input on designs and have opportunities to win patterns. Join now and get to know others who also enjoy the art of crochet.