For the past 12 years I have devoted much of my time in October to organize a Crochet Cancer Challenge. I started when I unexpectedly lost my uncle to cancer, it was the only thing that I felt I could do that may help others enduring this terrible battle. Each year I have designed a hat, many of those years unfortunately with someone in mind. This year, I designed my crochet hat for my dear business friend Connie Ellison, who worked for Annie's Crochet.
Connie and I have been working together on so many fun crochet projects over the last ten years. It has all been online and through phone calls, but she has been so wonderful, fun and always professional. I respected what she did, she respected what I did, and we both looked out for one another. I loved Connie's southern spitfire personality. She was to the point, direct but really cared and wanted you to know.
Connie had mentioned that she wanted to retire at the end of the year, and I was excited for her. Unfortunately, in July I unexpectedly received an email saying that she was retiring at the end of the month. Connie was diagnosed with an aggressive stage 4 breast cancer.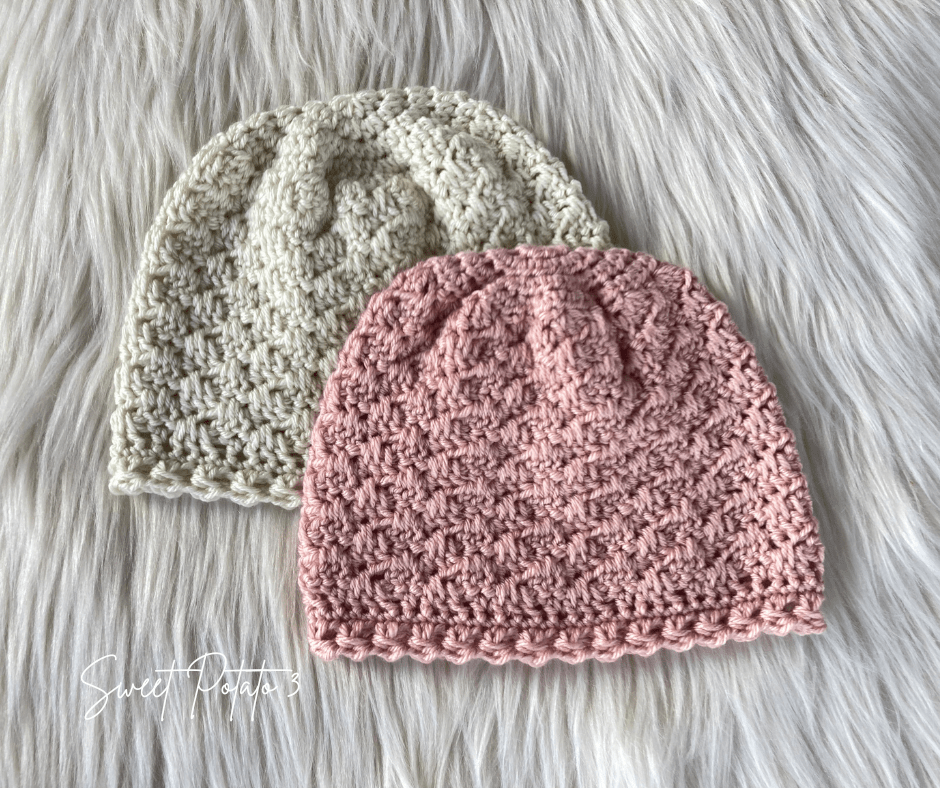 My first thought was to reach out and give her a huge hug. However, being in Idaho and her in Texas that was not possible. The only thing I could think of to do for her was to honor her by naming my hat design after her for the 2023 Crochet Cancer Challenge. I asked her permission and she was honored (insert a few tears here).
Whenever I decide to design a hat in someone's honor, I feel like I cannot do them justice. Although, I love this year's hat design, Connie was a much more beautiful person inside and out. I ask that as you crochet this design, that you say a prayer for Connie, for her family and for all the medical staff helping her go through this battle. And Connie, if you stumble across this blog post, which I hope you do, I wish you the best and hope it bring a smile and warms your heart. Love you, my friend!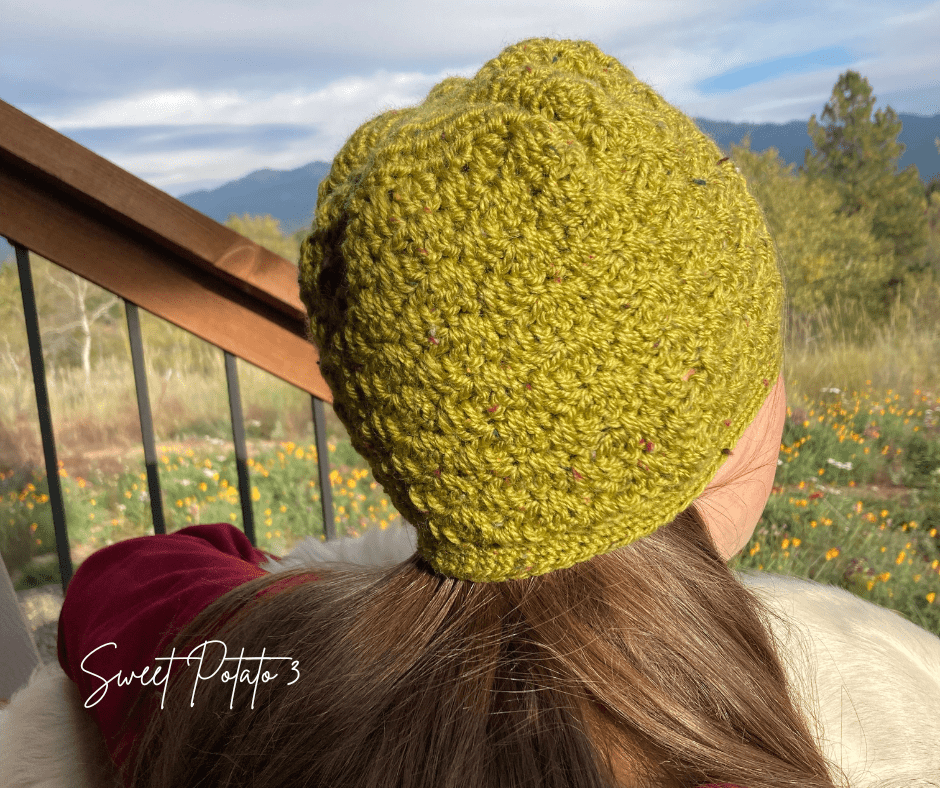 Connie's Comfort Beanie
The design of the Connie's Comfort Beanie is one of versatility. It has a textured stitch that is lovely and looks great on both men and women. There is an option to make the last rows nice a straight for a crisp and clean look. Or, you can add a fun border for a more feminine flair.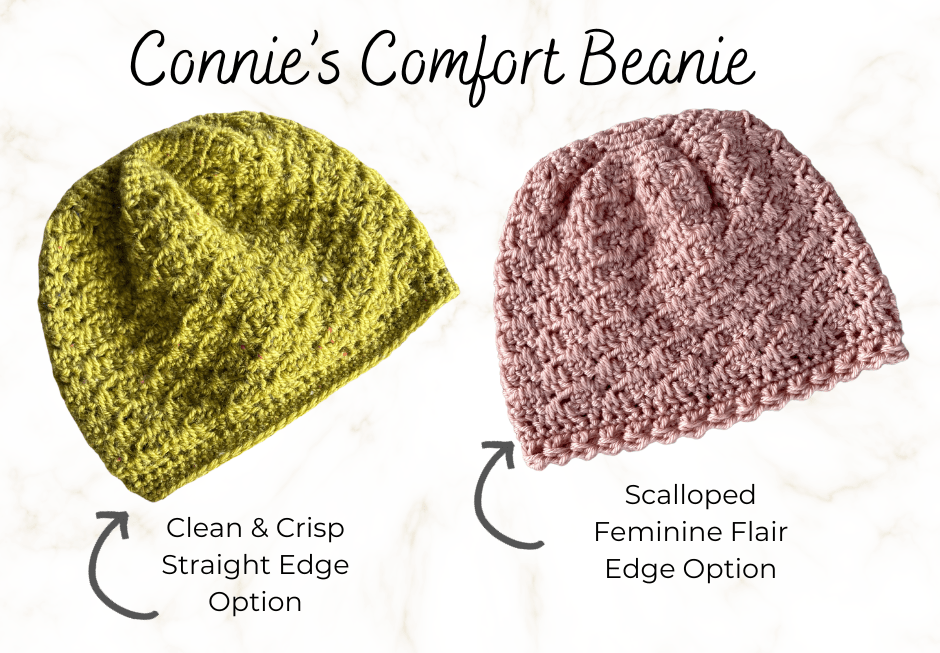 But, that is not the only option with this beanie pattern. Those stitches create a lovely texture, so they are fabulous in a solid color. But, if you want to add multiple colors to your crochet hat you can easily achieve a fun look that is totally different. Check them out:

The first hat (solid cream) really shows off how beautiful the texture is. The second hat is made with two colors, and I just changed the color of yarn every other row (after I crocheted the crown) and it created some fun vertical stripes. The last hat in the photo above is made with three colors and created a gorgeous, checkered color pattern.
I honestly am not sure which one is my favorite look. Guess I'll continue to make them all!
Materials Needed for your Beanie Pattern
Crochet Hook size I (5.50 mm)
(Lighter) Worsted Weight Yarn (#4) – 150-180 total yards
Solid Color Samples made using Premier Anti-Pilling (colors: cream & dogwood)
Two-Color Sample made using Hobbii Fluffy Day (colors: 16-redwood & 13-terracotta rose)
Three-Color Sample made using Mary Maxim Natural Alpaca (colors: sand dune, raw cotton, cool stream)
Scissors
Yarn Needle
Cancer Challenge Free Download
The Connie's Comfort Beanie is my featured crochet pattern for the Crochet Cancer Challenge. This means that you can download a copy for FREE of the pdf in EXCHANGE for your pledge to make a minimum of one hat from this pattern to donate to your local cancer center by the end of the year (2023). The downloads must be made through Ravelry and you must use the code "CancerChallenge23" to get it for free.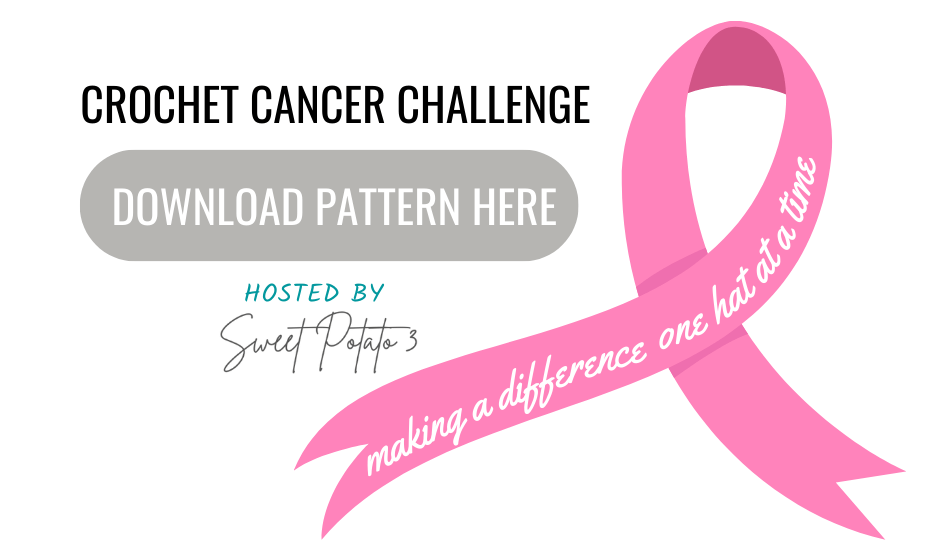 Get Daily Notifications
If you love the idea of the Crochet Cancer Challenge and would like to participate in the daily downloads, please check out the main blog post link and sign up for daily email updates. Also, share our efforts with any of your crochet friends.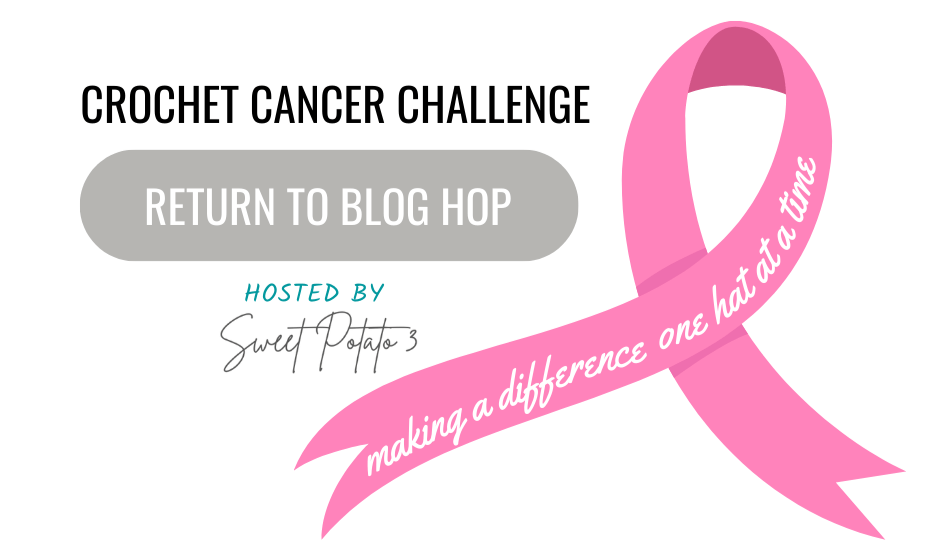 Additional Cancer Challenge Resources
Information explaining what the Crochet Cancer Challenge is, click HERE.
What type of hat should I make? What Sizes? Where do I get the patterns? Click HERE.
Yarn Recommendations to use for the hats, click HERE.
Where should I donate my hats, click HERE.
A fun start early project you can add to your hats, click HERE.
Past Cancer Challenge Designs by Sweet Potato 3
More Crochet Fun
Follow Sweet Potato 3 on Facebook to see more pattern releases, sales and crochet fun, just click HERE.
However, if you would enjoy a more interactive group experience, you need to join my Crochet & Conversations Facebook group, click HERE. It is a ton of fun and I encourage everyone to share their projects, WIPS (works in progress) and inspirations. Plus, you get exclusive deals, are the first to see new releases, give input on designs and have opportunities to win patterns. Join now and get to know others who also enjoy the art of crochet.