The intricate details details of the stitch work shown in this gorgeous wave stitch shown in the Waves of Hope Hat. I love the simplicity of the design, a solid look with no interruptions. But, the pop of texture seen in the woven fibers is unbelievable.
The Waves of Hope Hat
My fall back design is hats, I have been designing hats since Sweet Potato 3 began. I love how some can be so unique and have different looks based off of the way you make them: bottom up, top down and side to side.
I try to design a few of each hat types every year. This year I was looking through my top selling patterns and my Button Up Waves Hooded Cocoon kept popping into my mind (check it out HERE). I think it is so popular because of the way the texture in the stitches just pops.
So, I decided to replicate that stitch in a design that you can make for just about anyone of any age, not just infants. The Waves of Hope hat comes in sizes for children up to adults. It's a simple adjustment to alter the size of the hat. It can be worn slouchy, or just fold the brim for a more traditional look.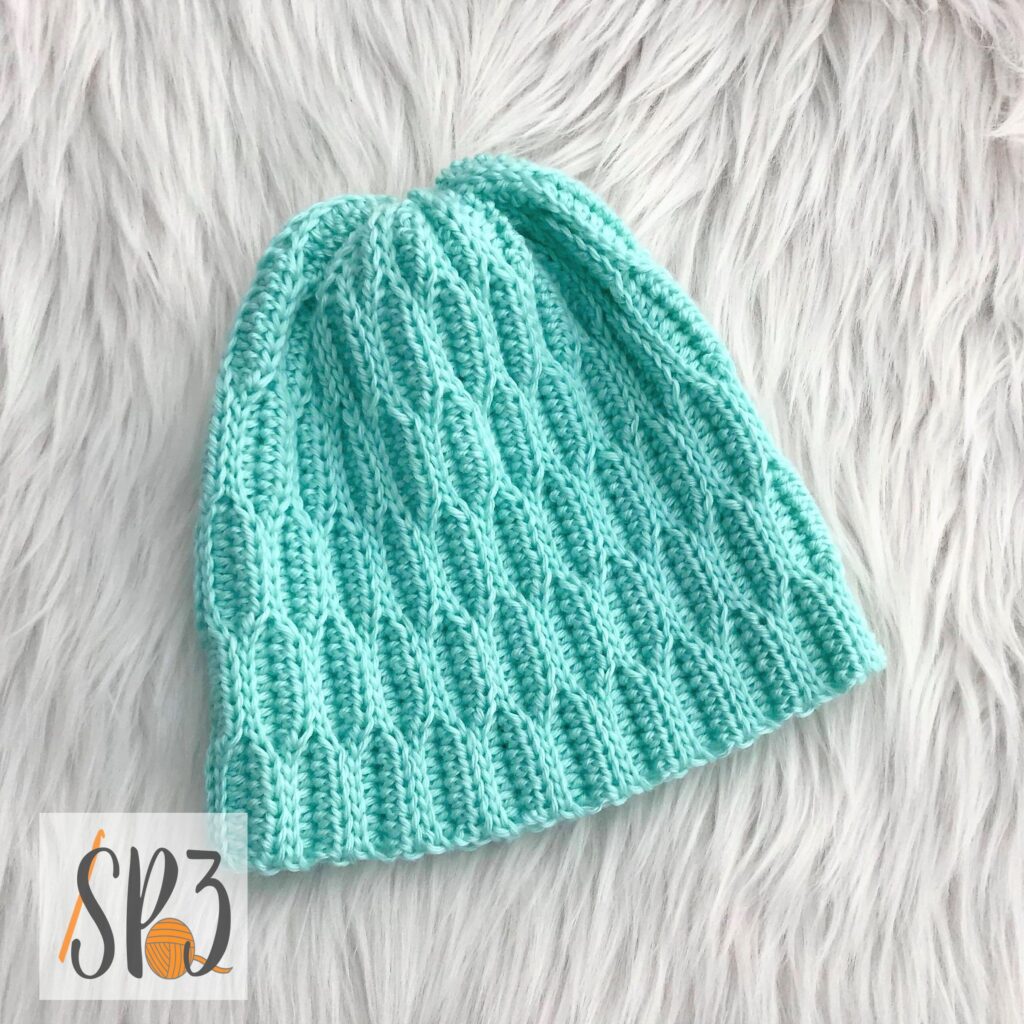 The Wave Sttich
I made a quick video tutorial on how to work the Wave Stitch you see in the hat. I think you will love this stitch, just make sure you work those slip stitches loose. Check out the tutorial below:
Materials Needed for Waves of Hope Hat
Crochet Hook Size H (5.00 mm)
Worsted Weight Yarn (#4)
Approximately 190 -225 Yards in Main Color
Sample made in Mighty Stitch / color: Mint
Yarn Needle
Scissors
Measuring Tape
Check out my Testers Hat
I love how my tester added this adorable pom to her hat. And what can I say, I adore green!
Where to find the Waves of Hope Hat crochet pattern
---
More Hat Patterns you may Love:
More Crochet Fun
Follow Sweet Potato 3 on Facebook to see more pattern releases, sales and crochet fun, just click HERE.
However, if you would enjoy a more interactive group experience, you need to join my Crochet & Conversations facebook group, click HERE. It is a ton of fun and I encourage everyone to share their projects, WIPS (works in progress) and inspirations. Plus you get exclusive deals, are the first to see new releases, give input on designs and have opportunities to win patterns. Join now and get to know others who also enjoy the art of crochet.