October marks the month of Cancer Awareness and I am so excited to host another year of the Crochet Cancer Challenge. This has been an annual event that began in 2014, seven years later it has grown due to the generosity of the crochet community.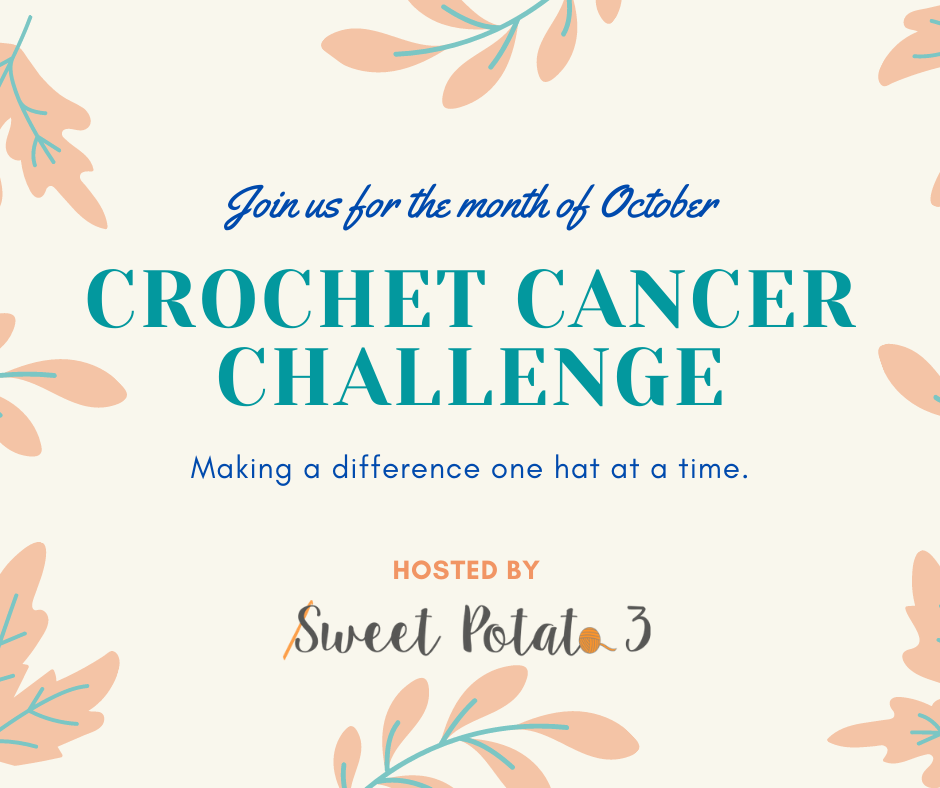 Our crochet community does so much for others by making handmade items and in this event those said items are all donated. Donations go to cancer patients or cancer centers in our own communities. We have this amazing opportunity to make a difference one hat at a time.
A Quick Overview of the Cancer Challenge
During the month of October a different crochet pattern designer will be featured. The designers has personally designed a hat in honor of someone they know, or to help bring awareness to a specific type of cancer. They will offer their design for FREE for 1 day only. If you download their pattern, you are taking a pledge to make a minimum of one hat from that pattern to donate.

The Crochet Cancer Challenge has become so personal to so many of you and to so many of us designers. I appreciate all the time and efforts everyone puts into this event. I hope to spread the word this year, so I am asking that you share photos of your finished hats on social media or links to the challenge AND always use the #CrochetCancerChallenge . The more people see our challenge, the more it will grow and that means the more people we can touch in a positive way. We can all use a little more positivity in our lives in 2020.

Daily Crochet Cancer Challenge Features
Each Day I will post a new designers hat link. You can then go to their site to read about who or what cancer they designed the hat for. Once again, each design will be free for 24 hours, but you must use code "CancerChallenge" to get the pattern free. Look for this button in their blog post:

Do you have more questions about the Crochet Cancer Challenge? Scroll to the bottom of this post for more informative links.
2020 Final Pledge Count
Let's just face it, 2020 has been a crazy year. Some of us are stuck at home with time on our hands. Some are stuck at home juggling working with our kids around and/or helping them with online school. We are all in our own world of craziness.
Plus, some Cancer Centers were not taking donations due to COVID. So, I didn't have any idea how our pledges would be. I am very excited to say that, although it wasn't our biggest year, it was pretty darn close!
October 2020Features
Below you can see all the gorgeous designs that were featured in this years Crochet Cancer Challenge. The code to get them for free has expired. However, you can still grab them from the links and support the designers. I hope you enjoyed the challenge and making each hat to give away and brighten someone's day. I also hope you keep adding to that stash pile of yarn so you are for the 2021 challenge next year.
---
---
---
---
---
---
---
---
---
---
---
---
---
---
---
---
---
---
---
---
---
---
---
---
---
Find more information about the Crochet Cancer Challenge Below: