It is that time of year! Yay, so many of you ask about the Crochet Cancer Challenge all year long. So, it brings me so much joy to be writing this blog post for the 2023 crochet event. Each year, you all contribute so much to our efforts of making handmade crochet hats for those enduring the fight against cancer. Thank you for making this event such a success.
It all begins on October 2, 2023 (because Oct 1 is a Sunday, we will begin on Monday) and will run all month long. Each weekday, one hat design will be featured for free for 24 hours. If you download that crochet pattern, you are taking a pledge to make a hat to donate. Each weekend, there will be two designs available for 48 hours only. Same pledge! If you download, you are promising to crochet a hat and donate it from the pattern.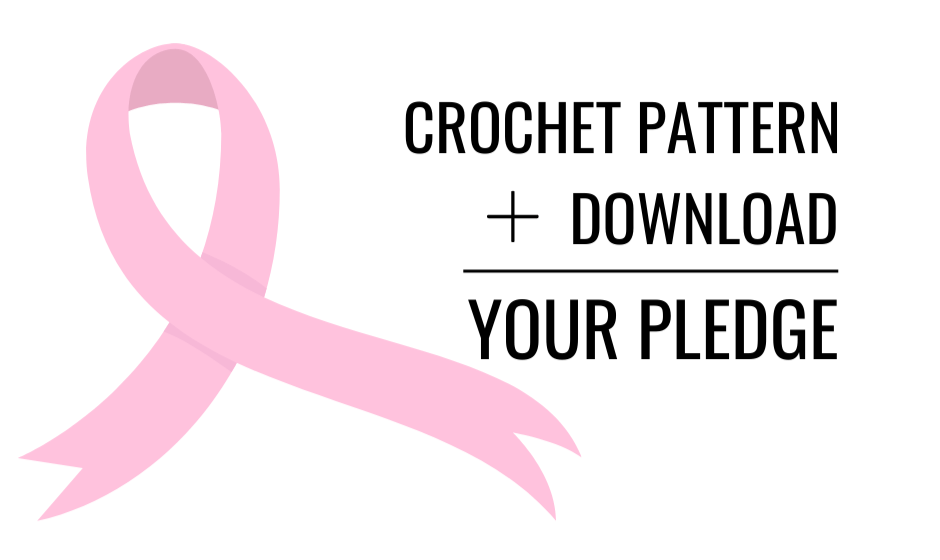 It's so easy, so fun, so rewarding and even more important, you are making a difference to someone going through a very difficult time. I consider this a crochet charity event that has touched so many of us personally. It is personal for you crocheters as well as us crochet designers.
The hat designs are not just cute, but there is a meaning behind each one of them. When a crochet designer signs up to participate, they are asked to design a hat with a specific cancer type in mind or in honor of someone who they know who has battled cancer. Please take a minute to read their blog post, many of them are very touching and explain why they designed their hat.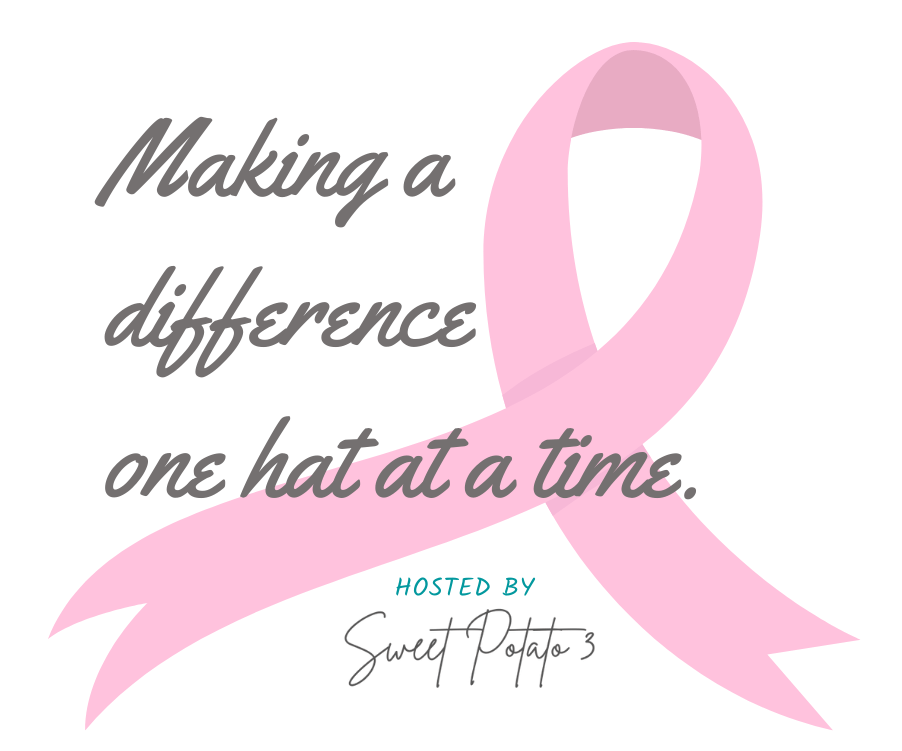 Help us spread the word
I mentioned earlier in this post that 2023 will mark the 11th anniversary of the Crochet Cancer Challenge. It has grown by leaps and bounds. However, I would love to see it continue to grow so our crochet community can reach even more people. Therefore, I am asking that you share this event with others, especially other crocheters. Here are other ways to help us spread the word.
Share the challenge on social media.
Tag your crochet buddies and challenge them to join as well.
Share your finished hats you have made, let us know where you are donating them or who you are giving them too.
Use the hashtag #crochetcancerchallenge so I can see your contribution.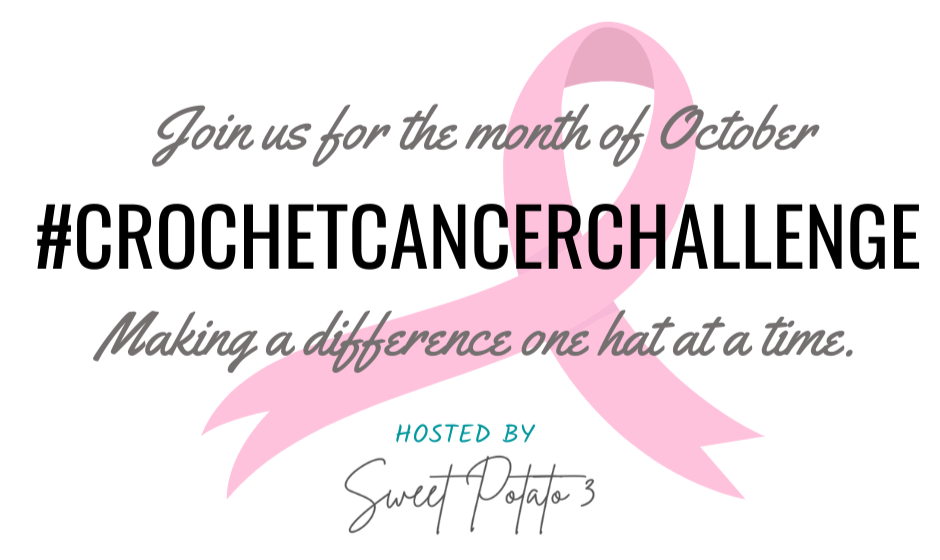 ---
2023 Final Pledge Count (updated Nov 7, 2023)
What a fun month October was as we all sat down and devoted so much of our time to make hats and donate them to others. You are all a part of an amazing community that I feel honored to be a part of as well. This year, you all knocked out pledges out of the park!
You should be very impressed that as a crochet community, in 2023 we collectively made 48,272 hats!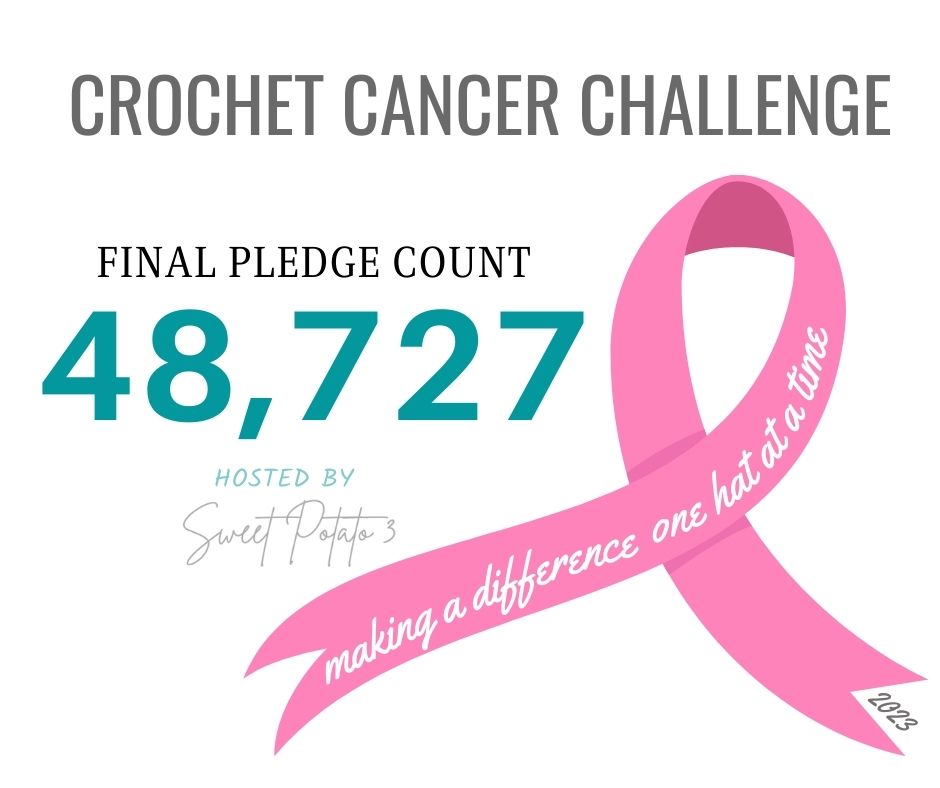 If you haven't finished crocheting your hats, that it perfectly fine, enjoy the process and stay committed. Hat donations are always welcome. I am already eagerly planning for the 2024 challenge. So stay tuned and remember to keep scrolling and print those tags that you are welcome to use on your donations (just below).
---
Free Printable for your donations
So many of you donate an astonishing number of hats to your local cancer centers. I am in awe every single year by your generosity. With the number of hats you make, it is fun to add another personal touch to those donations. Go ahead and print these fun tags and add them to your hat. There is a space for you to include your name, the size of hat and on the back of the tag, feel free to add a short message or prayer for them.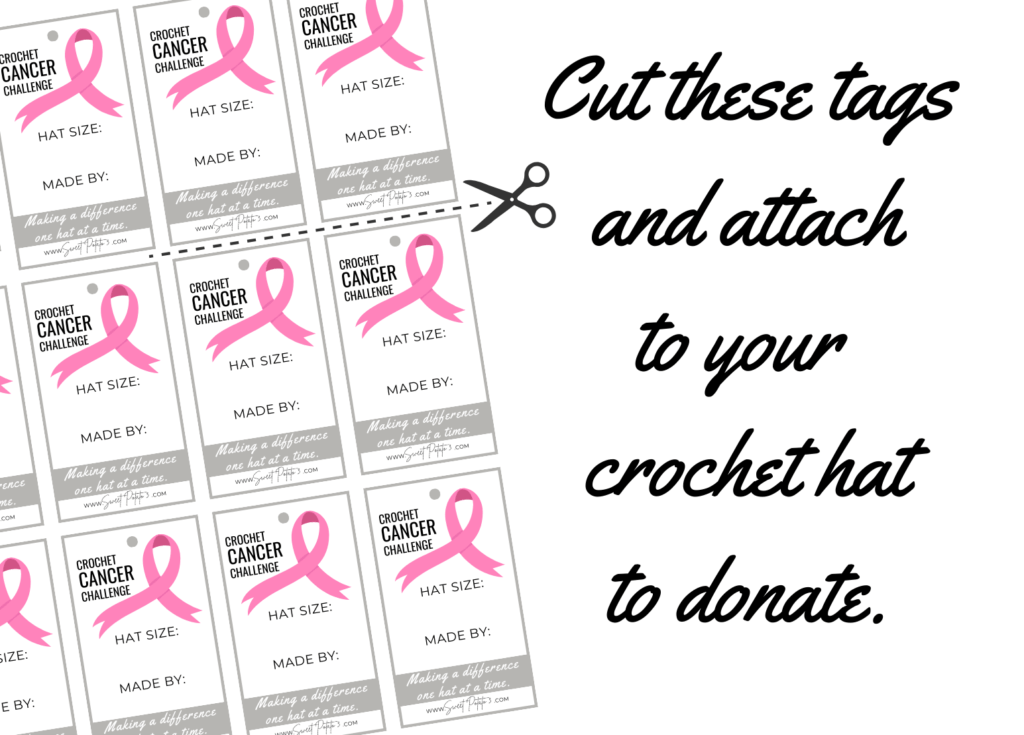 ---
I missed a design, now what?
Remember: each design is available for 24 hours only. If you miss a pattern, don't worry, there will be plenty of others available. To get the pattern for free you will need to use the code "CancerChallenge23". Look for this button in their blog post: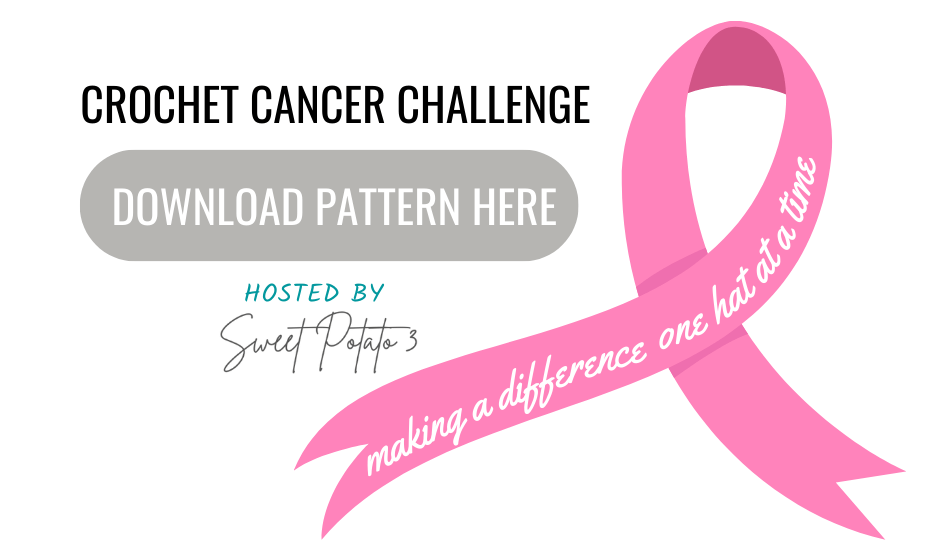 Daily Hat Designs
Check back, right here each day through October to see the featured hat. If you'd like to sign up to get daily email updates on the hat designs, click the link in the button below to sign up for my newsletter:
---
Featured Daily Designs
Remember: each design is available for 24 hours only. If you miss a pattern, don't worry, there will be plenty of others available. To get the pattern for free you will need to use the code "CancerChallenge23".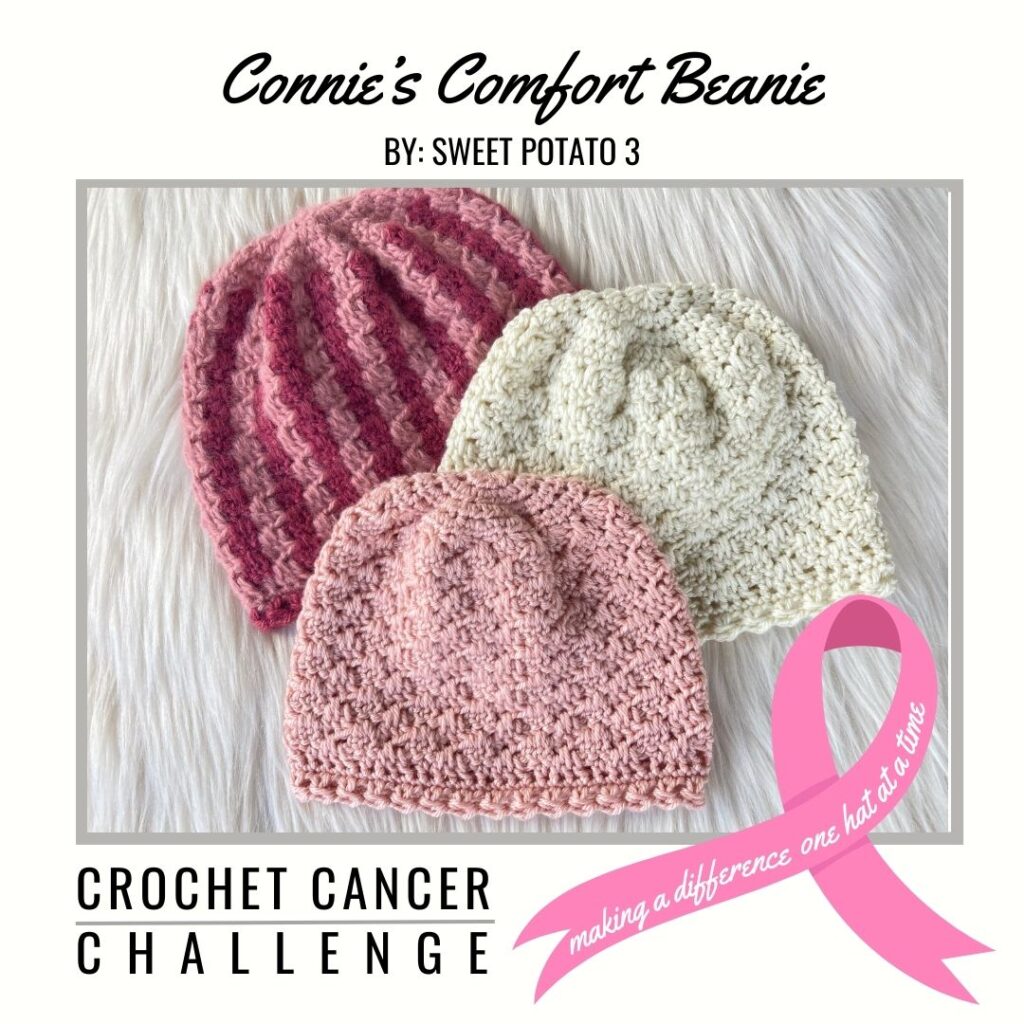 Oct 2 – Sweet Potato 3
The Connie's Comfort Beanie was designed in honor of a wonderful ladies, Connie Ellison, who I have worked with in the crochet community. She is currently battling Breast Cancer and I'd like you to say a prayer for her as you crochet your donation this year.
Free through the entire month-expires October 31, 2023.
---
Oct 3 – Hooks, Books & Wanderlust
As a cancer survivor Kristen from Hooks, Books & Wanderlust has always been dedicated to this Challenge. This year she once again has come through with a stunning hat design.
Kristen said that this year she, "I leaned into the whole texture thing a bit more but with an emphasis on cozy. I wanted to do a double brim in a chunky yarn to really give this basic beanie a luxe feel."
Code Expires end of day Oct 3, 2023.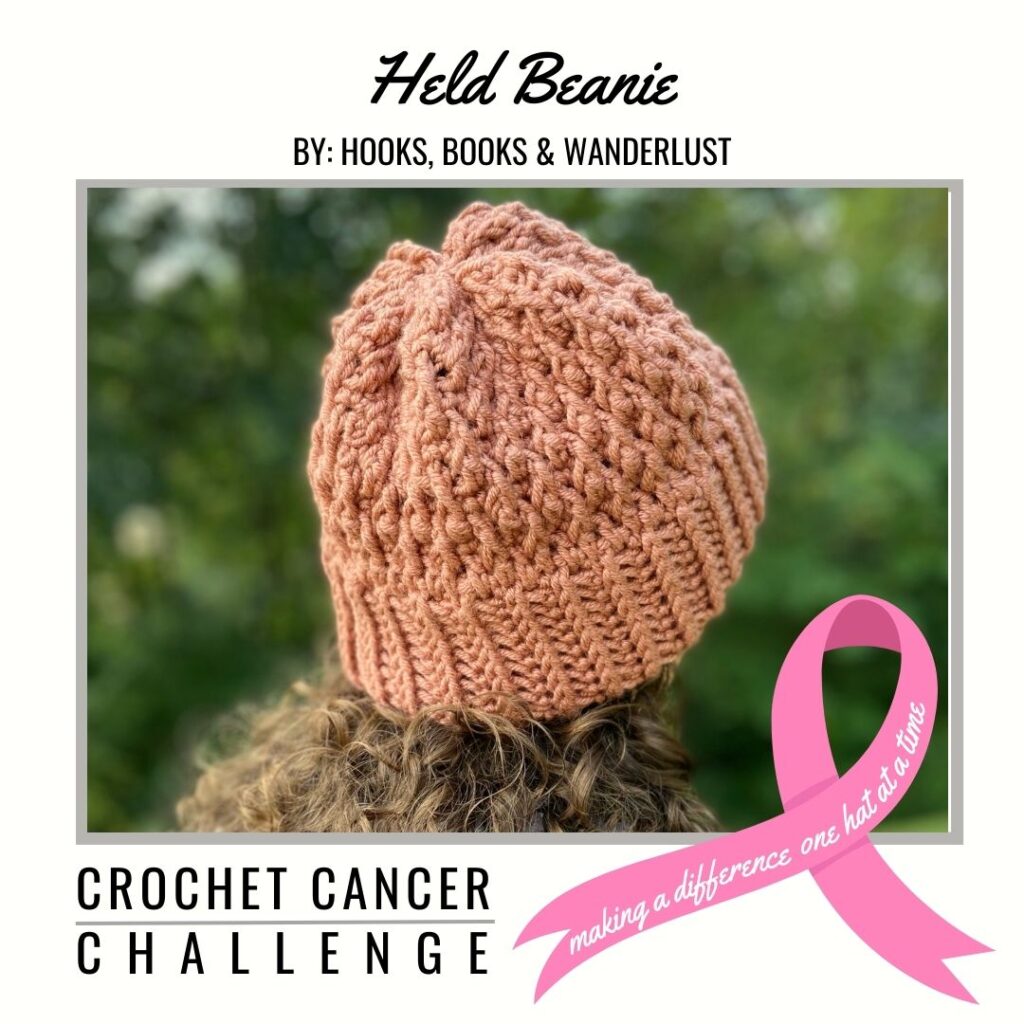 ---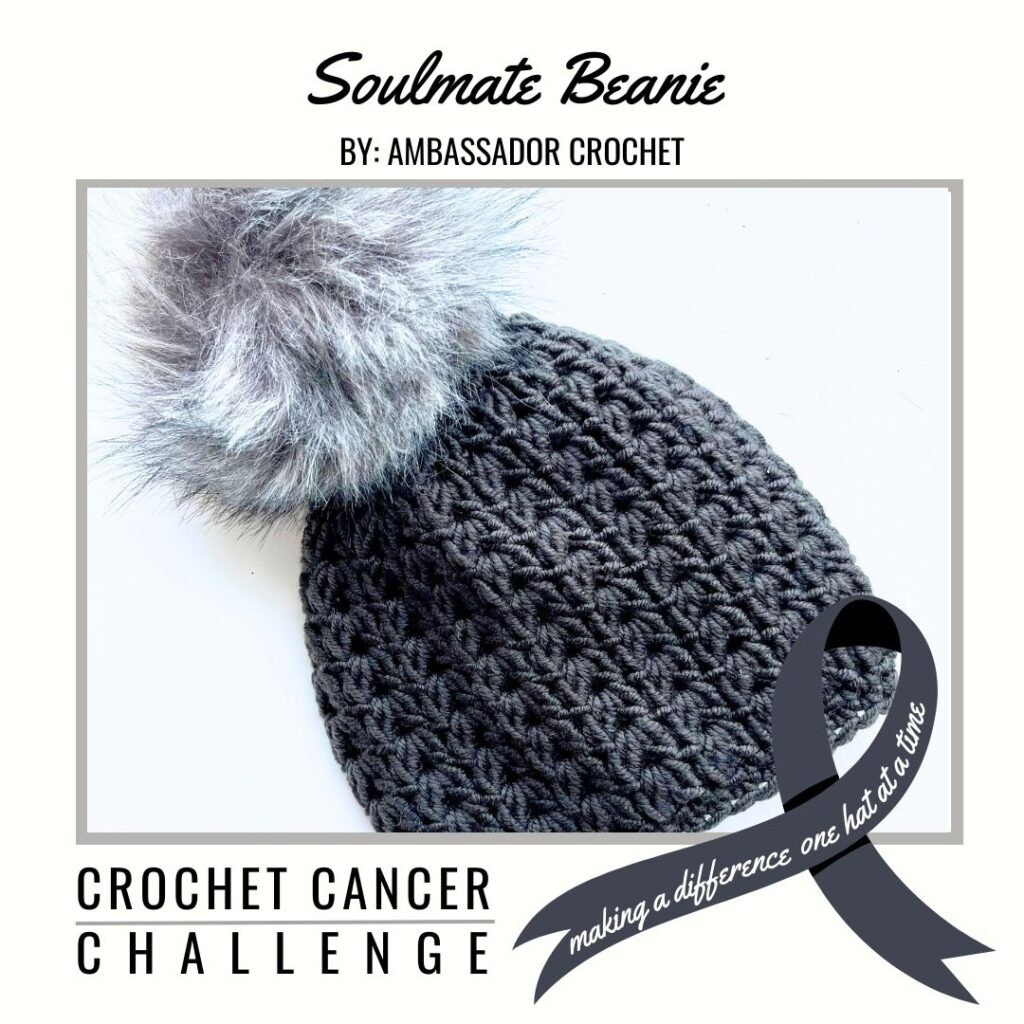 Oct. 4 – Ambassador Crochet
You are going to love crocheting the Soulmate Beanie designed by Kristine from Ambassador Crochet. Especially after you read 'why' she selected to represent skin cancer and 'why' she named the hat Soulmate. Be sure to check out her blog post and then take a pledge to make and donate.
Expires Oct 13, 2023 with code (mentioned earlier in the blog post).
---
Oct 5 – Straight Hooked
The lovely Snowflake Hat by Malena from Straight Hooked is designed in honor of her Dad who she lost 17 years ago to cancer. Read the meaning behind this hat design when you take the pledge to make and donate!
Pattern available for free all month long with the code, expires Oct 31, 2023.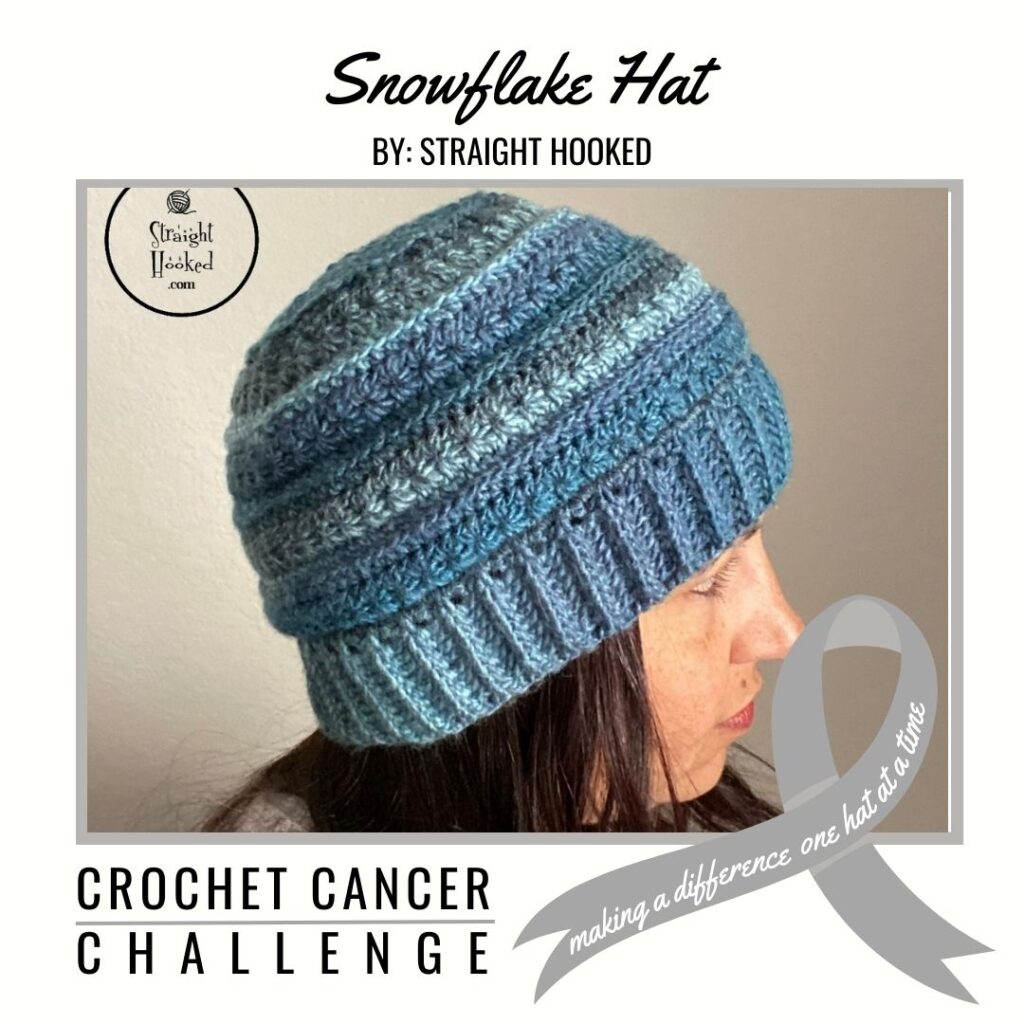 ---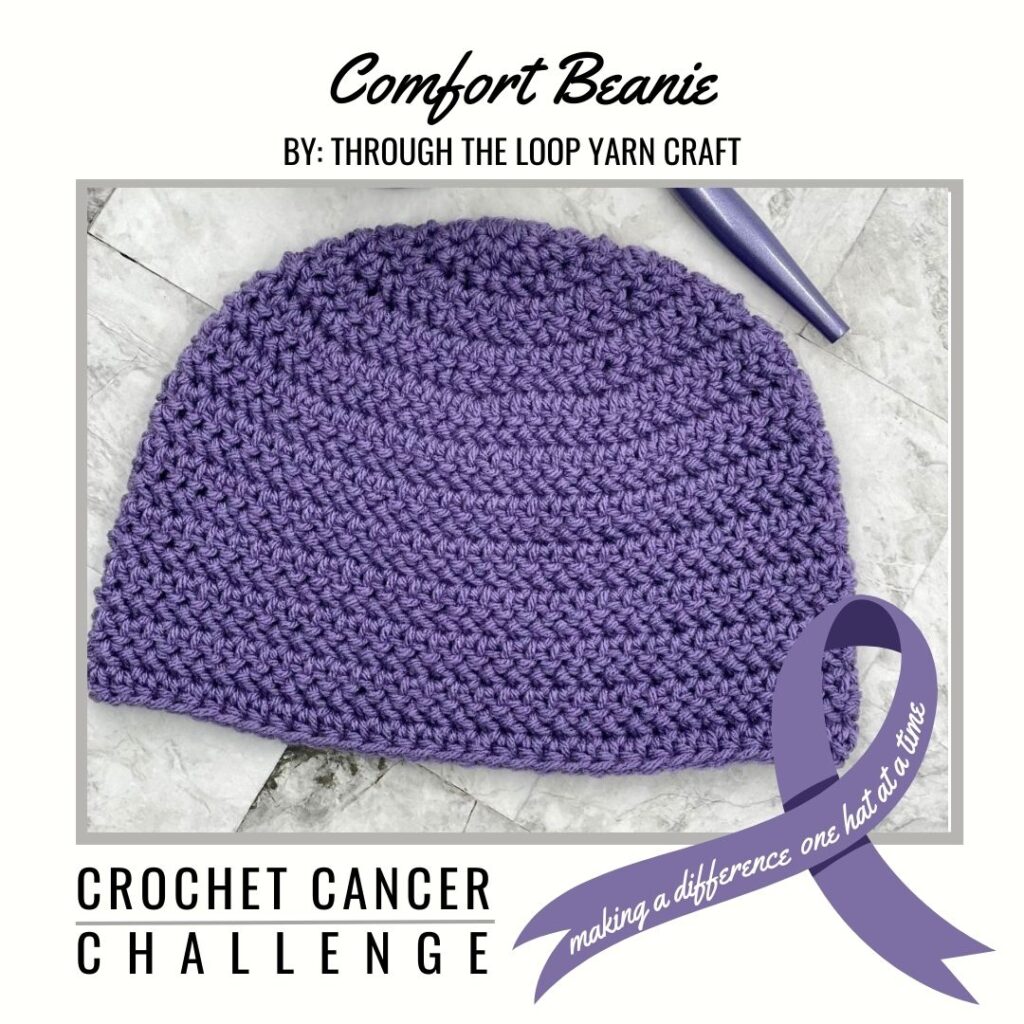 Oct 6. – Through the Loop Yarn Craft
I love that this year Ashley decided to design and easy top down beanie that works up quick. These always make great 'go-to' designs for charity gifting.
Plus, I have always been a huge fan of the herringbone stitch, it just gives a basic stitch such a unique look.
This design is available all month long! Coupon expires on 10/31/23.
---
WEEKEND FEATURES:
Oct 7/8 – Carroway Crochet
Another gorgeous basic beanie that is sometimes the most popular.
Pam from Carroway Crochet said "This Easy Crochet Chemo Cap Pattern is meant to help you make a simple, soft hat that will brighten the day of a chemo patient and make them feel cherished and uplifted."
Available all month long, code expires 10/31/23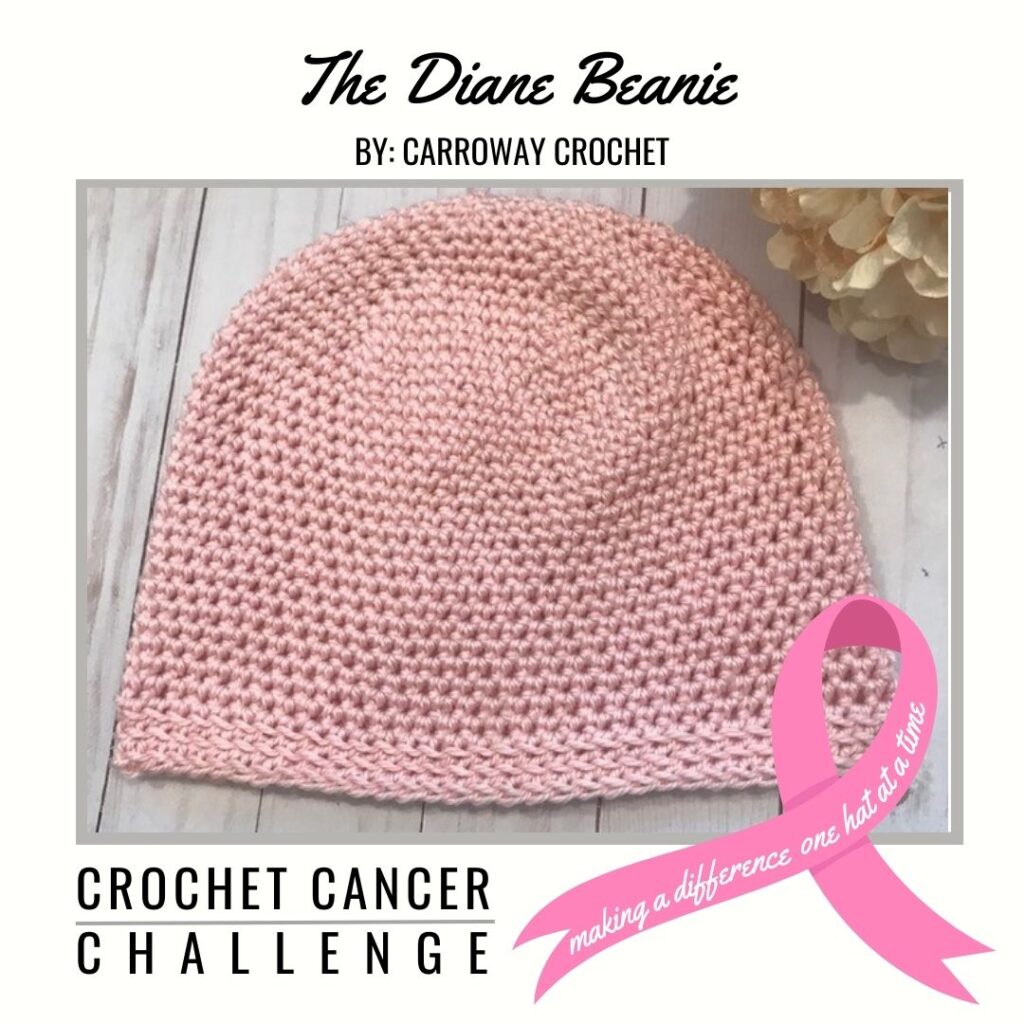 ---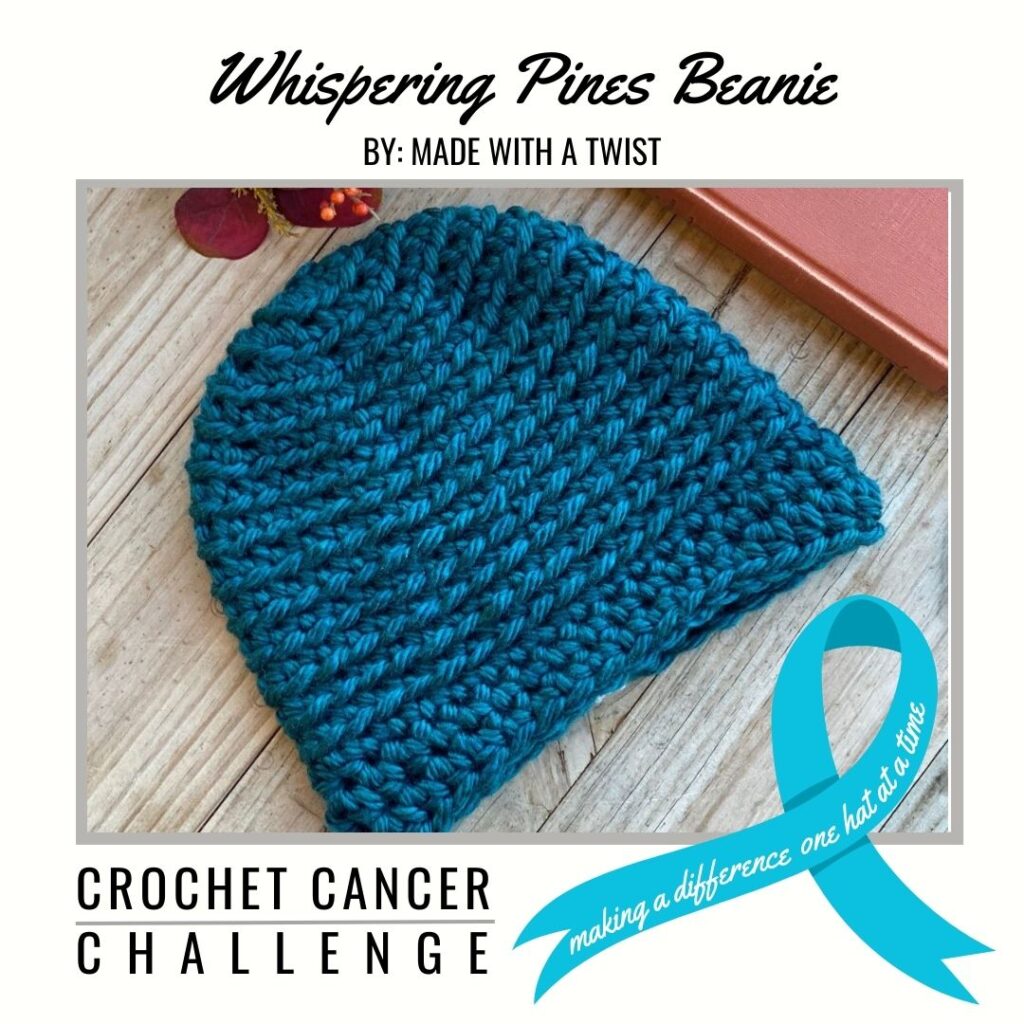 Weekend – Make With A Twist
The Whispering Pines Beanie is made using a bulky yarn which makes it work up quick and turn oh so cozy! This one you will love to make and donate.
Code Expires at the end of the month: 10/31/23
---
Oct 9 – snappy Tots
Today I am so excited to share this fun design by Heidi from Snappy Tots. Heidi is another designer that has been a part of the Challenge since my first year hosting.
Check out how fun her "For the Team Beanie" is, I love how the colors change the look so much. Take a minute to read about her "why" for designing this cute crochet pattern.
Expires at the end of the month: 10/31/23.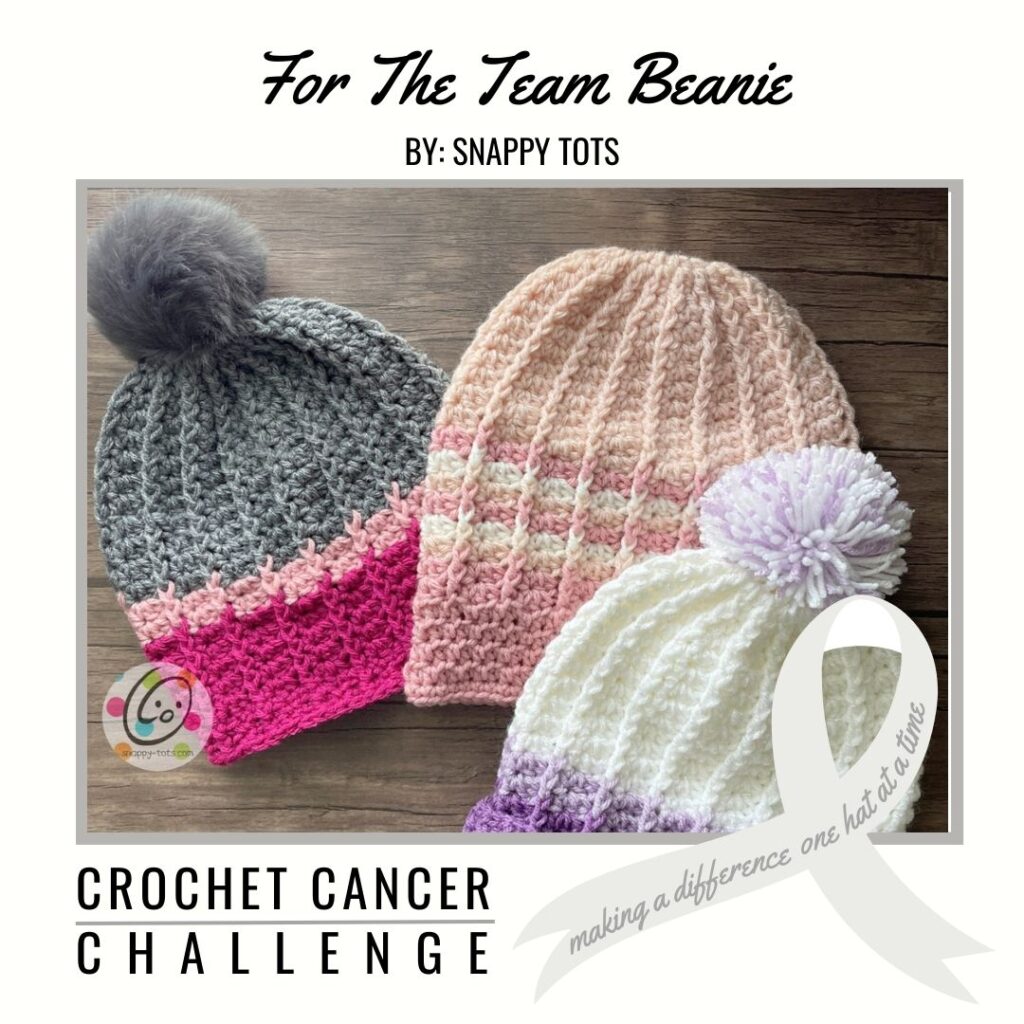 ---
Oct 10 – Hooked for Life
Today's hat design is such a fun and unique one. The Soft & Simple Bucket hat is a fedora style that will make someone's day as they sift through the donation pile!
Made in light blues to help bring awareness to prostate cancer.
Free pdf download with pledge for one week. Code expires on 10/17/23.
---
Oct 11 – Crafting Each Day
Another fabulous hat made with a fun stitch to create a little touch of texture. The Marin Beanie is made in purples & teals to bring awareness to Esophageal and Ovarian cancers.
Pledge to make and donate one hat and receive your free copy with the code mentioned in this blog post. Code expires on 10/31/23.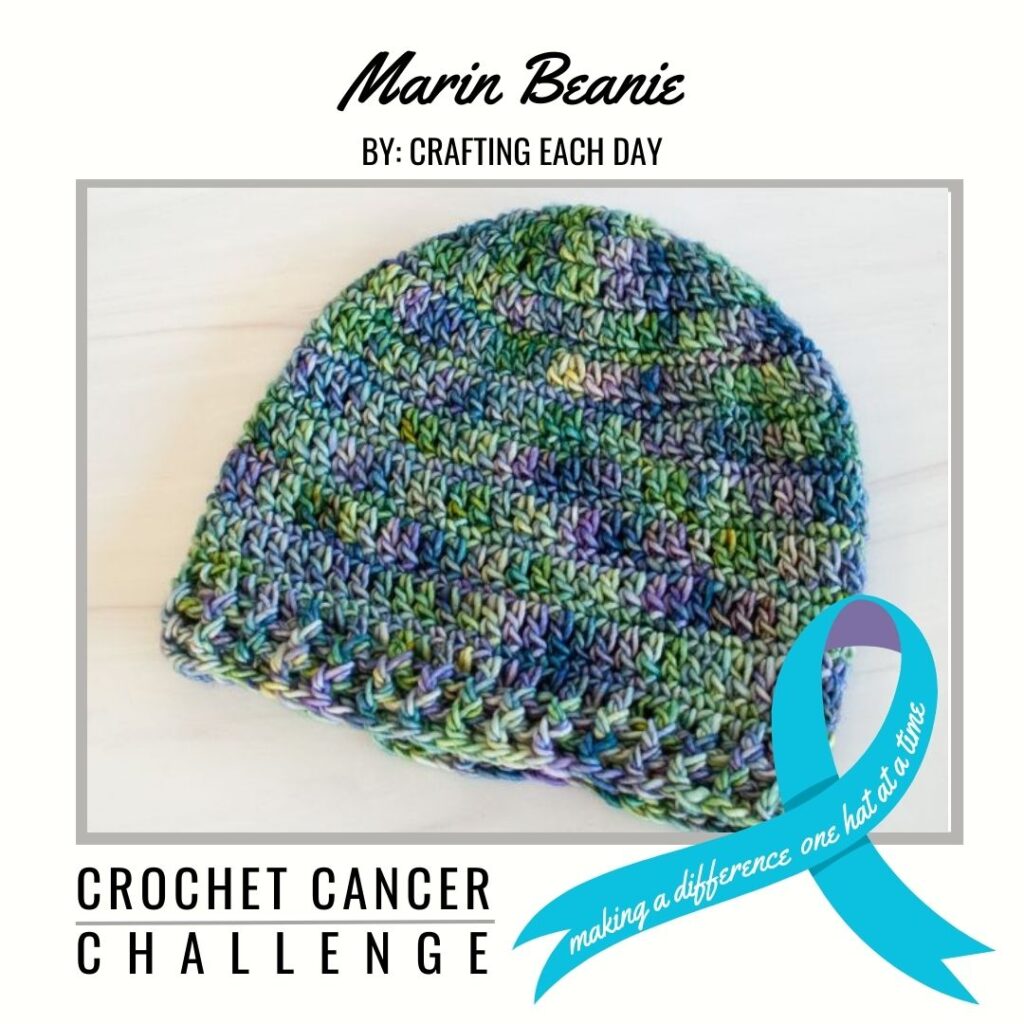 ---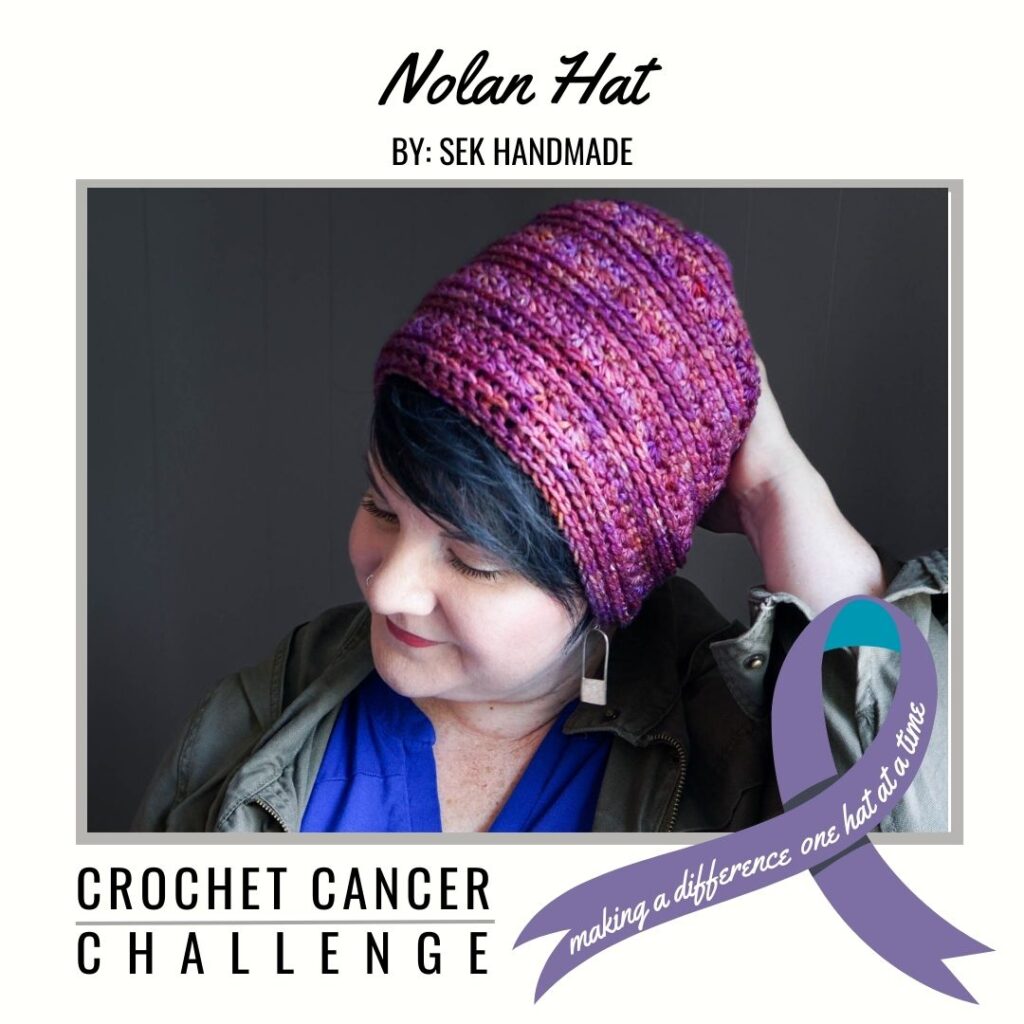 Oct 11 – SEK handmade
A beautiful eye-catching design today by SEK Handmade. Sarah explains that, "While it is nice to be able to work up a hat for donation quickly, I also want it to honor those I'm donating to by making sure it's a hat I'd be proud to wear."
The code to grab your design to make a pledge is good through 10/12/23.
---
Oct 13 – Remington Lane
The meaning behind this hat is superb, here is what Jamie says about it: For the Holy Trinity Beanie crochet pattern, you may have noticed the title. It's a faith-based play on words for the stitch this hat features. The Trinity Stitch… And the faith-based part is something you can choose to do while you're making it. As you insert your hook in the three spots for the Trinity Stitch, you can say "Father, Son, and Holy Spirit" (or something similarly meaningful for your faith).
Code is good to get a free copy in exchange for your pledge through 10/31/23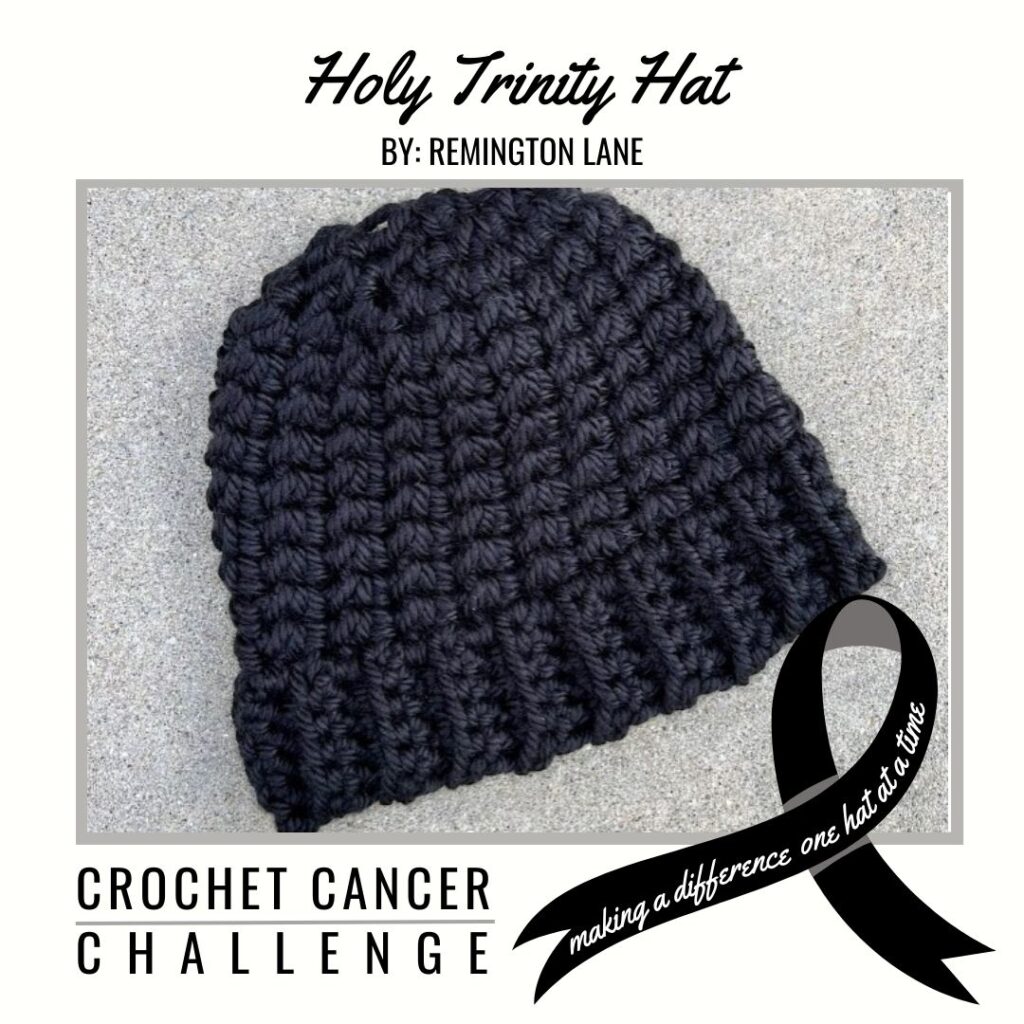 ---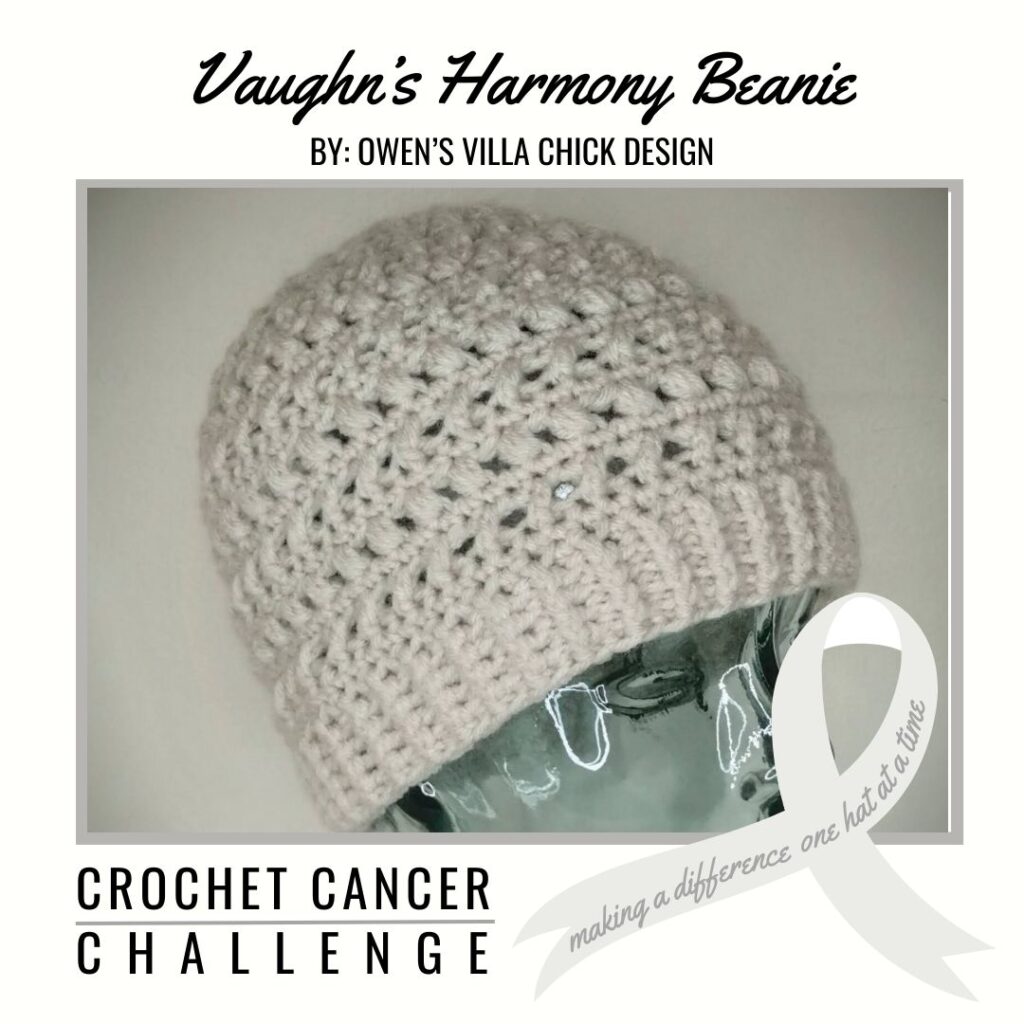 Weekend Feature – Owen's Villa Chick Design
A beautiful beanie designed with lot's of rich texture. This hat features many stitches including the puff and crossed double crochet stitches.
Made in white to represent lung cancer.
Grab this design in exchange for your pledge as part of the cancer challenge. Code expires 10/31/23.
---
Weekend Feature – Creations by Courtney
Courtney has been a part of the challenge for many years. She always comes up with a fun and stylish hat that shows her style. I love this years bucket hat, it looks so soft and is a great sun shield as well on those sunny cool fall days. I love this quote from Courtney's post:
"Remember that crochet can be more than a hobby – it can be a powerful tool for awareness and activism."
Code is good for a free download in exchange for your pledge through 10/18/23.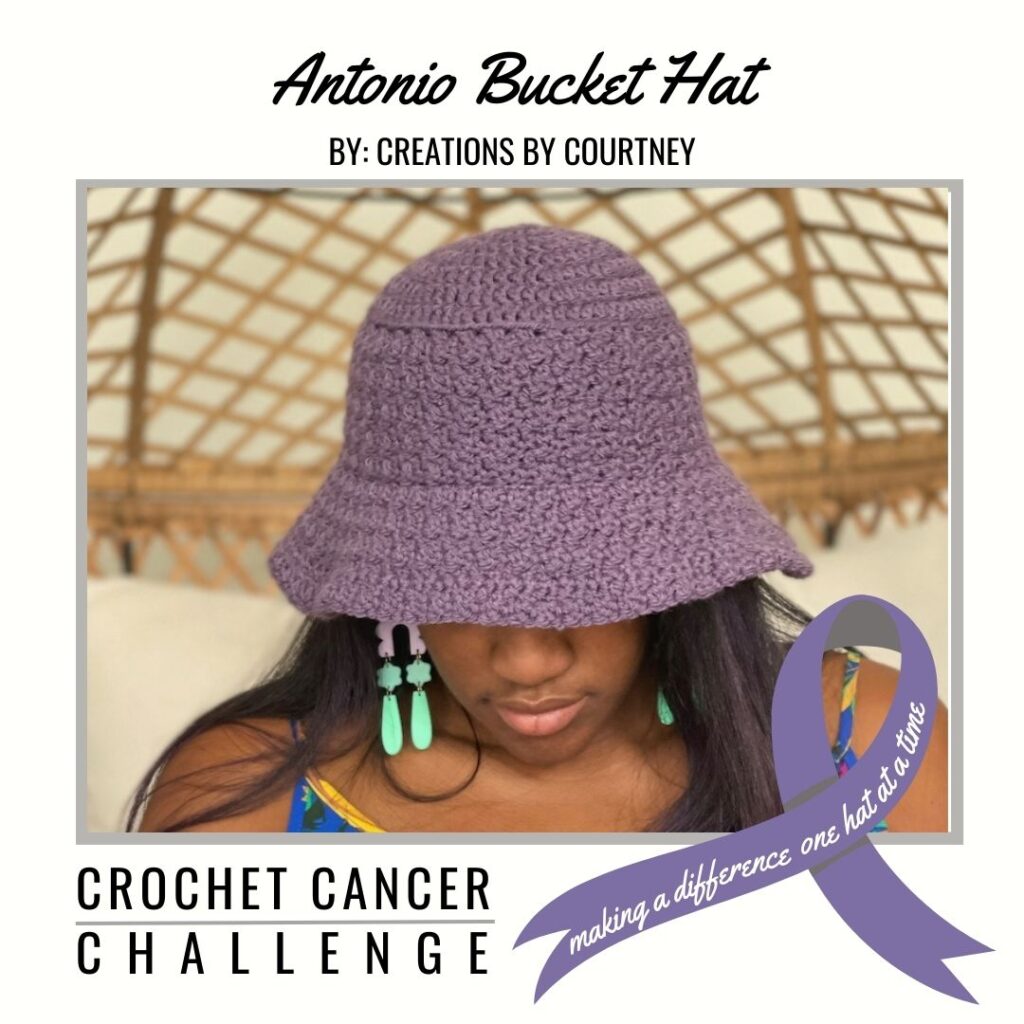 ---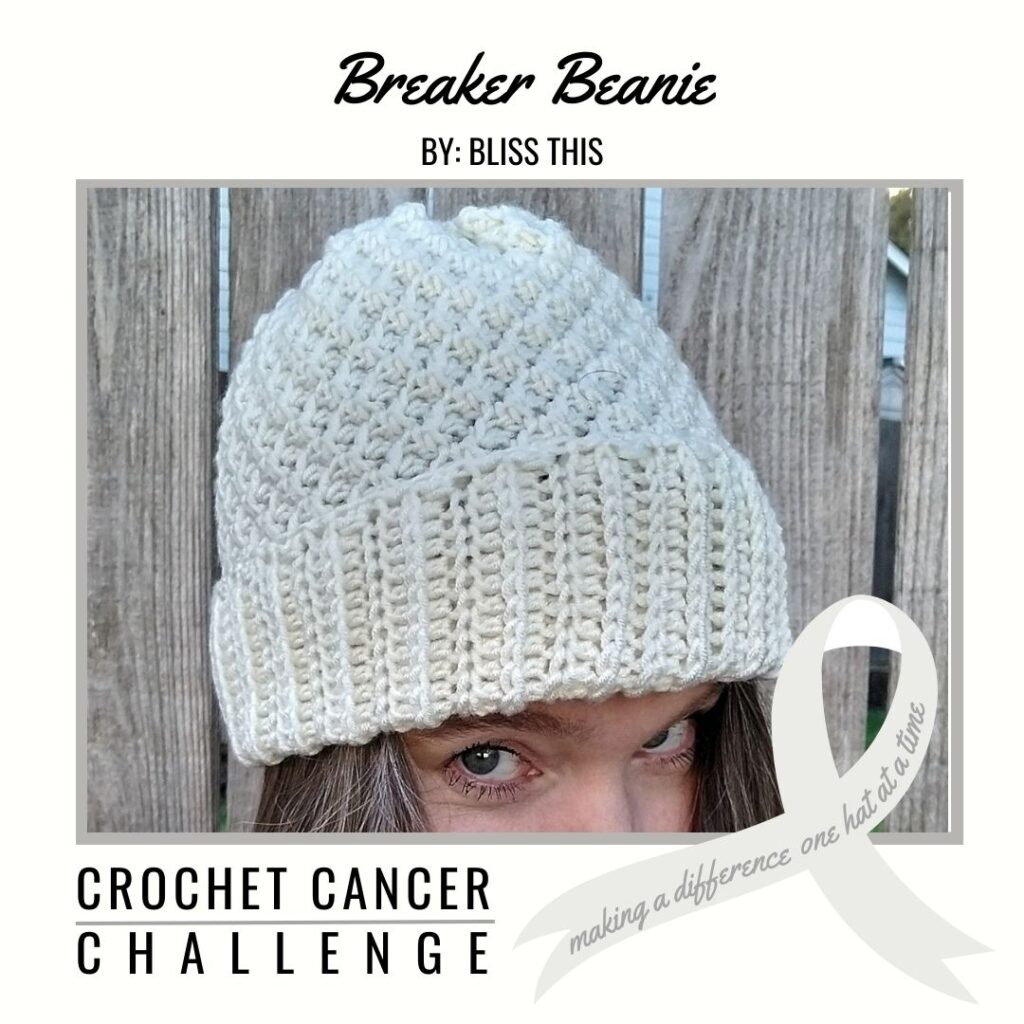 Oct 16 – Bliss This
Oh how pretty! Check out today's feature by Amber from Bliss This. The Breaker Beanie crochet hat pattern made in white to help bring awareness to Lung Cancer.
This lovely hat pattern is available as a free download in exchange for your pledge in the Cancer Challenge. Code expires: 10/31/23
---
Oct 17 – Sunflower Cottage Crochet
So many designs that year that stand out and this one is right up there. The Gentle Kisses Beanie has a rich texture and looks so cozy and warm.
The hat pattern is unisex, worked from the popular top down fashion and has sizing for everyone.
Code is valid all month, expires 10/31/23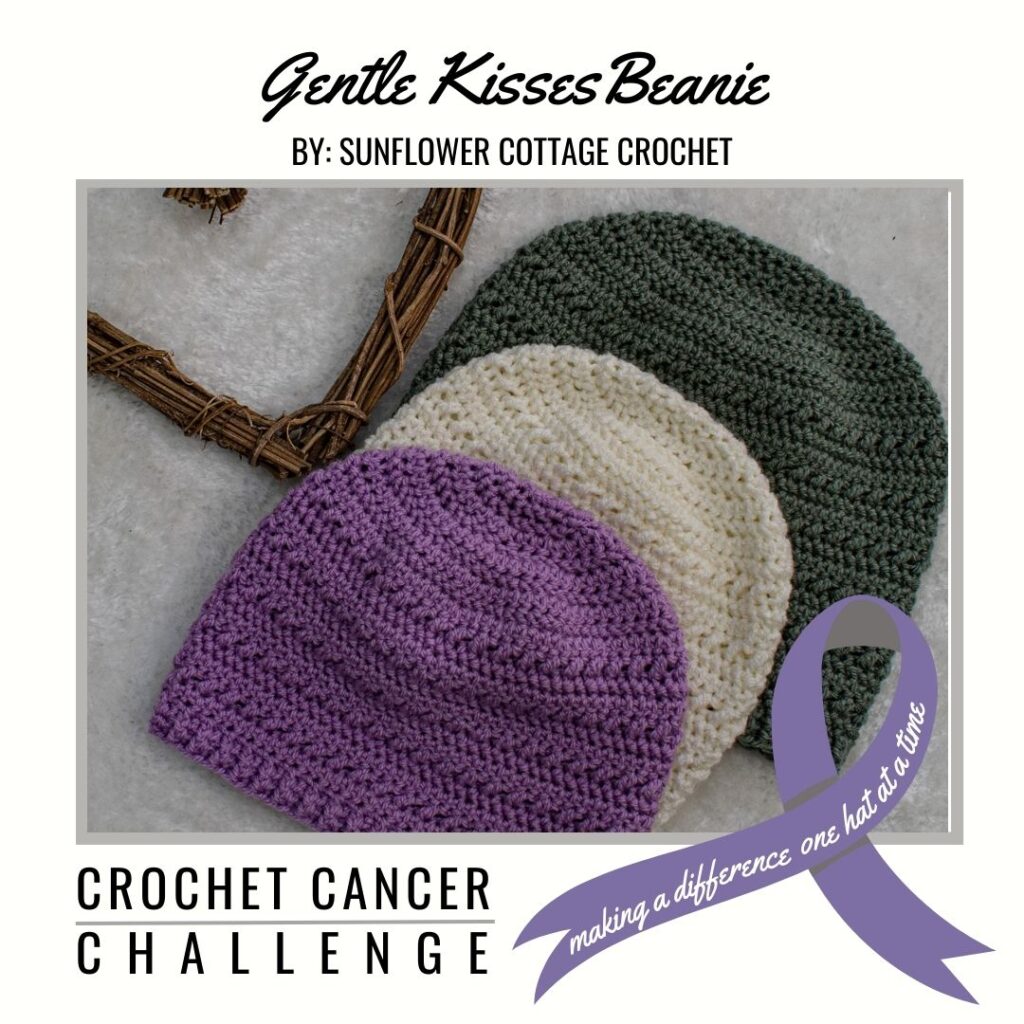 ---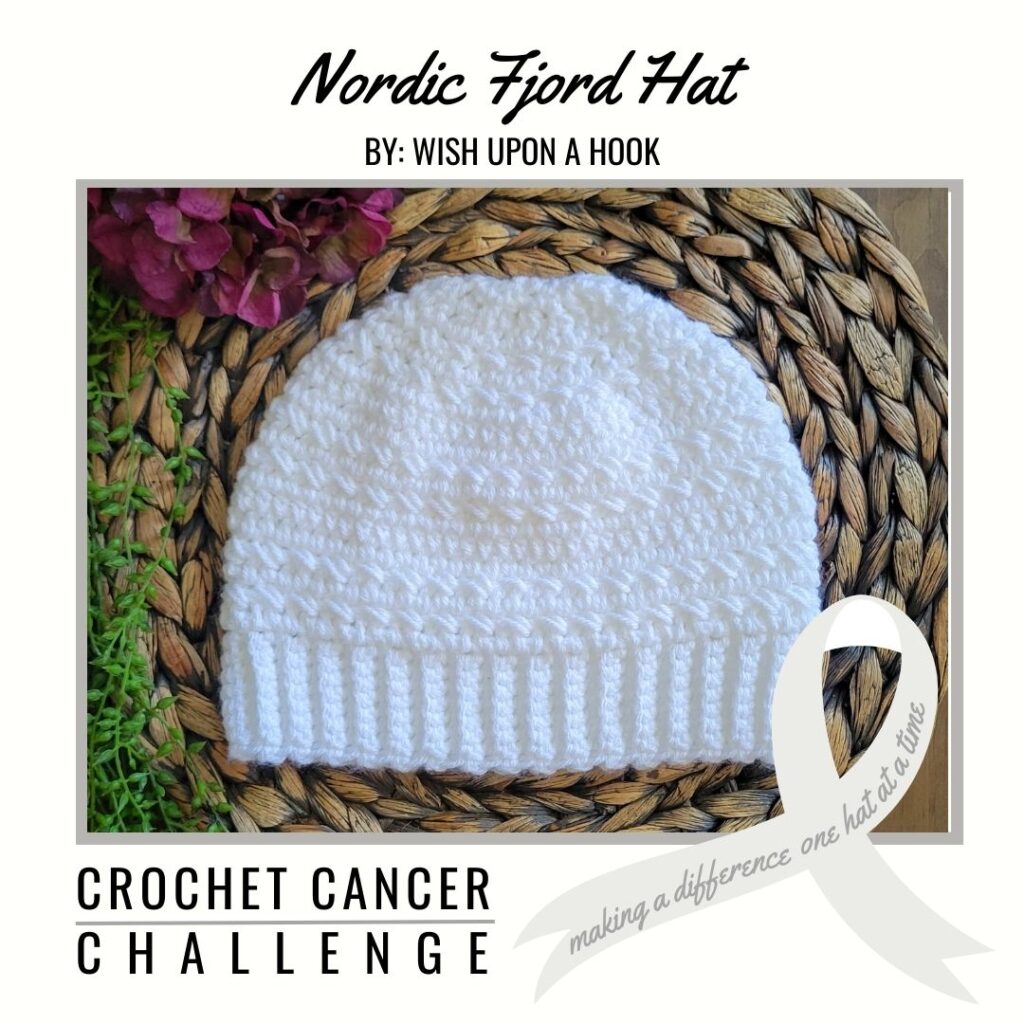 oct 18 – Wish Upon A Hook
The Nordic Fjord Beanie comes to you in three sizes of warmth and texture to keep your noggin cozy all chilly season long. Using non-traditional stitch placements and some cross-stitch texture you'll truly enjoy creating this beanie a time or two or even more.
Code is good through 10/21/23.
---
oct 19 – Underground Crafter
The Slouchy Style of the Tri-Color Hat is our only slouchy design this year and I am so in LOVE with it. Marie has offered a design every year since the start of the Crochet Cancer Challenge and this years is amazing. Thanks for your continued support year and year!
Coupon code good through 10/31/23.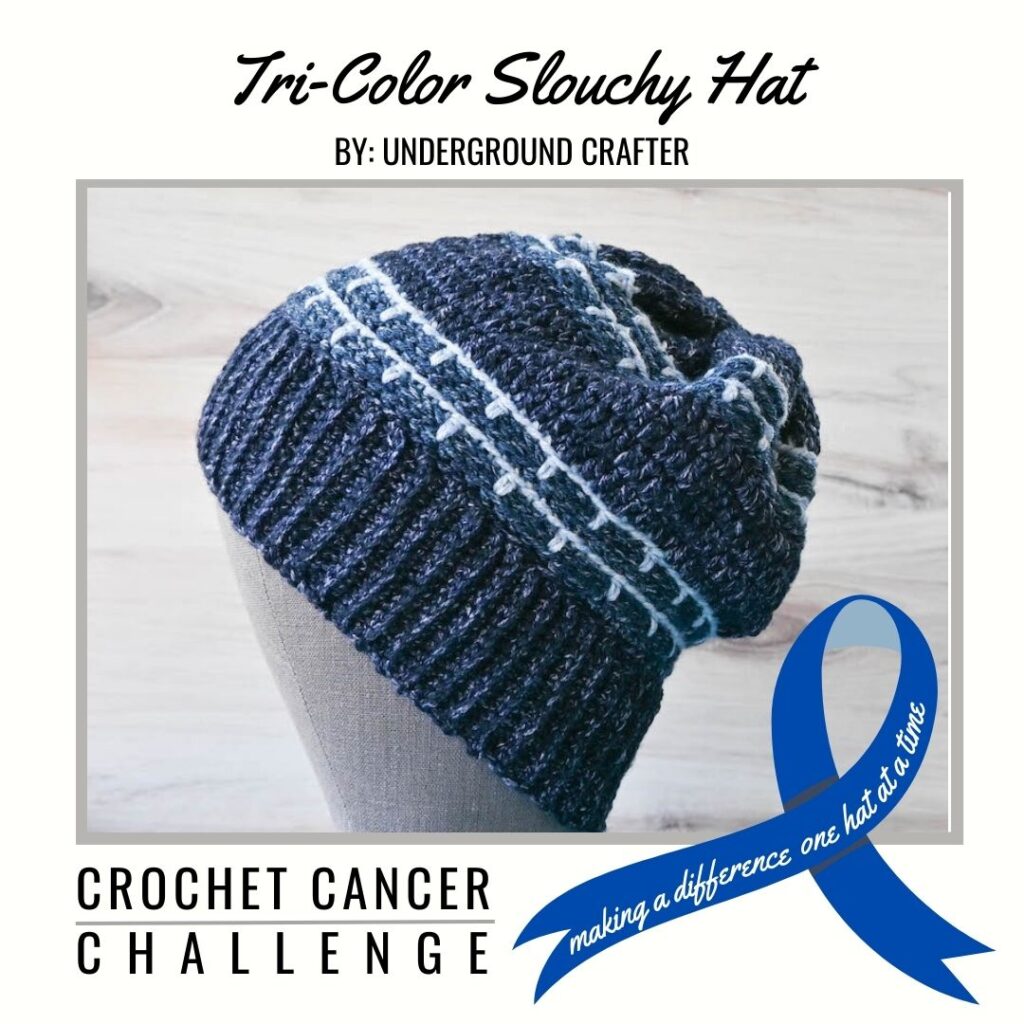 ---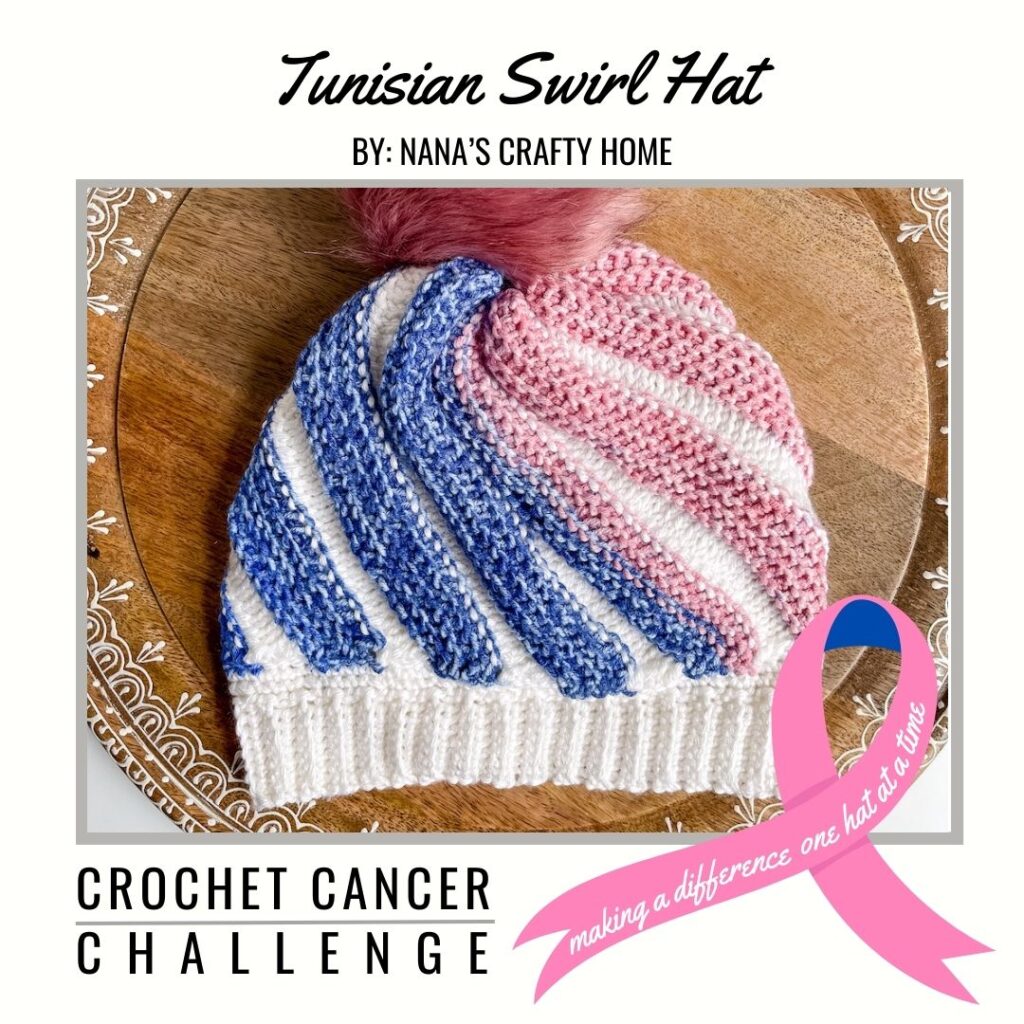 Oct 20 – Nana's Crafty Home
A fun and clever hat is being featured today called the Tunisian Swirl Hat! That's right, this one is a Tunisian crochet pattern. It's fun to be able to offer a new technique with this hat.
If you are not familiar with Tunisian, go back and make another one that you missed or your favorite one you've made this year.
Code is good through 10/20/23.
---
Weekend Feature – Blackstone Designs
Another amazing designer who has participated in the Crochet Cancer Challenge since it started. Sonya says this about her design this year:
"The Crochet Awareness Cap is a customizable hat that can be worn as a chemo cap, to support someone you love that's battling an illness, or to show support for an important cause!"
Code Expires : 10/31/23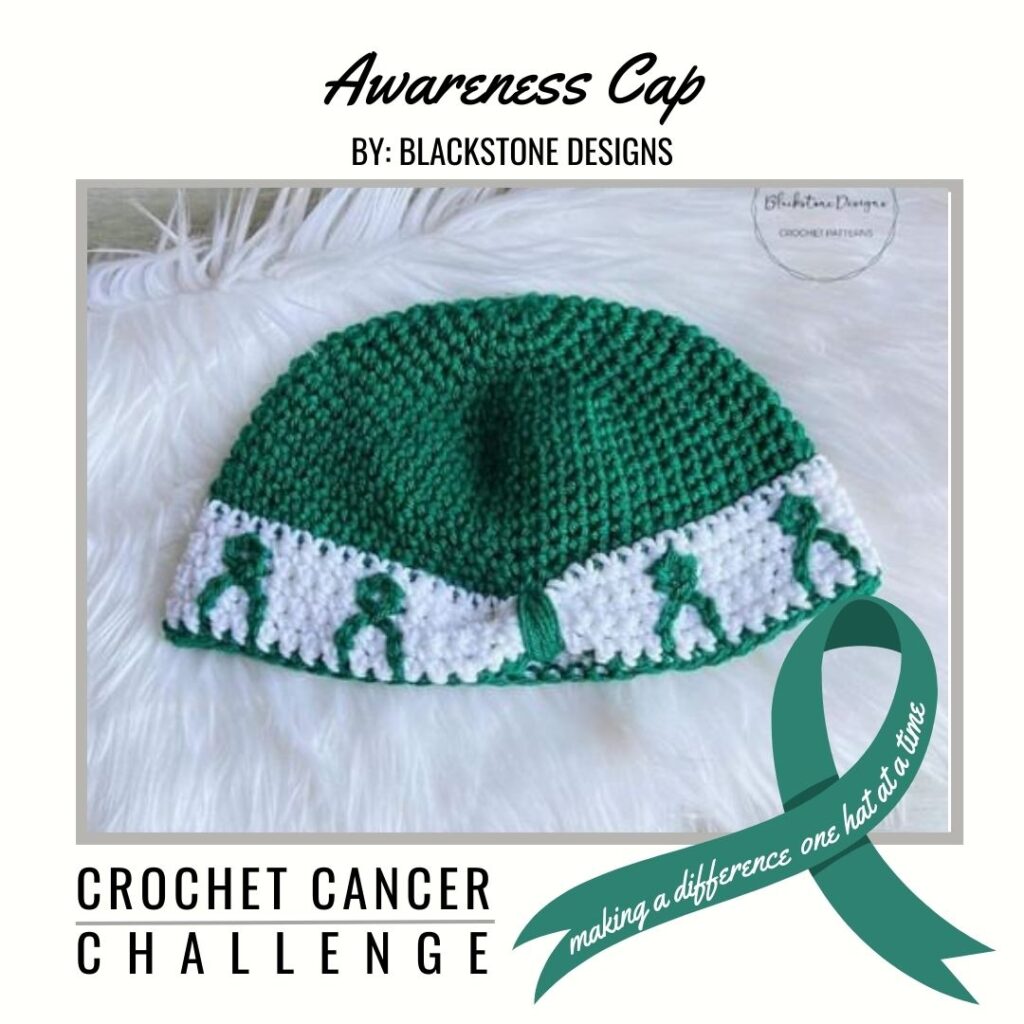 ---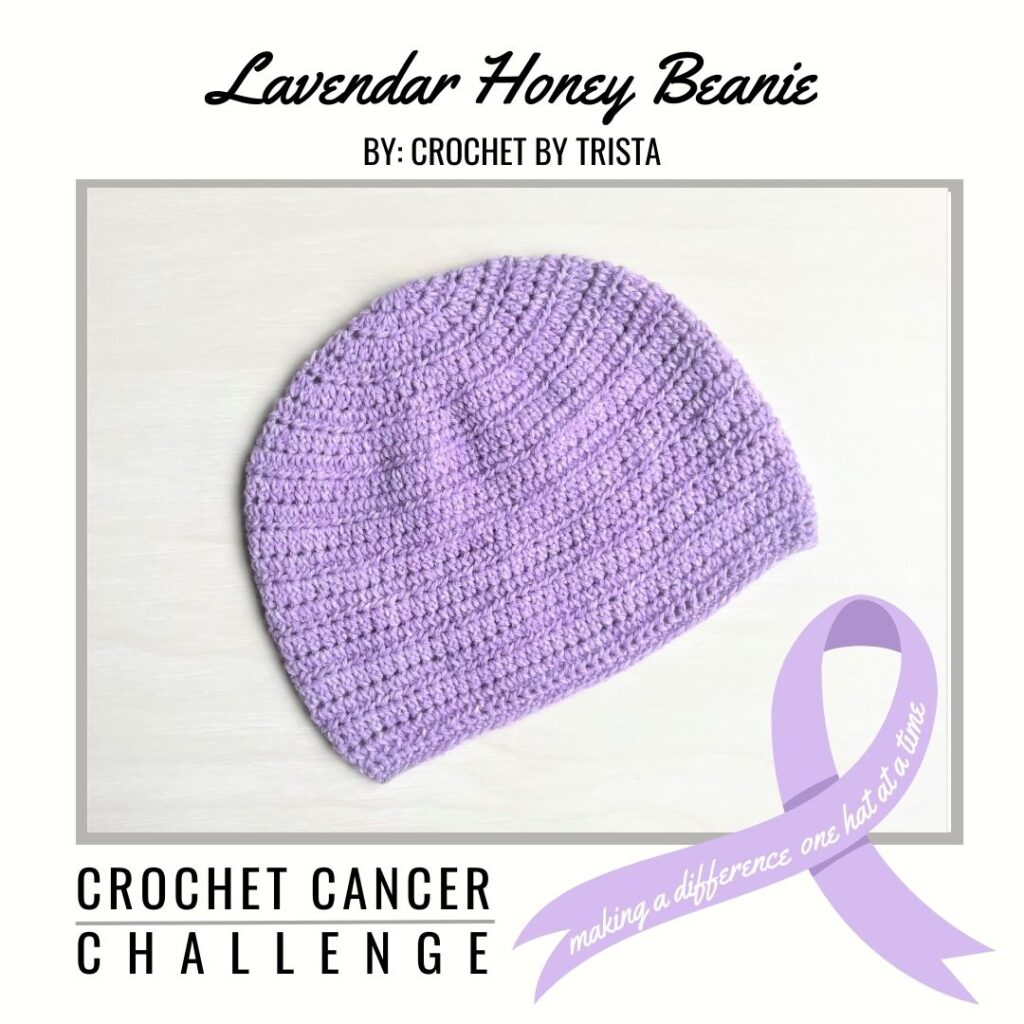 Weekend Feature – Crochet by Trista
The Lavendar Honey beanie is such a cute make. If you haven't tried crocheting the Extended Double Crochet stitch, this is a must make. You'll quickly fall in love with it.
Grab your copy in exchange for your pledge to make and donate a hat!
Code Expires: 10/31/23
---
Oct 23 – Simply Melanie Jane
I love how Melanie express the idea behind the challenge in her blog post:
"In the world of crochet, there's something uniquely gratifying about creating a cozy accessory that not only keeps you warm but also warms the hearts of those in need. I'm excited to share a project that combines the joy of crafting with the spirit of giving back."
Code Expires at the end of the month: 10/31/23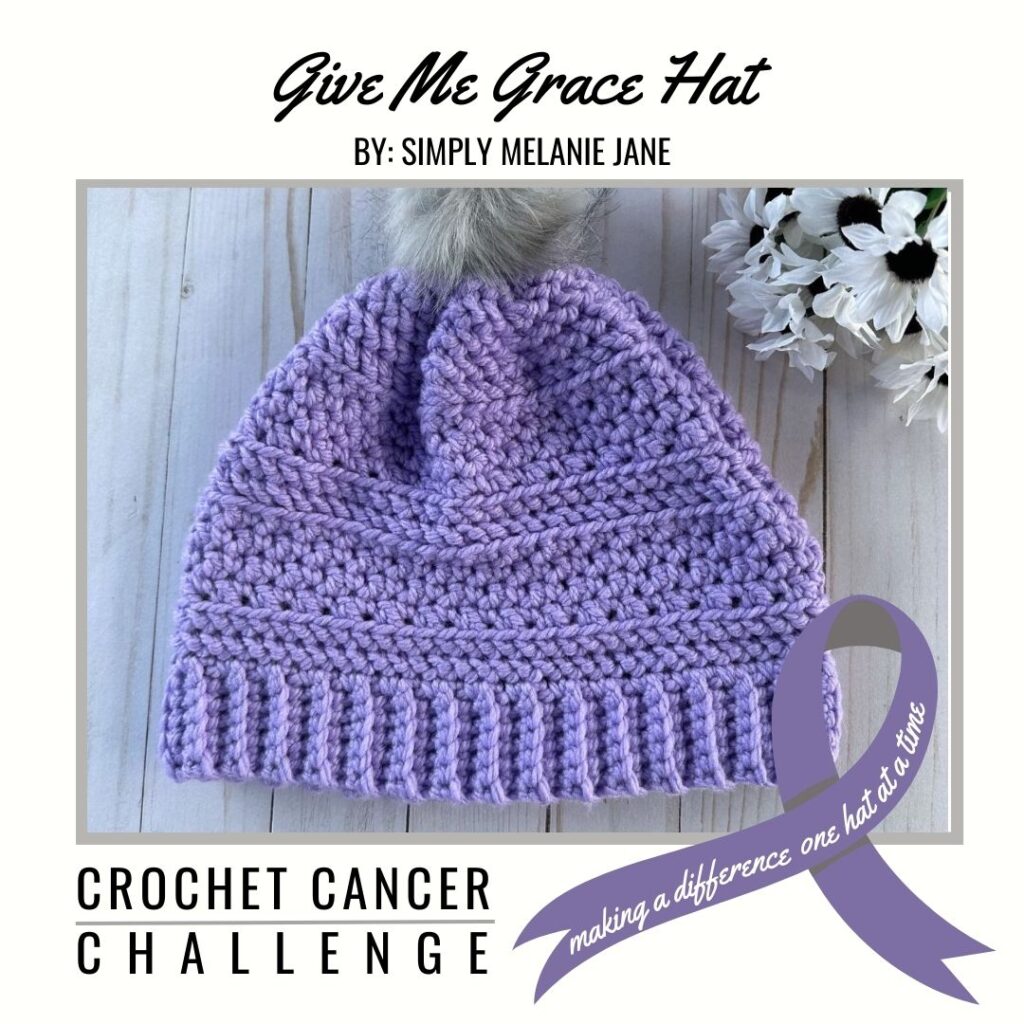 ---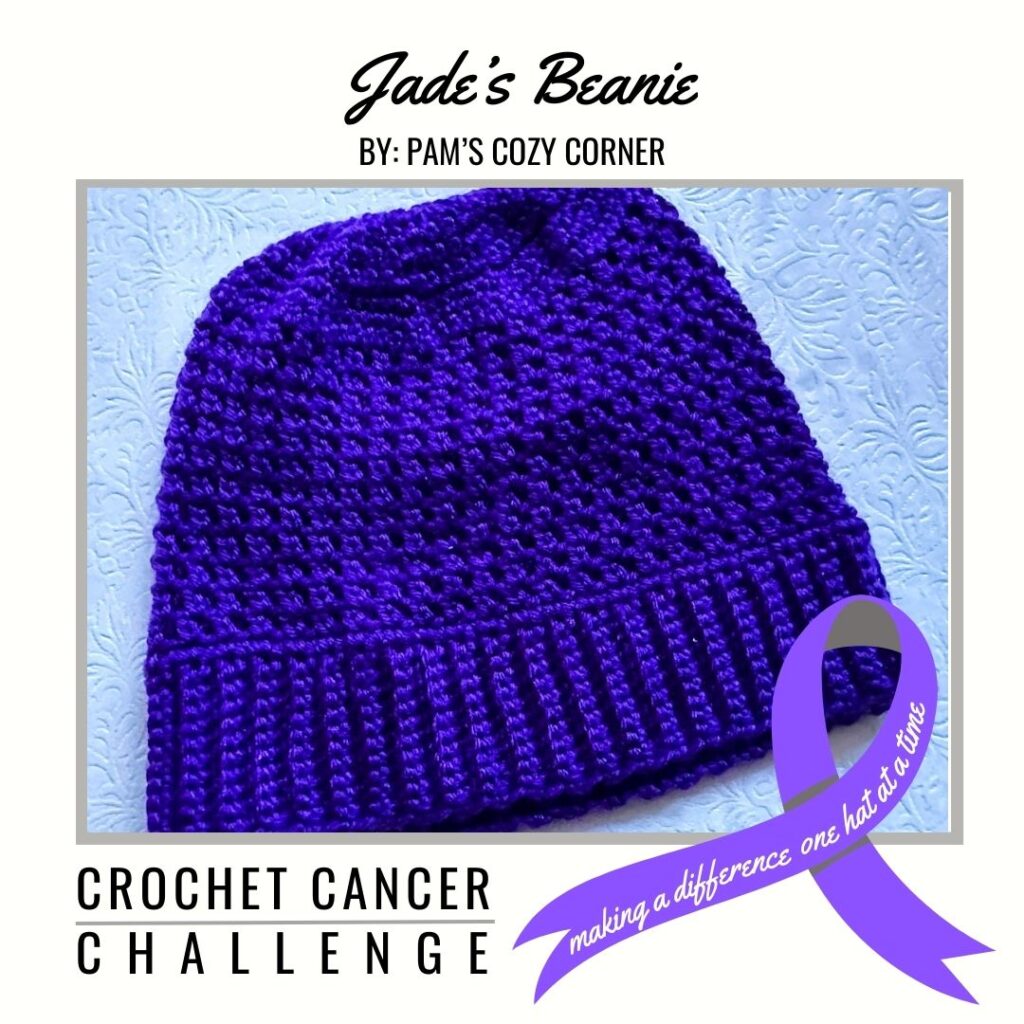 Oct 24 – Pam's Cozy Corner
I truly hope you all take the time to read the blog posts of each designer. The stories behind these designs are personal and meaningful. Here is a quick snippet from Pam:
This project is close to my heart, and it's all in memory of a beloved church member who fought a brave battle against pancreatic.
Code Expires 10/31/23
---
Oct 25 – Marsha Yarn Doodles
I love this unique Papa Fedora hat designed by Marsha Yarn Doodle. Made in purple to help raise awareness of pancreatic cancer, this is what Marsha said about her design:
"This year's design is in memory of my dear father-in-law, who passed away from Pancreatic Cancer in 2020."
Code Expires: 10/31/23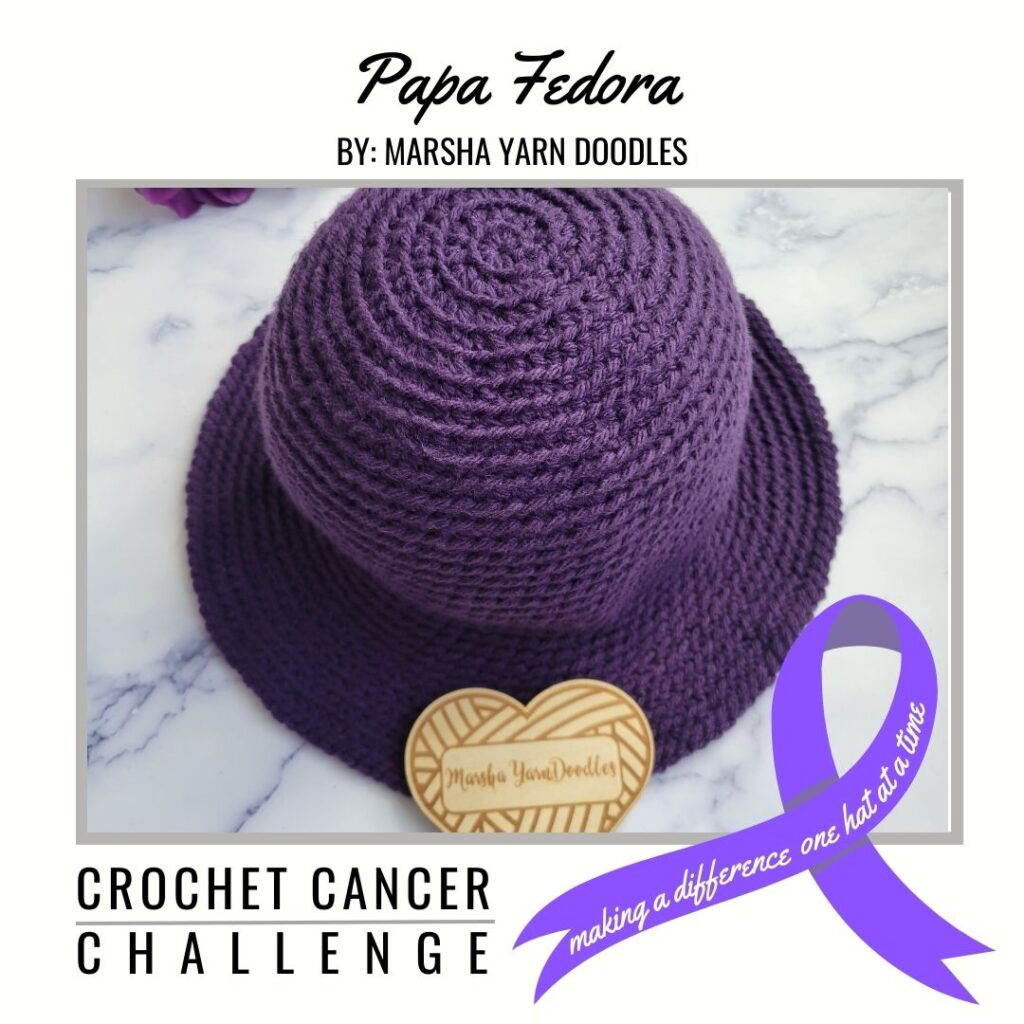 ---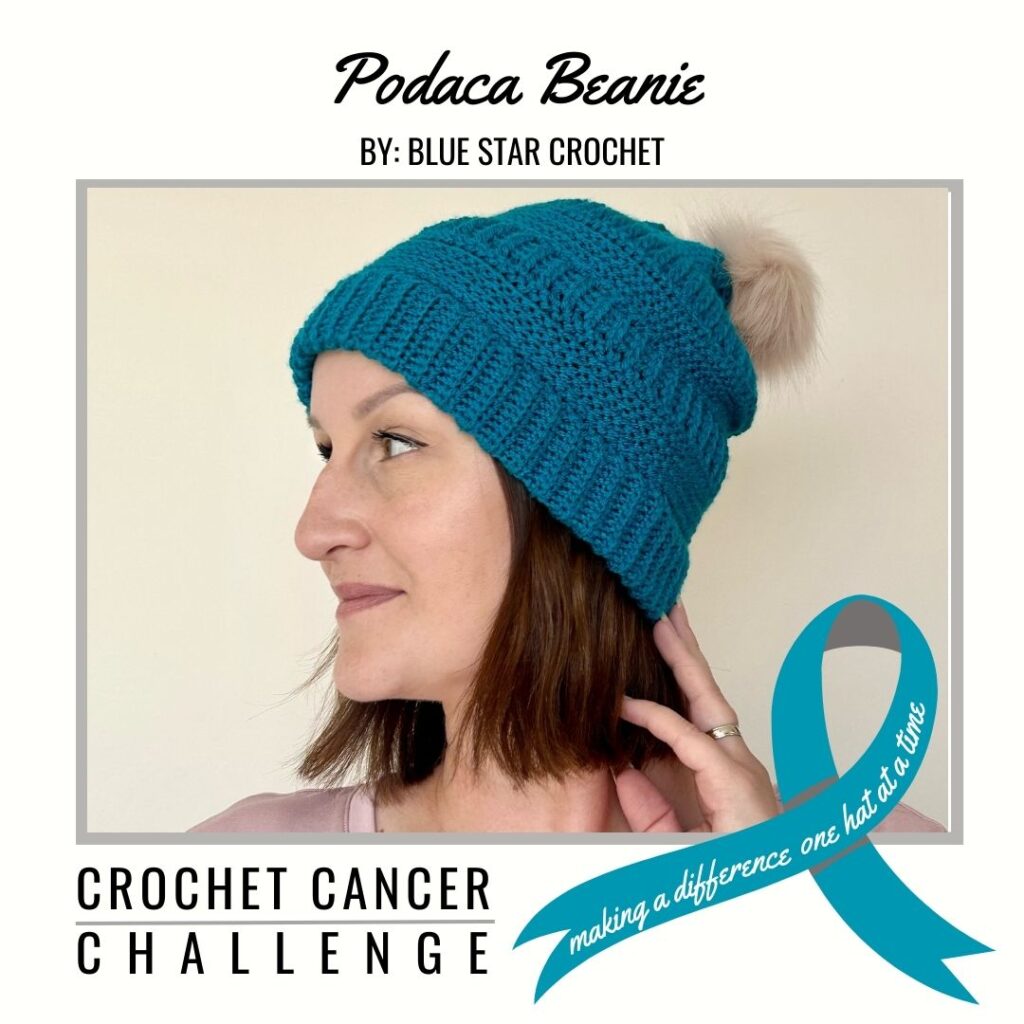 Oct 26 – Blue Star Crochet
I've said it before, but one of my favorite things about the challenge is to read why each hat is designed. This year Veronika named her hat after a small village in Croatia that she went on vacation to with her Auntie whom she named her hat afer last year.
Each story is heartwarming and special to the designer. Plus, I really do love the look of this modern Podaca Beanie.
Code Expires: 10/31/23
---
Oct 27 – Madame Stitch
If you love the granny stitch you are going to love today's design. This is a perfect option for those that live in warmer climates, or even for summer and spring donations.
"The Miriam beanie, a beautiful crochet creation, is more than just a piece of handmade accessory. It represents hope, warmth, and love for those in the midst of a challenging battle against cancer."
Code Expires: 10/31/23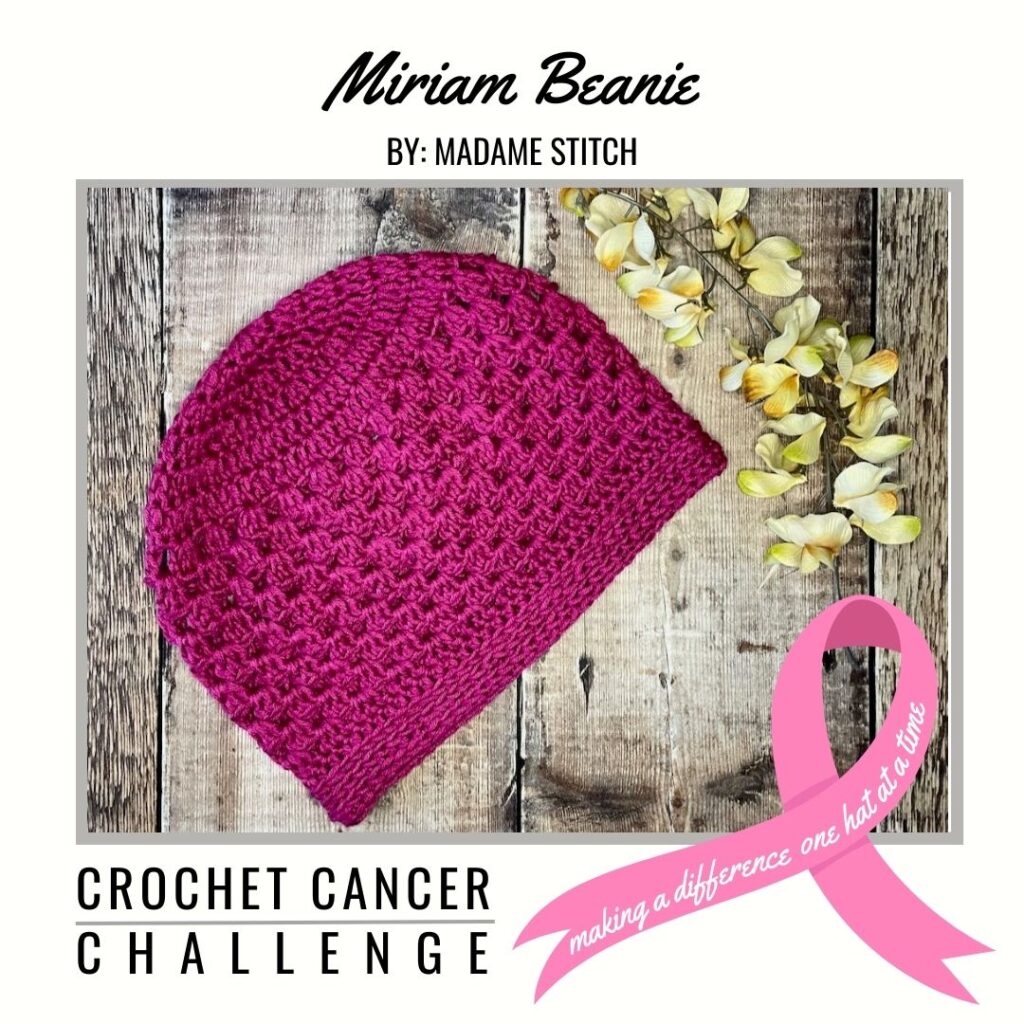 ---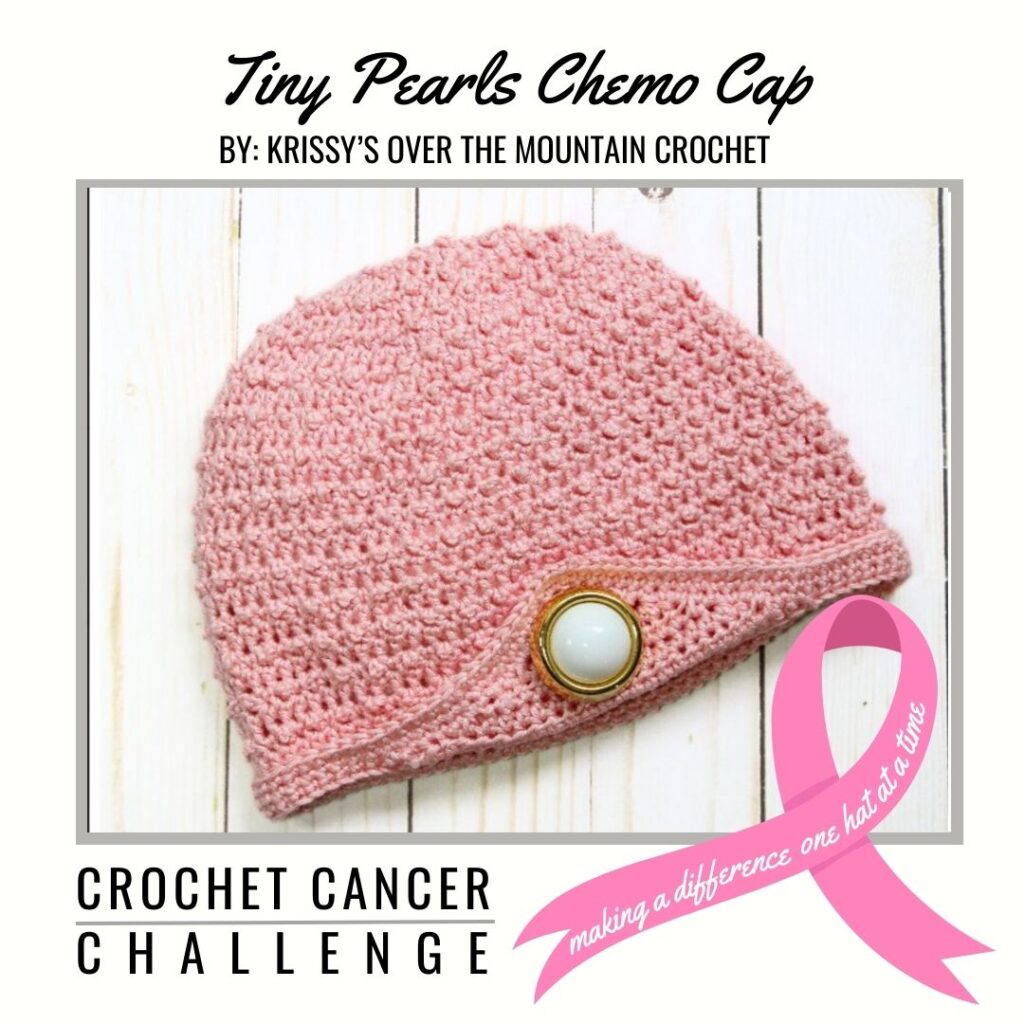 Weekend Feature #1 – Krissy's Over the mountain crochet
"When a loved one is facing the challenging journey of cancer, a handmade gesture can provide comfort, warmth, and a tangible reminder that they are not alone.
The Tiny Pink Pearls Chemo Cap is a crochet pattern that embodies all of this and more. In this blog post, we'll explore the significance of this cap and how it can make a world of difference for those battling cancer."
Code Expires: 10/31/23
---
Weekend Feature #2 – Octavia Beanie
This year Alexandrea made her hat in a dark purple in honor of Leiomyosarcoma, which is a cancer I am unfamiliar with so I was happy to read her blog post to learn about it:
"This year, I've chosen the color dark purple for Leiomyosarcoma in honor of my late high school principal, Dr. Mitchell…
…Leiomyosarcoma, or LMS, is a rare type of cancer that grows in the smooth muscles, which are found in the hollow organs of the body, like the stomach, bladder, intestines, etc."
Code Expires: 10/31/23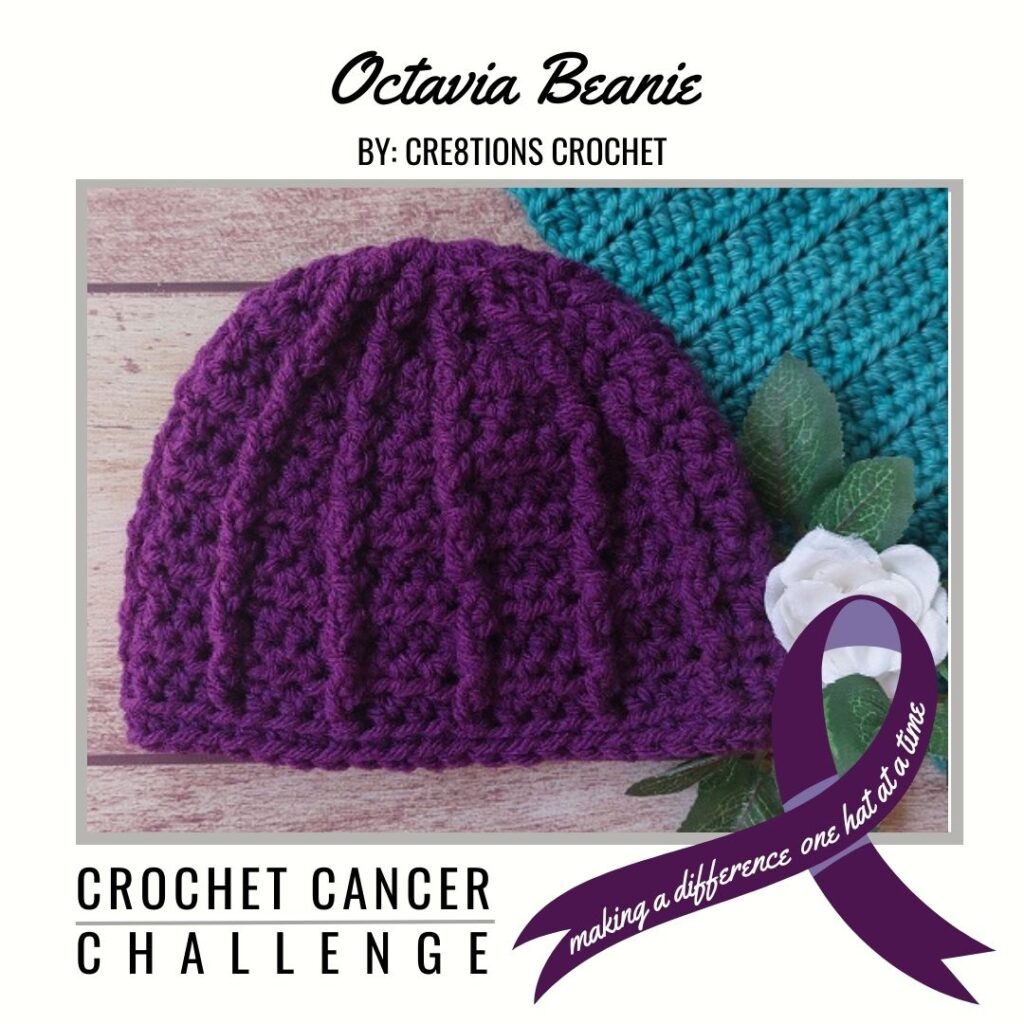 ---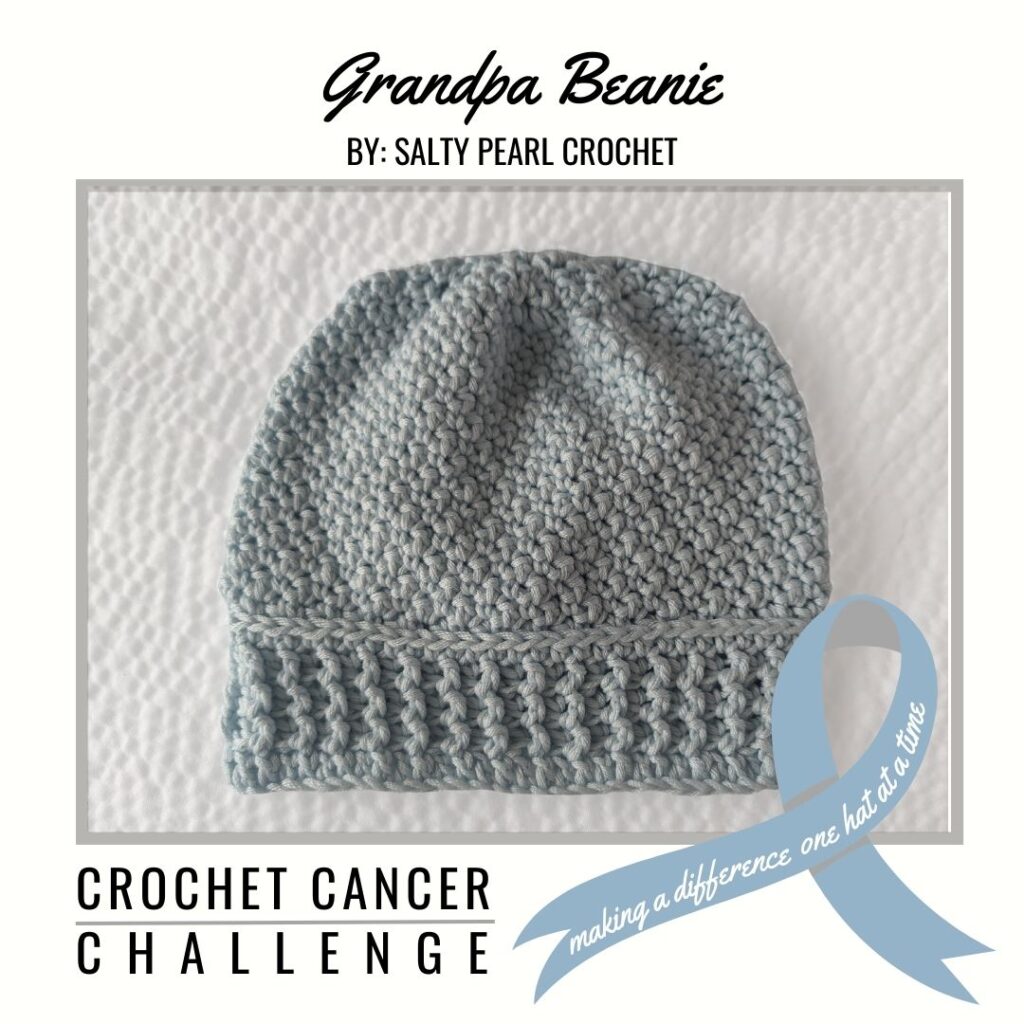 Oct 30 – Salty Pearl Crochet
Katy has had a very crazy year with multiple moves, school changes and family health issues. So, I was very honored when she made the Crochet Cancer Challenge a Priority.
"Both our grandfathers have had hospital stays this year, so I knew I wanted to dedicate my hat to a men's health issue- so I've made my chemo cap in light blue, for prostate cancer."
Code Expires: Nov 6
---
Oct 31 – Two Brothers Blankets
Michelle is another designer who has participated in the challenge since the beginning. Here is what she has to say about this years design:
"It is a simple, no frills beanie and it reminds me of one my late grandfather used to wear. I named it Pop's Beanie in memory of him."
Code expires: 11/7/23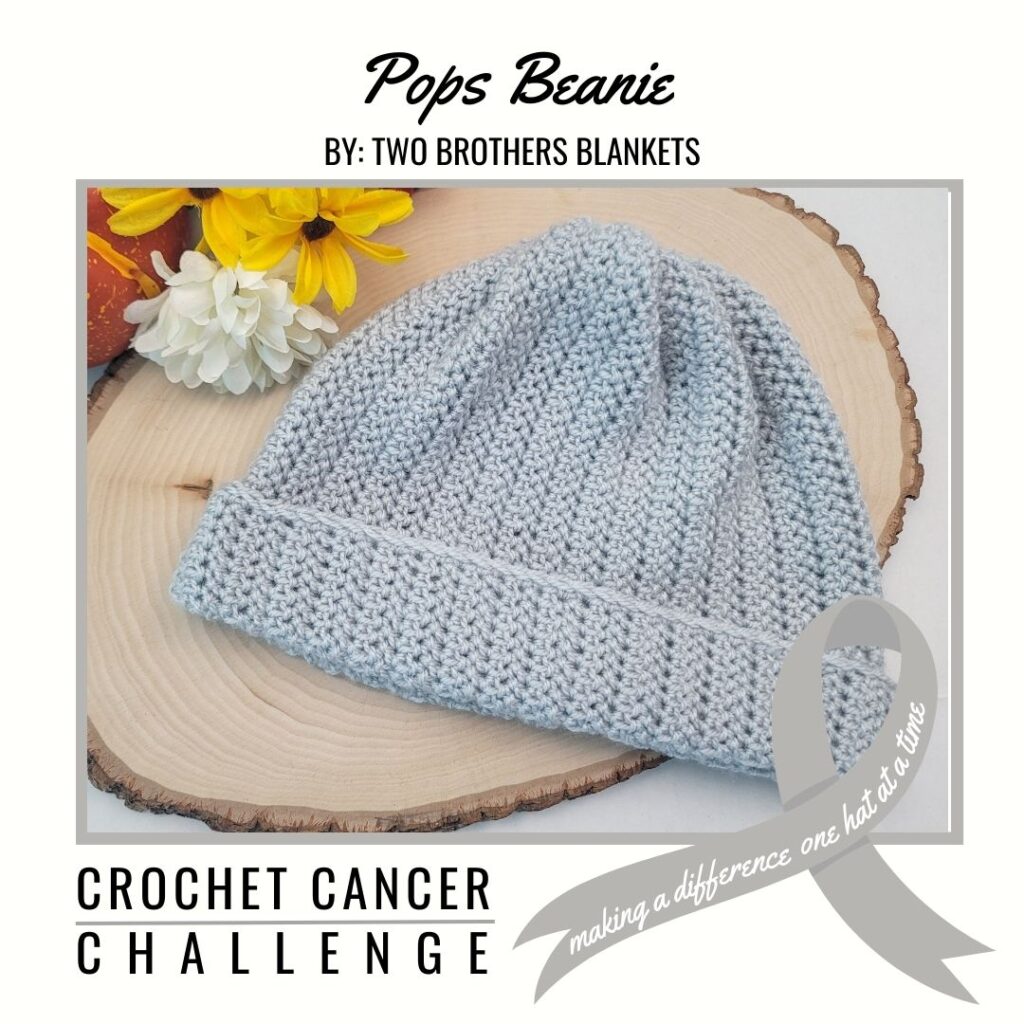 ---
Other Helpful Links
Many of you have participated in past years and kind of know the routine. However, if this is your first year, or if you just have a few questions about donations, yarn, etc-that's okay. Check out the resources below: