As I was sitting down to design my hat for the 10th Annual Crochet Cancer Challenge, I reflected on all the people I have designed hats in honor of. Each design has had a special meaning to it and this year I want to honor everyone who helps those battling cancer.
It takes a village to get through our lives with sane minds. Our community is who holds us up when we are weak, who helps our family and loved ones when we are unable to. The doctors, nurses and I wanted to honor them. I designed the helping hands beanie just for them.
Jimmy Beans Support
Designing a hat is fun but finding the right yarn and colors can be a huge challenge. I reached out to Jimmy Beans Wool Company and asked if they would like to sponsor my design this year. They said they don't typically give out yarn for stuff like this but once they heard about the challenge, they shipped me this gorgeous Superwash Merino by Cascade yarns.
Jimmy Beans was so supportive, I want to give them a huge shout out and say Thank You! The yarn is extremely soft, lovely to work with and the colors are vibrant. I would highly recommend this yarn and will definitely support Jimmy Beans for my future yarn needs.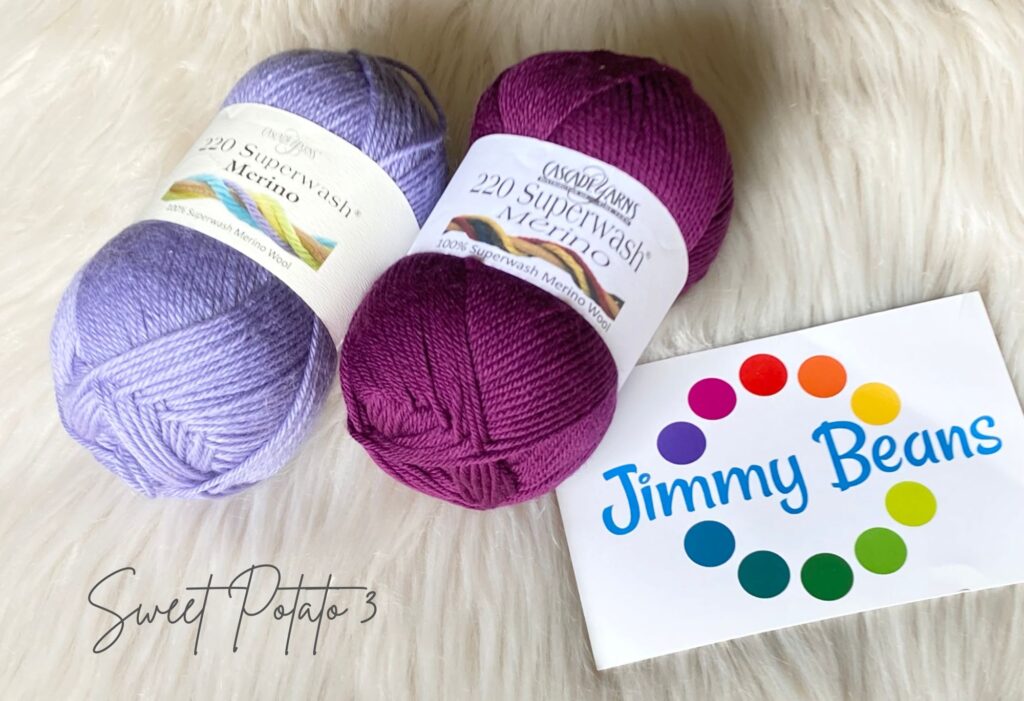 If you would like to try this yarn, please check it out through the button link below:
The Helping Hands Beanie Design
Through the years of hosting the Crochet Cancer Challenge, I have learned that the most popular hat designs typically are made from the top down. Therefore, my design is crocheted from the top down, just like you all love!
But, I had to throw in a unique way to work the stitches to create a gorgeous texture… what do you thing about this?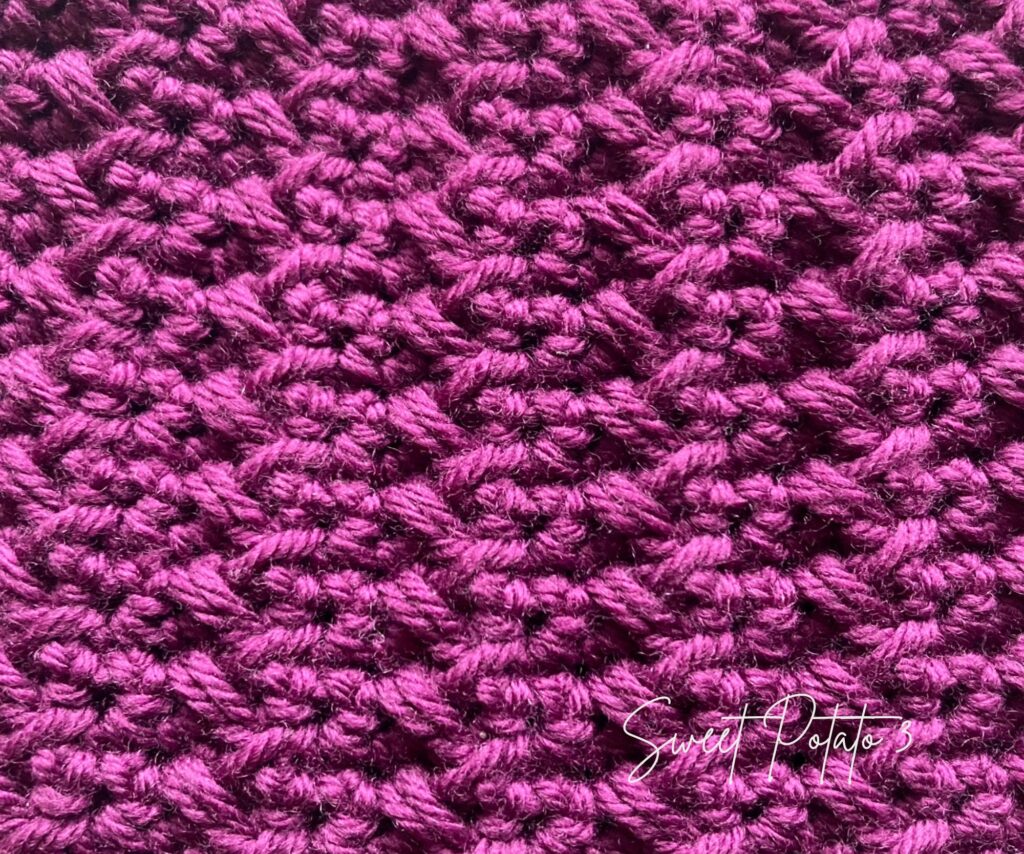 I love the look of this stitch combination. Crocheting the stitches is almost mesmerizing but learning it might be a little tricky. I do have a photo tutorial in the pattern but for those that are more visual learners, I created a YouTube video tutorial to make it even easier.
I hope the stitch tutorial helps in your making of many Helping Hands hats. Upon making two hats I had a little bit of both colors of yarn left so I decided to make a striped hat using up my left-over yarn. Only to my surprise, the color changes added so much character to the hat.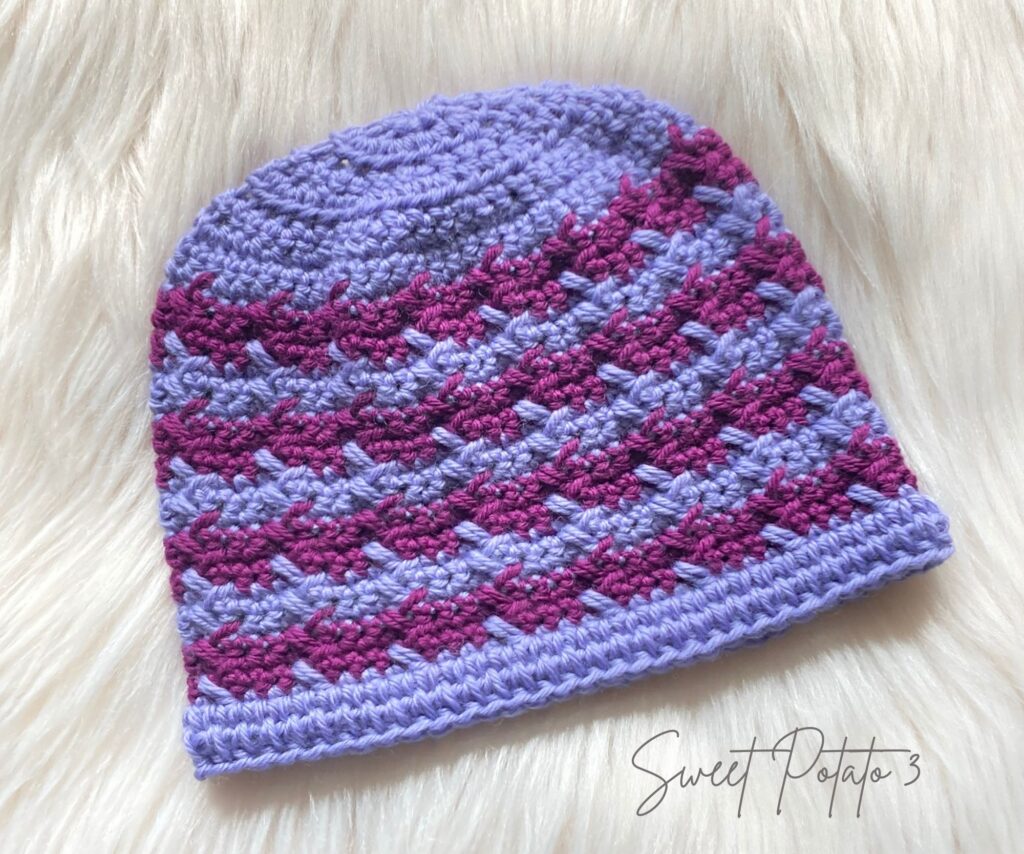 In the striped sample hat above, I opted to change the yarn color every 3 rows.
---
Materials for the Helping Hands Beanie
Crochet Hook size K (6.50 mm)
180-220 yards of a light worsted weight (#4) or a DK weight yarn. The sample is made using Cascade yarns Superwash Merino that you can purchase by clicking HERE. The darker hat color is called "dark berry" and the lighter hat is made in the color, "lavender heather".
Stitch Marker
Measuring Tape
Scissors
Yarn Needle
The crochet pattern includes three different sizes. One size is for children, the next size is for youth and most ladies while the last size is for adults and men.
Get the Helping Hands Beanie pattern
You can find the Helping Hands Beanie crochet pattern in my shops that are linked below:
The Helping Hands crochet hat pattern was featured in the 2022 Crochet Cancer Challenge. This is an annual event encouraging crocheters to make chemo hats and donate them to their local cancer centers. To find out more information about the challenge click the link below and mark your calendar for next October and follow along.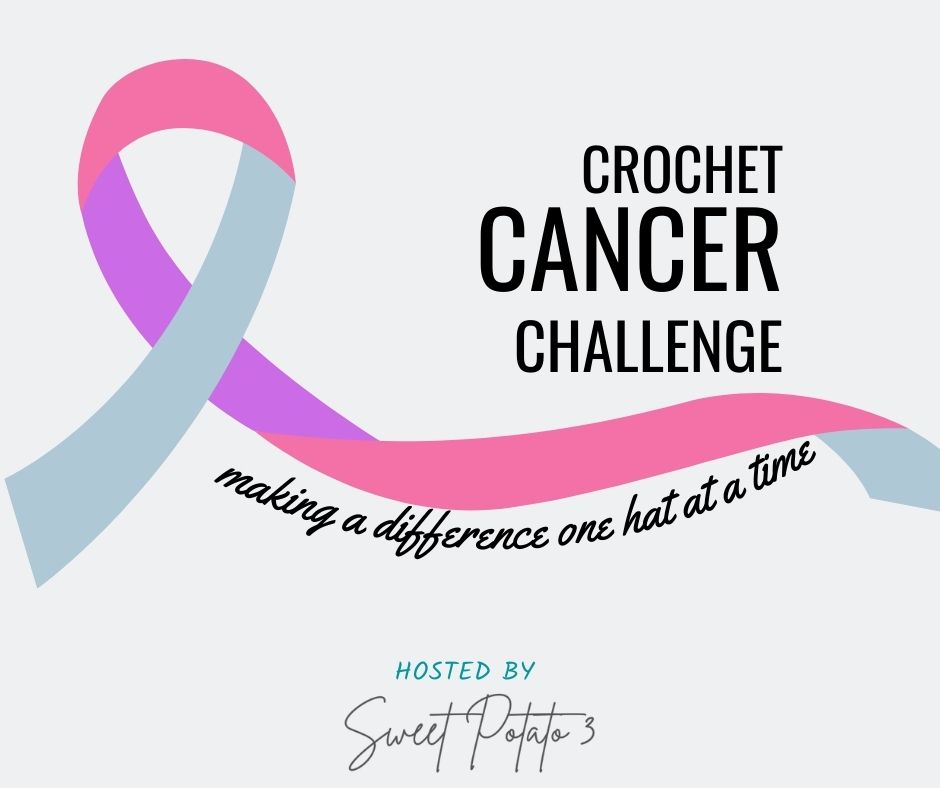 ---
Hat Patterns from previous crochet cancer challenges:
More Crochet Fun
Follow Sweet Potato 3 on Facebook to see more pattern releases, sales and crochet fun, just click HERE.
However, if you would enjoy a more interactive group experience, you need to join my Crochet & Conversations Facebook group, click HERE. It is a ton of fun and I encourage everyone to share their projects, WIPS (works in progress) and inspirations. Plus, you get exclusive deals, are the first to see new releases, give input on designs and have opportunities to win patterns. Join now and get to know others who also enjoy the art of crochet.