I moved about 18 months ago and am fortunate to have a home office. Others might have it easier with access to modular office trailers, especially if they need to partake in remote work every now and then. However, my little office area is enough for me and is predominantly going to be used for storage purposes. Having a designated space to keep all my books, supplies, office materials, and more has been amazing. But, it wasn't a "fun place to go".
The office is designed with ample storage, which I would never complain about, but with those cabinets there is not much room to decorate. As much as I would have loved to have been able to decorate with hilarious please don't do coke in the bathroom wall art or some other fun decorations, I simply didn't have space. It was hard to even fit a standard painting there without taking up some of the precious desk space. So, I had to put on my thinking cap to come up with a simple and fun way to add some fun decor that will make my time doing "book work" a little more fun. A home office idea that I often come across is building a shed in the backyard that can serve as a separate space where you can go and work by yourself without anyone disturbing your flow. Since I already have a great home office (with a little less space, but that is okay), I don't think I will be exploring that option anytime soon. But for those of you who want a space to just do your thing, then consider getting a shed like that from somewhere similar to Modern Shed. And the best part is, you can make it as big or small as you want, which means, more decor space!!
Considerations in the decor
The workspace is great to have with a large countertop to spread out my paperwork and get organized. However, it isn't very deep, so I needed to make sure whatever I added was not going to stick out from the wall very much.
Feeling a little clueless on what to do, I turned to Pinterest and found some fun ideas other people had done with their offices such as wall stickers and display yarn from walls to cakes. A yarn wall wasn't really the look I was going for, but who couldn't resist a nice showcase of some of your favorite yarn cakes.
Shopping for Ideas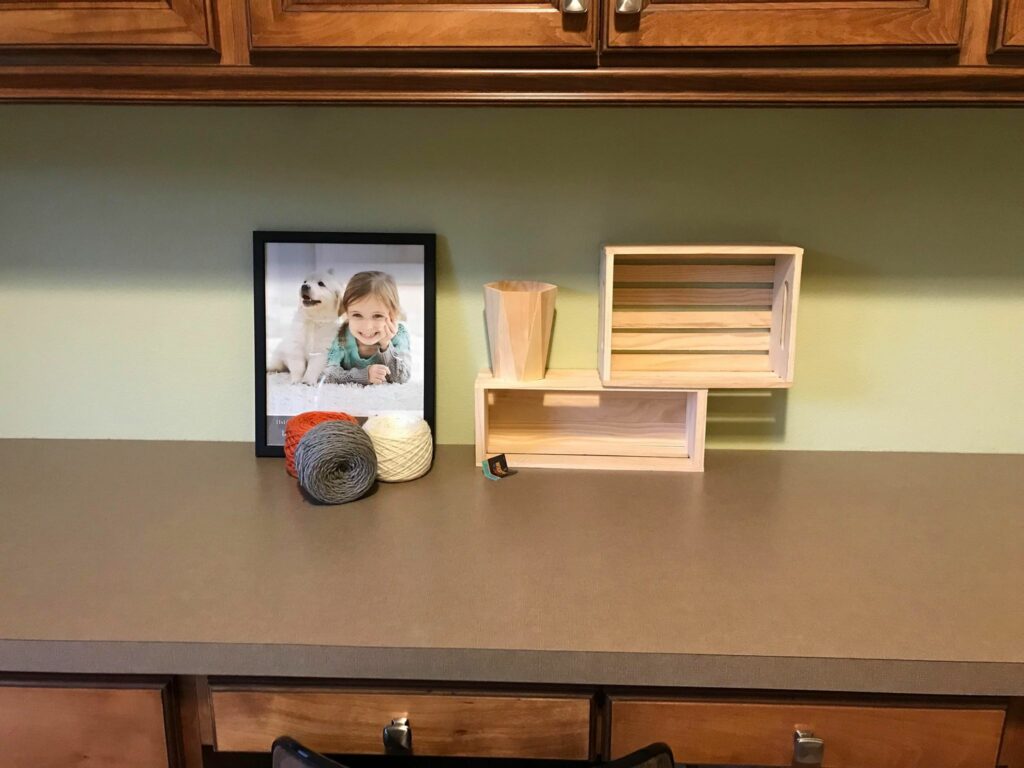 Wooden Crates are always cute no matter what you are using them for. I found a coupe different shaped ones that would be cute to display some yarn in and I had to add the cute wooden vase. You can find similar crates and vases by clicking HERE.
My space is very long and narrow, therefore I needed something larger for one side of the display. After searching high and low I decided to create a unique crochet wall piece, so I grabbed a 11X14 photo frame that you can find on the previous link
Creating The Custom Wall Art
I was in the middle of teaching a class on crocheting from a graph so I decide to create a graph with my logo in it using the program Stitch Fiddle. I was excited to crochet the graph and figure out how to add it to the frame.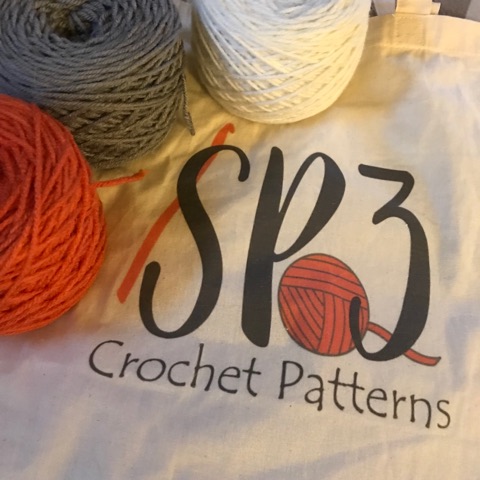 Feeling excited about my custom logo, the challenge was in attaching it to the frame. It was important to have it evenly stretched across the frame. I decided wrapping yarn through each row end and around the entire frame was the way to go.
The even stretch was perfect, but the black frame showing through was NOT the look I was hoping for. After attempting to single crochet around the frame, the edge wasn't very clean, it looked bulky and uneven. I decided to just continue with wrapping the yarn. The corners were a bit tricky so I left a little of the frame showing.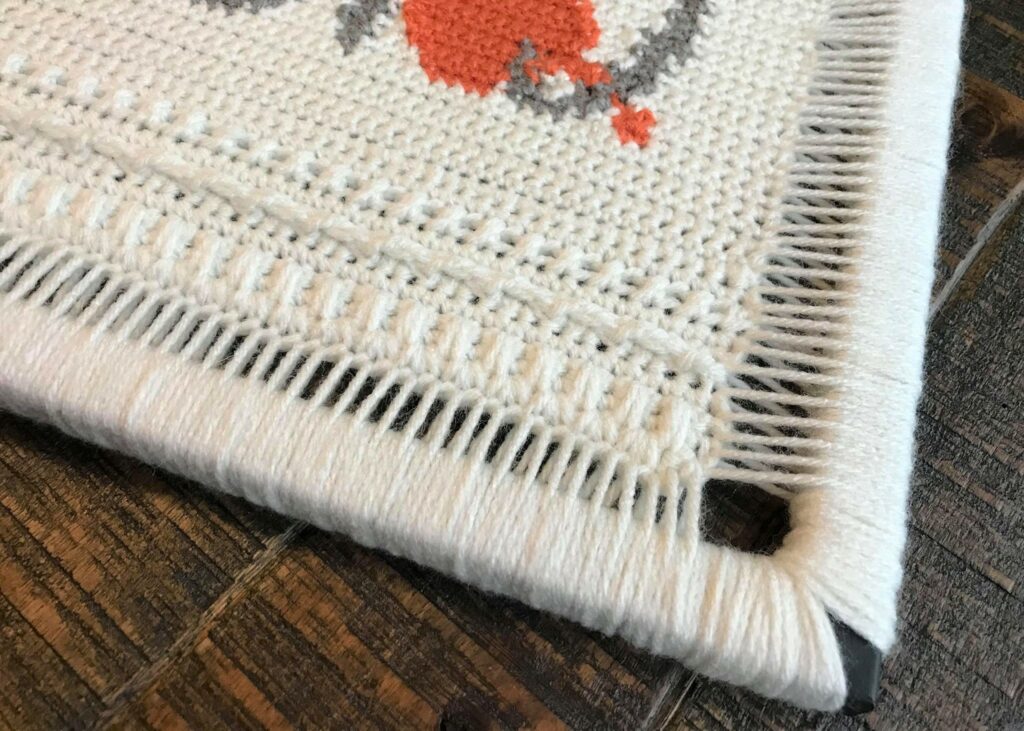 Finishing Touches
With the wall art completed it was time to put it all together. Using command strips (found HERE), the crates were attached to the wall and then filled with some of my favorite yarn remnants that had been wound into little cakes using my yarn winder (found HERE).
Adding my crochet hooks in the wooden vase, they slipped all the way in! I realized it was too deep, never fear, because a touch of greenery was perfect. I happened to have a small wooden clip board that matched perfectly, which turned into an ideal way to add my family photo.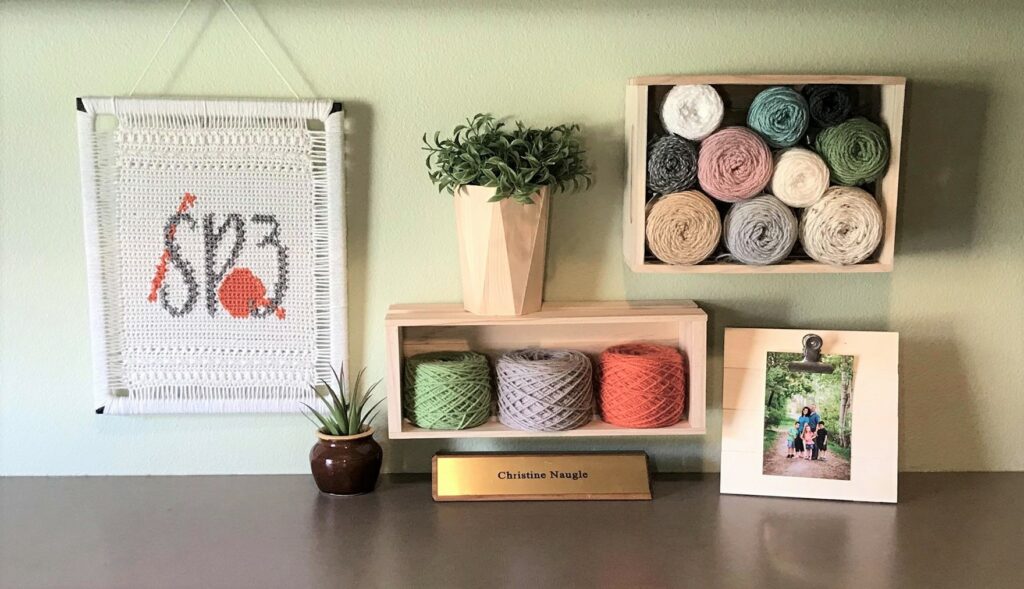 Adding my Great Grandmothers old ceramic honey pot with some greenery helped bring in another contrasting element. Then I slide my old office name plate under the crate and it filled in the empty spot perfectly.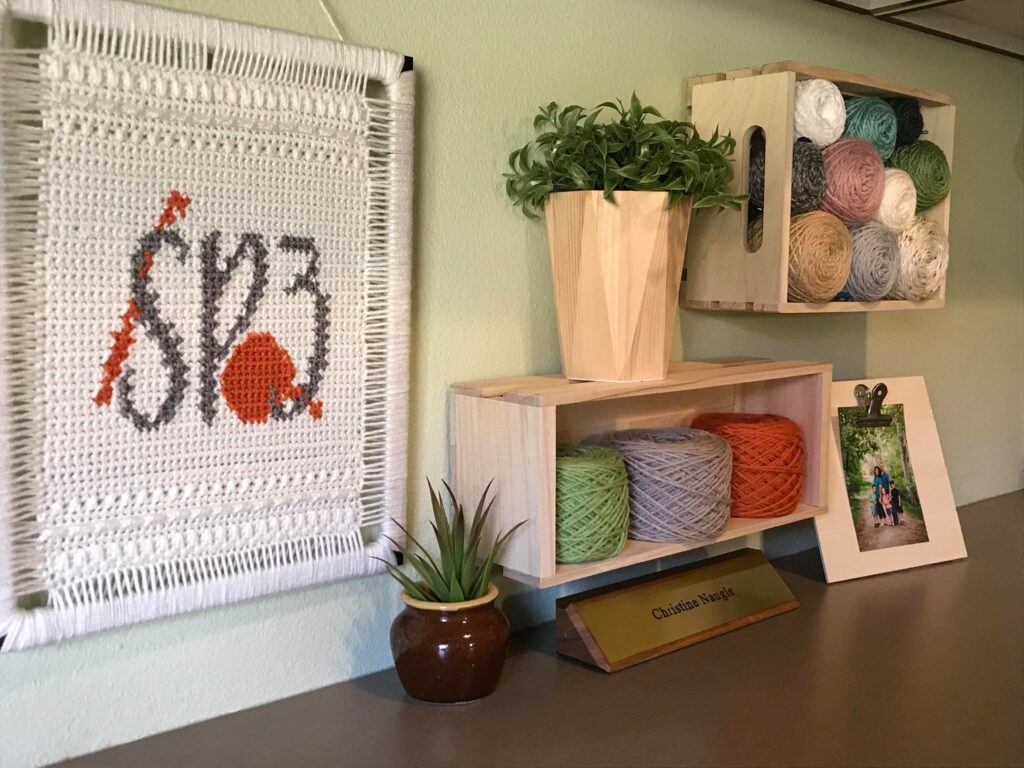 It is a small display with little hight to work with, in between my cabinets. However, this display added a warm "crocheters" touch that was desperately needed. This small touch makes my office feel like it is just for me. I can now admit, a very small part of me gets excited about having to sit in here to do the dreaded "bookwork".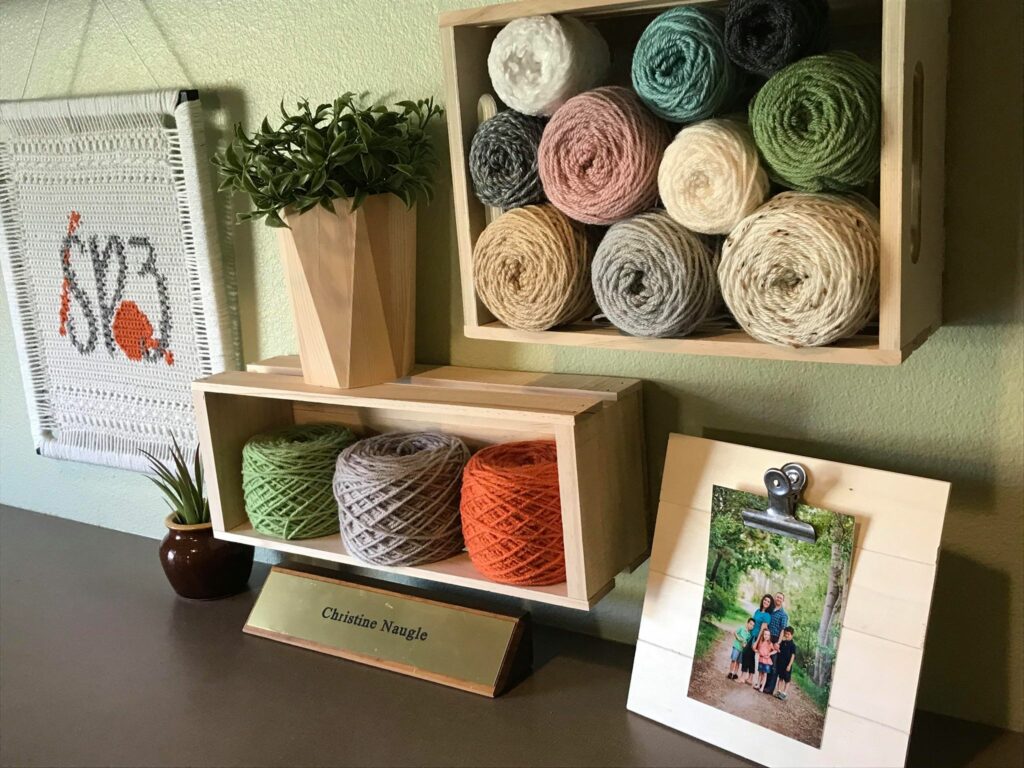 Are you looking for Inspiration for a display?
Getting started with ideas was the most difficult part of putting this display together. If you would like to browse some other display ideas visit my Amazon shop by clicking HERE.