Spring time brings cute and cuddle little bunnies out of the woods. What is cuter than that? I love seeing them bounce around and wiggle their little noses. Well, now you can bring that cute little image into your home for your little one.  You are going to love this little Bunny in Britches Set. The adorable little guy in the photo is courtesy of my tester Trish <3
The Pattern includes the Bunny Bonnet, Bow Tie, Britches with Suspenders (made to hit at the knees) and a carrot stuffy. The pattern includes sizes for: newborn, 3-6 month, 6-12 month, 12-24 month.
Get your Copy of the Bunny in Britches Set Now
See up close images of the set below
The bonnet is made to have floppy ears. You can use traditional/regular yarn for the inside of the ears (shown in photo above), or you can choose to use a more fuzzy yarn, like Bernat Happy, for the inside like the  photo below.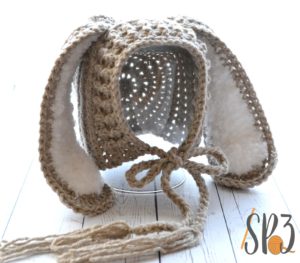 The Bow Tie is a cute addition and can be used with any outfit. The bow tie is made to button in the back of the neck. The button is adjustable so you can make it fit any child. It is very important to make the neck band extra long and not button on too tight.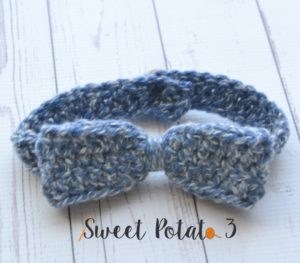 My favorite part of this set is the britches! There is just something classic about the longer shorts, designed to fit to the knees, with suspenders. I love the old fashion look. The britches are designed to wear over a diaper and can be tied in front to help them stay up. Simply add the pom for a tail and it is the perfect touch.
Now those pieces are all adorable, but I couldn't stop there. Every bunny need a cute little carrot to nibble on. The carrot is about 8″ tall and works up really quick.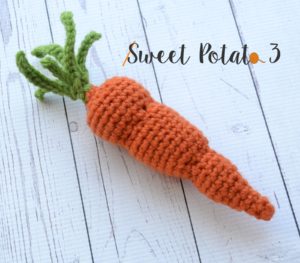 Well, now, that is enough cuteness for one day. Grab this fun pattern and crochet it up for your little one. Share you photo on my facebook page so I can gush over the cuteness overload.