When someone asks you to make them something it is a compliment. So, when my friend was talking to me about how she couldn't find a pygmy seahorse for her daughter's school project and was wondering if I could make one, I jumped at the chance.
However, crocheting a seahorse did have a few challenges. But, challenges are what drives me to designing and I love when I am able to figure something out. The seahorse is designed to crochet the mouth first working down to the tip of the tail.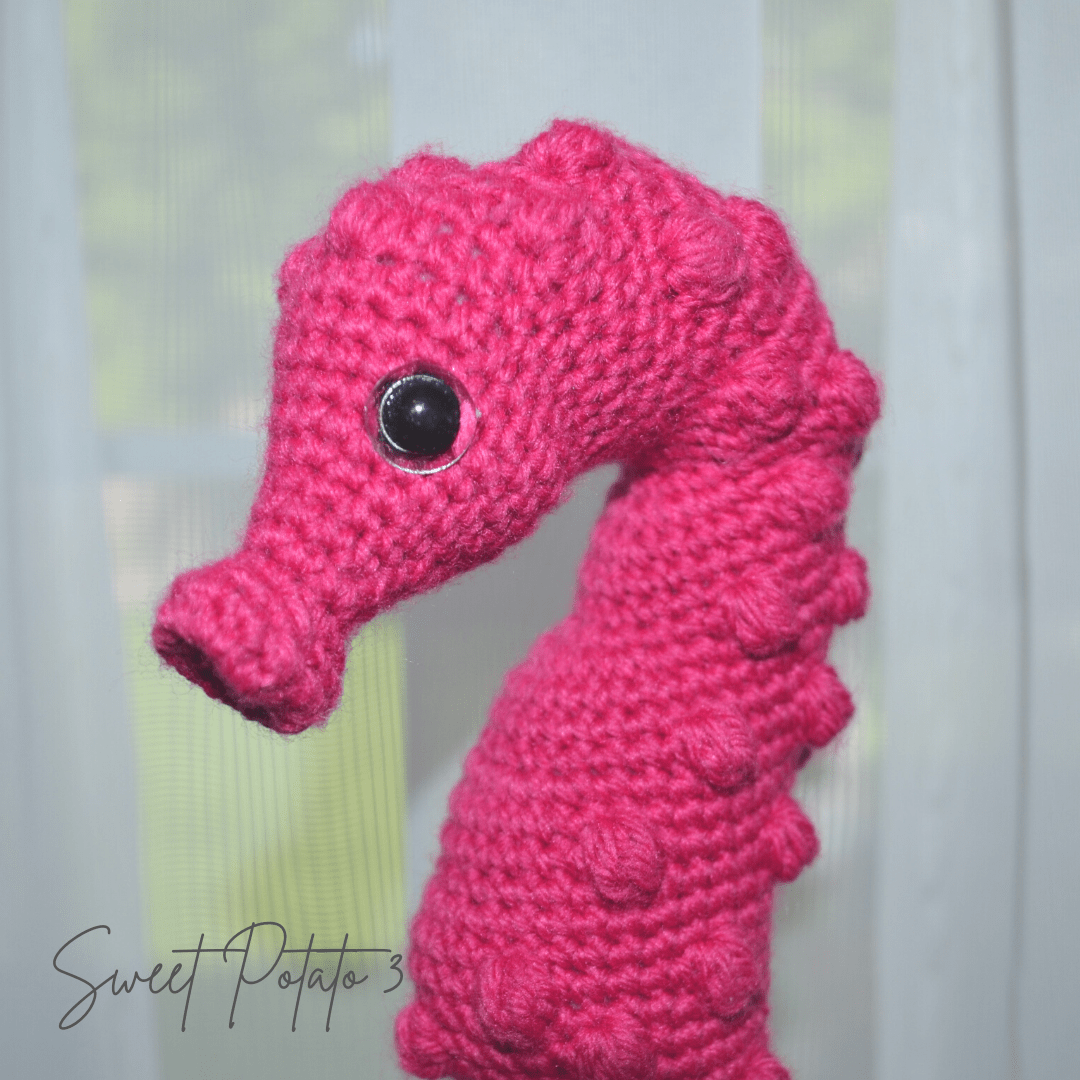 The details in the face from the fluted mouth, the sharp curve in the neck, bumps strategically placed and the spiraled tail is all described in detail in the pattern. You will not be left wondering why the stitches are changing, or seem to be "off". There are notes included throughout the pattern explaining each step.
The Pygmy Seahorse Pattern Info
One intimidating part about crochet amigurumi is all the small pieces that need stitches together at the end of the project. However, in this design that is eliminated, it is crocheted as one piece. That's right folks, no sewing involved.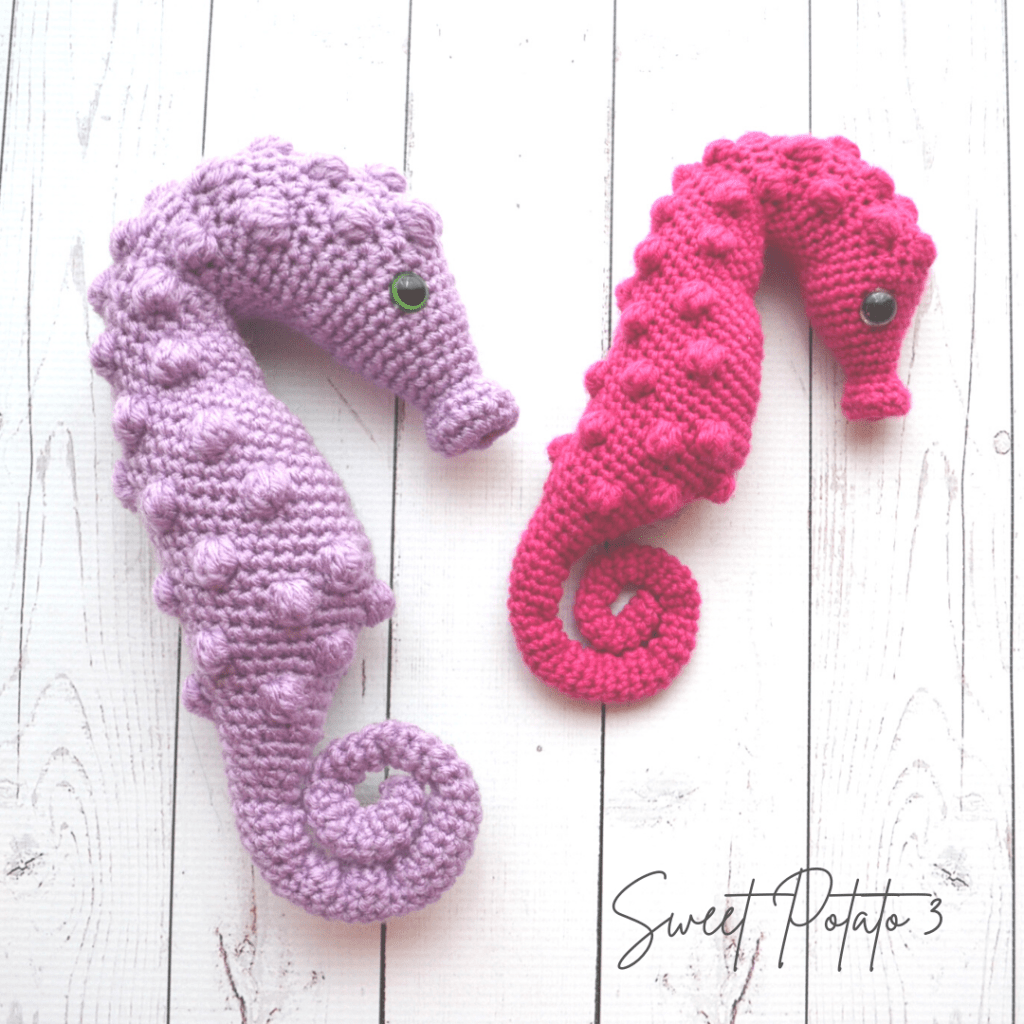 The pattern can be made using different weights of yarn. The yarn weight used will affect the final size of the finished pygmy seahorse. As you can see in the above images. Shown above, the purple seahorse, made with worsted (#4) yarn and is 9 inches tall. Whereas, the pink seahorse, made in light (#3) weight yarn and is 7″ tall.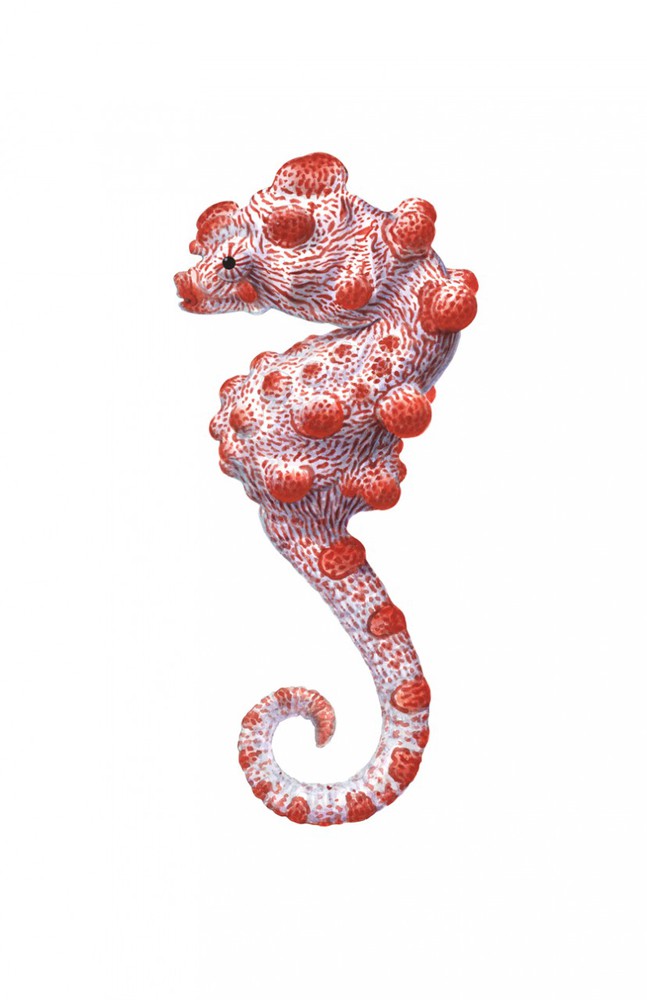 The above image is an actual Pygmy Seahorse. You may notice that it has raised bumps covering their body, this helps them blend in with the coral they live around. Another detail that surprised me was that they have no fins. These same details are in the pygmy seahorse crochet design.
Helpful Videos for Amigurumi Crochet
Crocheting amigurumi is not my passion, I do enjoy making and designing them occasionally. However, I look to others for expert advice and I recently stumbled upon a couple YouTube videos that I found helpful. Th first one explains a basic skill used in ami crochet, but if you are new this is a great tip: how to crochet an invisible decrease.
The next video I found that had helpful tips for crocheting ami's is one on working into the slip stitch of your crochet piece. This is a featured video from Moogly.
Pattern Testing Samples
Pattern testing is important, it eliminates errors and helps to clarify any misleading sections in a pattern. Sweet Potato 3 patterns are all tested. For this pattern the testers had so much fun with this design that I had to share some of their projects with you.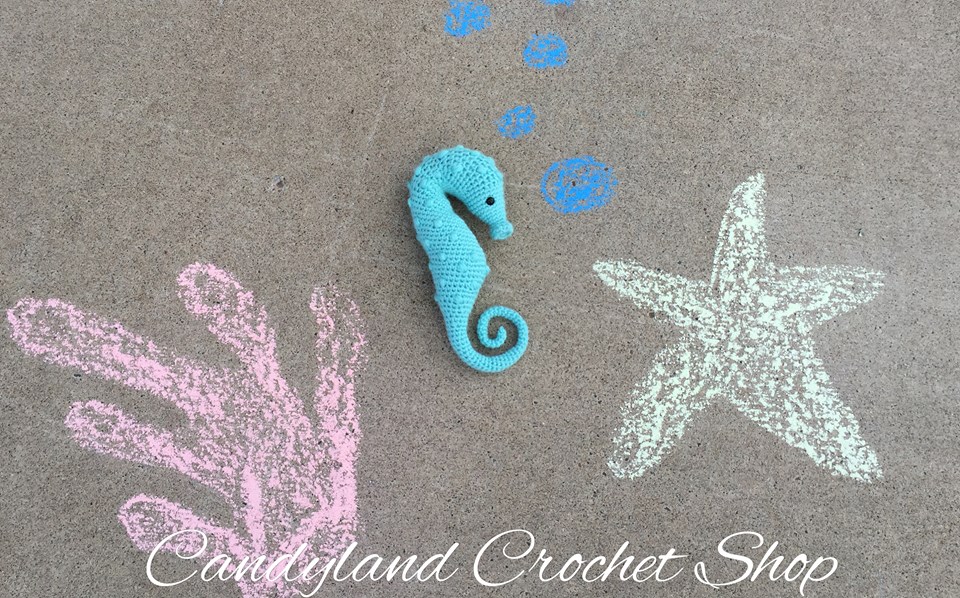 The aqua sample crocheted by Lisa, the designer at the Candyland Crochet Shop. I love how she creatively photographed her pygmy seahorse with sidewalk chalk art.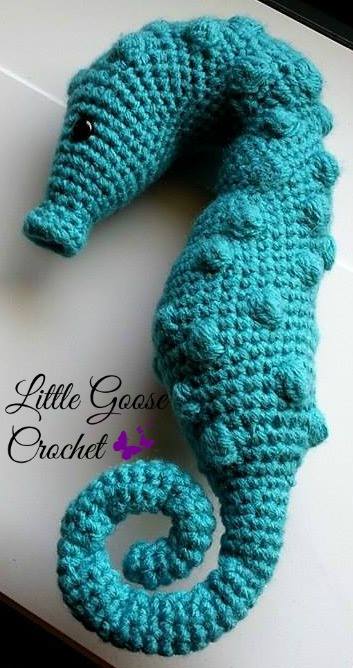 Pattern tester Darlene made this beautiful sample above where you can really see the details of the bobble stitch in this photo. Darlene is the owner of Little Goose Crochet.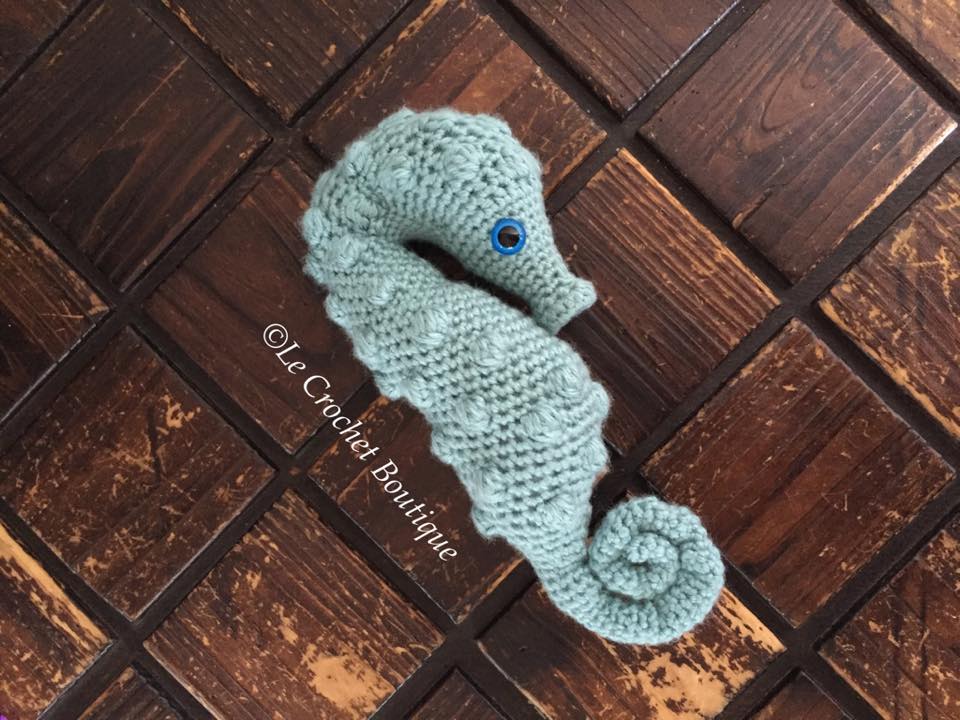 Candice, owner of Le Crochet Boutique, made this beautiful sample above where you can see that her curled tail turned out perfect.
Where to get your Copy of the Pygmy Seahorse pattern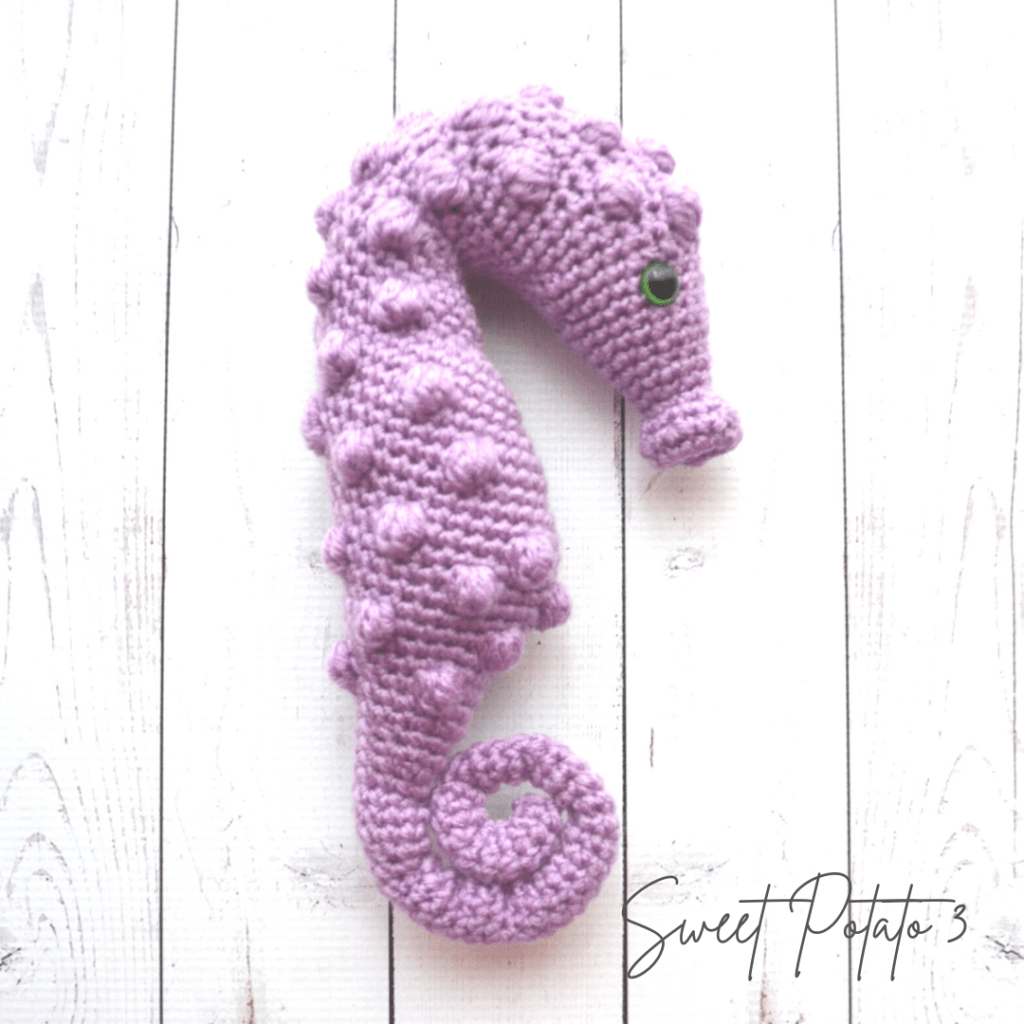 More Stuffy Patterns You may love
More Crochet Fun
If you found this article helpful and are interested in seeing more, I invite you to sign up for my newsletter. All I need is an email address. I promise to not fill your inbox with spam, I will respect your time. Sign up by clicking HERE.
Follow Sweet Potato 3 on Facebook and on Instagram, both are @SweetPotato3Patterns.
However, if you would enjoy a more interactive group experience, you should join my Crochet & Conversations Facebook group, by clicking HERE. It is a ton of fun and I encourage everyone to share their projects, WIPS (works in progress) and inspirations. Plus, you get exclusive deals, are the first to see new releases, give input on designs and have opportunities to win patterns. Join now and get to know others who also enjoy the art of crochet.