I was so excited to be able to create the new Pygmy Seahorse Pattern.
Why design a Pygmy Seahorse?
This came as a request from a sweet 2nd grader who was working on an animal report. Part of the report was to include a "model" of the animal. Many of the kids were bringing in stuffed animals as their model, However, her Mom couldn't find one. So, of course I was so excited to fill her request!
Now a true pygmy seahorse is only about 2 cm tall. There is no way I could crochet something that small, plus she needed to be able to display it. So, we decided to make it between 7 & 9 inches tall.
About the Pattern
My favorite part about making this pattern is that it is crocheted as one piece! That is right, no sewing involved! Also, the pattern can be made in different yarn weights. The purple sample was made in worsted (#4) weight yarn and is 9 inches tall. The pink sample was made in light (#3) weight yarn and is 7″ tall. This little seahorse is sure to be very loved!
An actual Pygmy Seahorse (image is from a google search and had a deadlink, if you know who should get credit for this image please let me know), has raised bumps covering their body to help them blend in with the coral they live around and the seahorse has no fins.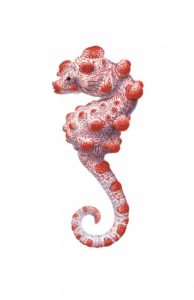 Where to Get the Pattern:
Helpful Videos
A couple of helpful tutorials in crocheting the seahorse are below:
Here is a tutorial on the best technique for working a sc2tog, this makes the decrease invisible:
For a portion of the pattern you will work multiple slip stitches, here is a helpful tutorial by
Moogly
on making this easier for the following rows:
Check out how cute the tester photo's came in for this cute Pygmy Seahorse: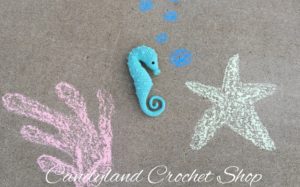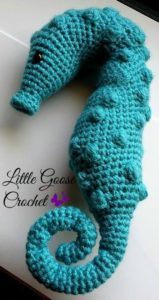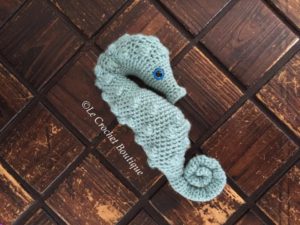 Other Stuffy Patterns You May Love:
More Crochet Fun
Follow Sweet Potato 3 on Facebook to see more pattern releases, sales and crochet fun, just click HERE.
However, if you would enjoy a more interactive group experience, you need to join my Crochet & Conversations facebook group, click HERE. It is a ton of fun and I encourage everyone to share their projects, WIPS (works in progress) and inspirations. Plus you get exclusive deals, are the first to see new releases, give input on designs and have opportunities to win patterns. Join now and get to know others who also enjoy the art of crochet.