Sometimes, trying to decide what your next project will be is the most difficult decision. If you're wanting an accessory to keep you warm when you are outside and cannot decide between crocheting a cowl or a hat, well, I have the perfect pattern for you. Check out the Convert A Cowl pattern!
You may ask, how does it convert? It's actually pretty simple. See those super cute pom poms? Those are ties and if you leave them undone you can wear it as a cowl, but if you pull them tighter it will close up the top and you can sport this as a slouchy hat!
About the Convert A Cowl Pattern
The Convert A Cowl is the perfect combination of accessories. It makes an amazing gift for those hard to shop for people. Plus, it is great for all ages! My tween daughter loves it and so do my "mom" friends (I'll leave out our ages-LOL).
Made in a beautifully textured stitch, the pattern creates a soft drape. This is ideal for cowls, and in this case, a slouchy hat as well.
The design is made using a medium worsted weight yarn (#4). For this sample (the colorful one above) I used Lion Brand Amazing. This was just out of my stash and can be a little tricky to find right now. But, if you check out the photos at the end of my post, I have a green sample made in Lion Brand Heartland and it worked up just as nicely.
The pattern includes sizing for children, ladies and teens and also a size just slightly larger for men (mostly, this one just has a slouchier design for the hat).
Where to find the pattern
You can find the Convert A Cowl pattern in my shops, links are below: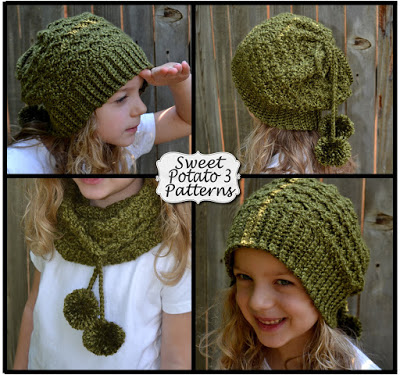 Other Patterns You May Enjoy
Houndstooth Pocket Cowl (has a hidden pocket) – click HERE
Wrap Me Tender Hooded Scarf (has a hat & scarf all in one) – click HERE
Free Knotted Half Double Crochet Cowl – click HERE
Enjoy more Crochet Fun
If you love this design, come on over and see more of my designs and join in on some fun crochet chatter in my, Crochet & Conversations Facebook Group, just click HERE and ask to join. Then, sign up for my blog notifications by entering your email address (just below my image to the right). You won't get spammed, just lots of fun crochet patterns and ideas.