As the weather begins to cool down, we begin to dream of new accessories for our wardrobe. One of the easiest ways to warm up is with a traditional scarf. I love how scarves add so much to an outfit, but sometimes you leave the house with the perfect layers only to wish you had a little extra warmth. My latest design is the Wrap Me Tender Hooded Scarf and does just that.
This crochet pattern is "that" perfect accessory. It is a traditional scarf but has an added feature that you will love. A built in (or crocheted in) hood.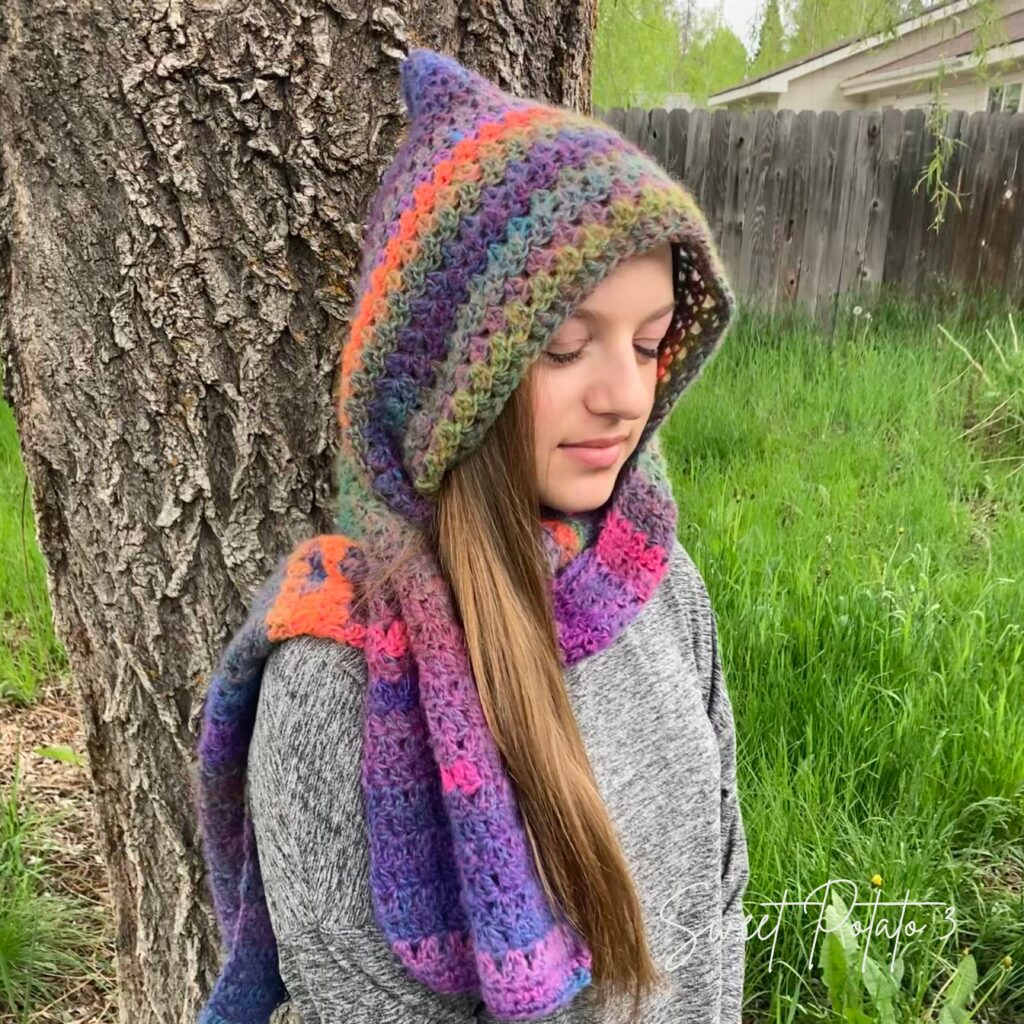 The Hooded Scarf pattern is crocheted to be a convertible accessory. When it is chilly, wrap it around your neck, throw on the hood and stay nice and warm. As the sun comes out and warms you up, simply take off the hood and even unwrap the scarf. And of course, as the day goes on, you may just need to wrap back up and throw that hood back on.
About the Wrap Me Tender Hooded Scarf Pattern
The hooded scarf is made with a combination of double crochets. Since the double crochet is one of the taller stitches, the fabric works up quick and before you know it, your project will be complete. Made in a worsted weight yarn creates an ideal warmth in the stitchwork.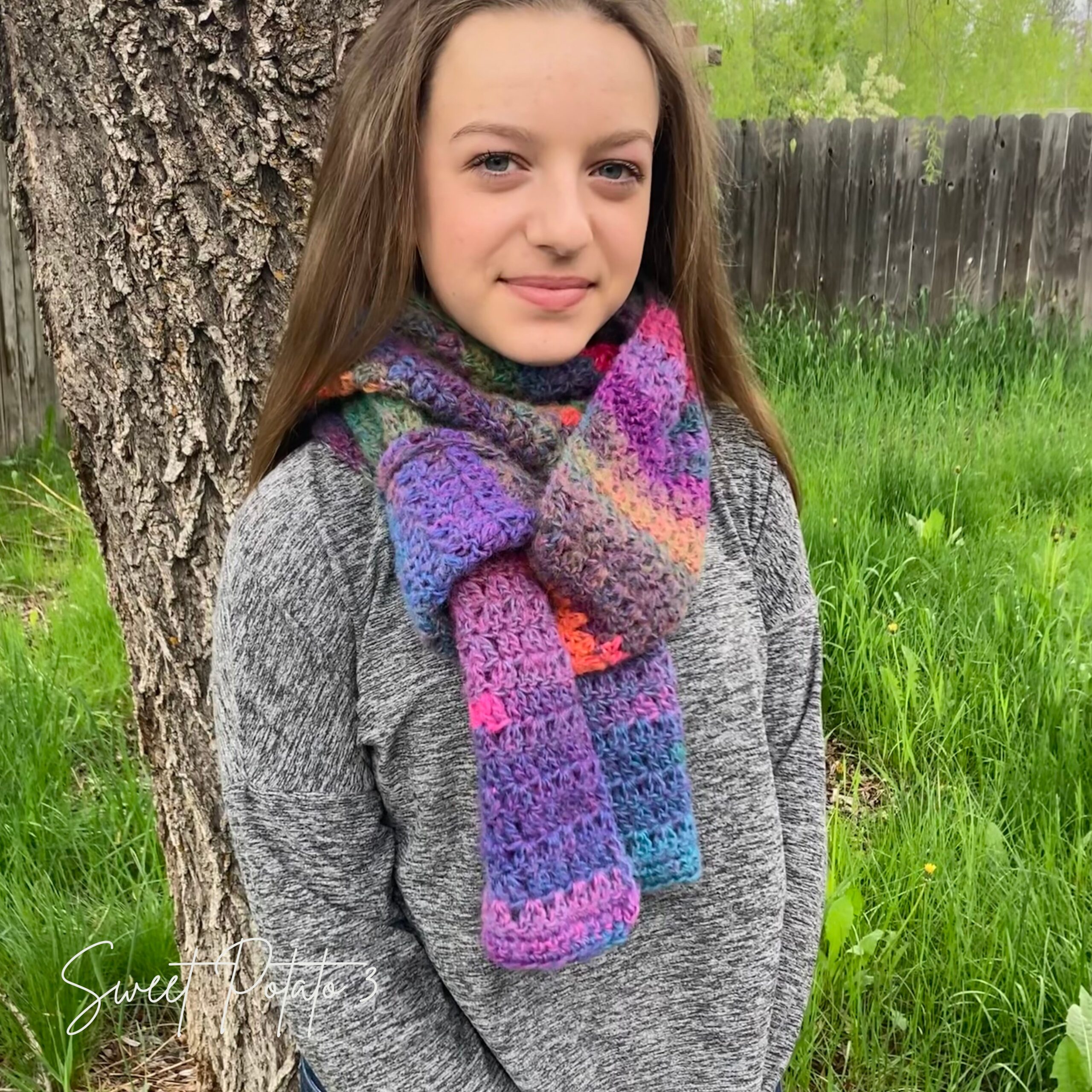 Materials Needed to Make your Hooded Scarf
Crochet Hook size J (6.00 mm)
500 – 575 yards Worsted (4) weight yarn – varies by size you are making
Sample made with Lion Brand Amazing yarn / color Mauna Loa (4 skeins)
Stitch Marker
Yarn Needle
Scissors
Measuring Tape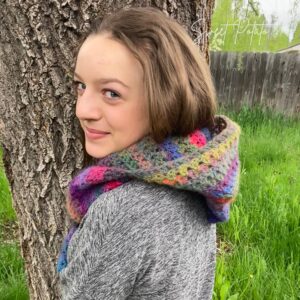 Where to Get your copy of the pattern
The Wrap Me Tender Hooded Scarf Pattern is available in all of my pattern shops. Click the links below to go to your preferred ordering website. I hope you enjoy the pattern, if you would like to follow along my design journey and receive updates on new designs, sales, events and such, subscribe to my newsletter by clicking HERE.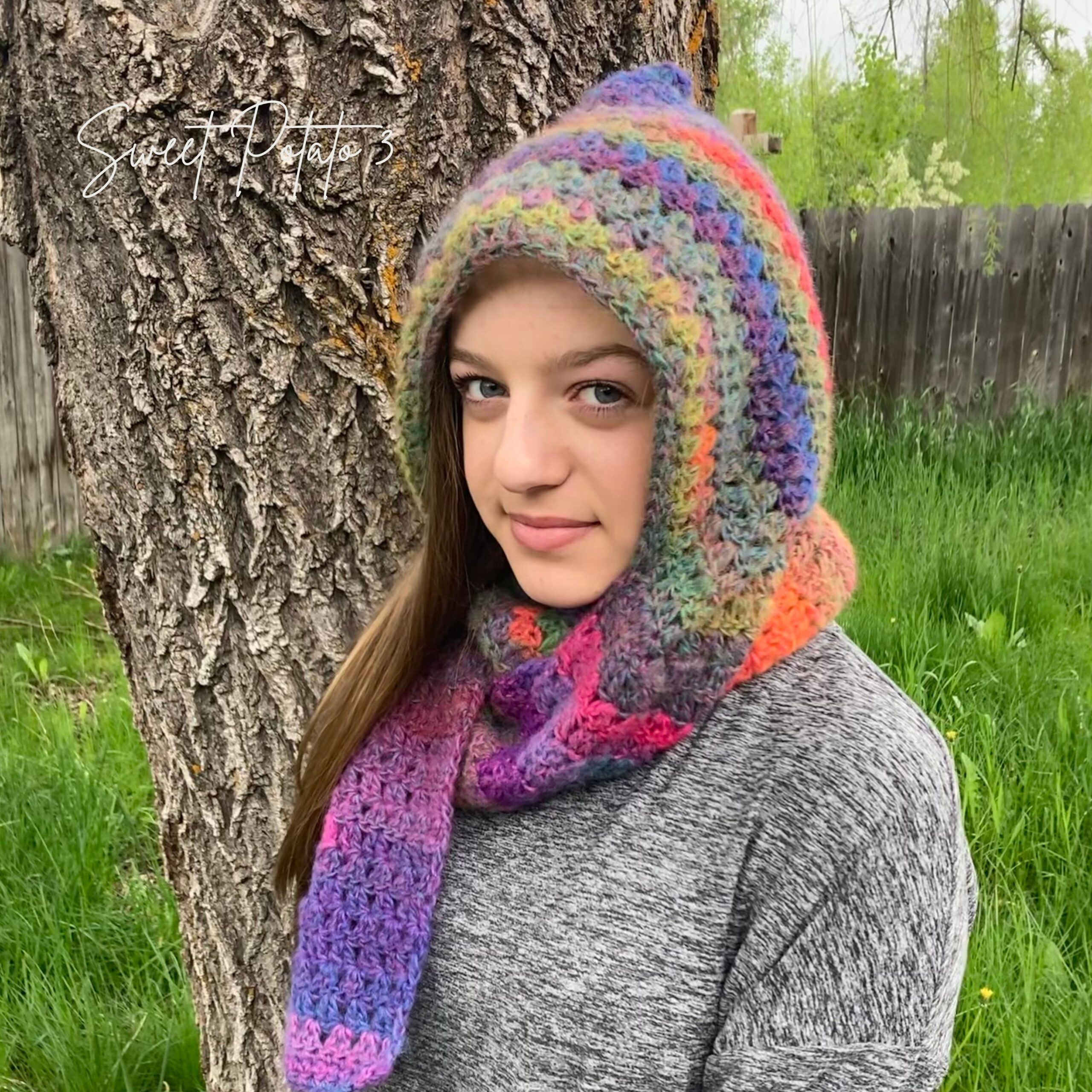 Other Crochet Set Patterns You May Love
More Crochet Fun
If you found this article helpful and are interested in seeing more, sign up for my newsletter. All I need is an email address. I promise to not fill your inbox with spam, I will respect your time. Sign up by clicking HERE.
Follow Sweet Potato 3 on Facebook and on Instagram, both are @SweetPotato3Patterns.
However, if you would enjoy a more interactive group experience, you should join my Crochet & Conversations Facebook group, by clicking HERE. It is a ton of fun and I encourage everyone to share their projects, WIPS (works in progress) and inspirations. Plus, you get exclusive deals, are the first to see new releases, give input on designs and have opportunities to win patterns. Join now and get to know others who also enjoy the art of crochet.