I am so excited for the new Woven Shells Hat & Cowl Crochet Pattern. This was inspired by Jennifer in my Crochet & Conversation Group. Which by the way, if you are not a part of, you better come join us by clicking, HERE.
Last week I asked what stitches folks would like to see in a pattern. Jennifer posted the Woven Shells Stitch and I already had the cowl so decided to make a set and add a beautiful hat to go with it!
A Beautiful Set to stay warm and look great
I love how the stitches used in the Woven Shells creates an actual weave look to them. The rich texture shows in the basic cowl design that lays flat with the folded neckline. The hat boasts the same woven look in the main body with a traditional ribbed brim.
Where to get the patterns:
If you get the Set which includes both the hat and cowl, you will get them at a discounted price. Or you can purchase the hat and/or cowl separately if you choose. I offer all options on the following sites (look further in the post to find the individual patterns):
How about that Hat?
The Woven Shells Hat pattern comes in sizes for Child, Teen/Ladies, and Adult/Men. You can make it in a beautiful striping yarn, a solid color, or add a couple colors for some design pop. Then just decide if you want to add the optional pom… so many decisions you may just have to make more than one.
Grab the Woven Shells Hat pattern on Ravelry, HERE.
The Must Have Cowl
The Woven Shells Cowl comes in a one size and will fit most teens and adults, the pattern for just the cowl can be found on Ravelry, HERE.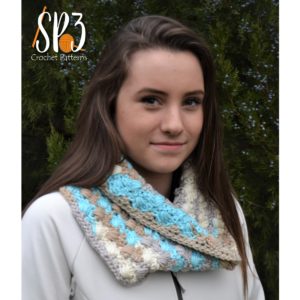 More Cowl Patterns you may Love:
More Crochet Fun
Follow Sweet Potato 3 on Facebook to see more pattern releases, sales and crochet fun, just click HERE.
However, if you would enjoy a more interactive group experience, you need to join my Crochet & Conversations facebook group, click HERE. It is a ton of fun and I encourage everyone to share their projects, WIPS (works in progress) and inspirations. Plus you get exclusive deals, are the first to see new releases, give input on designs and have opportunities to win patterns. Join now and get to know others who also enjoy the art of crochet.