I am always in search of a classy, cute, unique gift set I can make. My Popular Cross My Heart Scarf & Headband has always been a favorite of many, so I added a lovely hat and fingerless gloves!
I love how beautiful the stitches in the entire Cross My Heart Collection are, and they show off perfectly in the hat and fingerless gloves.
All About that Hat (Cross My Heart-that is)
The hat is designed to have a little slouch to it, this just enhances the look of the plush stitches as the fold in the creases that create the slouch.
The hat is made from the bottom up, with the band being crocheted in an almost knit looking stitch. This streamlined stitch is soft and creates just enough elasticity to shape the hat.
The hat comes in many sizes from toddler up through adult, so go ahead and make one for everyone in the family!
Fingerless Gloves
I have to admit, I love fingerless gloves and think they are one of the most practical accessories to wear. My hands are always cold, but I need to be able to use my fingers freely. So, fingerless gloves are a must!
Just like the hat, the gloves are made with the same plush stitches that create this unique crocheted fabric. The gloves work up quick and come in sizes from toddler up through adult. These gloves can make a great last minute gift idea.
The Sprightly Yarn – my new favorite!
I made the Cross My Heart hat and fingerless gloves in Sprightly Acrylic Worsted Weight yarn. I have had the opportunity to design with this amazing yarn on multiple occasions and I really enjoy working with it.
The yarn comes in many beautiful colors (I used Dusty Rose) which we all love. The yarn is the perfect weight for most projects, is very soft and washes up well. Check out the entire color line of Sprightly yarn by using this (affiliate) link by clicking HERE.
Were you can get the Cross My Heart Patterns
You can get the Cross My Heart Hat & Gloves as a set, which has a discounted price because you are getting both patterns together. But, if you already have one and only need the other, you can also get them separately.
Have you seen the rest of the Cross My Heart Collection? It includes so many fun pieces including a vest, scarf, headband, a triangle shawl and of course the hat and gloves.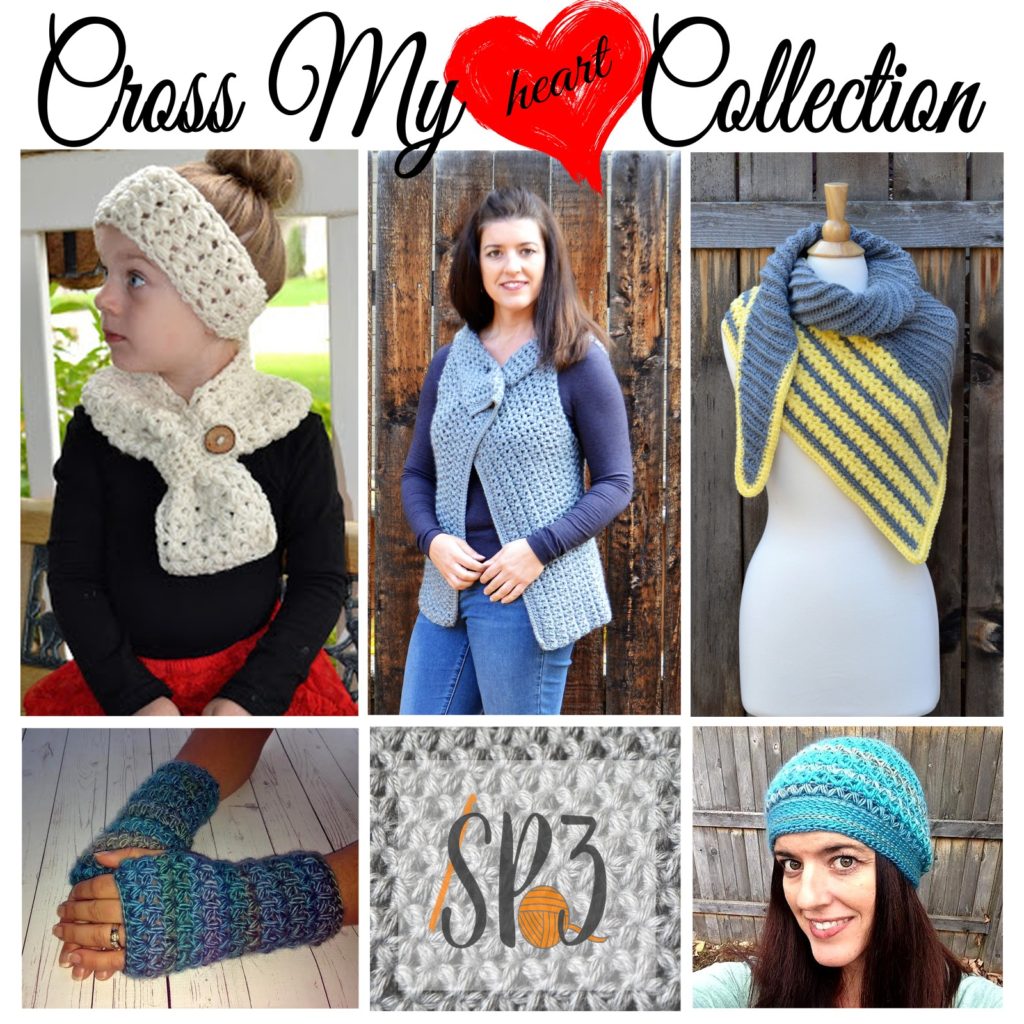 To find more information on the entire set of all these fun patterns you can click this LINK HERE.
More Crochet Fun
Follow Sweet Potato 3 on Facebook to see more pattern releases, sales and crochet fun, just click HERE.
However, if you would enjoy a more interactive group experience, you need to join my Crochet & Conversations facebook group, click HERE. It is a ton of fun and I encourage everyone to share their projects, WIPS (works in progress) and inspirations. Plus you get exclusive deals, are the first to see new releases, give input on designs and have opportunities to win patterns. Join now and get to know others who also enjoy the art of crochet.