A few months ago, my daughter came home from her youth group and was beyond excited because their leader and his wife announced they were expecting. She quickly asked if I would make them a baby blanket, but she wanted it to be personal to them. We live in a mountain town and faith is very important to the parents. Therefore, she asked if it could say something like "Faith Can Move Mountains."
Of course, I jumped at this opportunity to design something new and felt like it naturally fell right into the same design scheme as my recent Inspiring Nature Blankets. Each one of those designs featured a mountain theme and were made with color changes and a unique stitch.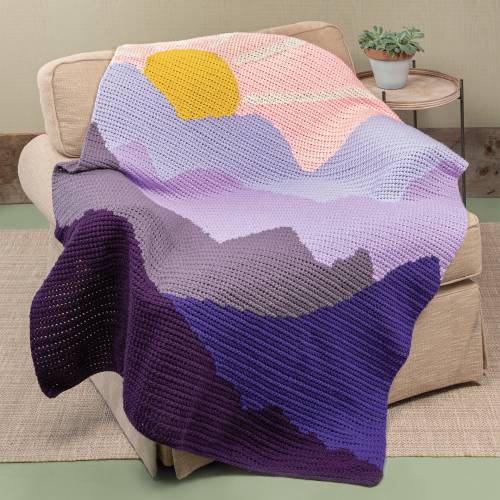 baby blanket Yarn & materials
The key to any of these designs is finding the right colors that coordinate well for each blanket design. While shopping for yarn for the baby blanket my daughter knew she wanted to get a blue (kind of gray) yarn. We also both understand how important a nice soft yarn is for baby blankets.
As we were looking through the yarn isles my daughter went straight to the Loops & Threads Impeccable. They had a large variety of colors, and it didn't take long before she had enough colors to choose from. There were so many lovely colors that we almost bought enough to make a pink one too, but we were able to restrain ourselves.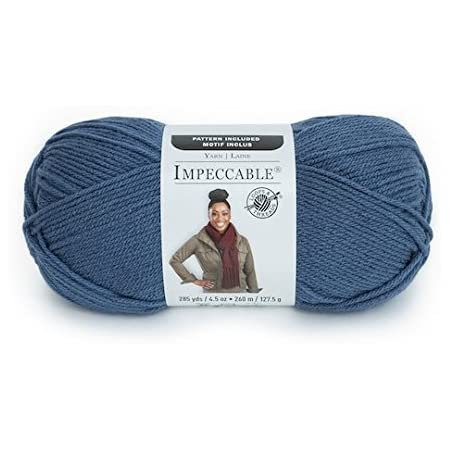 Materials List:
Crochet Hook size J (6.00)
Crochet Hook size H (5.00 mm)
Measuring Tape
Scissors
Yarn Needle
Worsted Weight Yarn (#4) – 1820 yards (details on the divided amounts are included in the actual pattern)
Sample made in Loops & Threads Impeccable (colors: Misty Blue, White, Thunder, Sapphire & Putty)
Stitches & Size
The unique stitch that the Faith Can Move Mountains Baby Blanket is crocheted with is the knotted half double crochet. A knotted half double crochet stitch works up much quicker than a traditional single crochet graph blanket, plus the stitch creates a plush feel making the blanket very soft. The stitches align perfectly on top of one another which creates nice looking lines in the graph design including the lettering.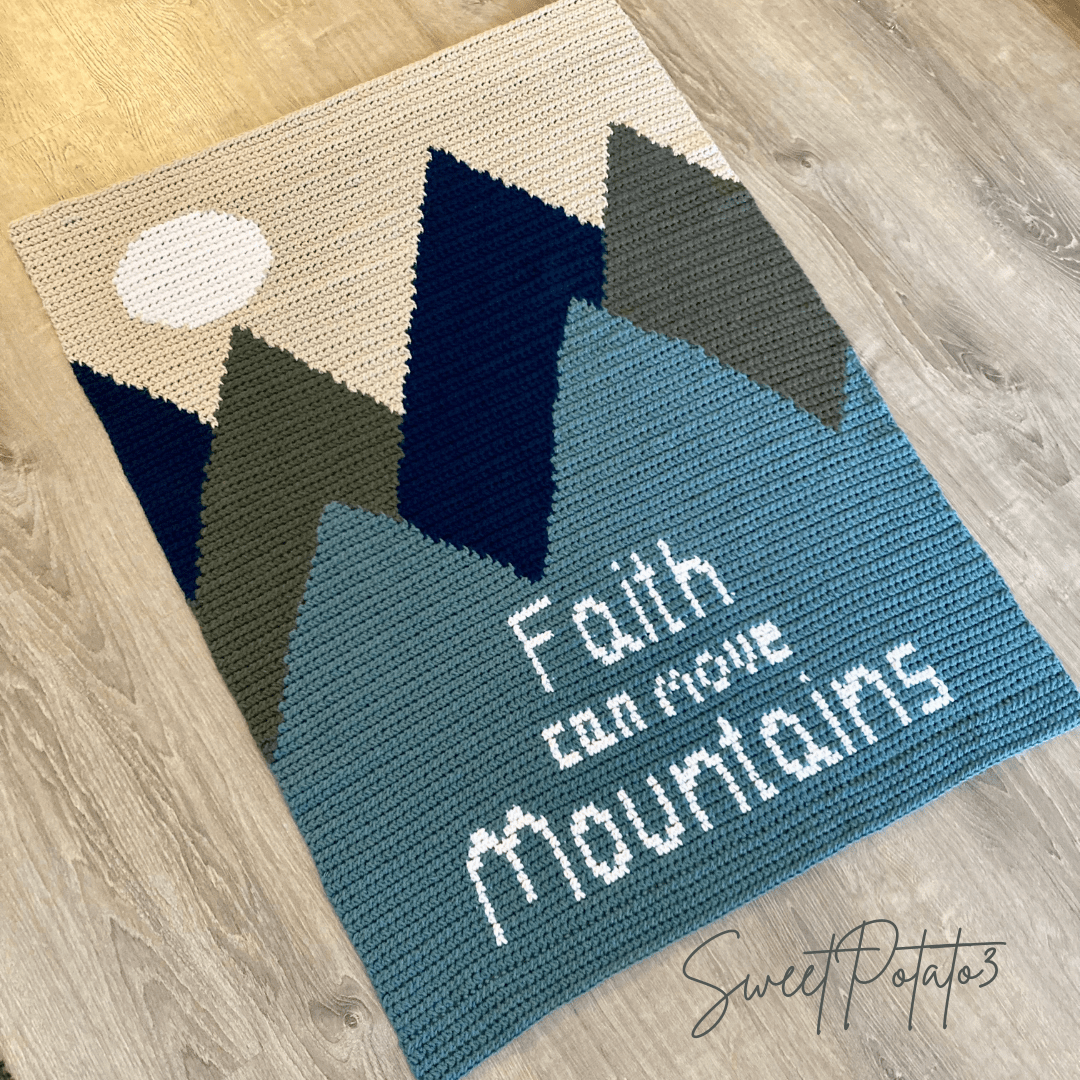 I have a video tutorial on how to work the knotted half double crochet on YouTube, you can find the video by clicking HERE.
Another amazing feature of the blanket is the stitching creates a nice clean edge. Due to this defined edge, there is no need to add a border to the blanket. Once you have completed all the rows you simply weave in your ends, and it is ready to use.
While this design is intended for a baby blanket, I did make it slightly larger, so it works well for toddlers or as a lap blanket. The completed size is 36″ wide and 50″ high.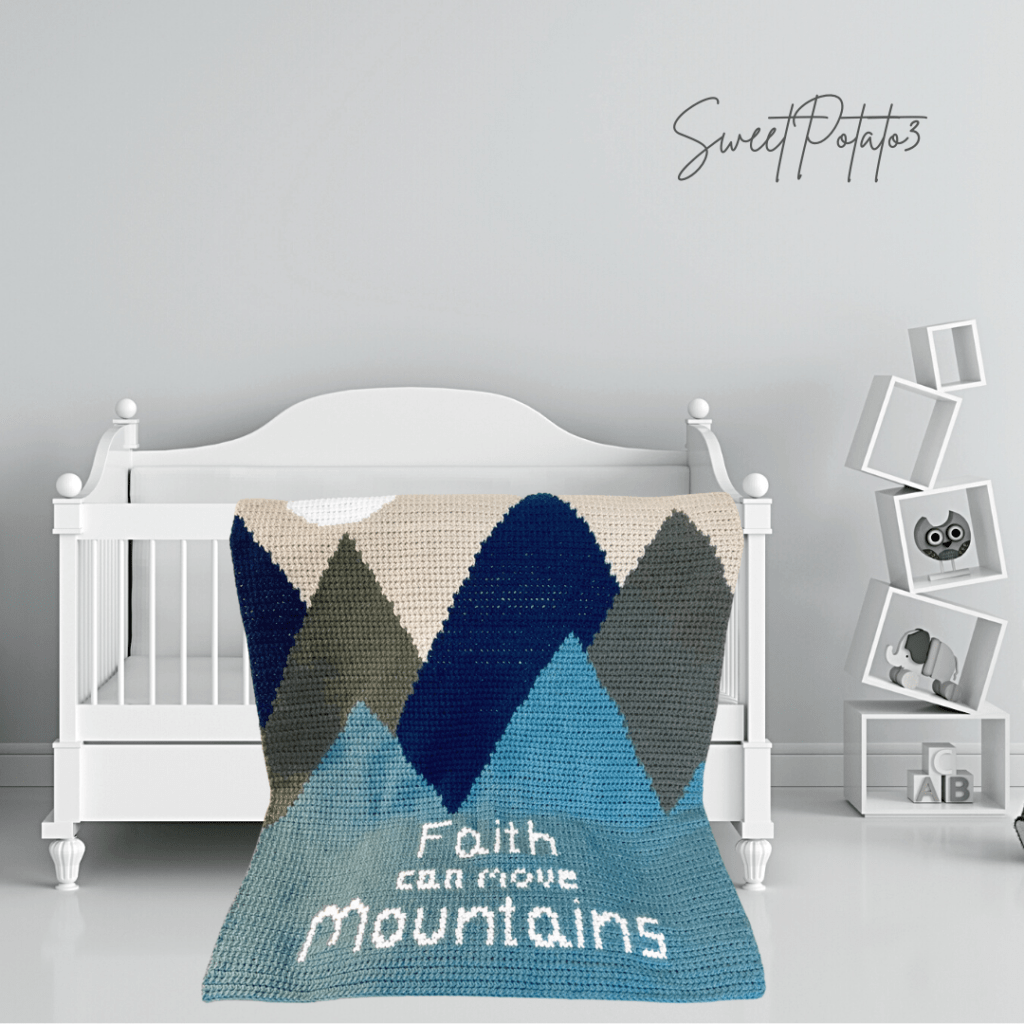 What's Included in the Pattern?
Many people will steer clear of graph patterns. They do this for many reasons especially just knowing how to read the graph and staying on track.
In all Sweet Potato 3 blanket patterns that have a graph, I have included features to help. Not only will you receive a traditional graph, you will also get an enlarged graph (4 pages that you can tape together after printing) so you can see it better. There is also a written "cheat sheet," this is the stitch counts written out for each row according to color. You are welcome to use whichever format you prefer or combine them to double check your work.
At the beginning of the pattern, the first five pages are all detailed instructions on how to crochet the knotted half double crochet, work the color changes, weave in your ends and so many more tips to help you out.
Making it a gift set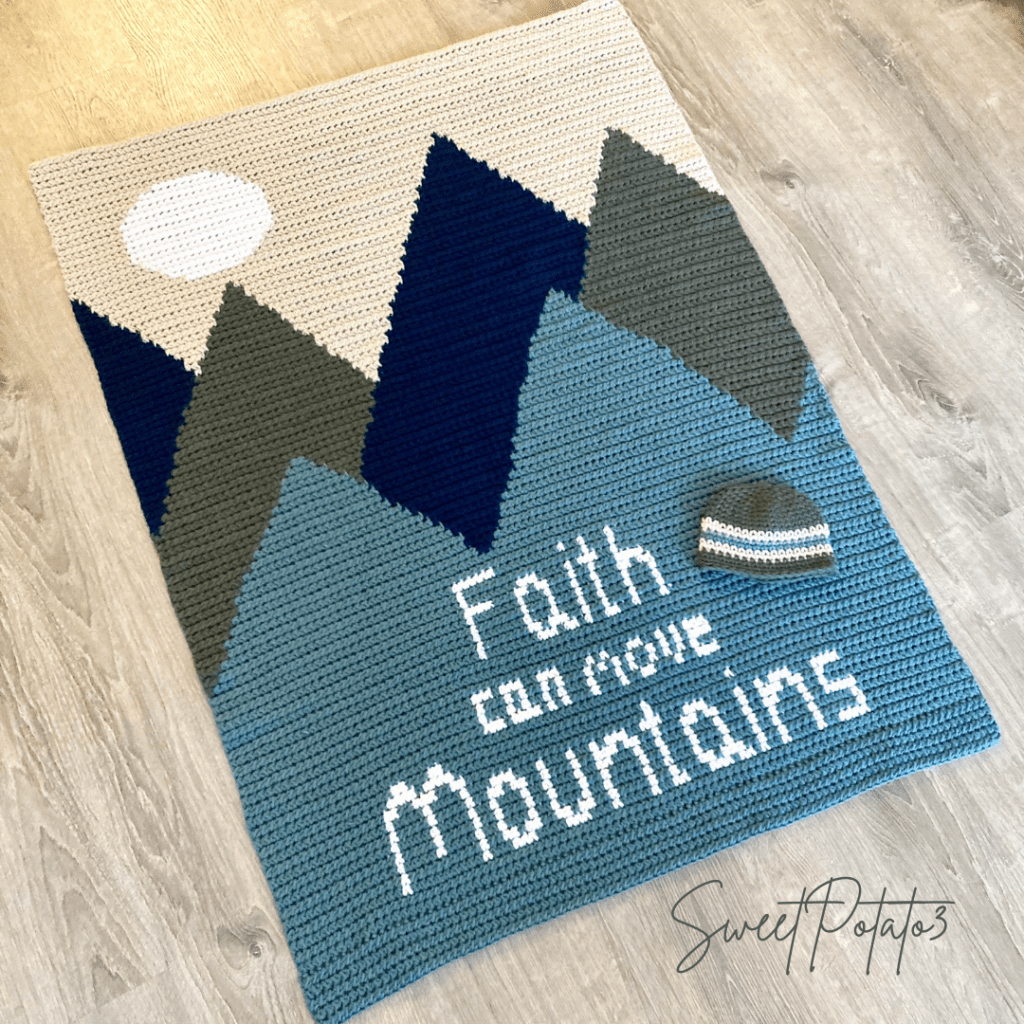 Whenever I give someone a baby blanket I like to include a coordinating hat. I decided to make a hat for mom, dad and baby and used the Knot Knit Beanie pattern. They turned out adorable and made the gift extra special. You can find the Knot Knit Beanie pattern by clicking HERE.
Where to Get A Copy Of The Faith Can Move Mountains Baby Blanket
---
Other Sweet Potato 3 Graph Blankets You May Love
Other Baby Blankets You May Love by Sweet Potato 3
---
More Crochet Fun
If you found this article helpful and are interested in seeing more, sign up for my newsletter. All I need is an email address. I promise not to fill your inbox with spam, I will respect your time. Sign up by clicking HERE.
Follow Sweet Potato 3 on Facebook and on Instagram, both are @SweetPotato3Patterns.
However, if you would enjoy a more interactive group experience, you should join my Crochet & Conversations Facebook group, by clicking HERE. It is a ton of fun and I encourage everyone to share their projects, WIPS (works in progress) and inspirations. Plus, you get exclusive deals, are the first to see new releases, give input on designs and have opportunities to win patterns. Join now and get to know others who also enjoy the art of crochet.