A classic looking blanket made using a traditional filet crochet technique. The Diamond Drop Blanket is one you will enjoy crocheting and will fall in love with the simplicity of the pattern. Make this lovely design in about any size to fit your need.
The crochet blanket is made in a finer worsted weight yarn which creates a great midweight layer to wrap up in. The texture is simple, so it doesn't take away from the filet design of Diamonds Dropping.
What is Filet Crochet?
Are you wondering why I keep talking about filet crochet and what it has to do with this design? Let me explain. Filet crochet is an old method of crochet where you create a mesh with chain and double crochet stitches. The combination of stitches are specifically crocheted to create a design within the mesh.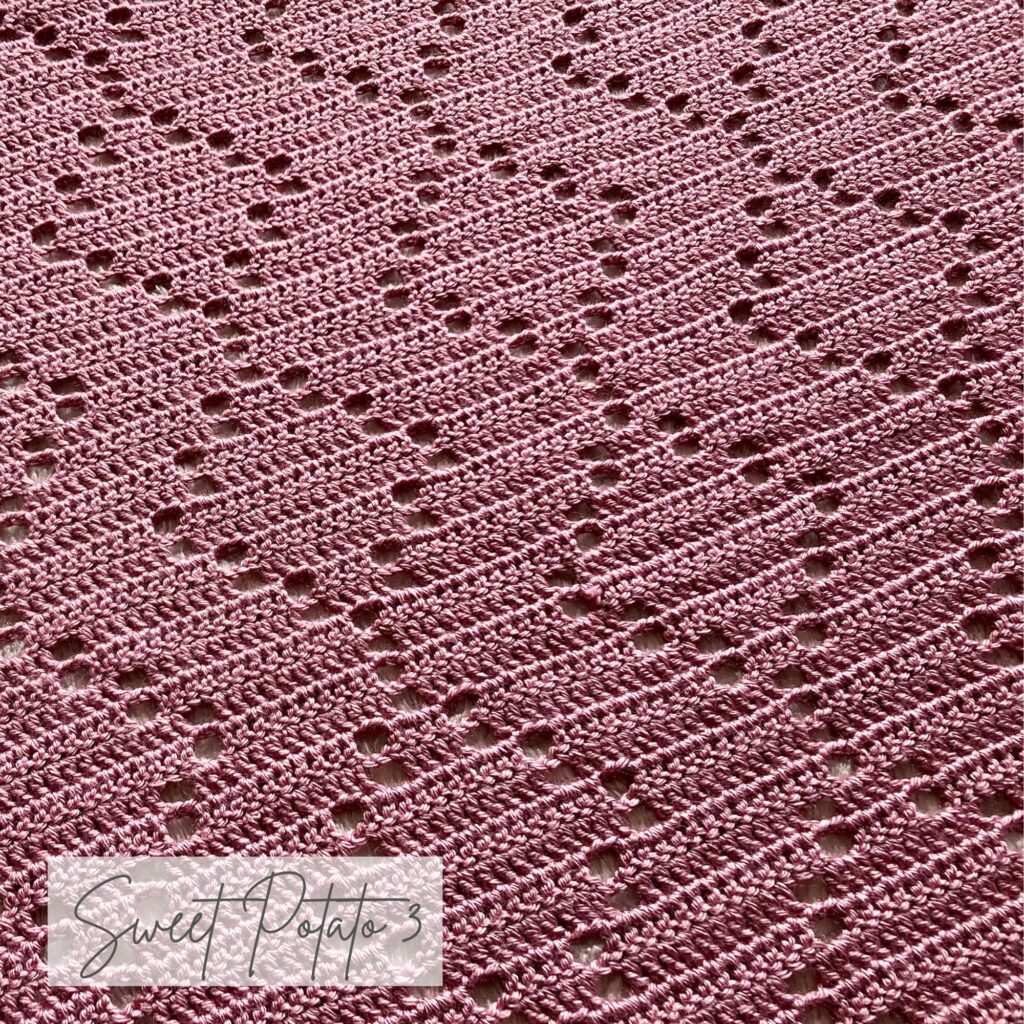 Traditionally, filet crochet patterns were made with thread to create decorative fabrics for items like curtains, table runners and doilies. However, it has become a common method for blankets in more recent years. The technique is still the same and the options are endless.
A Simple Border
I tried a new stitch for the border of the Diamond Drop Blanket. This stitch combination may be my new favorite as it creates a little height and a little texture. It worked up relatively quick, after a basic round of single crochets to clean up all the row ends, I changed to a new contrasting color of yarn. That border you see in cream; it is just one row and looks so cute.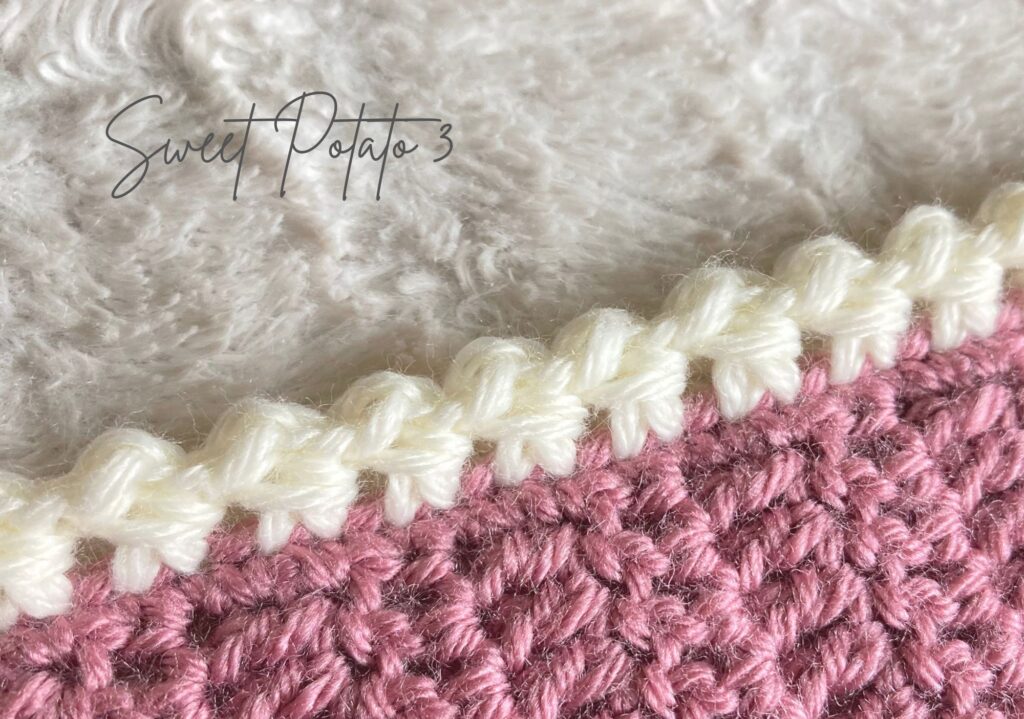 Adjusting the Blanket Size
I love working off of a crochet graph, they are so easy to double check your work as you crochet. Having a graph also makes it easy to adjust the size of something.
The pattern is written for a baby blanket. However, it includes a page with instructions on how to adjust the pattern so you can make it in the following sizes:
Stroller: 30″ wide x 30″ high
Baby/Crib: 30″ wide x 40″ high
Throw: 50″ wide x 65″ high
Twin: 60″ wide x 85″ high
Double/Full: 80″ wide x 85″ high
Queen: 80″ wide x 90″ high
King: 100″ wide x 105″ high
The adjustment details are all explained in detail within the actual pattern.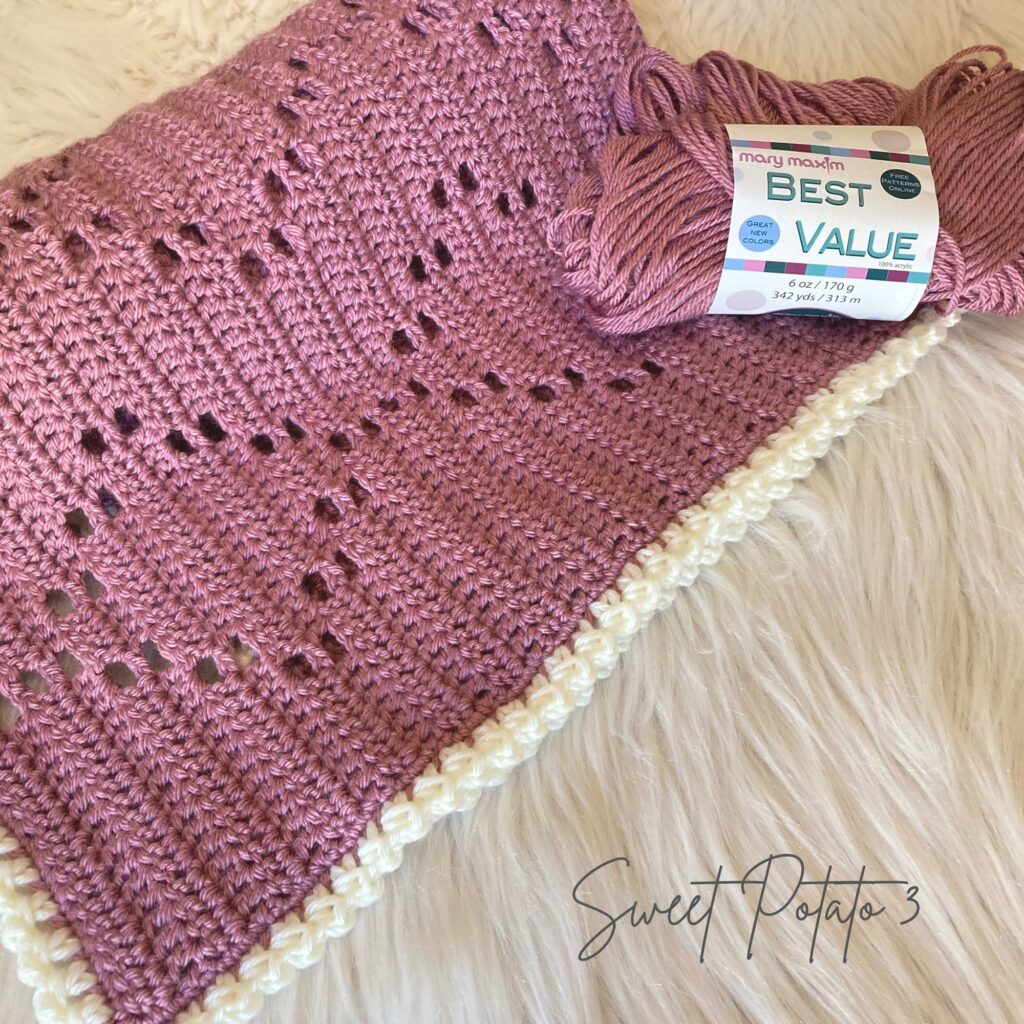 Materials Needed
For this blanket, since there are so many different sizes the yarn amount will vary.
Crochet Hook I (5.50 mm)
Lighter Worsted Weight Yarn (#4) – 1100 yards (for baby blanket-yardage will vary for other sizes)
Sample made in Mary Maxim Baby Best Value yarn in the color: Desert Rose
Measuring Tape
Scissors
Yarn Needle
Pattern Tester Love
As all Sweet Potato 3 crochet patterns, this design was tested by fellow crocheters to ensure it was easy to understand and for accuracy. I love seeing the work of others using my designs and enjoy sharing them with you as well. They may inspire you in colors, sizes or variations they incorporate.
The first test was completed by Linda, she always does such a lovely job. Linda also chose to make her blanket in a solid color with a contrasting border. The blanket was made in the stroller size, and she gave it as a gift, the perfect accessory to go along with a children's classic book.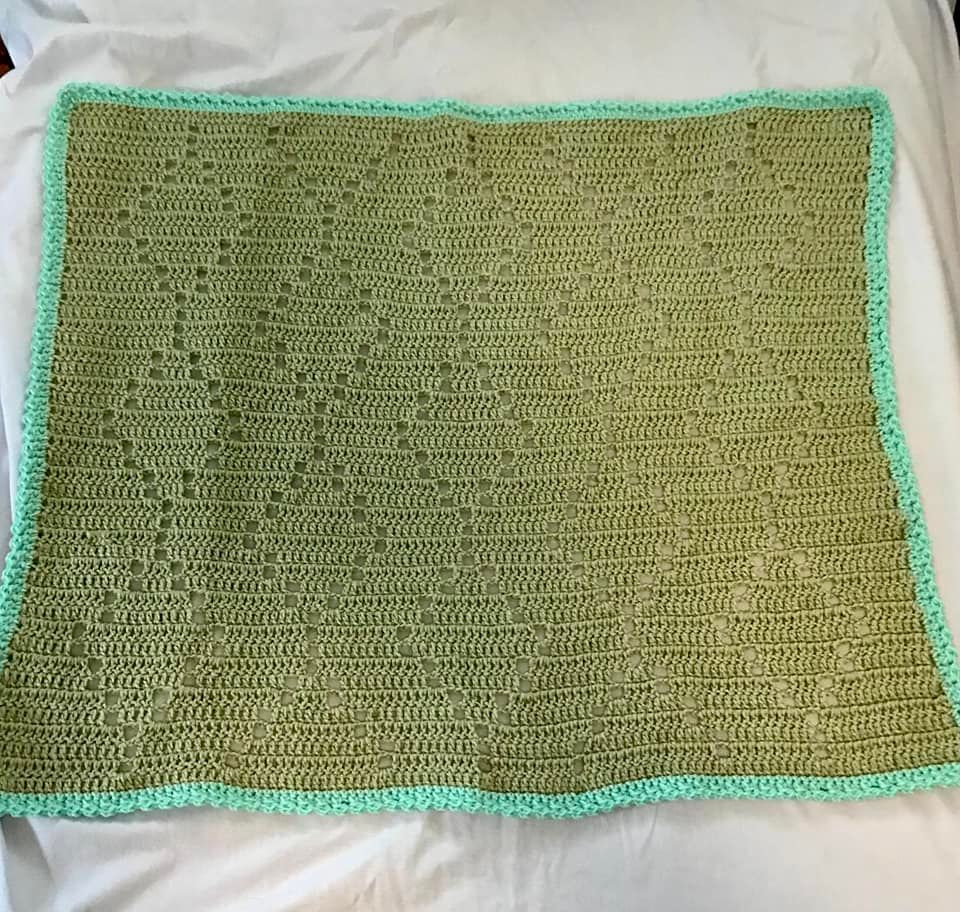 The next blanket was made in a very fun striped pattern, it gives the blanket a totally different look. The tester, Judy, made it in a very fun contrast of blues and white. Isn't it lovely?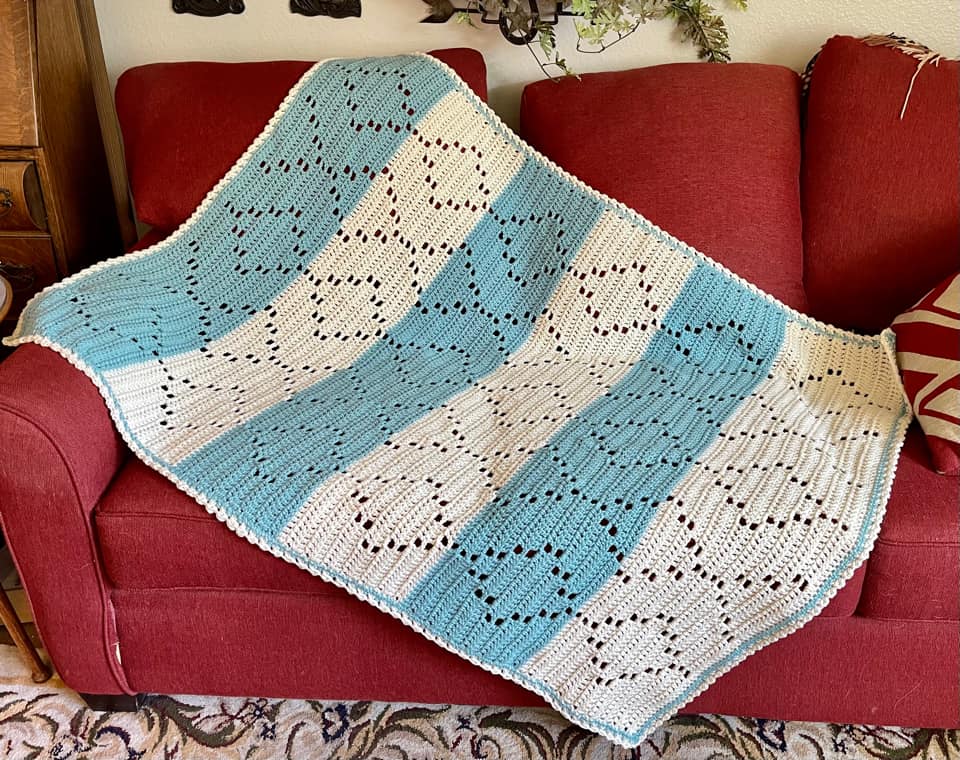 Vicky did a lovely job on her blanket as well. I love how this sample shows the blanket all in one color, including the border. It looks so elegant crocheted and laid out. Both Vicky & Judy's blankets are made in the baby/crib size.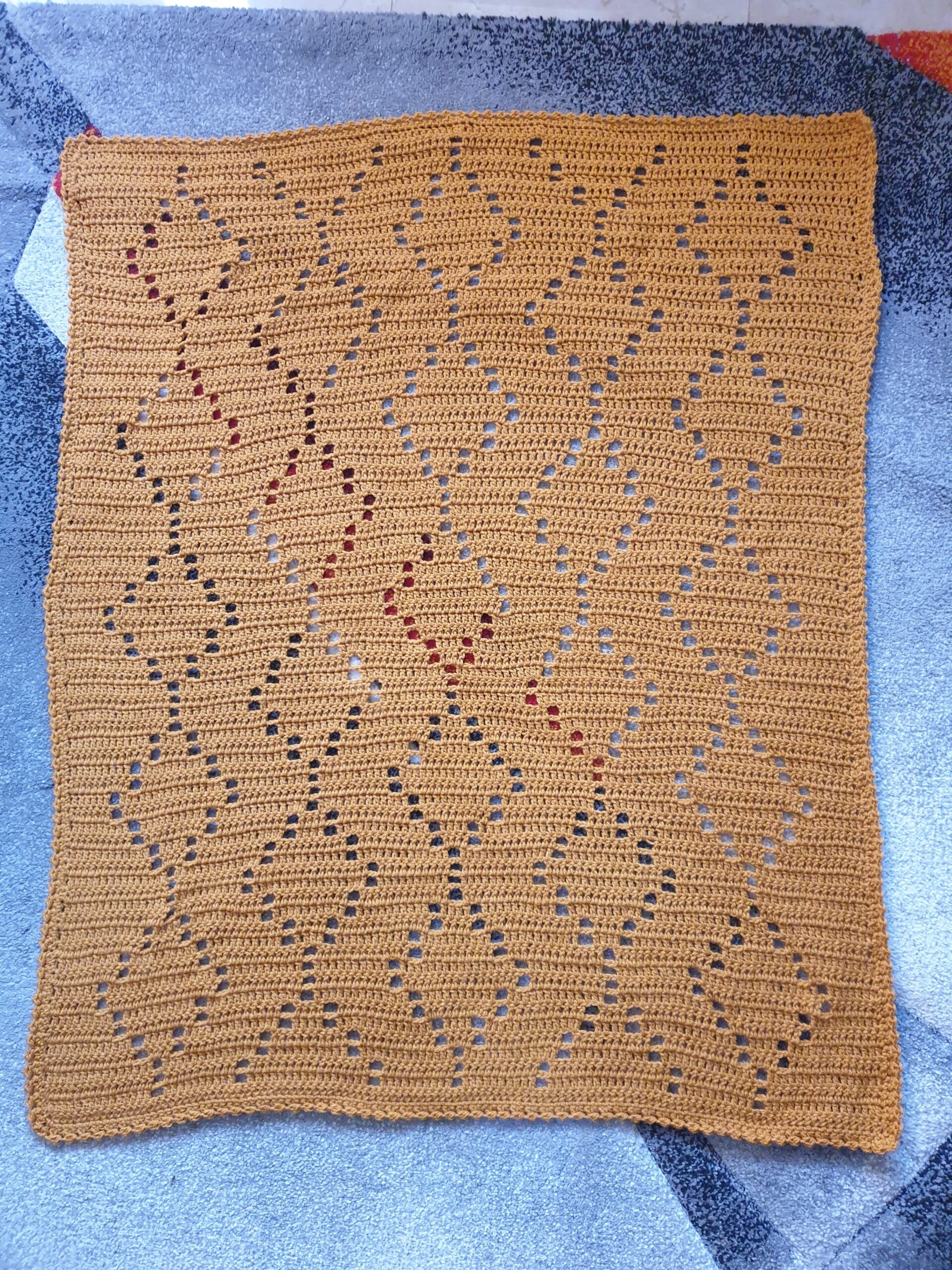 Where to Get the Diamond Drop Blanket pattern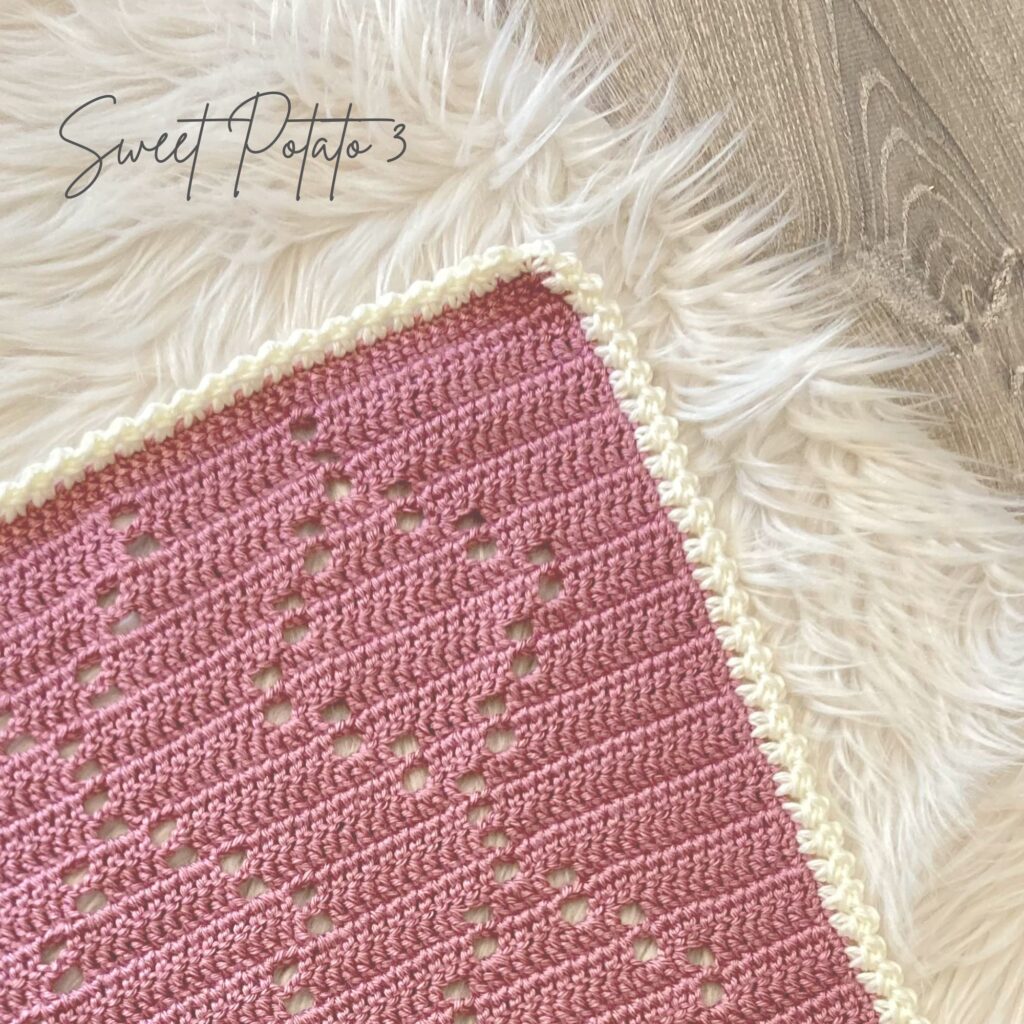 If you like this, you may also like…
More Crochet Fun
Follow Sweet Potato 3 on Facebook to see more pattern releases, sales and crochet fun, just click HERE.
However, if you would enjoy a more interactive group experience, you need to join my Crochet & Conversations facebook group, click HERE. It is a ton of fun and I encourage everyone to share their projects, WIPS (works in progress) and inspirations. Plus you get exclusive deals, are the first to see new releases, give input on designs and have opportunities to win patterns. Join now and get to know others who also enjoy the art of crochet.